It's April, and in men's golf that means one thing, The Masters and Augusta National.
The best players in the world have descended on Georgia with hopes of donning the famed green jacket come Sunday afternoon, including five-time winner Tiger Woods who has dominated the storyline so far with his "game-time decision" to play or not.
The youngest of the four men's majors, The Masters and Augusta itself capture the imagination of the golfing public each and every year, with this year's tournament containing many interesting potential outcomes, plus six Australians with hopes of winning our second Masters title.
Wet weather is predicted for Tuesday and during the tournament proper, the rain potentially changing the condition of the course that is "probably as good as I have ever seen it" according to Marc Leishman, who makes his 10th Masters appearance this week.
The forecast, however, will not affect the changes made to the course by the club since these players last teed it up here competitively in April, 2021 when history was made.
DEFENDING CHAMPION: Japan's Hideki Matsuyama claimed his country's first men's major title last year, the former low amateur at Augusta holding his nerve on Sunday to earn a spot in Butler Cabin and a new piece of clothing he will return this week.
RIGHT: Hideki Matsuyama won Japan's first men's major and green jacket in 2021. PHOTO: Mike Ehrmann/Getty Images.
Matsuyama put himself in prime position to win with a Saturday 65 before holding off a group of well credentialled challengers that included Xander Schauffele and Jordan Spieth, as well as debutant Will Zalatoris who took second alone.
Matsuyama's 10-under total delivered a one-shot victory, while Aussies Leishman and Cam Smith recorded top-10 finishes.
COURSE: So much has been said about Augusta National Golf Club, yet it still enthrals and intrigues year in, year out. And perhaps more so this year after the club added some length and strategic changes.
Designed by legendary amateur, and co-founder of Augusta National, Bobby Jones and the preeminent course architect of the time Dr. Alister MacKenzie, the par-72 opened for play for its members in 1932 and hosted the first of what would become The Masters in 1934 with the Augusta National Invitation Tournament.
Constantly updated to challenge the elite field that arrives each April, Augusta was 'Tiger-proofed' around the turn of the century with Tom Fazio overseeing much of the work to lengthen the famous layout that also had a second cut of rough added.
More recently the par-4 5th hole was drastically altered in 2019 when 40 yards was added and bunkering on the inside corner of the dogleg left two shotter made what was a fairly benign hole one of the more difficult.
For this year's tournament more length has been added, the par-15th playing 20 yards longer with contouring changed in the fairway, while the uphill par-4 18th hole's tee has been extended back but is still listed as 465 yards.
The 11th hole has undergone significant changes ahead of this year's Masters, Adam Scott labelling it "A great change". PHOTO: Augusta National.
The most significant change has come at the 11th hole. Already the second hardest hole on the course, the par-4's tee has been moved back and left to add 15 yards, with the fairway contouring renovated to send more balls towards the water front left of the green and the tree line right adjusted to remove the easier bail out approach shot right of the narrow and long green. The new look impressing Adam Scott, who said of 11 on Monday "Looks amazing. A great change."
The 11th of course is the start of arguably the most famous three-hole stretch in golf dubbed 'Amen Corner' by Herbert Warren Wind.
Comprising the 11th, short but devilish par-3 12th and par-5 13th where the second shot was once called the "momentous decision" by Jones, the trio of holes has been the site of many Masters charges on Sunday and as many meltdowns.
Interestingly, all hole lengths at Augusta are listed ending in 0 or 5 regardless of the exact location of the tee each day. The course set to measure 7,510 yards this week.
RELATED: So-called expert Masters tips
PRIZEMONEY: US$11,5000,000
PLAYERS TO WATCH: The player every single observer will be watching is Tiger Woods.
Firstly, 'Tiger Watch 2022' will be about whether the 15-time major champion tees it up on Thursday morning as he continues to recover from his horrific car crash that for a brief period had him thinking he may lose his leg.
Once Woods does commit to playing, which is the expected outcome of the pre-tournament sideshow, all eyes will be on his form and the state of his game as he makes his first four round tournament start since this very event in November of 2020.
No one expects the 46-year-old who has undergone almost countless surgeries to ever rise to the dominating level he once showed around Augusta, but if Tiger is in the field, Tiger expects to contend.
The attention to Woods' every move before Jack Nicklaus, Gary Player and Tom Watson get proceedings officially underway so intense, his choice of non-Nike footwear (FootJoy Premiere) has garnered huge attention.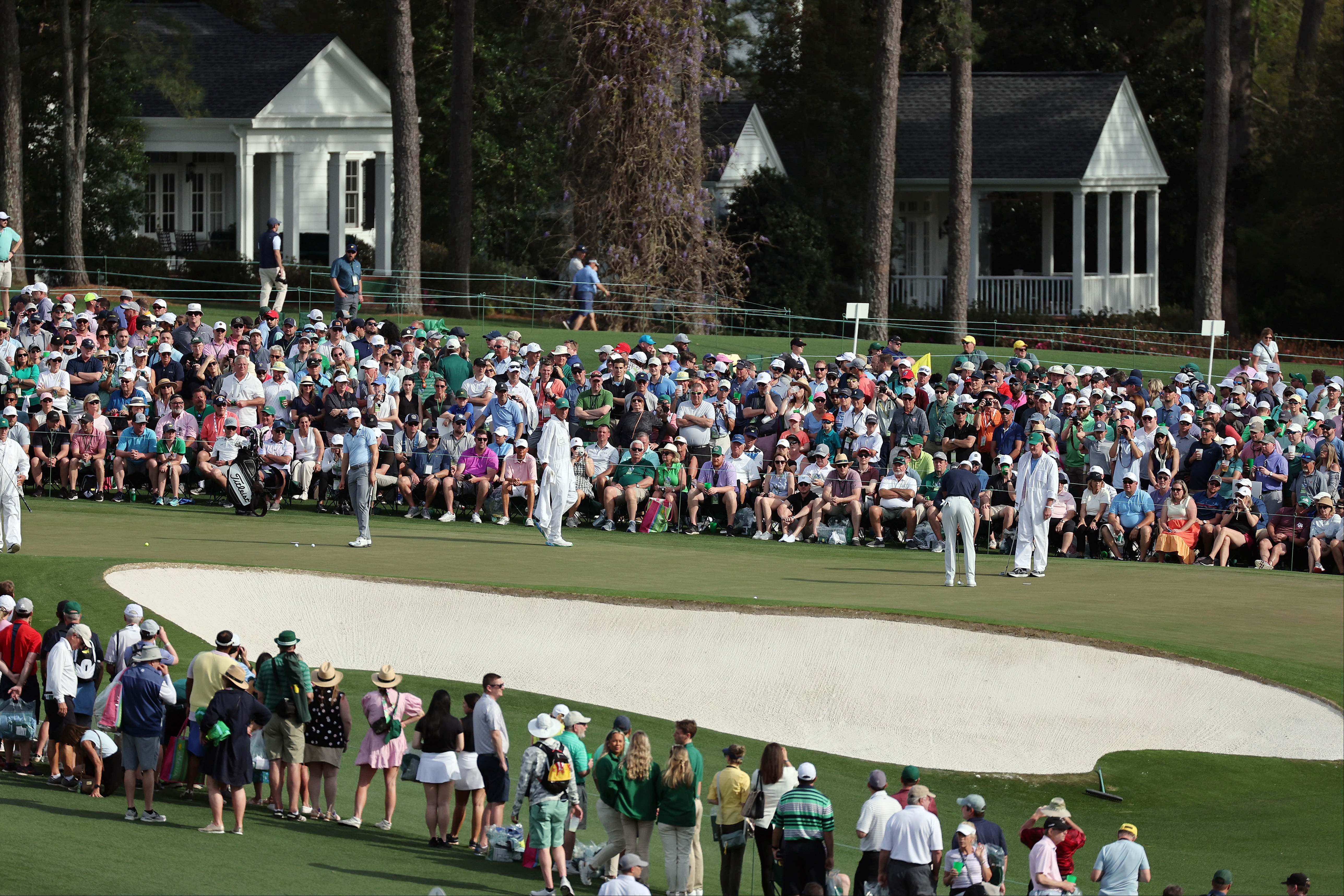 All eyes were on Tiger Woods during his Monday practise round, the first day patrons were allowed to follow play on course. PHOTO: Gregory Shamus/Getty Images.
Beyond Tiger, the defending champion Hideki Matsuyama has injury dramas of his own as he prepares to host the Champions Dinner and attempt to hang on to the green jacket.
Matsuyama withdrew from last week's Valero Texas Open as he continues to battle neck issues having also skipped The Players. But the World No.12 loves Augusta and wouldn't surprise if he finds himself in the mix here again.
World No.1 Scottie Scheffler makes his first start since assuming top spot on the rankings, and has two top-20s from two starts at Augusta. Scheffler arguably the form player in world golf (outside Jin Young Ko) with three PGA Tour wins this year already.
Jon Rahm was the man Scheffler took top billing from, and is shaping as an Augusta specialist despite having never won the tournament.
Rahm has played The Masters five times, and his last four starts have yielded top-10s, including last year when he was T5 on the back of a final round 66 having arrived late following the birth of his first child. The Spaniard's lead-in form is nothing to write home about, but he is a major winner and a big time player.
Having briefly dropped outside the top-10 of the world ranking, Dustin Johnson responded with a semi-finals appearance at the WGC-Match Play in his last start and won here in 2020.
RELATED: John Huggan on Augusta's two sides
'DJ' has a game perfectly suited to Augusta National and strikes as a player who will bob up year after year into the future.
The list (before we get to the Aussies) could go on and on, but two players worth mentioning every year when April rolls around are Jordan Spieth and Rory McIlroy.
Spieth has been well off his best in 2022, but this is The Masters and Jordan just lifts when driving down Magnolia Lane.
His T3 last year was his fifth top-5 from eight appearances, which includes his 2015 win and runner-up on debut the year prior. If Spieth can get the putter working, he will be there when the whips start cracking.
Cam Smith isn't just a parochial choice, he is among the favourites to take home the green jacket. PHOTO: Gregory Shamus/Getty Images.
The Masters is the missing piece in McIlroy's career grand slam aspirations, and Rory has taken a different approach this year. Skipping the Match Play and teeing it up in Texas last week, McIlroy missed the weekend at TPC San Antonio after showing good form earlier in the year. As always with McIlroy at The Masters, an intriguing viewing prospect awaits.
Now to our six charges.
Cam Smith headlines the Australian charge after his win at The Players and his ascension to No.6 in the rankings.
Smith is known for his marvellous short game and approach play, but the Queenslander is so much more as a player these days, one who thrives at Augusta.
Smith recorded a second straight top-10 last year, having become the first player to sign for four scores in the 60s when runner-up to Johnson in 2020.
The pressure won't get to Smith this week, and it would be a surprise to not see him in the mix on Sunday when sporting his trademark maroon paying homage to his home state.
If Smith is to win, he will join Adam Scott as Australia's only Masters winners. And Scott is far from a ceremonial player, with hopes of adding multiple majors to his resume in the coming years.
Scott enters in his best form in years having four top-10s around the world in 2022, and he is a perennial contender at Augusta. Scott has been making equipment changes, and if he gets his driver working, the former World No.1 is a serious threat.
Marc Leishman is another entering with indifferent form, but the Victorian is always a chance at a venue that suits his game perfectly.
Min Woo Lee pays close attention to Adam Scott's display during a Monday Masters practise round. PHOTO: Augusta National.
Leishman has a strong record at Augusta and if he were to win a major, it is more than likely to come here or at The Open.
Lucas Herbert makes his debut this week, but he won't be a deer in the headlights.
Herbert won on the DP World and PGA Tours last year and confidence is never lacking for the Victorian. Be certain, Herbert isn't just here for the experience, he is playing to win.
Also debuting, Min Woo Lee is still working his way towards the PGA Tour but has a game tailor made for America. Long off the tee with great imagination, Lee played a practise round with Scott on Monday and will have gleaned plenty of knowledge.
The final Aussie, and third debutant, Cam Davis had an unbelievable introduction to tournament week at Augusta, playing some holes on Sunday with Woods.
Davis won on the PGA Tour last year, and as he showed at the 2017 Australian Open, while others might not expect him to win, the Sydneysider does. And having grown up on the lightning fast greens of Monash Country Club, putting should be no problem for Davis who has just one top-10 since his Rocket Mortgage Classic victory.
72-HOLE RECORD: 268 (-20, Dustin Johnson, 2020)
18-HOLE RECORD: 63 (Nick Price, 1986 & Greg Norman, 1996)
PAST AUSSIE WINNERS: Adam Scott (2013)
AUSTRALIANS IN THE FIELD: Cam Davis, Lucas Herbert, Min Woo Lee, Marc Leishman, Adam Scott and Cam Smith.
TV TIMES*
Round 1: Friday (Fox Sports 503 & 9 Gem 5am – 9:30am)
Round 2: Saturday (Fox Sports 503 & 9 Gem 5am – 9:30am)
Round 3: Sunday (Fox Sports 503 & 9 Gem 5am – 9am)
Round 4: Monday (Fox Sports 503 & 9 Gem 4am – 9am)
*AEST, check local guides
© Golf Australia. All rights reserved.