The proverbial daylight didn't just come second at the Fortinet Australian PGA Championship. It was second, third and fourth as Jed Morgan romped home to an 11-shot win at Royal Queensland to take his maiden professional win.
Sunday less competition, more coronation for the club member who also won the 2020 Australian Amateur at 'RQ'.
Morgan started the day with a nine-stroke advantage over Andrew Dodt that he extended immediately, setting numerous records in the process. Every footstep of his Sunday stroll around the Mike Clayton course on the banks of the Brisbane River cheered by his fellow Queenslanders. And despite the widespread sentiment that this would be just another round at his club, it was anything but Morgan.
"I'm pretty sure before a Sunday game at Royal Queensland I don't want to vomit," Morgan said. "It's been difficult. The last two days, I'm glad it's over, whether I won or lost, I'm just glad it's over because I've been in all sorts, for sure. I've never had that type of emotion."
And like everyone else, Morgan couldn't believe what he had just achieved, including eclipsing Greg Norman's record margin of victory in the event by three and equalling the tournament record score (-22) set by Nick O'Hern and Peter Lonard.
Morgan celebrates his victory sealing putt at the last hole. PHOTO: Bradley Kanaris/Getty Images.
"I'd never imagine this happening to be honest with you. I wanted to just make the cut this week. I know that's a low kind of shot to shoot at, but it was all reality. I felt a lot of pressure, especially on myself, obviously being a member here and having won the Australian Amateur here and stuff. I missed a couple of Tour Schools in the U.S. towards the end of my trip and come back a little bit with my tail between my legs."
The 22-year-old who will well and truly have extricated that tail with his magnificent performance becoming the youngest winner of the Australian PGA since transforming into a strokeplay event in 1964, Morgan more than a year younger than Englishman David Howell when he triumphed at New South Wales Golf Club in 1998.
RELATED: Inside Morgan's winning bag
"I'm not playing with any type of names in the back of my head," he said of joining some very illustrious company. "I think the best thing I've done this week is just be myself for the first time in a long time on the golf course and I was just glad that it was at home and I was able to do it in a manner that was pretty exciting for other people hopefully as well, and yeah, I can't wait to do it many more times."
Morgan made birdie at the par-4 first and followed it with another at the third, before mixing birdies and bogeys starting at the 8th hole through to the 15th. A stretch during which he made a solitary par. The Grant Field pupil eventually recording three straight pars to sign for two-under 69.
But despite his uncharacteristic, for this week at least, dropped shots, claiming the Joe Kirkwood Cup was practically never in doubt for Morgan. Dodt managing only an even par round to finish at 11-under, with Louis Dobbelaar a shot further back and a fast-finishing Min Woo Lee ending his week at nine-under.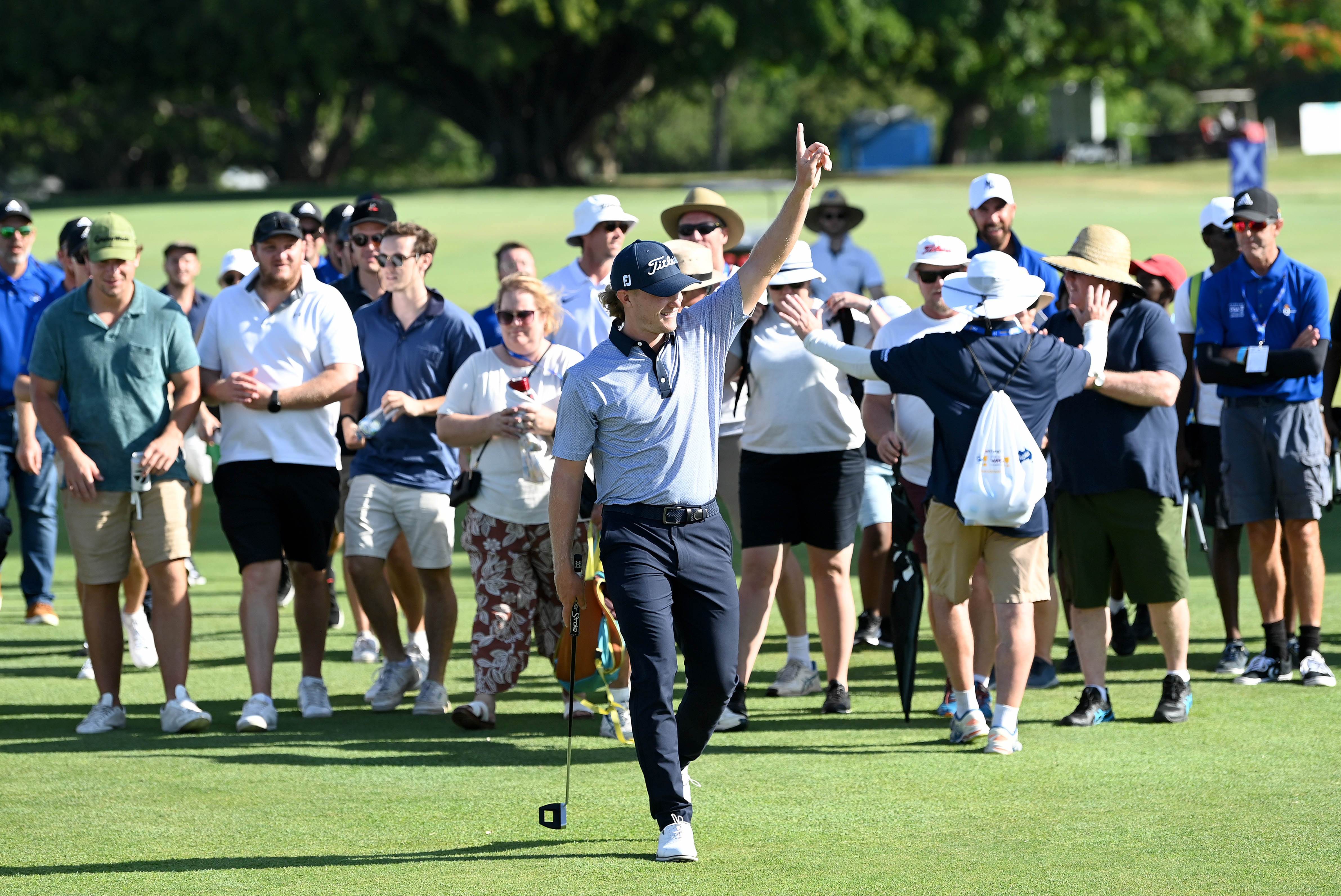 Morgan signals with what is fast becoming a trademark finger point to the crowd on Sunday. Bradley Kanaris/Getty Images
"I said I wanted to get 25-under at the start of the day just to give myself to keep pushing towards something, but yeah, that was big," Morgan said of the birdie at the first. "I think it was a bigger even birdie the third. That kind of cemented a lot of it."
Without a place to play beyond the local circuit in 2022, Morgan is now almost assured a place on the DP World Tour, with three players from the PGA Tour of Australasia Order of Merit that concludes in May earning cards on the circuit. He will also have starts in three events on the same Tour later in 2022.
Tipped by many for a bright future during his time in the amateur ranks, Morgan cashed his first cheque just last month at the Sandbelt Invitational, and although he was outwardly whipping the crowd into a frenzy and calm and collected, he was anything but on Sunday. Morgan perhaps finally able to get some sleep once the celebrations conclude tonight or tomorrow morning.
"I'd never imagine this happening to be honest with you. I wanted to just make the cut this week." - Jed Morgan.
"I've been feeling sick for like three days, especially after I was leading after two rounds," Morgan said. "I just tried to give myself kind of an out of body experience I think, because I just felt so many emotions, even on the 9th hole where I made a pretty short putt for birdie, I just yelled because I just needed to get it out of my system. If I didn't, I just would have been sick I reckon."
Winning her own tournament while playing in the same group, Su Oh the inaugural WPGA Champion, was full of praise for Morgan, whom she was visibly happy for as they were both showered with drinks on the 18th green and jointly glad handed the members, sponsors and finally spoke with media.
"Last year we spent a bit of time in Orlando and Jed had a pretty tough finish to the end of the year, and I'm really happy that he was able to get it done." Oh said. "I think he really deserves it this week and hopefully he'll kill it out there on the DP World Tour."
It has long been suggested the future of Australian golf is bright, and in the case of Morgan's personal fortunes moving forward after such a dominating and impressive performance, it could be described as starring into the sun.
As for the question posed by this publication last night as to how he would like his name inscribed on the historic Joe Kirkwood Cup where he will take a more than deserving place alongside some of the biggest names in Aussie and world golf, like Norman, Shearer, Ballesteros and more.
"I want Jediah."
© Golf Australia. All rights reserved.