The Asian and Ladies European Tours spend another week in Thailand, the Wednesday start allowing for an Easter Saturday finish to the Trust Golf Asian Mixed Stableford Challenge.
Differing from last week's strokeplay 'Cup' event, 60 players from both Tours will this week compete in a modified stableford format where birdies and eagles are at an absolute premium.
A strong group of Australians are in the combined field this week, that marks a first for mixed gender golf tournaments played with a points scoring system, while last week's 15-year-old winner Ratchanon Chantananuwat tees it up once again.
DEFENDING CHAMPION: Inaugural event.
COURSE: As it did last week for the Trust Golf Asian Mixed Cup, Siam Country Club welcomes the Asian and Ladies European Tours this week.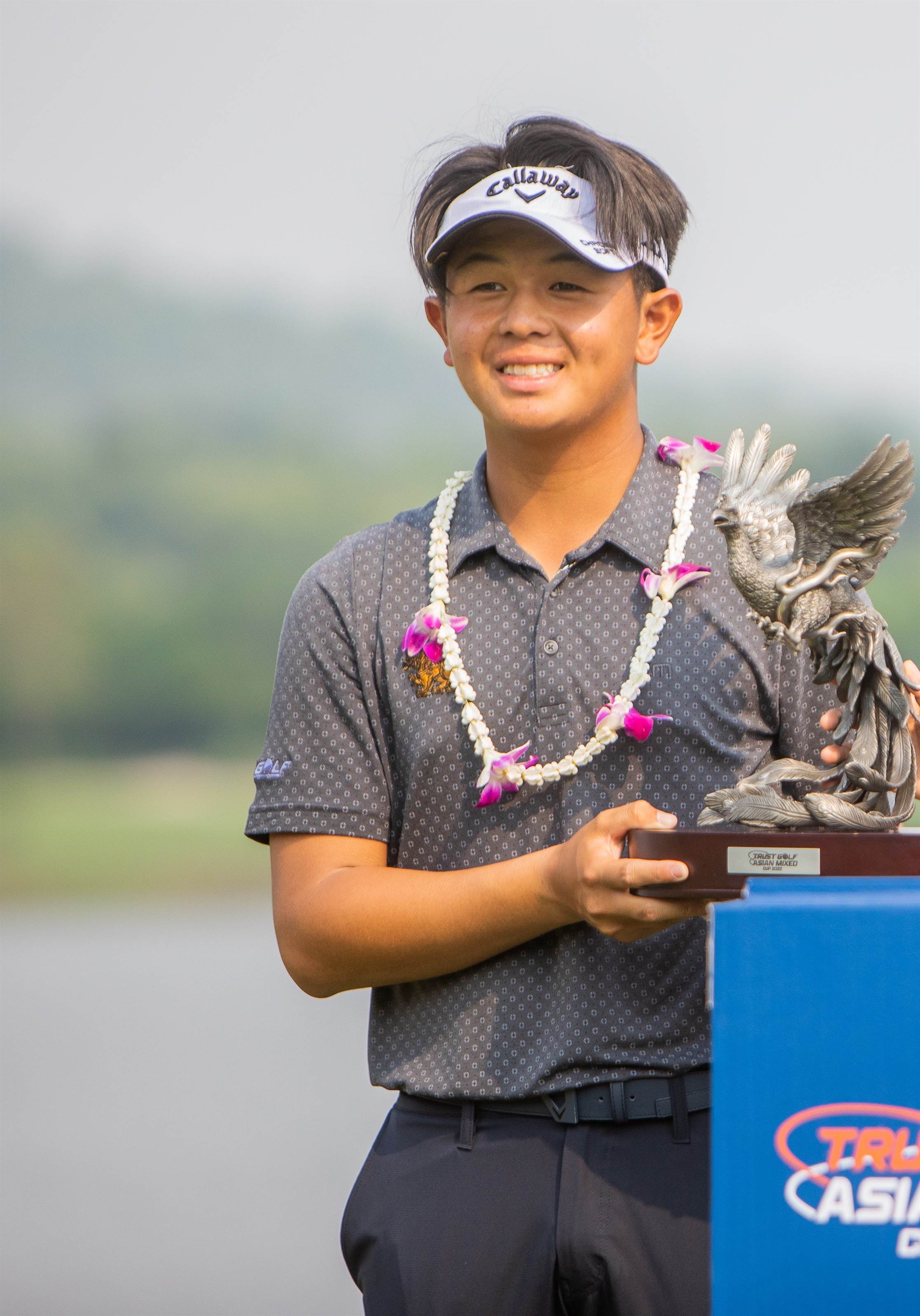 Home to three courses, the club's Waterside Course is the latest to open and presents as a fairly typical resort style course that will measure 6,800 metres from the back pegs once again this week.
RIGHT: Chantananuwat won last week on the same venue and is likely to be among the contenders again in the stableford challenge. PHOTO: Orange Pictures/BSR Agency/Getty Images.
Shallow bunkering and large greens allow the less adept player to have their fair share of scoring opportunities though, as the name suggests, with the abundant water posing the main challenge for the elite players spending their second week on the property.
The winner last week, teenager rising star Ratchanon Chantananuwat, reached 20-under for the week and fired a 63 in round one that suggests scoring will once again be low this week, but in a different way given the format.
PRIZEMONEY: US$750,000
RELATED: So-called expert golf tips for this week
PLAYERS TO WATCH: Ratchanon Chantananuwat lived up to his billing as a player of the future with his first Asian Tour win last week that made him the youngest male victor on any of the world's major Tour.
Chantananuwat is still in high school and has remained an amateur with representative honours in the future keeping him from the play-for-pay ranks, but with his recent success its hard to imagine that will remain the same.
Having played in Asia for much of his career, and living in the Newcastle area of New South Wales, Andrew Dodt appears to have given up hopes of securing a DP World Tour card via his home circuit Order of Merit in favour of playing in Asia.
Dodt was the best of the Aussies last week, sharing 16th, and his ability to put plenty of birdies on scorecards and lack of big numbers should see the Queenslander feature once again at Siam Country Club.
Runner-up last week, Joohyung Kim has consistently been among the best in Asia since the Tour returned late last year. PHOTO: Orange Pictures/BSR Agency/Getty Images.
Asian Tour Order of Merit winner from last season, Joohyung Kim, was second last week and took home the full winner's cheque thanks to Chantananuwat's amateur status.
Clearly liking the layout, Kim looks set for a bigger stage if he so wishes, and another Order of Merit crown would help his progress to one of the world's biggest circuits.
Florentyna Parker didn't have a good week last week in the strokeplay, but the Englishwoman is a better player than her missed cut suggests and she could find this format a chance to get some momentum early in her LET season.
Fairing better than Parker last week, but still missing the cut on the number, West Australian Whitney Hillier is another who could find the stableford scoring to her liking.
Hillier is likely in one of the happier spots she has been during her career having finally returned home to WA after more than two years, and having playyed well in her first event back in Australia, when she was in the mix for the Vic Open for much of the early stages.
Hillier and her fiancee, who caddies for Steph Kyriacou, have also recently bought a house to setup a more permanent base in the UK and as the only Aussie playing full time on the LET is worth getting behind every time she tees it up.
AUSTRALIANS IN THE FIELD: Scott Hend, Travis Smyth, Andrew Dodt, Todd Sinnott, Jake Higginbottom, Josh Younger and Daniel Fox.
TV TIMES*
Round 1: Wednesday (Fox Sports 503 5pm – 8pm)
Round 2: Thursday (Fox Sports 503 5pm – 8pm)
Round 3: Friday (Fox Sports 503 4pm – 7pm)
Round 4: Saturday (Fox Sports 503 4pm – 7pm)
*AEST, check local guides
© Golf Australia. All rights reserved.