Queensland's Shae Wools-Cobb has bolted out of the gates to lead all comers at the 9th Asia-Pacific Amateur Championship at Royal Wellington Golf Club.
The 21-year-old was the first Australian to tee off this morning and played a clinical opening round, carding an eight-under 63 to take the outright lead by four shots after day one.
Wools-Cobb began his day in still conditions on the course's back nine, which he promptly tore apart with three consecutive birdies. Another birdie at the par-3 16th was followed by an eagle at the par-5 18th – meaning he made the turn on eight-under 29 and broke the record for the lowest opening nine in tournament history.
"I think I was just hitting it really well," Wools-Cobb said. "I didn't hit any loose shots … it was just really stress‑free. I didn't really know if I wanted to go for 18 (in two), but I had to man up, and hit 3‑wood 20‑foot and holed a really nice putt."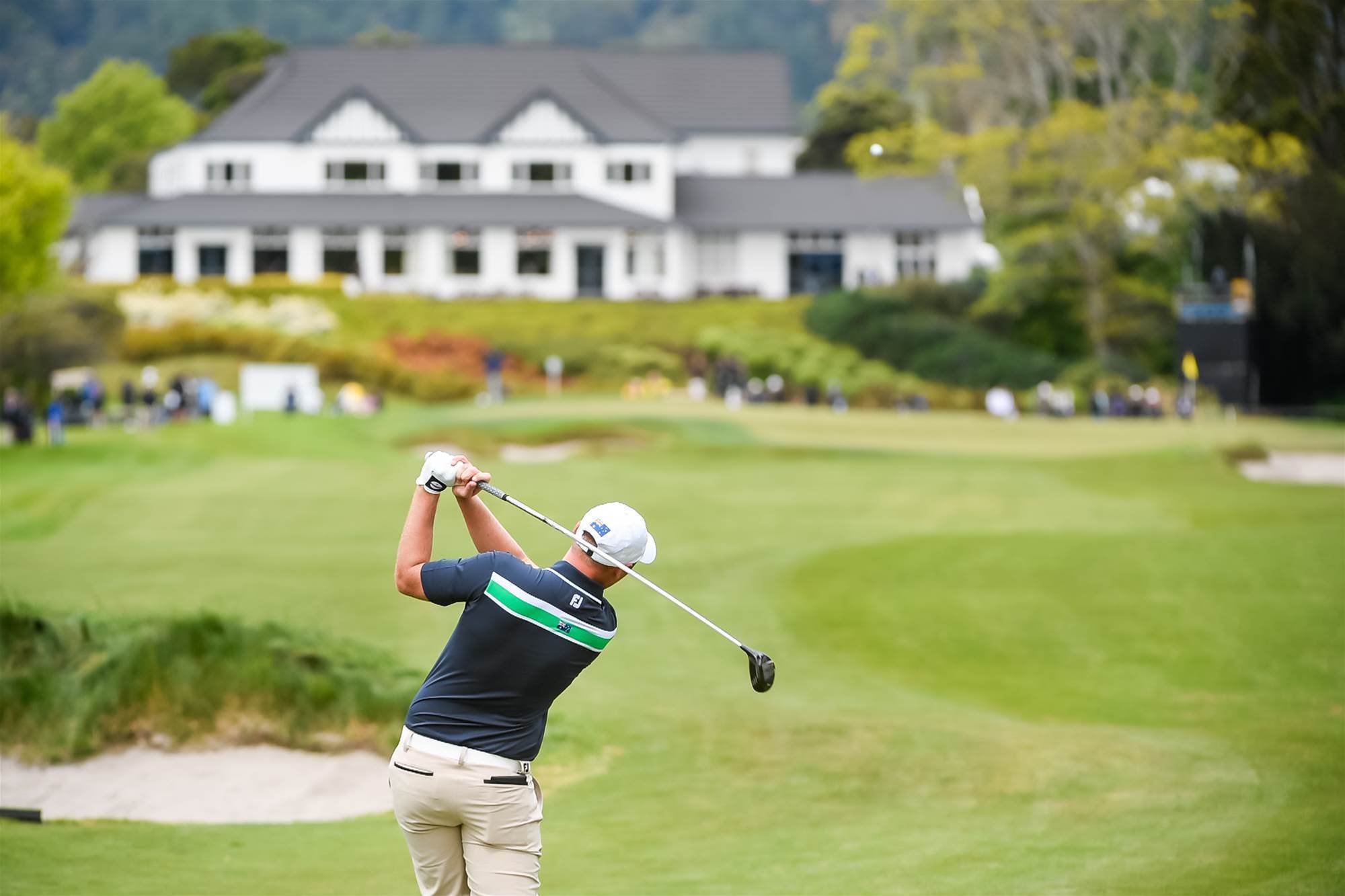 Shae Wools-Cobb put on a ball-striking clinic during his opening round. PHOTO: David Paul Morris/AAC.
Wools-Cobb never took his foot off the gas and began his back nine by birdying the 1st hole. He then played a tremendous shot at the 193-metre 3rd hole that looked destined to be an ace before it settled less than a foot from the flag. He calmly rolled in yet another birdie and moved to eight-under-par through his first 12 holes.
His heart would have been in his mouth as his tee shot came dangerously close to a stream that runs along the right flank at the par-5 4th. But he played another terrific shot with a long iron over the lake, which flew over the pin and left him eight feet away from another eagle. And although the putt lipped out, Wools-Cobb was now nine-under after 13 holes.
"I just really wanted to play my own game out there and enjoy it," he said. "This tournament is awesome. It's just great being around here and I was pretty relaxed out there."
The Sunshine Coast talent is ranked 57th in the World Amateur Golf Ranking. And although four of his compatriots are ahead of him in that regard, nobody hit the ball better today.
"I only missed one green and that was on the 6th where I missed it by a foot and ended up making bogey," Wools-Cobb said.
Min-Woo Lee was all smiles during his first round. PHOTO: Moon Liu/AAC.
Min-Woo Lee, meanwhile, was also enjoying the optimal scoring conditions as he played in the group behind Wools-Cobb. The West Australian followed in the footsteps of Wools-Cobb and birdied his opening hole – the par-4 10th – to eventually go out in 32.
Lee began his back nine with two consecutive birdies and soon joined Wools-Cobb in the clubhouse, having signed for a terrific round of four-under 67 – which would go on to leave him in a tie for second.
"Shae had a good round today, but I am going to stick to my game plan and not try and catch him," Lee said. "You don't win it on Thursday, you only loose it on Thursday. I still have three more rounds so I will see how I go."
Windy Wellington was certainly living up to its name by the time Dylan Perry and Travis Smyth teed off. Perry birdied the opening hole before making a disappointing double bogey at the par-5 2nd. The 22-year-old then went on to make 16 straight pars and signed for a one-over 72, leaving him T16.
Smyth followed in the group behind and played a steady opening nine. The tournament favourite birdied the 2nd and bogied the 3rd before he, too, went on a significant par run. The New South Welshman played well in difficult conditions and hit most greens in regulation – but not many birdie putts found the cup.
It was a frustrating day for Travis Smyth, who hit plenty of greens but didn't see many birdie putts fall. PHOTO: Graham Uden/AAC.
The highest ranked player in the field (12th) eventually signed for a one-under 71, having birdied the 18th. He sits in a tie for 16th and should enjoy better scoring conditions with tomorrow's morning tee time.
Local favourite, Nick Voke, fired an impressive four-under 67 to share second place with Min-Woo Lee and two other players – Sean Maruyama (Japan) and Lloyd Jefferson Go (Philippines).
While Harrison Endycott (T11) and Charlie Dann (T41) complete Australia's efforts after day one.
© Golf Australia. All rights reserved.