Ping has unveiled all new i500 and i210 iron models and Glide Forged wedges. The forged face i500 and multi-material i210 feature innovative technologies designed for distance, forgiveness and precision as well as exceptional feel. The wedge similarly offers impressive feel combined with versatile, high spin performance.
Having been spotted on Tours around the world in recent months, including in the bag of Brandon Stone when compiling a European Tour record equalling round of 60 on his way to victory at the recent Scottish Open, the new models will be available in Australian golf shops beginning August 1.
"In the i500 and i210, we're offering two distinctly different technology platforms to give golfers additional choices and fitting options," PING President John K. Solheim said when introducing the new models. "The i500 delivers unbelievable distance with amazingly high ball flights. In our testing, some golfers gained as much as 15 yards with the i500. In the i210 iron, we focused on designing a club that ensures a soft, buttery feel with the distance precision to attack flagsticks. We're already seeing a lot of our tour players seamlessly transition into the i210 iron.
"Everything about the Glide Forged wedge is created around quality and performance. From the 8620 carbon steel that produces the incredible feel to the tungsten toe weight that ensures forgiveness in a blade-style wedge, we made sure every detail was covered, including milling the back of the wedge to create a distinct, visually appealing pattern."
Incorporating many of the key technologies of the game improvement G700, the i500 features a compact, muscle back blade appearance and profile at address, as well as a forged face made of C300 maraging steel. The 17-4 stainless steel body and forged face, which is also precision milled, combine to deliver wood-like face flexing up to five times greater than that of a regular cast iron; increasing both launch and ball speed, meaning greater overall distance from an iron with a player's appearance and less offset.
To replace the popular i200, Ping focused on improving the feel and control of the new i210, which also incorporates refined shaping designed to suit better players' preferences.
With a head made from 431 stainless steel, the i210's increased custom tuning port allowed the company's engineers to increase the size of the elastomer insert, which is also softer, by 30 percent as well as have the ability to further fine tune swingweights. The insert also underwent an increase in its amount of contact with the club face to deliver a softer feel.
The face and grooves of the i210 are precision milled, with the pitching and U-wedge utilising tighter groove spacing for increased control as well as consistently, and like the i500, the i210 is features Ping's new 'Hydropearl Chrome 2.0' finish, designed to improve turf interaction and consistency.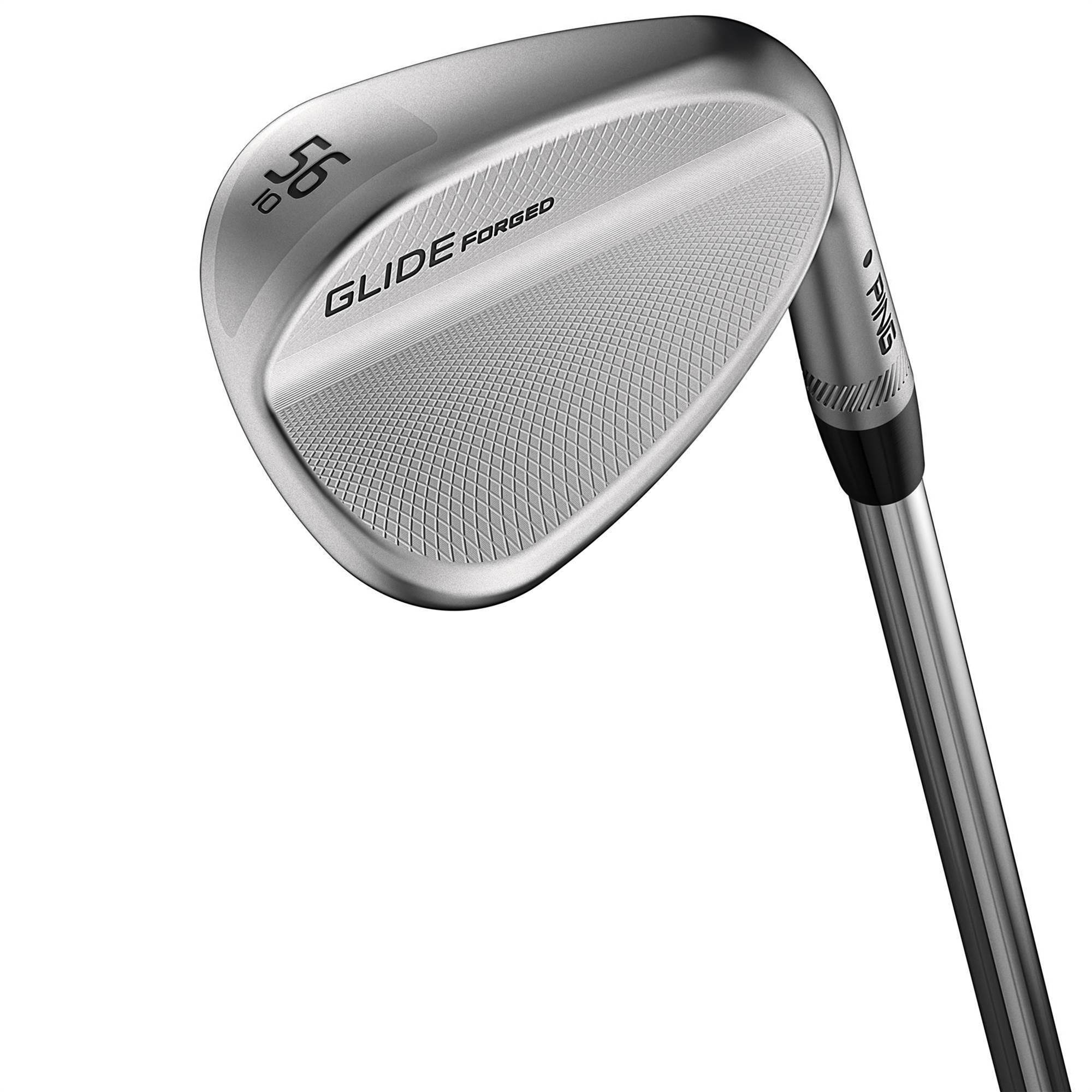 Available in 50˚, 52˚, 54˚, 56˚, 58˚ and 60˚ lofts the Glide Forged is made from 8620 carbon steel to produce outstanding feel and has been refined and shaped with assistance from the company's Tour staff and advisors, including noted short game instructors Stan Utley and Todd Anderson.
To provide the versatility required to play every shot from around the green, the new wedge's sole features a rounded leading edge and increased heel-toe camber, while a gooseneck-tapered hosel enhances the Glide Forged's appearance at address and is specially designed to move through long grass and sand smoothly.
Further enhancing the performance to go along with the impressive feel and looks, the Glide Forged incorporates the same precision-milled, wheel-cut grooves of the Glide 2.0 that offer improved ball flight control and more spin and utilises a tungsten toe weight to raise forgiveness.
Ping's first fully forged wedge release in a number of years is also customisable by visiting www.ping.com/glideforgedcustom where a range of stampings and paint fill options are on offer, allowing golfers to create a completely unique, high performance, forged wedge.
The i500 irons come standard with True Temper Dynamic Gold 105 steel and UST Mamiya Recoil ES graphite shafts, with a range of no upcharge options available.
RRP: $270 per iron (steel); $300 per iron (graphite).
The i210 come standard with True Temper Dynamic Gold 120 steel and ALTA CB graphite shafts, with a range of no upcharge options available.
RRP: $210 per iron (steel); $240 per iron (graphite).
The Glide Forged come standard with True Temper Dynamic Gold S300 steel and ALTA CB graphite shafts, with a range of no upcharge options available.
RRP: $335 per wedge (steel); $365 per wedge (graphite).
To find out more about the i210, i500 and Glide Forged, visit www.americangolf.com.au
© Golf Australia. All rights reserved.