This jewel earned a reputation for its demanding design and consistently fine condition as soon as it opened for play. Eight years and that image hasn't changed.

The long par-3 17th is a brute from the 222-metre back tee before temptation returns on the closing hole. At 486 metres, the 18th is one of those at-times infuriating par-5s where making a par seems so easy in hindsight after you've taken on more than your talent can handle and finished the round with an ugly number. From a tee set back among a grove of trees behind the 17th green, you fire a drive into a deceptively generous fairway with water along the right (that extends all the way to the green) and two bunkers, one to catch any drive struck too timidly up the left side and another further along in the centre of the fairway that will gobble up any weak second shots. Which means the green is only reachable in two blows if the drive is absolutely perfect. And even then, water fronting the large green needs to be carried in order to set up an eagle putt. Much like the 11th, this par-5 is usually best handled in three strategic strikes that avoid the various pitfalls scattered along the fairway.
When it opened, Pacific Dunes instantly became the best course in the immediate region, bolstering the Port Stephens golf scene and giving travelling golfers a genuine reason to make their stay longer than just a weekend. It's an area that markets itself under the slogan "Closer than you think" and it is, indeed, a leisurely drive north from Sydney or a quick trip up the road from Newcastle.
Pacific Dunes is one of the few courses I've seen that was in genuinely great condition the day it opened – there was no settling in period required. Little has changed with the layout in the eight years since, largely because there was minimal need for change. A drainage concern that impacted the fairway on the par-4 7th hole was alleviated several years ago through the smart inclusion of a waste bunker. It is the only such area on the course but it is unlikely to see much play because of its location beyond the driving zone and well short of the green, and it adroitly solved a maintenance headache through design.
The only criticism I can really make of the course is the lack of a cheeky par-3 measuring 150 metres or shorter. The 14th hole is the shortest at 178 metres and all four par-3s will measure similar distances most days.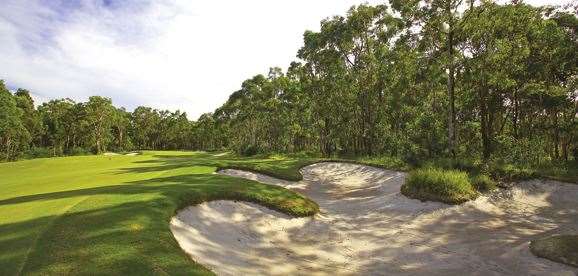 © Golf Australia. All rights reserved.