This jewel earned a reputation for its demanding design and consistently fine condition as soon as it opened for play. Eight years and that image hasn't changed.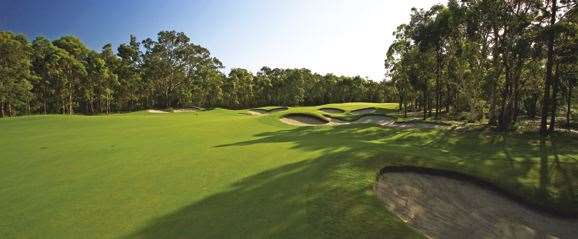 Superficially, it's easy to label Pacific Dunes Golf Club as a Jekyll-and-Hyde layout, except that Robert Louis Stevenson's famous character at least offered a gentler side to contrast its sinister alter ego. While Pacific Dunes might be a golf course of two distinct halves, neither side offers any relief. There is little point attempting to survive one tough nine in the hope of scoring well on the more vulnerable second side. Yet the course's split personality makes for a compelling reason to do battle with this multi-faceted layout.
The front nine is tight and bordered by thick trees or bush on both sides of most holes whereas the back nine is much more open with water in play for almost every full shot. This striking variation characterises Pacific Dunes and gives it a definite allure, which is important for a site with almost no elevation change.
But before you quiver with fear and begin searching elsewhere for a new place to play, remember that Pacific Dunes is a truly enjoyable golf course and absolutely playable from the blue tees. You just need all systems running and to keep your eyes peeled in order to score well. Course designer James Wilcher, who penned another tight and penal layout at The Cut, south of Perth, frequently tricks golfers into being mesmerised by the trouble. At times it appears there is sand, water or dense foliage intruding on every shot – and sometimes all three are – however, there is generally a safe option, too, yet one that might be masked by the inherent trouble that catches the eye.
The course gets your attention from the start. Based on scores made in member play, the 1st hole was recently re-rated from index-18 to a more accurate index of 9. That revision is a little on the generous side but as No.18 it was the toughest 'easiest' hole around. With water and trees left of the fairway and that same water cutting across the fairway in the driving zone then returning beside the putting surface, first-timers were prone to wonder what lay ahead when this was considered to be the least difficult hole on the course.

© Golf Australia. All rights reserved.