This jewel earned a reputation for its demanding design and consistently fine condition as soon as it opened for play. Eight years and that image hasn't changed.

The rest of the front nine demands accuracy at every turn after the welcome handed out by the 1st hole. The scrubby bushland through which this side of the course is carved provides distinct corridors for play, although at ground level this shrubbery is not as dense as it appears from a distance, offering hope of retrieving stray balls and even the odd exhilarating escape shot. The two par-5s at the 4th and 6th become highly difficult propositions if either of your first two shots strays from the cut grass, especially at the 555-metre 6th. The 3rd is a potentially driveable par-4 for anyone game to try to carry the phalanx of cross bunkers spanning the fairway 230 to 240 metres from the back markers, but mostly the risk here outweighs any reward. The 9th is a sharp dogleg right of 403 metres where only a mammoth blow from the tee will carry the lone bunker positioned perfectly at the corner.
The back nine has arguably more character, given that it intertwines flora and water. And how wet is it? I contend only three full shots on the inward half – the tee shot on 14 and the second shots at 15 and 16 – are devoid of any threat of finding water.
The 10th and 11th holes, a short par-4 then a par-5, offer birdie chances if the wet stuff is avoided on each shot. The 482-metre 11th teases you standing on the tee. If you can fly a drive 250 metres from the back pegs or 232 from the blue markers, the small pond that eats into the right half of the fairway won't be a factor. For the more cautious, though, two lay-ups and a pitch is the more prudent strategy, although veering too far left with the tee shot puts another water hazard in play. Even more water guards the entire right side of the par-4 13th hole and returns three holes later to flank the inside of the dogleg-left 16th, a 382-metre par-4 played from the course's only elevated tee. This raised vista provides a full view of the hazards ahead and can lull long hitters in to biting off a chunk of the lake on the left to shorten the second shot. The green is still in reach for two for those who play safely to the right from the tee, although a pair of bunkers in front of the putting surface place greater demands on approaches struck from long range.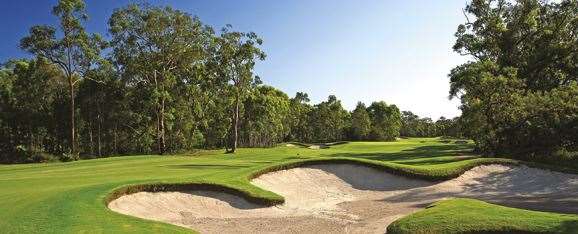 © Golf Australia. All rights reserved.