Australia's hopes of welcoming home a second Masters Champion in five years remain alive with Marc Leishman "grabbing the bull by the horns" to be two shots from the lead through 36 holes.
Warrnambool's favourite son backed up his opening round 70 with a five under 67 and heads into the weekend rounds at Augusta National in outright second behind American Patrick Reed.
With scoring proving difficult in the morning, many players were back-pedaling early but Leishman charged into his round with a hat trick of birdies from the 1st hole. He rolled in putts from 17 (No.1), seven (No.2) and three feet (No.3) to surge into the lead.
The 34-year-old then made nine consecutive pars and was nerveless over a series knee-trembling three- and four-footers to stay at five under. He picked up another birdie at the par-5 13th but gave it straight back at the next when he three-putted (for the first time in the tournament) from nearly 60 feet.
Marc Leishman salutes the gallery after making birdie at the par-5 13th hole. PHOTO: Getty Images.
A 310-yard drive on the par-5 put Leishman within range of the green but he was blocked out by a tall clump of pine trees. He responded with one of the shots of the tournament so far.
Using a 5-iron from 210 yards, Leishman set up to hit a roping hook over the water onto the green.
"It was time to take the bull by the horns," Leishman said after his round.
"On a day like today, when it's going to be tough, you sort of know you're going to have to take your chances when you get them.
"Where I hit my drive on 15 was not ideal. But I practice that shot every week, curving it big both right‑to‑left and left‑to‑right, and it was one of those opportunities where it fit the shot and I thought it was a good time to give it a go.  Did it, and it came off.
"I will say, I wasn't aiming quite as far left as where the ball went, but, you know, when you get a break like that and hit a good shot, you want to take advantage of it, and I did that by making the putt."
The gallery was ten deep watching Leishman, Tiger Woods and Tommy Fleetwood coming down the stretch. PHOTO: Getty Images.
Leishman's eagle moved him to seven under for the tournament and he parred in for his 67.
His second placing after 36 holes is a familiar position for Leishman. He was tied second after two rounds of the 2013 Masters and went onto finish tied fourth, playing alongside eventual winner Adam Scott in the final round. He says that final round taught him a lot about what it takes to win a major.
"I played with Scotty that day when he won," Leishman said. "I saw firsthand what it takes to win around here.
"I think I played well enough to win that day, and I feel like I hit the right shots to win. I just didn't take my opportunities when I got them.  Whether it was not making a putt on 14 or, you know, hitting a shot into the water on 15.
"It just takes – like I said before, you have to take a chance and have it come off, and you know, grab the bull by the horns rather than – it's not going to come to you. You have to go out and win it.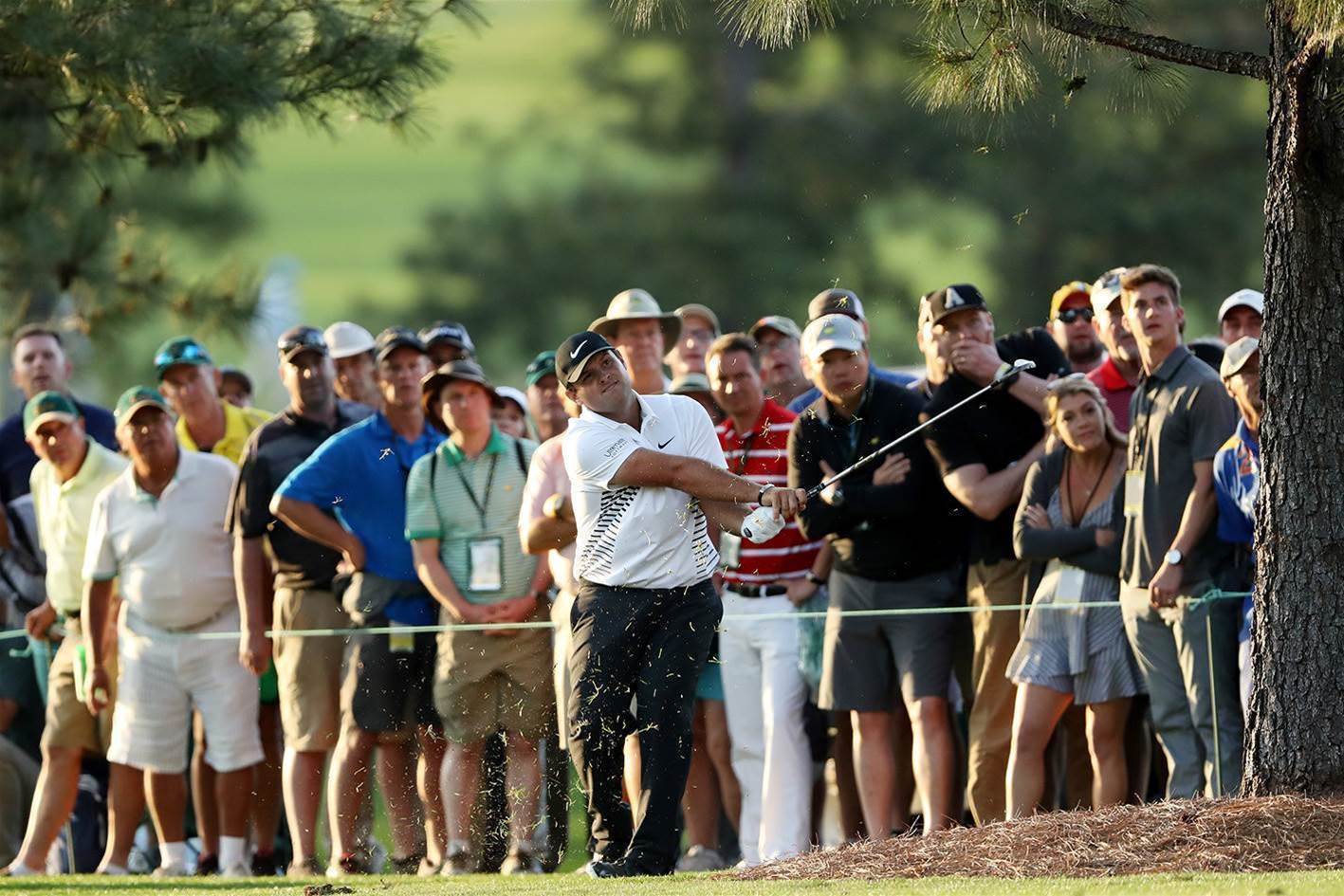 Patrick Reed plays a recovery shot from the left of the 17th fairway. He leads into the weekend by two strokes. PHOTO: Getty Images.
"That's how I've always played. I try and win tournaments. I don't try and, like that shot on 15 today, I'm not one to lay up if there's a chance I can get there.
"I saw it firsthand, know what it takes. I feel like I learned a lot that day and hopefully it will put me in good stead for this week and can be sitting here Sunday night.
"But if not, I'll give it my best shot."
He will play in the final pairing with Reed on Saturday afternoon, with a star-studded peloton giving chase. 2015 Open Champion Henrik Stenson (70) is the closest pursuer at five under, while Rory McIlroy (71) and Jordan Spieth (74) share fourth place at four under. World No.1 Dustin Johnson (68) and reigning PGA Champion Justin Thomas (67) share sixth place a further shot back at four under.
Jordan Spieth struggled with his driver during round two. PHOTO: Getty Images.
Cameron Smith is the next best of the Australians. The Queenslander is one under after posting an even par second round 72. He is currently tied 14th.
Jason Day improved by four shots on his opening round 75 and is T28 at two over par. He looed to be on track to get back into red numbers but a three-putt bogey at the par-3 12th and another bogey, after hitting into the water, on the 15th derailed those plans. He did collect a confidence building birdie at the par-4 17th on is way back to the clubhouse.
Scott had four birdies against five bogies in his one over 73 and is T40, 10 shots behind Reed. The 2013 Masters Champion drove the ball well but missed six greens, predominantly in the wrong spots leaving difficult recovery shots.
Any golfer sitting in the top-30 may still like their chances as wind and rain, predicted to be heavy at times, is forecast for the afternoon of the third round. Players out early are likely to have the lion's share of the best scoring conditions.
© Golf Australia. All rights reserved.