Brady Watt was smiling from ear-to-ear as he strolled the fairways of the recently redesigned Yarra Yarra on Wednesday at the Sandbelt Invitational, where he holds a five-shot lead with one round to play.
The transplanted West Australian, who now makes his home in Melbourne's St. Kilda, even took the chance to ask Peninsula Kingswood member and playing partner Marcus Fraser whether his home club sells bucket hats. Watt looking to add another to the collection for his new look.
The question coming as he added three more birdies to his tournament total on the front nine of the Tom Doak redesign masterpiece that drew high praise from every player in the field.
"The sun, growing up in Perth I am just over it," Watt, who shot four-under 66 to reach nine under, said. "It just gets too hot, protect the ears, all the sun smart stuff, got this one at Cathedral Lodge a couple of weeks ago and I got a Vans bucket hat, and I think buckets are back. You know how mullets were back, I had long hair before, maybe I am starting a new trend. A PK one, if they have one tomorrow, I will be purchasing one."
Watt has been happy and positive all week, chatting with media and onlookers during his rounds while his girlfriend, Grace, plays caddie. And with his five-stroke advantage, and a clear appreciation for Sandbelt golf it is easy to understand why.
The former World No.1 amateur not the only one having a ball at the tournament spawned in the brains of Mike Clayton and Geoff Ogilvy.
A new bucket hat and a tournament title, perhaps, await Brady Watt at Peninsula Kingswood CC. PHOTO: Paul Shire.
Sydneysider John Lyras, previously been identified by this publication as a player capable of going very low, did just that at Yarra Yarra.
Lyras made seven birdies and one bogey for a course record round of 64 (six-under) to sit one in front of Marcus Fraser and Jed Morgan at three-under.
"No. Absolutely not," Lyras told Golf Australia magazine when asked if he thought seven birdies were a chance at the start of round three. "Sandbelt golf is a really tough test. You have to be incredibly patient. I think the best thing for me has been my pace putting. Going from different courses, it is integral to shooting good scores and keeping three putts off the card.
"I am thrilled and ecstatic to have my name on an honour board and Yarra Yarra is not a bad place to do it."
Lyras stares down another pure iron shot. PHOTO: Paul Shire.
Lyras, who played a PGA Tour event this year after pre-qualifying through the brutal Monday shootout for the Byron Nelson and supplements his golf with occasional work at retail store Power Golf, said he got some recent inspiration from an unsurprising source.
"We have been lucky to have Tiger coming back and playing some golf again, and some of the stuff he says to his kid, really kind of rings true," he said. "The next shot is the most important, it is more important than breathing, is one that really sticks in my mind.
While Lyras will stick with the same strategy of managing his way around on the South Course at Peninsula Kingswood tomorrow, local boy Fraser believes he will need to be more aggressive. The Victorian solid if not spectacular again today.
"I think buckets are back. You know how mullets were back, I had long hair before, maybe I am starting a new trend. A PK one, if they have one tomorrow, I will be purchasing one." - Brady Watt.
"The putter was a bit cold. That's the way it goes, I really struggled to get the speed of the greens, they were pretty much perfect out there, so no fault of the greens," Fraser told this publication.
"I think I have to have a go (tomorrow). I'm not sure how it is going to be setup, but if you play well around that course you get rewarded but if you don't play well you get found out as well.
"The greens will be as perfect as you are going get, and the rest of the course the same. Hopefully some nice weather and even better scoring."
With just six players under par for the week, Fraser's suggestion of more birdie chances will be a welcome one for the rest of the field. Although eight shots might be too much to make up, Grace Kim will be among those hoping to have a few more chances to better her one-under total.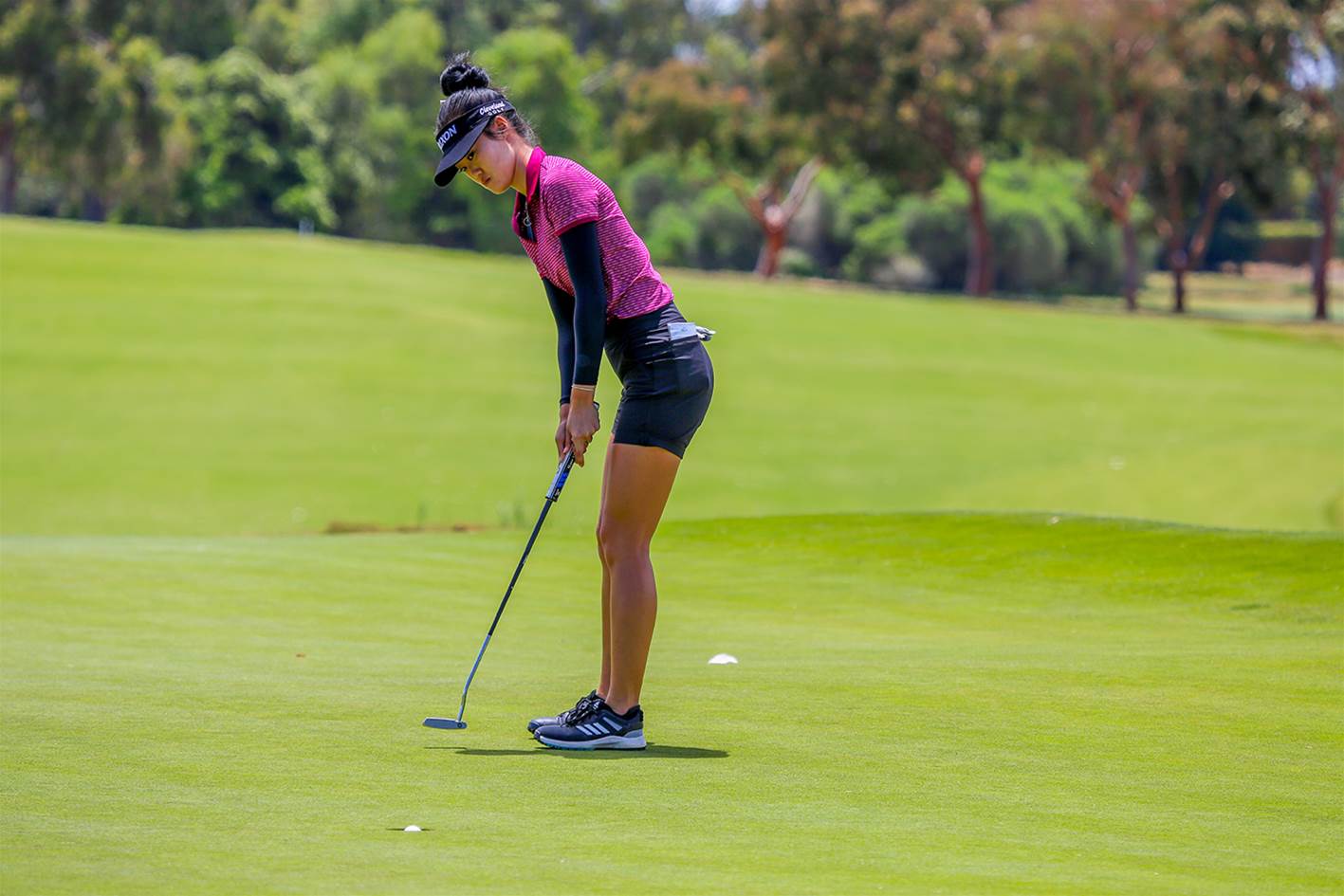 Grace Kim rolls in her first birdie of the third round. PHOTO: Brendan James.
Despite the tournament looking out of reach for the new pro, she is the almost unbackable favourite to win the tournament within the tournament for low woman at the inaugural Sandbelt Invitational.
Kim leads LPGA Tour star Su Oh by eight strokes with 18 holes remaining, and having recently challenged for the men's Western Open in Dubbo, clearly enjoys being afforded the opportunity to take on the men.
"It is definitely a big confidence booster," she said of leading Oh after 54 holes by such a margin. "Su might not be having a great week, but regardless it shows I'm able to keep my game and scores stable, I am happy for how far I have come and it gives me a bit of hope that I might be on the LPGA like her."
Fun and relaxation have been a constant theme of this week, even for those battling to keep their cards clean of bogeys and worse. And especially for Watt, whose strategy won't change on the final day after being clearly the best player all week.
"I am thrilled and ecstatic to have my name on an honour board and Yarra Yarra is not a bad place to do it." - John Lyras.
"Haven't even looked at it," he said of the leaderboard. "Just go and play PK like I would on a Tuesday with my mates. It's not going to be in three hours, but I love the South it is one of my favourite courses. Have a good night's sleep and get at it tomorrow."
The suggestion that another good round tomorrow could see a couple of extra bucket hats charged to a heathier bank balance considered premature by the 31-year-old World No.1,590. And drawing a near choking incident involving a nearby Grace and a Mintie.
"Let's not get too far ahead of ourselves. You've rattled Grace already."
© Golf Australia. All rights reserved.