Kiradech Aphibarnrat is making his third Masters start and the 29-year-old is hoping to follow good friend Ariya Jutanugarn in the ladies game and become the first Thai male to win a major championship.
And despite being rated a 300-1 shot by bookmakers, the man known as 'The Barnrat' might be more of a chance to become the first Asian-born Masters winner than the odds makers suggest.
Never lacking confidence and a smile, Kiradech has proven popular with the American galleries at Augusta National in part due to his larger than life persona and a physique more in keeping with a patron than a player. But his growing familiarity with the Alister MacKenzie layout that he believes suits his game and also reminds him of the host venue of his most recent victory, Lake Karrinyup Country Club, as well as some wild weather could form the perfect storm for Aphibarnrat to go from crowd favourite to a Masters champion.
"I feel like I have taken all of the nerves out. I'm not that exited compared to the first year that I got here," Aphibarnrat exclusively told Golf Australia magazine of arriving at Augusta for the third time. "My hand was shaking the first year, I didn't know if I was going to hit the crowd on the right or left on the first tee.
"But so far I'm used to the golf course, I know how tough the course is, I know where the best place is to put the ball, where the place is you have to ignore the worst place.
"So far I have just tried to just keep myself calm and that it is just one golf event, because this week everyone is trying hard trying to get the result, but then you just end up hurting yourself. Have to be calm and stick with your game plan and play your best golf.
"The golf courses are really similar, it's just slightly firmer, but overall I think to think about the win in Perth gives confidence not the golf course," he added when comparing Lake Karrinyup with Augusta.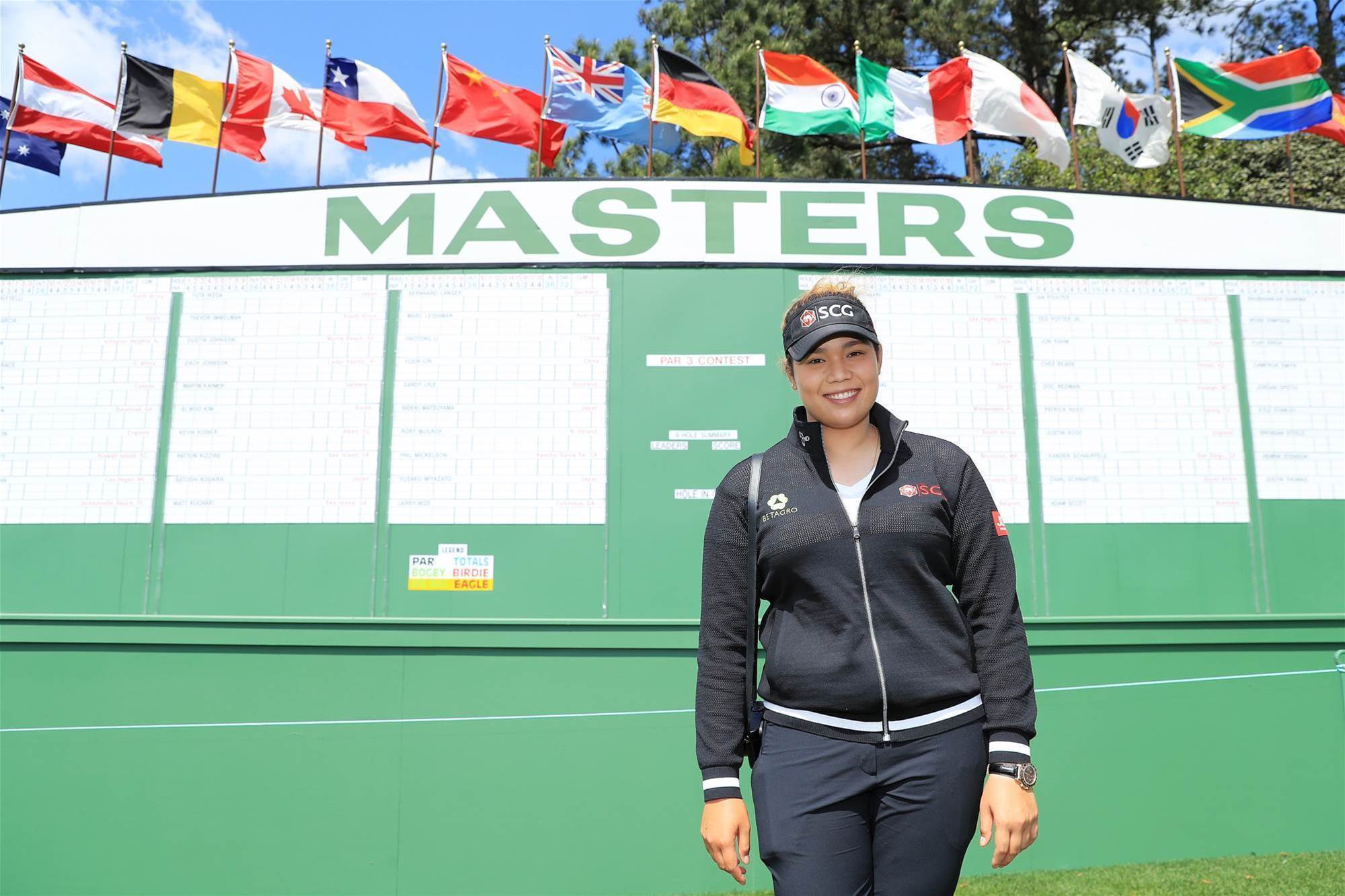 Ariya Jutanugarn attended The Masters in 2018 to support Aphibarnrat, who hopes to follow in her major winning footsteps. PHOTO: Andrew Redington/Getty Images.
The thunderstorms that rolled into Georgia on Monday night and closed down the course that was already playing long and soft according to those who played Sunday and earlier in the day Monday. And with consistent rain forecast for Tuesday and later in the week, the course might play more difficult than if it were running firm and fast. Something that plays into the hands of Aphibarnrat, whose has made the cut in his two previous Masters appearances and best finish came in cool, blustery conditions ion 2016 when he was T15.
Although extremely adept at flighting his golf ball down and playing a variety of shots, the increase in softness and length will help Kiradech, who has never broken 70 at the event and has a knack for producing his best golf when the going gets tough.
Renowned for his masterful short game and flight control, Aphibarnrat knows he needs his too fire to find himself in contention at Augusta but also acknowledges the course whether dry or wet suits him as he seeks to display the talent of Asian players on what is arguably golf's stage.
"If I bring my A-game out I think this golf course really suits my game," Aphibarnrat said. "I have a great short game and I love to move the ball around and this course you really have to do that. Four days who knows, it might be my days it might not. But I just want to enjoy every step that I take in this event and at this golf course.
"I just want to show them how us Asian players play. I come from a very small country in Asia and some people here don't even know my country at all, but I just want to show them so they know we have good players over in Asia but we're trying hard to be a part of this event."
Another aspect of Masters week that suits Aphibarnrat, according to him, is the tournament's green colouring and more specifically the green item every male tour pro longs to try on, the green jacket. Regularly decked out in various shades of what is his favourite colour, the now PGA Tour member admits to having the occasional day dream already this week.
RIGHT: Kiradech says he is more calm and comfortable at Augusta National in 2019, admitting his hands were shaking regularly during his 2016 debut. PHOTO: Harry How/Getty Images.
"Last couple of days I've been standing in front of the mirror and I have been thinking, the green jacket might fit me well, might look well on me. So, I have a lot of work to do the next four or five days, who knows it might be on my shoulders and I walk away with a green jacket back to my hometown."
The thought of taking the green jacket home is a huge motivator for every player in the field, but for the eight-time winner around the world, his desire to do well at Augusta is also to once again to follow in the mould of the Jutanugarn sisters and inspire junior golfers.
"It's (winning The Masters) going to push a lot of a new generation like Ariya and Moriya (Jutanugarn) do, they're doing a great job. That's why all the lady golfers in Thailand are excited and improving their game a lot, they know that Ariya can do so other Thai girls can do it.
"I want to be a part of that as well, if I can do that this week, I've just got the job done this week and I believe a lot of kids that have been thinking about which sport they are going to play, they're going to choose golf."
The Jutanugarns will both reportedly be at Augusta on Wednesday for the annual par-3 contest, but Aphibarnrat was tight lipped on whether one of the sisters will carry the bag for him as former World No.1 Ariya did in 2018.
"That' still a secret," Aphibarnrat said with a smile when asked on his caddie choice for Wednesday.
If he were to beat the odds and be draped in a new green jacket on Sunday one thing is certain, Thailand's golfing pedigree would no longer be a secret.
© Golf Australia. All rights reserved.