Golf was invented as a walking game. But in the modern age of course construction where layouts are longer and cover expansive areas across sometimes hilly topography, they can be a difficult slog. Here's 15 of the toughest for walking golfers.
1 WHISTLING STRAITS (Straits course) – Wisconsin, USA
Massive sand dunes and nearly 1,000 bunkers litter the walking-only layout that has hosted three PGA Championships and will hold the 2020 Ryder Cup. Like so many of the US courses used for championships in recent years, it covers an immense area (560 acres) and designer Pete Dye, in trying to extract the best golf holes from the rugged terrain, left some long treks between greens and tees. The Straits course is a beast and anyone venturing out to test their mental and physical golfing prowess had best be prepared for a long day.
2 CHAMBERS BAY – Washington, USA
When the US Open was played at Chambers Bay in 2015, USGA chief executive Mike Davis described the Robert Trent Jones Jnr course as an "endurance test."
Built on land previously used as an old sand and gravel mine, near Seattle, the walking-only links-inspired layout (pictured below) covers nearly 16 kilometres (when you include the long walks from green to tee). But the real physical challenge is the up and down trek you have to make during a round with nearly 200 metres of elevation change across the property.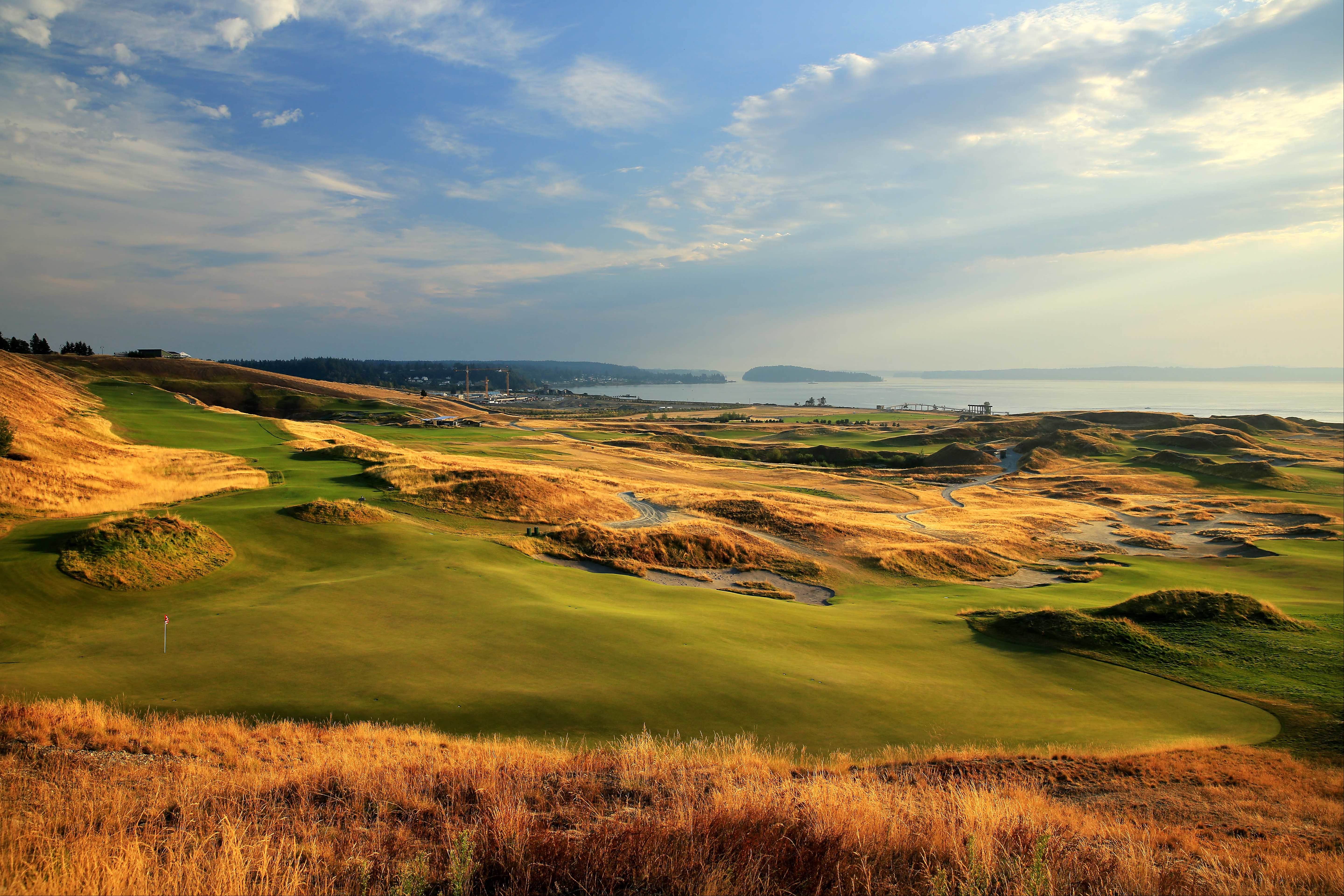 Chambers Bay. PHOTO: Getty Images.
3 KO'OLAU GOLF CLUB – Hawaii, USA
Set at the base of the Ko'olau Mountain range in Hawaii, Ko'olau stretches to 7,310 yards (6,684 metres) across dramatic topography, which offers some of the most breathtaking views you will find on a golf course. The views won't be the only thing taking your breath away as you climb across the natural folds in the landscape and traverse several ravines throughout the round.
4 ERIN HILLS – Wisconsin, USA
The walk didn't get much easier for the US Open field in 2017. Erin Hills covers a massive 652 acres (compare this, for example, with Kingston Heath in the Melbourne Sandbelt, which is contained within little more than 100 acres). The rugged walking-only layout measures 7,845 yards (7,173 metres) from the tips, making it the second longest course used in US Open history.
Erin Hills. PHOTO: Getty Images.
5 PIKEWOOD NATIONAL – West Virginia, USA
Since expanding to 18 holes in 2009, Pikewood National – in the hills of West Virginia – has embraced its growing reputation as one of the most challenging courses in North America.
Its 155 slope rating should sound alarm bells for anyone brazenly walking out to the 1st tee with the back markers in their sights – unless of course they have a PGA Tour card or scratch handicap. Pikewood is arguably the toughest walk of all the courses featured here – the walking-only course is contained within a massive 650 acres, while the routing from 1st tee to 18th green covers more than 14 kilometres with several steep climbs.
Pikewood National. PHOTO: Getty Images.
6 JADE DRAGON SNOW MOUNTAIN – Yunnan Province, China
Here is one course that would be absolute madness to play on foot. Here's why
It's not a memorable design, but it is the longest golf course on the planet at 8,548 yards (7,816 metres) and includes the longest par-5 in the world at 711 yards (650 metres).
The thin air of its location, more than 3,000 metres above sea level in the Himalayas, does make the golf ball fly 15 to 20 percent further.
The thin air at this altitude can make breathing tough, which is why carts are compulsory and oxygen masks are in every cart.
7 KAPALUA RESORT (Plantation course) – Hawaii, USA
The Plantation Course at Kapalua Resort – home of the PGA Tour's Tournament of Champions – (pictured above) was simply not designed to be a walking course. The layout is routed over hundreds of acres of old pineapple plantation and grazing land – up and down the side of the West Maui Mountains and there are several lengthy green to tee walks. Most players use a cart but if you want to walk the course, which is not encouraged by the resort, it is manageable.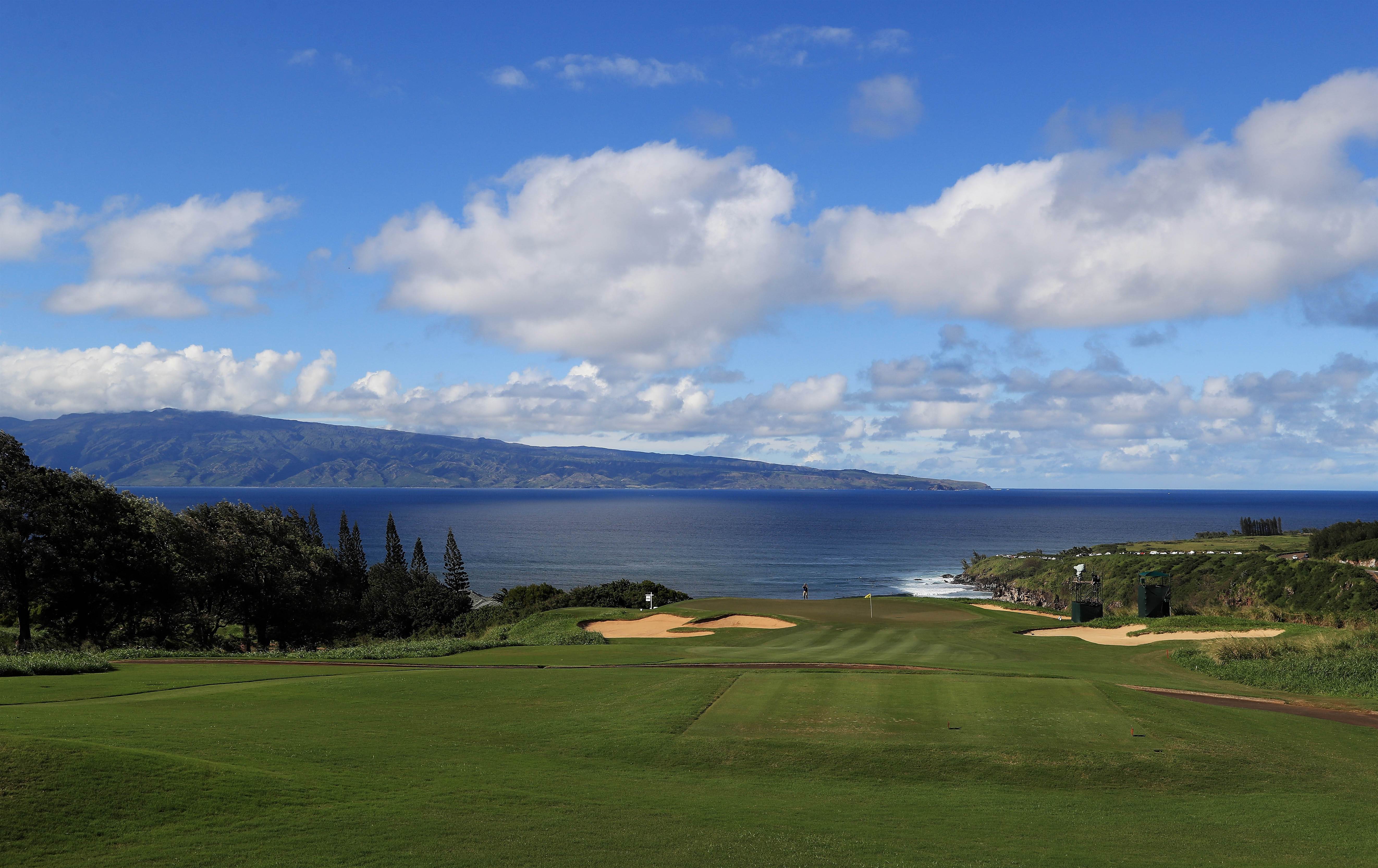 Kapalua Resort (Plantation Course). PHOTO: Getty Images.
© Golf Australia. All rights reserved.