Watching Danny Willett smiling and joking at Lake Karrinyup on Wednesday you wouldn't know the Englishman's world ranking has plummeted 172 places since his maiden major win in 2016.
Hearing him describe the injury issues that have plagued him during that time, however, as he prepared for this week's ISPS HANDA World Super 6 Perth, goes a long way towards explaining his drop off in play. One that also resulted in a change to the coach and caddie who helped deliver him the Green Jacket just two years ago. With plenty of other off-course distractions to take his focus away from golf as well.
"I'm kind of three or four months behind where I should have been because we couldn't hit any balls for 12 weeks," Willett said of his recovering shoulder injury. "So, I sat home and we had the birth of our second boy, so we've been busy at home even though I've not been able to hit golf balls.
Willett shares a laugh with caddie Sam Haywood while preparing for the World Super 6 Perth. PHOTO: Getty Images/Paul Kane.
"Even to be able to play 36 holes in Dubai the first time in four months was just nice to even be able to compete with no pain. Then last week, Malaysia was the first time in five years I've not played on painkillers. So, there's a lot of positives going forward, so now it's just a matter of time of getting game ready, getting game sharp, and actually again looking more at the golf now instead of the body."
Willett attributed part of his recent body improvement down to the work he has done with new coach Sean Foley. Admitting that his golf swing is now vastly different to the one Pete Cowen helped build into a major winning move.
"There's a lot of things that I'm doing that feel completely different, like worlds apart," he said "So obviously then being able to take that from a driving range concept to a golf course concept where you've got different lies, different winds, it's all very good and well in a controlled environment on the driving range.
"I know what we're doing's right because my body's telling me it's right, it's not hurting. I've not had back issues now since I've started with Foles. My knee's been all right, which I had a bad one at Valderrama, and obviously, the shoulder. So, we're narrowing it down."
Willett's game has not been the same since Jordan Spieth helped him into a Green Jacket, with injury largely to blame. PHOTO: Getty Images/Scott Halleran.
Before the change in coach was his caddie switch that drew questions from the media and fans alike at the time after his successful partnership with childhood friend Jon Smart ended abruptly. Again, however, Willett had good reasons for the change when he fronted the media in Perth.
"Sam on the bag is my best friend from back home and he's been out here now for nine years. We play a lot of golf at home and that was just a really easy natural progression really from Jonny obviously going to Gracie (Branden Grace) now. So yeah, everything is a bit of a fresh look at things."
Clearly comfortable with his new team and happy with his new found fitness, Willett was honest about his own expectations this week and attempted to temper those of fans expecting big things of one of the tournament's marquee names.
The 30-year-old did however, give indications that his game was headed in the right direction. And that his second trip back to Augusta National as a Masters Champion might be more successful, and far less busy than his first last year.
"I think I would be silly to say that there would be expectations," Willett said. "I'm just really looking forward to again just playing. For me it would be, again, it would be one of them where my main goals right now are to be pain free, to go back to the room every night and go back and go to the gym and feel pretty good about where your body is.
"My game wasn't in great shape when I went there last year, so I really tried to make sure the week I had was a memorable one in terms of not many times you're going to get to go and defend at Augusta. Yeah, hopefully this year I'm going to go back, we can go and get our workouts back on."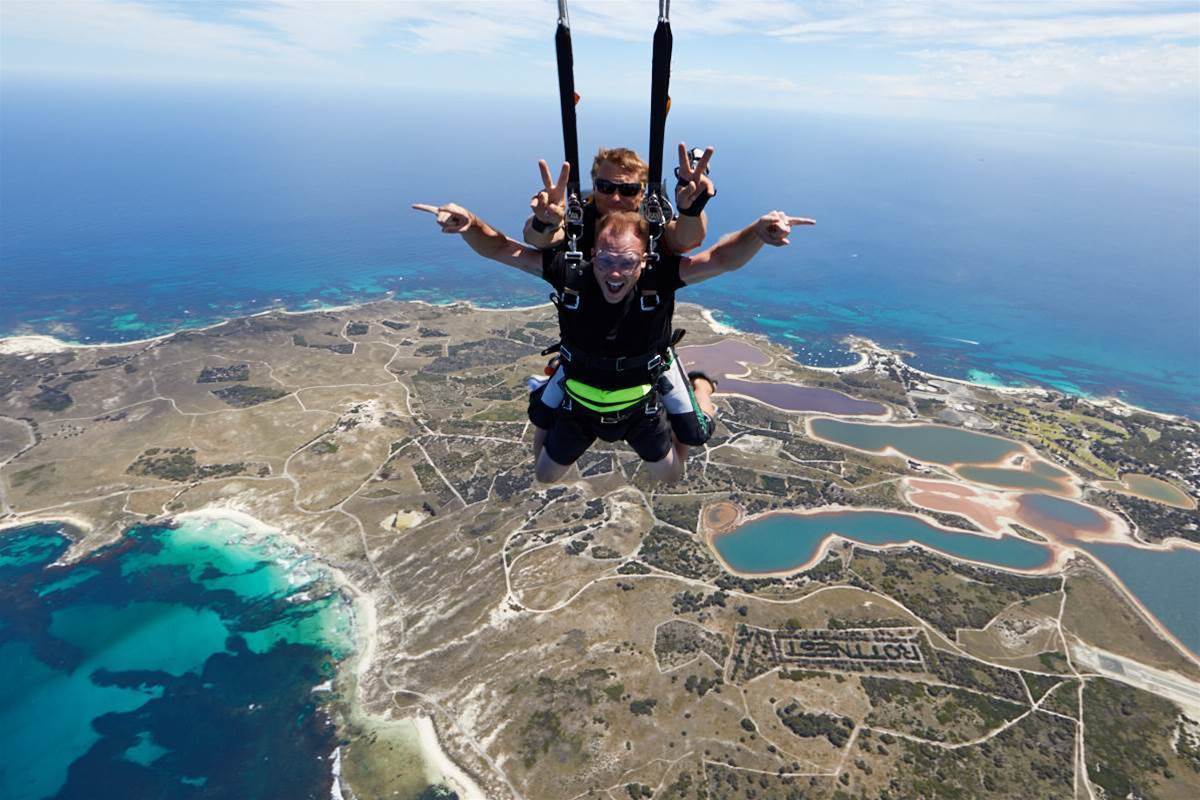 The Englishman got a unique look at Perth and Rottnest Island on Monday. PHOTO: PGA of Australia.
Before he can turn his attention to the year's first major, however, Willett will hope to achieve something in Perth that has been rare for him of late. With October 2017 marking the last time the Northern Englishman made two cuts in a row, which will be required before he can even take part in the match play portion of the Super 6.
If he can make Sunday's match play, Willett knows that recent form and his Ryder Cup match play experience in 2016 will play little part. And that he, like any player in the field, can get hot with the putter at any time and potentially give his comeback bid a significant and early boost.
"Six holes isn't a long time in terms of golf. I don't think experience is really going to play a part in a six-hole match. I think it's more about who's playing good golf and who's going to come out firing.
"You know, you could get a guy that's competing in his first ever tournament, but if he reels off four birdies in a row, which everyone's capable of doing, there's nothing you can do. So, I think that's why the format is so intriguing, I think that's why guys really enjoy it."
The 30-year-old was open and honest when talking about his game to the media on Wednesday. PHOTO: PGA of Australia.
Willett will hope the "funky format", like his new coaching and caddie situations, holds another of the keys to getting closer to finding his game that helped him become one of the game's elite players. And if the tournament's one year long history of winning redemption stories continues, he will might have to reassess his goals as he prepares to return to Augusta to take part in the Champions Dinner for the first time without the catering duties.
"My main goal for these first four weeks coming back was to be pain free at the end of them, and that would have then been me doing my rehab correctly and me doing everything because I can.
"So, I feel like we're on that track now, but it's now just getting more golf swings under my belt, more tournament rounds under my belt under the pressure of hopefully playing pretty good and being in the round if we can. Just because it's where you want to be, it's where I feel like I should be, and it just might take a little bit longer but we'll just have to wait and see."
© Golf Australia. All rights reserved.