Believe it or not, Tiger Woods and Ernie Els have actually managed to become quite good friends in recent years.
But make no mistake, as soon as the legendary figures step foot on the golf course, their 20-year rivalry is instantly reignited.
Such was the case this morning at Royal Melbourne Golf Club during the opening press conference of the Presidents Cup, where Els will captain the International Team and Woods will lead the United States as only the second playing captain in the 25-year history of the biennial matches.
Separated on stage by shoulder-high plywood, Els heaped praise on his American counterpart before landing the first verbal blow of the week.
"Where the game of golf has gone in the last 25 years is just remarkable – and it could not be where it is today if it wasn't for Tiger Woods. With all that said and done ... We would like to kick their asses this week here at home," Els smiled.
It was said respectfully, of course, but you could sense the big South African meant every word of it. How could he not? Their well-documented rivalry has been rather one-sided, after all.
"We would like to kick their arses this week here at home." – Ernie Els
Go back to the year 2000, when Els finished runner-up at the first three majors of the year. On two of those occasions – at the US Open and The Open Championship – it was Woods who pipped him to the post.
Both men have competed in eight Presidents Cups, too, where Els has been part of the losing side on six occasions.
"I know I would have had a couple more events under my belt – but I'm still very proud to have played with and against Tiger," Els said before joining his team for practice on the Composite Course in the morning drizzle.
"After all these years, to be friends with him is another privilege. We've shared a lot of moments together. A lot of tournaments come through my mind now where I came close and lost to him. But there were a couple where I got him, you know, here and there," he chuckled.
The 50-year-old Els is taking solace in the fact his side's only victory in the Presidents Cup came at this week's venue back in 1998.
"That was a wonderful time … I still remember that very clearly, how the guys played, the team spirit we had that week and how they individually stood tall," Els said of the Internationals' lone victory.
"I've got a young team and so forth – as we did back in '98 – and at the end of the day, it's 18 holes of match play. We've seen what can happen."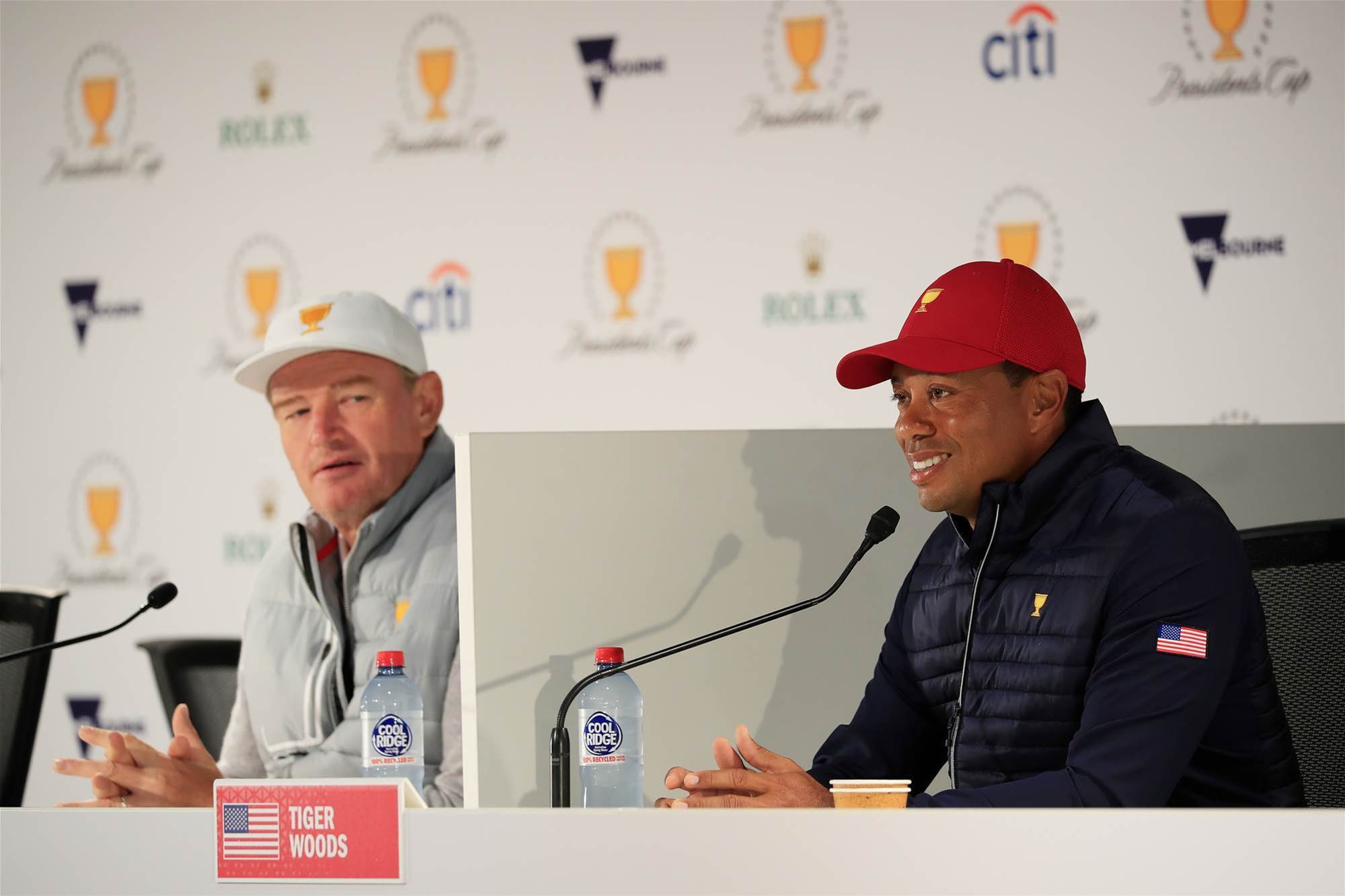 Els and Woods at the opening press conference of the Presidents Cup. PHOTO: Cliff Hawkins/Getty Images.
Woods, meanwhile, was brief in addressing Patrick Reed's controversial actions in the Bahamas at the weekend.
"It was not a lengthy conversation. Pat and I are very good friends. We kept it short," Woods said.
The 15-time major champion also believes Reed will be able to stand up to the pressure from the Royal Melbourne crowds, which are expected to reach around 30,000 people each day from Thursday to Sunday.
"I think Pat will be fine," Woods said.
"Pat is a great kid. He's handled a tough upbringing well – and I just think that he's one of our best team players and is one of the reasons why all of our guys wanted him on the team."
The 2019 Presidents Cup matches will get underway from Royal Melbourne Golf Club on Thursday morning, with the first round of Fourball matches beginning at 9:30am AEDT.
© Golf Australia. All rights reserved.