"Just unreal."
The description of what transpired on Sunday at Augusta National could have come from any of the thousands of people on the hallowed grounds.
But those were the words of the winner, Tiger Woods, having just authored the latest chapter in his remarkable comeback from four back operations and at one time thinking his career was over. Woods' two under par final round of 70 enough to secure his fifth green jacket and 15th major championship at the 83rd Masters.
The win marking Tiger's first major win when starting the final round without at least a share of the lead, and bringing him to within three of Jack Nicklaus' record career major championship haul.
Woods is helped into his green jacket for the fifth time by 2018 champion Patrick Reed. PHOTO: Kevin C. Cox/Getty Images.
With his mother Kultida and children Sam and Charlie watching on greenside, Woods tapped in for a bogey five at the 18th hole and repeatedly unleashed screams of elation as the crowd chanted his name. Woods acknowledging the chance to win for the first time with his children present and able to remember the moment making it particularly special.
"It hasn't sunk in at all," Woods said after the round. "This is one of those things, it's going to take a little bit of time, and I'm just fresh off of just winning the tournament, and I just can't wait to see how it all unfolded from the TV perspective, because I know I was grinding hard trying to chase Francesco today, and then all of a sudden the leaderboard flipped and there were a bunch of guys up there who had a chance to win.
"I hit some of the best shots on that back nine today. You know, I felt like I just flushed it coming home, which was a nice feeling.
"My dad's no longer here, but my mum's here, 22 years later (from his 1997 win), and I happen to win the tournament; and then to have both Sam and Charlie here, they were there at the British Open last year when I had the lead on that back nine, and I made a few mistakes, cost myself a chance to win The Open title.
"I wasn't going to let that happen to them twice, and so for them to see what it's like to have their dad win a major championship, I hope that's something they will never forget."
Woods began the day two shots back of leader Francesco Molinari, who was playing his usual stoic game and looked almost unbeatable as the sun went down on Augusta on Saturday.
The blustery conditions adding an unknown element to the traditional Sunday at Augusta, with tee times starting early and threesomes going off both the 1st and 10th tees to avoid a forecasted storm that never eventuated.
Woods was struggling to make up ground on the Italian early, making back-to-back bogies at the 4th and his fourth straight bogey of the week at the renovated par-4 5th. The 43-year-old having a one sided conversation with caddie Joe LaCava before giving himself a talking to before heading to the 6th.
"The talk that Joey and I had off of 5 – he just listened," Woods said. "I was saying some things that I can't really repeat here. Then I went into the restroom and proceeded to say the same things over and over to myself, and then came out and I felt a lot better."
Molinari plays to the 12th green after taking a penalty drop from the water as Woods waits on the green. PHOTO: David Cannon/Getty Images.
Woods managed birdies at the 7th and 8th holes that had the roars of the crowd start to gain volume. Even around the 18th green a cheer would go up when Woods' score was updated on the iconic scoreboard, clearly indicating who the patrons' favourite was.
The now five-time champion showed his experience at Augusta at the very next hole, Woods hitting a perfect lag putt from the back of the 9th green to front pin location that each group before him struggled with, securing a par that kept him within one shot of Molinari's lead.
Despite his steady play continuing through the opening holes on Sunday, Molinari was set to enter golf's greatest pressure cooker. Augusta National's back nine, with Tiger Woods breathing down his neck.
As the groups ahead started to make their move up the leaderboard, including Jason Day, Dustin Johnson, Brooks Koepka and Xander Schauffele, Woods made another bogey at 10 before saving a par after a wild drive at the 11th before Molinari finally faltered at the short par-3 next.
The reigning Open champion finding the water with his tee shot at the 12th, making a double bogey five to Woods' par.
"Just a bad execution," Molinari said of his tee shot at 12. "I think we picked the right shot and just didn't hit it hard enough, as simple as that. And it was tough today with the wind gusting and I managed to scramble well on the front nine and I think I just had a couple of mental lapses on the back nine that were costly. But it is what it is."
"I knew my 9‑iron couldn't cover the flag, so I had to play left, and I said, just be committed, hit it over that tongue in that bunker," Woods said of what transpired at 12. "Let's get out of here and let's go handle the par 5s, and I did. The mistake Francesco made there let a lot of guys back into the tournament, myself included."
Molinari found the water and double bogey again at the par-5 15th, where Woods managed his second birdie of the back nine to take the lead on his own and send the kind of roars that only he can create around the course once again, alerting his other competitors that Tiger was coming.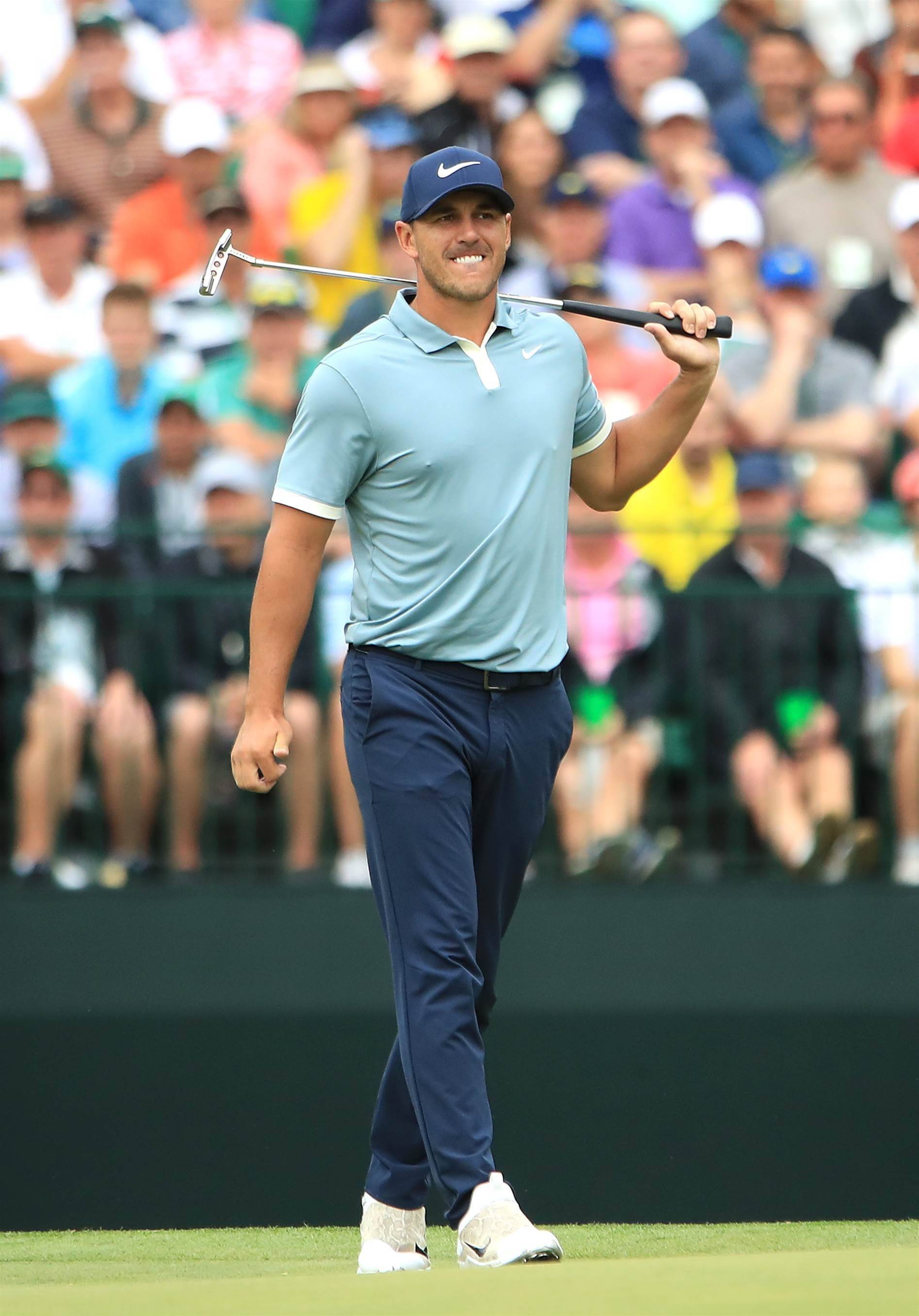 RIGHT: Koepka once again put his name up in lights at a major championship, but missed putts on the back nine meant he came up one short of Woods. PHOTO: Andrew Redington/Getty Images.
Woods' shot of the day came at the 16th where he used the bank of the par-3 green to setup a short birdie putt to get to 14 under par, two in front of his nearest challengers.
Koepka, playing in the group in front of Woods, Molinari and Tony Finau, appeared the most likely challenger late on Sunday. But a double bogey of his own at the 12th and missed birdie putt at the last, despite an eagle at 13 and birdie at 15, meant Woods had the luxury of making bogey at the last to win by one.
A safe iron short, right of the green and good chip left two putts for the win. Woods disappointed he needed more than one.
"The new green; that damn thing should have broke," Woods joked of his first putt on 18. "I hit a pure putt. I remember that putt breaking and it just didn't break.
"No, but I was saying, it's not over yet, I've still got to make this putt. Come on, just keep it together. Keep focused. Go ahead and make sure that I commit to, even if it's a 1 1/2‑foot putt; commit, and I did, and knocked it in. And God knows what I did after that," he added of his thoughts over the tap-in and reaction once he found the bottom of the hole.
Woods celebration with his family and friends was unlike any of his previous major wins. The patrons' chants of his name ringing out across the entire property and continuing as they made their way out of the gates.
Tiger was clearly emotional about not only his win, which netted him US$2,070,000,signalling that his injury comeback was unquestionably complete, but doing so in front of his kids, who only made the trip to Augusta on Saturday after daughter Sam lost a soccer final.
RIGHT: Day was the best of the Aussies, sharing fifth after a final round 67. PHOTO: Kevin C. Cox/Getty Images.
"It means the world to me," Woods said of his children's presence. "Their love and their support, I just can't say enough how much that meant to me throughout my struggles when I really just had a hard time moving around. Just their infectiousness of happiness; you know, I was going through a tough time physically. There was a lot of times when I really couldn't move, and so that in itself is difficult.
"But just to have them there, and then now to have them see their Pops win, just like my Pops saw me win here, it's pretty special."
Molinari managed a birdie at 17 to share fifth at 11 under, while Johnson, Schauffele and Koepka were joint runners-up at 12 under. Many waiting for Woods to congratulate the now World No.6 on what he rated one of the best wins of his career.
"This is definitely probably one of the greatest comebacks I think anybody's ever seen," Koepka said of Tiger's win. "81 (wins); 15 (majors); I think 18 is a whole lot closer than people think."
Day was the top Australian, sharing fifth with Molinari, Finau and Webb Simpson after a final round 67, but having started the final round at six under, the Queenslander required more help from the leaders or more birdies if he was to truly challenge for our second green jacket.
"I didn't start taking notice of the leaderboard until the back side. Getting through at two under was nice and then making a good solid par on 10, then I hit a good shot into 11 and I thought 'Ok well, if I can birdie 11, 12, 13, 14, 15 then that's going to give me a good chance at it," Day said of his Sunday round. "I shoot four on the back side and you never know how that will go.
"I was discouraged and disappointed with how things came out yesterday, so it was nice to be able to build on a good solid round today and just let things unfold."
Five shots back of Day was Adam Scott in T18, whose one over final round will leave a sour taste in his mouth from a week where he looked to be among the main chances on multiple occasions.
"It was not easy today," Scott said after his round. "I just wasn't quite as sharp today as the first three days with some of my shots and but it was a bit trickier, it was a bit windier, and I just didn't give myself that many good opportunities."
Marc Leishman (T49) and Cameron Smith (T51) rounded out the Aussie contingent at Augusta, with both players recording over par rounds on a Sunday that belonged to one man, Tiger Woods, who perfectly summed up the final round and the wider golfing public's reaction to Sunday when speaking with the media.
"There were so many different scenarios that could have transpired on that back nine," Woods said. "There were so many guys that had a chance to win. Leaderboard was absolutely packed and everyone was playing well. You couldn't have had more drama than we all had out there, and now I know why I'm balding. This stuff is hard.
"Just to come back here and play as well as I did and did all the things – all the little things well this week, and to do it here. This has meant so much to me and my family, this tournament, and to have everyone here, it's something I'll never, ever forget."
© Golf Australia. All rights reserved.