An emotional Tiger Woods was nearly brought to tears. Ernie Els the same. Woods getting the best of his career-long rival once again, this time as the Captain of 16-14 United States Presidents Cup victory.
"We fought. Even the points we lost, we were making them earn every one of them, and this Cup wasn't going to be given to us. We had to go earn it, and we did," Woods said in the immediate aftermath of the victory.
Els' team led 10-8 going into the Sunday Singles matches, but there was plenty of American red on the board early as Woods, playing Abraham Ancer in the opening match, and his teammates set about ensuring the Internationals remain on a sole victory for at least two more years.
The South African brought analytics and a unique approach to his captaincy, however it wasn't enough to take down a team stacked with higher ranked players when matched one-on-one.
Woods has bettered his long-time rival Els once again, this time as Presidents Cup Captains. PHOTO: SIMON BAKER/AFP via Getty Images.
"It's been a good week. It's been an incredible week, really with, these guys, guys I've met, newcomers and guys I've known for a long time, and the captains, the wives, the caddies, the volunteers, the PGA guys, the staff; it's just been a humongous group of great people that I've had the pleasure to work with, and especially the players," Els said.
"The players were just incredible. They were open for a new formula, so to speak, and embraced what I said to them, and you know, here we are. You know, we lost 16-14, and you know, we've got to swallow that.
"But great strides were made, especially in our team play."
GALLERY: THE BEST IMAGES FROM THE PRESIDENTS CUP
Always expected to go out early to then take back Captain's duties from assistant Steve Stricker on Sunday, Woods was never down to Mexico's Ancer, who battled the former World No.1 valiantly around Royal Melbourne.
The 2018 Australian Open winner levelled his match with the 15-time major winner after a near ace at the par-3 5th, however a clinical back nine from Woods delivered him a 3&2 victory that included six birdies. Woods responding emphatically in the post event press conference to Ancer's comments a month ago that he wanted to play Tiger in singles.
"Abe wanted it; he got it," Woods said.
One of the early bright spots on an International team searching for the required 15.5 points for a second win at Royal Melbourne, Hideki Matsuyama was four up over Tony Finau as they made the turn. But the Japanese star's game went cold on the back nine, while Finau caught fire, winning five holes and tying the match.
"I was 4-down today, and I thought to myself, I didn't have a lot of my best stuff and I thought Hideki played a great round of golf. I was four down with eight to go and I basically told myself, you know, I can't give up on my teammates, my guys, my captain," Finau said.
RIGHT: Cameron Smith took down World No.3 Justin Thomas in their Singles battles on Sunday. PHOTO: Daniel Pockett/Getty Images.
Third out on Sunday, Patrick Reed – this week's pantomime villain – brushed aside the distraction of his banned caddie, playing the first seven holes in five under par to take six up lead over debutant CT Pan.
The Taiwanese player managed to mount a comeback, getting back to two down through fourteen before two more birdies from Reed closed out the match 4&3.
"You make birdies, you don't hear much," Reed said when asked of the crowd. "It's always important when Captain tells you to go out, he puts you out early, you know you have to go out and get red on the board and close out the matches to keep the momentum for your team, and our team was able to do that yesterday afternoon."
The fourth match out on Sunday morning saw the equal biggest margin of victory. Dustin Johnson easily accounting for another of Els' first-timers, Haotong Li.
Li, the only player to fail to notch even half a point for the week, never mastered the famed greens of Alister MacKenzie's design in his two outings. Going down 4&3 to Johnson.
Among the more exciting matches contested, Adam Hadwin and Bryson DeChambeau eventually took half a point each following matching pars at the 18th hole.
The Canadian never held the lead in the match, which was level for 11 of the 18 holes and never saw a deficit of more than two holes.
Hadwin, who had been ill with food poisoning on Saturday, drew level with a par on the 17th to keep the hope alive amongst his team for a victory or at least a Cup tie. A birdie chance at 18 from 17 feet presenting Hadwin the chance to win his first singles match from two Presidents Cup appearances that he failed to convert.
The first win of the day for Els' side came from arguably his standout player of the week, Sungjae Im. The Korean rookie accounting for US Open champion Gary Woodland 4&3 despite being one down through eight holes.
Im won four of five holes beginning at the short par-4 11th, where Woodland made a bogey five despite being less than 35 metres from the hole playing his second.
"I was hitting the ball so well today, especially when I was warming up on the range, I felt like my ball-striking was so well and I knew that if I putted well, the match would end well," Im said. "So I'm incredibly happy with the way things turned out."
Tasked with taking on one of the Americans' most consistent players of the week, Patrick Cantlay, Joaquin Niemann looked to have his best chance of winning his first match of the week on Sunday. The Chilean leading one up through 10 after consecutive birdies, before Cantlay played the six hole stretch from 11 to 16 in four under par to claim a 3&2 victory thanks largely to a very hot putter.
"It's incredibly disappointing but generally the positivity and being optimistic are what's happening and I like where this team is going, and I'll be working really hard now to be on the team in two more years, if I can keep my game at a good enough level." – Adam Scott.
The first of the Australians went out in the seventh match, Els' on course leader Adam Scott running into an in form Xander Schauffele who built a four up lead after just seven holes.
Scott's first hole win came with a birdie at the par-3 10th, but his opponent immediately hit back at the next to get his lead back to four.
Adam Scott narrowly misses his birdie attempt on the 16th hole to extend the match. PHOTO: Getty Images.
A late surge from Australia's lone Masters champion that included an eagle from 25 feet off the 15th green gave hope to the Internationals of at least salvaging a tie that further increased after another win at the next. But it wasn't to be for the Queenslander, Scott losing 2&1 yet remaining positive on the future of the International side after the most competitive contest in recent memory.
"It's hard to digest at the moment," Scott said alongside his teammates. "It's incredibly disappointing but generally the positivity and being optimistic are what's happening and I like where this team is going, and I'll be working really hard now to be on the team in two more years, if I can keep my game at a good enough level."
Another of the Internationals' debutants valiantly held on till the 17th green in the match following Scott, however Byeong Hun An never had his best golf on Sunday after replacing Jason Day at the last minute. Webb Simpson eventually defeating the Korean 2&1 having never trailed in the match.
Simpson, who had failed to put a point on the board earlier in the week after playing alongside Reed for the first three matches, needed only four birdies on Sunday to win his match that took the US team to 15 points, guaranteeing a worst possible result of a tie.
"We had it right there, and you know, the Americans, they turned up today. They played great. I mean, I don't think we did too much wrong." – Marc Leishman.
Cameron Smith, who will now head to Queensland to attempt a third straight win at the Australian PGA Championship, trailed World No.3 Justin Thomas until the 12th hole, where he took a lead he would never relinquish.
Smith and Thomas jostled over the closing holes, the Queenslander hitting his approach to just over six feet at the penultimate hole. The resulting birdie enough for a 2&1 victory. The personal sense of achievement quickly followed by the disappointment of the team loss being confirmed in the group immediately behind.
"It was a good win for myself today, so much emotion in the match, and after the match, as well. I don't think I've ever been so excited and then kind of really gutted in the space of a few minutes," Smith said in the aftermath of the loss.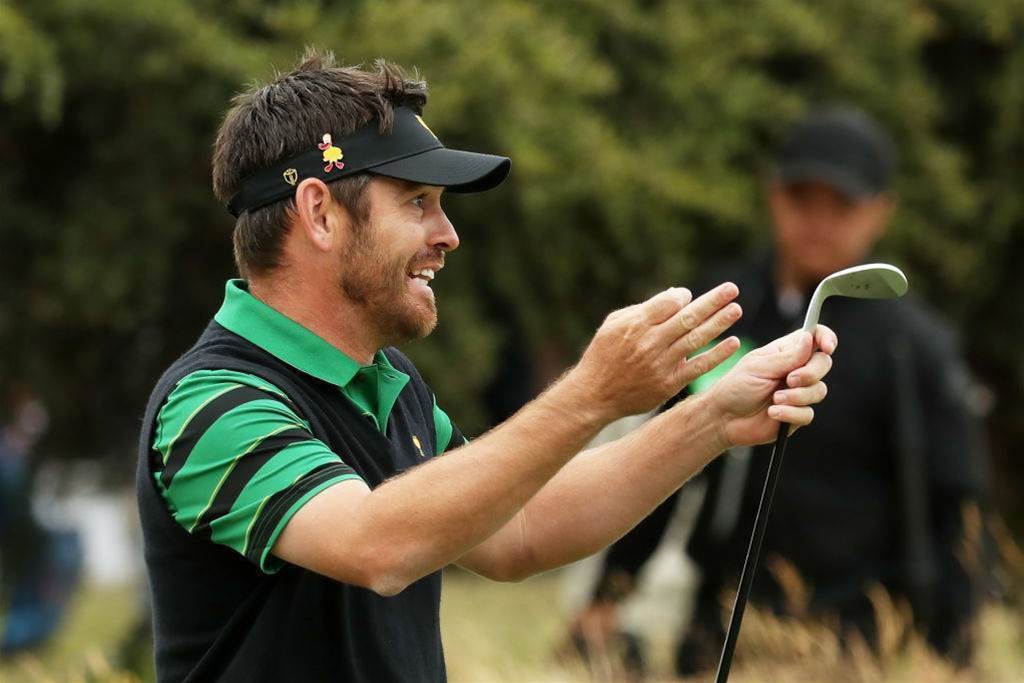 Louis Oosthuizen can't believe his chip didn't go in in his match with Matt Kuchar. PHOTO: Getty Images.
Leading from the very first hole after a birdie three until the 15th, Louis Oosthuizen looked set to deliver a point for his compatriot and Captain Els for much of the day. But the former Open champion was eventually worn down by the dogged Matt Kuchar. The American veteran rolling in a five foot birdie putt at the 17th to go one up and guarantee at least a half point that ensured America the required winning 15.5 points to retain the Presidents Cup.
"To make that birdie on 17, knowing what it meant. Just couldn't be more excited. That was such an emotional moment for me, to make that putt and to see all the team there and to know exactly what that putt meant, it was just awesome," Kuchar said.
In the final match of the day that many anticipated could be the deciding factor, local hero Marc Leishman got off to a fast start only to be chased down by Rickie Fowler, the late replacement for World No.1 Brooks Koepka earning a half point despite losing the final hole of their back and forth match.
The Victorian reflecting the thoughts of his team and those watching on after managing to keep a loss of his singles Presidents Cup record.
"Gutted," Leishman said summing up his feelings. "We had it right there, and you know, the Americans, they turned up today. They played great. I mean, I don't think we did too much wrong. They are a great team and they proved that today."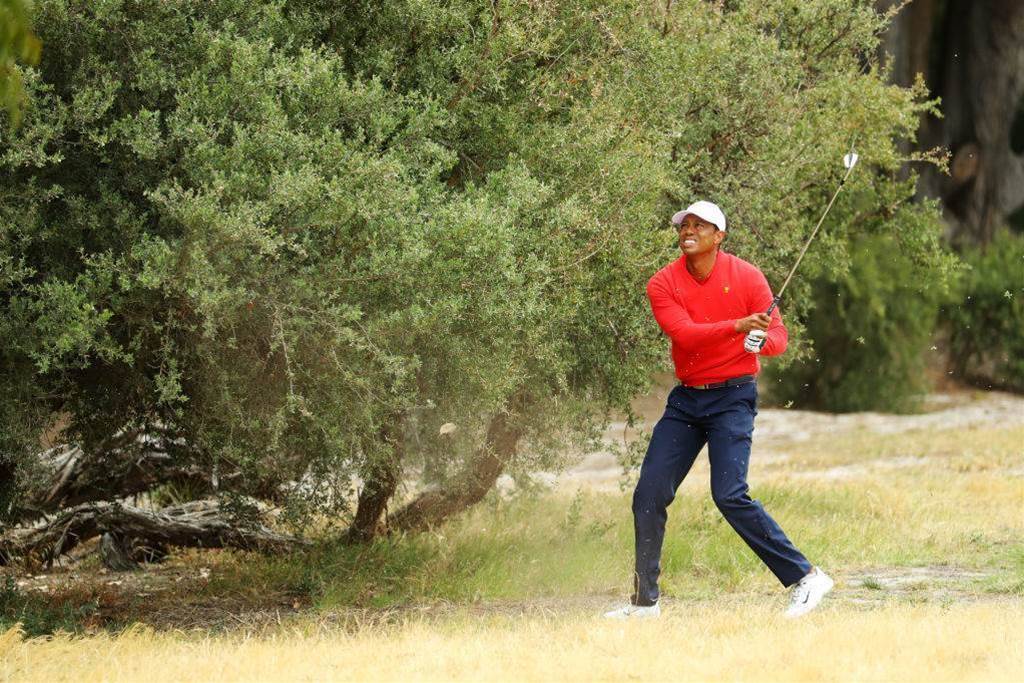 Even when he was in trouble, Tiger Woods was in command. PHOTO: Getty Images.
Sunday without question belonged to Woods and his teammates who displayed just why they were the more highly fancied group heading into the event. But Els remained philosophical about the ability of his team to come together in a way previous International sides have failed to. An attribute along with the perfect stage of Royal Melbourne that breathed life into an event that was fast losing interest in the greater sporting landscape.
"I think the people around the world will look at these guys in a different way," Els said. "If you compare our team on paper with other teams in other sport, you would have laughed us out of the building. But we gave it a hell of a go and we came mightily close to winning and upsetting one of the greatest golf teams of all time.
"If you look at their record and where these guys are at the moment, they are going places."
Woods got the better of his old foe once again in Melbourne this week. And despite admitting to being emotional after each team victory he has been a part of throughout his outstanding career, it is hard to imagine Tiger not ranking the achievement of winning the Presidents Cup as a playing Captain among his best, particularly when getting another win over Els.
"I've been a part of teams before where we have won," Woods said. "Also been a part of, unfortunately, this Presidents Cup when we lost 21 years ago, and so to come here and to do it in this fashion, to do it with this team, in particular, it was an honour for me as a player and even more of an honour to be their captain."
© Golf Australia. All rights reserved.