Cameron Smith says he's stacked on the muscle required to compete with the big bombers at Augusta National, after making a solid start in his return to the Masters.
In his first competitive round at the famed course since his debut two years ago, Smith carded a one-under-par 71 to sit five shots off the pace set by first-round leader Jordan Spieth.
Having earned qualification to the first major of 2018 via the final rankings cut-off two weeks ago, World No.45 Smith said he was playing a completely different game this time round Augusta.
"Probably 20 metres," Smith said when asked how much longer he is with the driver compared to 2016.
"And 20 metres is a lot; I was hitting seven irons where I was probably hitting a four iron last time.
"I can attack a little bit more and be aggressive."
RIGHT: Cameron Smith has bulked up to gain some length off the tee. PHOTO: David Cannon/Getty Images.
The 24-year-old Brisbane native noticed a spike in the atmosphere with four-time champion Tiger Woods in the field this week at Augusta.
"I was a little nervous at the start; there were more people around today," Smith said.
"Obviously, the roars and the cheers were so much louder because we had Tiger a few groups ahead, which was an experience.
"The biggest goal for the past couple of years was to make my way back to the Masters."
Smith hit just six of Augusta's 14 generous fairways in the opening round and urged himself to tighten up the driver or get left behind.
"I struggled with the driver today so to finish under par was great," he said.
"My chipping and putting was good all day so I know if I give myself some decent chances at birdie I can make the putts and climb up this leaderboard."
Jason Day gets his ball back after it found a patrons beer cup. PHOTO: Andrew Redington/Getty Images.
Fellow Queenslanders Jason Day and Adam Scott have some work to do in the second round after they both returned three over 75s.
Day didn't start his Masters campaign well after his second shot into the 1st green clipped a tree and dropped into a fan's beer cup.
The 2015 PGA Champion waited while the man skulled the beer so he could hand the ball back. Day got a free drop but made a bogey, which was his first of four on the front nine.
Day bounced back with birdies at the 10th and 15th holes, but gave a shot back with a bogey at the par-3 16th.
"I need to start better; it's disappointing because I think I did the exact same thing last year and it's been like that for a few years," said Day, who averages 72.29 for opening rounds at the Masters.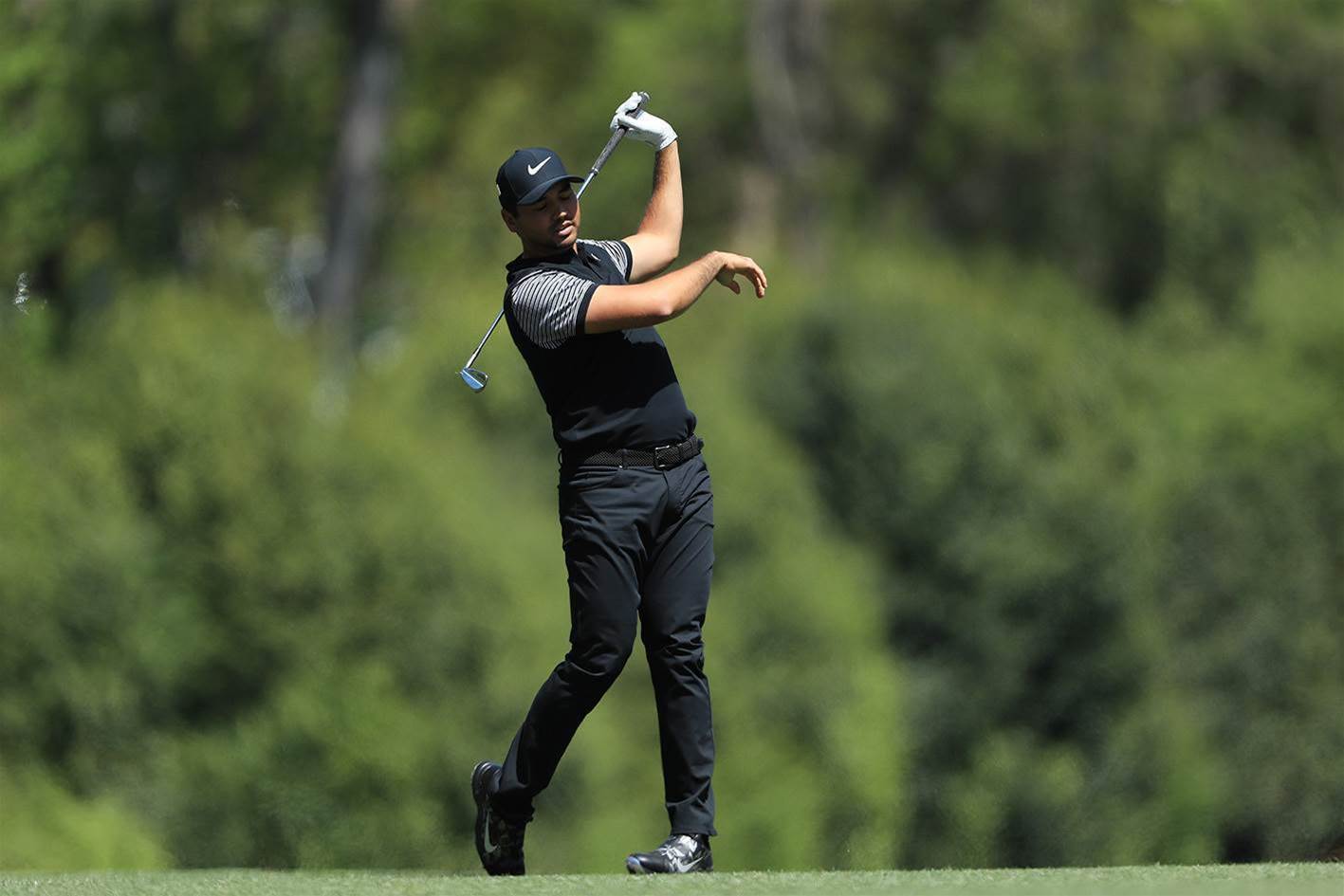 Day really struggled from tee to green for much of his round. PHOTO: David Cannon/Getty Images.
"So I have a lot of work to do over the next few days.
"You never know what can happen at the Masters and I have to keep clawing myself back into the tournament.
"I have to keep fighting and pushing because I feel like the game is there; I just have to play smart, aggressive golf."
Scott opened his Masters campaign with eight consecutive pars, despite giving himself several close birdie opportunities.
A bogey at the par-4 9th from over the back of the dramatic sloping green, was followed by a poor drive at the 10th that led to another dropped shot. On the difficult 11th hole, he put his approach into the lake short of the green and carded a double bogey.
Adam Scott fired his approach into the 13th green to set up a birdie. PHOTO: David Cannon/Getty Images.
The 2013 Masters Champion grabbed a shot back at the par-5 13th, three-putted the 16th for bogey but holed an impressive breaking putt at the 18th to get back to three over.
"I think that's not the first time I struggled in the first round here, but there was lots of good stuff," Scott said. "And I paid the price on 9, 10 and 11.
"Then it was a battle. Then I was on the back foot all of a sudden for the last seven holes and fought my way in.
"But I would like to see more putts like I hit on 18 tomorrow on that front nine and if I can get back to even par, early into the back nine tomorrow, I'm back in the tournament."
Both Day and Scott are tied for 55th place.
© Golf Australia. All rights reserved.