Seven of the eight Australians at Carnoustie for the 147th Open Championship have made the cut, with Adam Scott leading the charge at one under and just five shots from the halfway lead.
The Australians, who all teed off in the morning, unfortunately copped the worst of the weather on day two with persistent rain falling from before dawn until mid-afternoon. The rain may have softened the previously baked layout, but it also brought new challenges for the players as bunkers got sticky like mud, the wet rough became harder to escape from and the putting surfaces got slower and difficult to read.
Scott's second round 70, which included five birdies, came on the back of some brilliant ball-striking particularly with his irons. Three times during his round he stuffed an approach shot in so close he could have kicked the ball into the hole.
At the par-3 8th hole he almost holed his tee shot and converted the birdie, and he did similar at the long par-4 11th hole.
Scott briefly made it onto the first page of the leaderboard when he two-putted for birdie at the par-5 14th to reach two under, which was then just three strokes from the lead. But he handed that shot straight back at the next before parring the remaining holes.
"My game didn't feel great today," Scott said. "Just didn't have the rhythm going this morning. Didn't feel as good as yesterday.
"But it's funny because I wanted to make that one on the last but didn't, and I missed a couple short putts early in the round and shot one-under anyway. So it's like maybe I'm playing better than I think, which is a good thing. Hopefully, got my best stuff on the weekend."
The 2013 Masters Champion says he hopes to draw on the experience he has gained playing major championships to make an impression on the leaders over the weekend.
"I think any player would draw on any positive experience they have," he said. "Certainly, I've played a lot of good rounds of golf in majors over the weekend, particularly Augusta, but The Open as well.
"I'm going to have to have a good round tomorrow to put myself in with a real chance. My game is good enough to do it. It's just a matter of doing it."
Fellow Queenslander and former World No.1 Jason Day signed for a second consecutive round of even par 71, which could have been so much better after he dropped three shots on the last four holes of the round.
Jason Day found the wet conditions tough late in his round. PHOTO: Getty Images.
After making birdie on the 14th, Day was just two shots from the lead and in the top-10 but bogies at the tough 15th, 16th and 18th holes saw him turn a 68 into a 71 in less than an hour.
He was one player who clearly got increasingly frustrated by the wet conditions.
"It didn't stop raining the whole time. It was just tough because, by the end, everything, it was wet. My whole bag is wet. The clubs are wet," Day said.
"It was a tough finish actually. With a little bit of wind and some rain and being cold, 17 is playing tough. 18 is difficult, obviously.
"I wish I could have the last four holes back, but it is what it is.
"Hopefully, the lead doesn't get too far out. Get some nice weather tomorrow. Even if it's windy, as long as it's not wet, I'll try and get myself back into it."
Marc Leishman plays out of a ditch on the 12 hole before making a double bogey. PHOTO: Getty Images.
Young Victorian Lucas Herbert bounced back from his opening round of 73 with a two under 69, which was one of only a handful of rounds in the 60s from players teeing off in the morning. His round of four birdies and two bogies saw him surge more than 40 places up the leaderboard to reach even par.
"...it's still two rounds left. Striking the ball well … I'm optimistic, put it that way." – Marc Leishman.
Herbert was enthused with his improved putting, which is with a putter he only started using four days ago after his clubs went missing on a British Airways flight from Germany to Scotland eight days ago and have still not been located.
Cameron Davis, the 23-year-old Australian Open Champion, had a one over 72 to be one over at the halfway stage. He's among the top echelon of players with the most number of birdies, eight, over the first 36 holes but three double bogies and three bogies have him further back than he would like heading into the weekend.
Marc Leishman (72), Cameron Smith (71) and Brett Rumford (70) are at two over.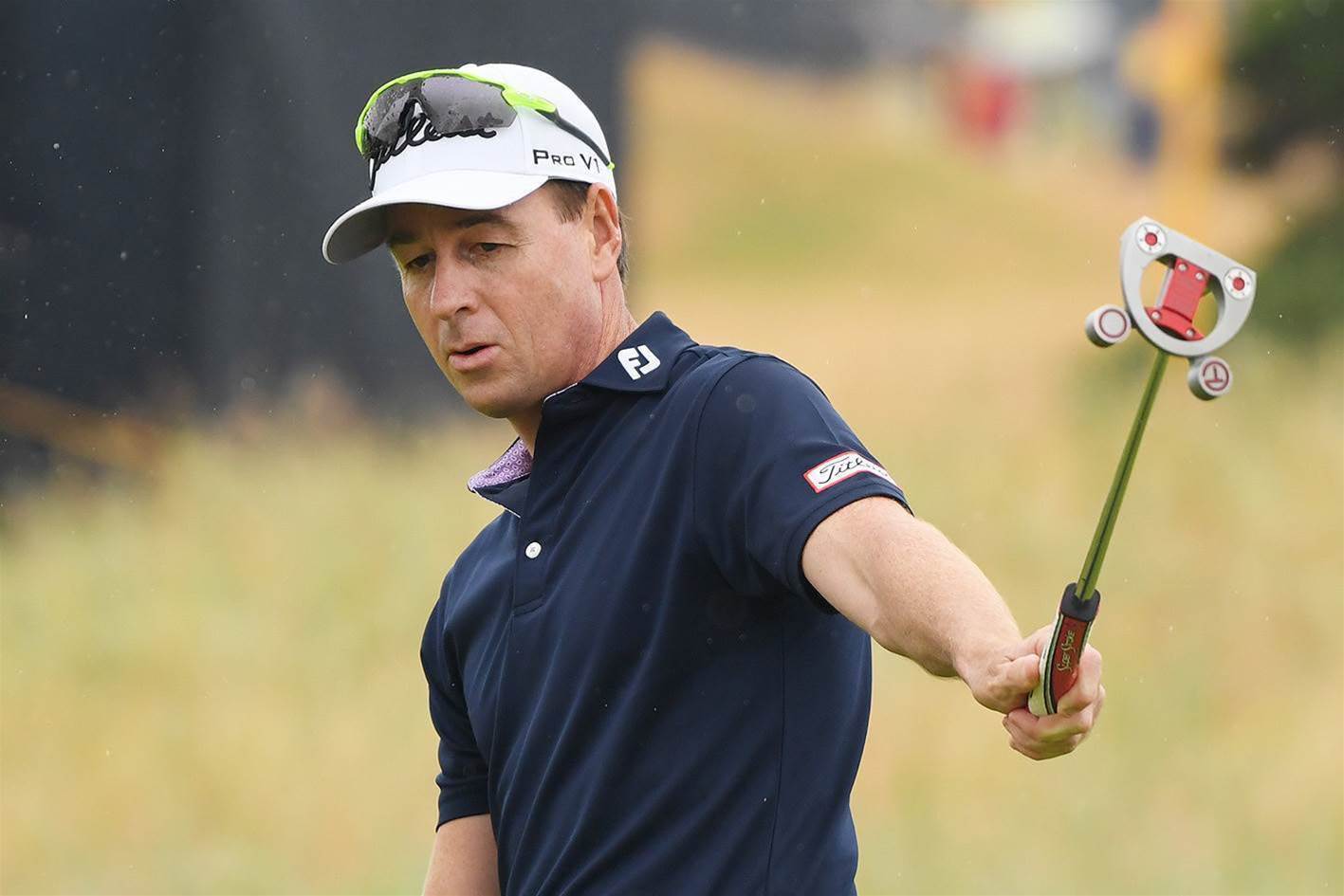 Brett Rumford rides in a birdie putt early in his round. PHOTO: Getty Images.
Leishman, however, remains buoyant he can still make a run over the weekend, like he did at St Andrews in 2015 when he had 64 and 66 over the final two rounds to reach a play-off for the Claret Jug.
"I'm just hoping that it dries out. I've done it before from a long way back," Leishman said. "I think at the moment I'm 7 back. Who knows where I'll end up?
"But you can do that with a good 12 holes. You get hot for a while, and you can make that up. So hopefully, that's what I'll do.
"But it's still two rounds left. Striking the ball well … I'm optimistic, put it that way."
The only Aussie not seeing weekend action is Matt Jones, who finished nine over after rounds of 75-76. He was expected to make a dash for the airport to fly home to the United States as his wife is expecting their third child.
© Golf Australia. All rights reserved.