They certainly know how to put on a show in New York.
During this Presidents Cup week alone, Bette Midler is starring on Broadway, Seinfeld is playing in town; so is Bruno Mars. The ageless Paul McCartney will be here shortly and Billy Joel is playing Madison Square Garden on Saturday night I believe, or so my tickets say!
However, there aren't many events that can call on three former Presidents of the United States to attend and ham it up to the crowd.
The Presidents Cup has that sort of pulling power for the first time in Cup history, Bill Clinton, George W Bush and Barack Obama – all keen golfers and past Honorary Chairmen of numerous Presidents Cups – thrilled the crowds by sitting front and centre in the official party as the Cup ceremony was staged in the amphitheatre setting around the 1st tee.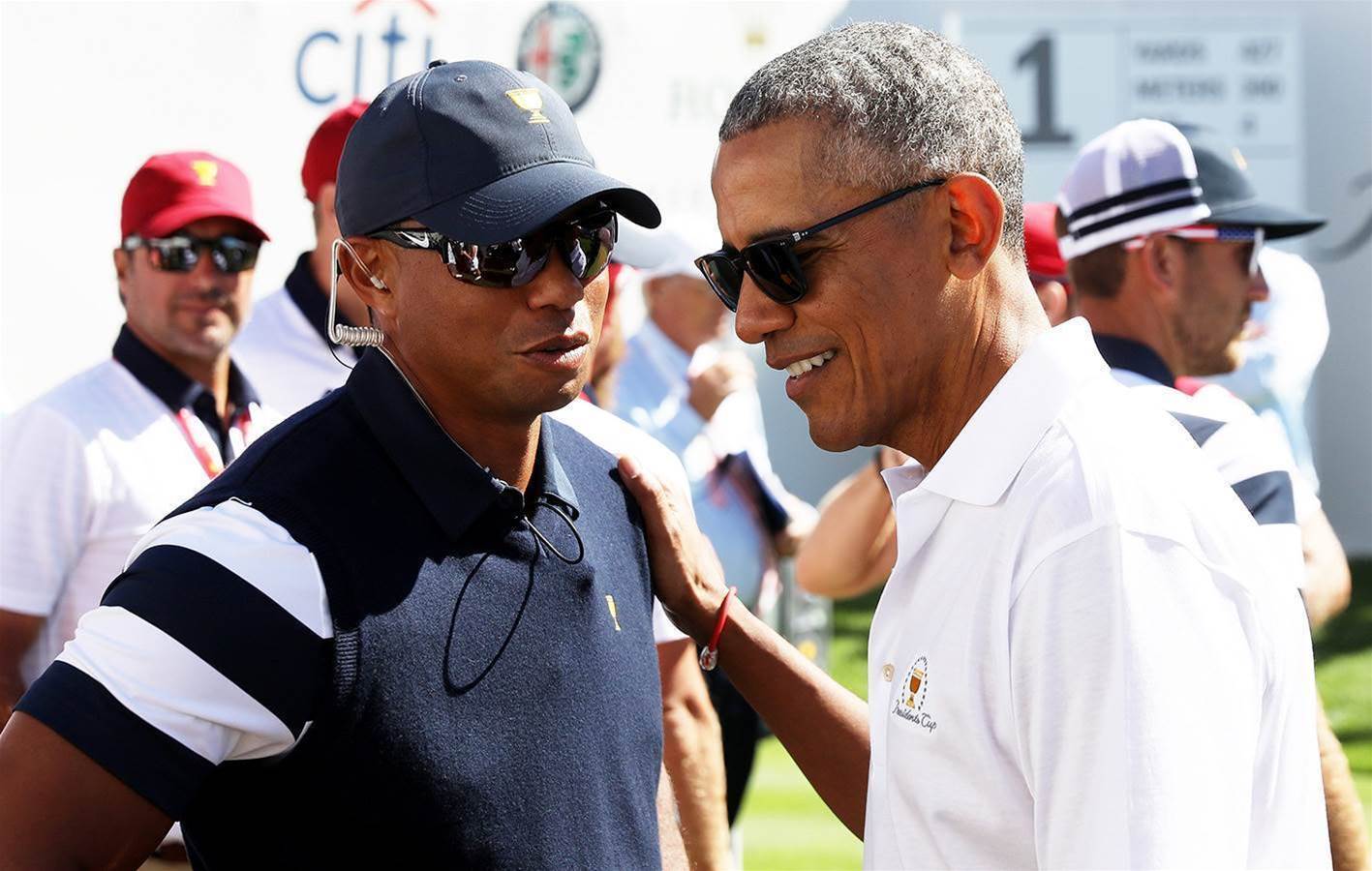 Tiger Woods chats with former President Barack Obama. PHOTO: Rob Carr/Getty Images.
Enormous cheers and the obligatory 'USA, USA…' chants greeted their welcome and not to be outdone, the Hall of Fame golfers in the official party – Jack Nicklaus and Gary Player in particular – also drew equally raucous applause from the highly colourful and animated gallery.
Many of the players about to compete in the opening day Foursomes stopped their warm up routines to catch a glimpse of the scene which Geoff Ogilvy told me a few minutes early was part of 'the best hour in golf', in his opinion.
Phil Mickelson even walked the 40 yards from where he was standing to get a 'selfie' with the three Presidents before returning to a gaggle of his teammates who, for a moment, forgot where they were and huddled like teens to check out the photos.  
Charl Schwartzel hits off with the Aussie 'Fanatics' urging him on. PHOTO: Rob Carr/Getty Images.
Despite the colour and dueling supporter groups trying to out sing each other, the occasion took on an appropriately solemn tone with the widow and son of a 9/11 first responder from the New Jersey Fire Department walking the Presidents Cup up the length of the first tee as part of the official ceremony.
With bag pipers following, it was a moving occasion not lost on anyone, Americans or those of us visiting the city that suffered the most from those horrific events. 
There was barely a soul without at least a lump in their throat, a fitting tribute and reminder that the games about to unfold this week are just that. Games.
© Golf Australia. All rights reserved.