Sleeping on the first round lead of the Vic Open didn't faze New South Welshman John Lyras.
He was back at 13th Beach early on Friday for the second round where he looked unflappable on his way to a second round 66 that lifted him to a 14-under-par total and three shot lead over Dimi Papadatos. The score coming in windy morning conditions on the more difficult Beach Course.
The only blip on his scorecard coming at the par-4 8th hole, his penultimate hole of the day, when the 25-year-old made bogey, before the shot was instantly back in his possession at the next when a long-range putt from off the green found the bottom of the cup for a birdie.
"I did," Lyras said when asked if he got much sleep on Thursday night. "Got dad and my trainer with me. We are having a good time keeping it light, went down to Barwon Heads last night for a quick swim and drove into the golf club to check it out.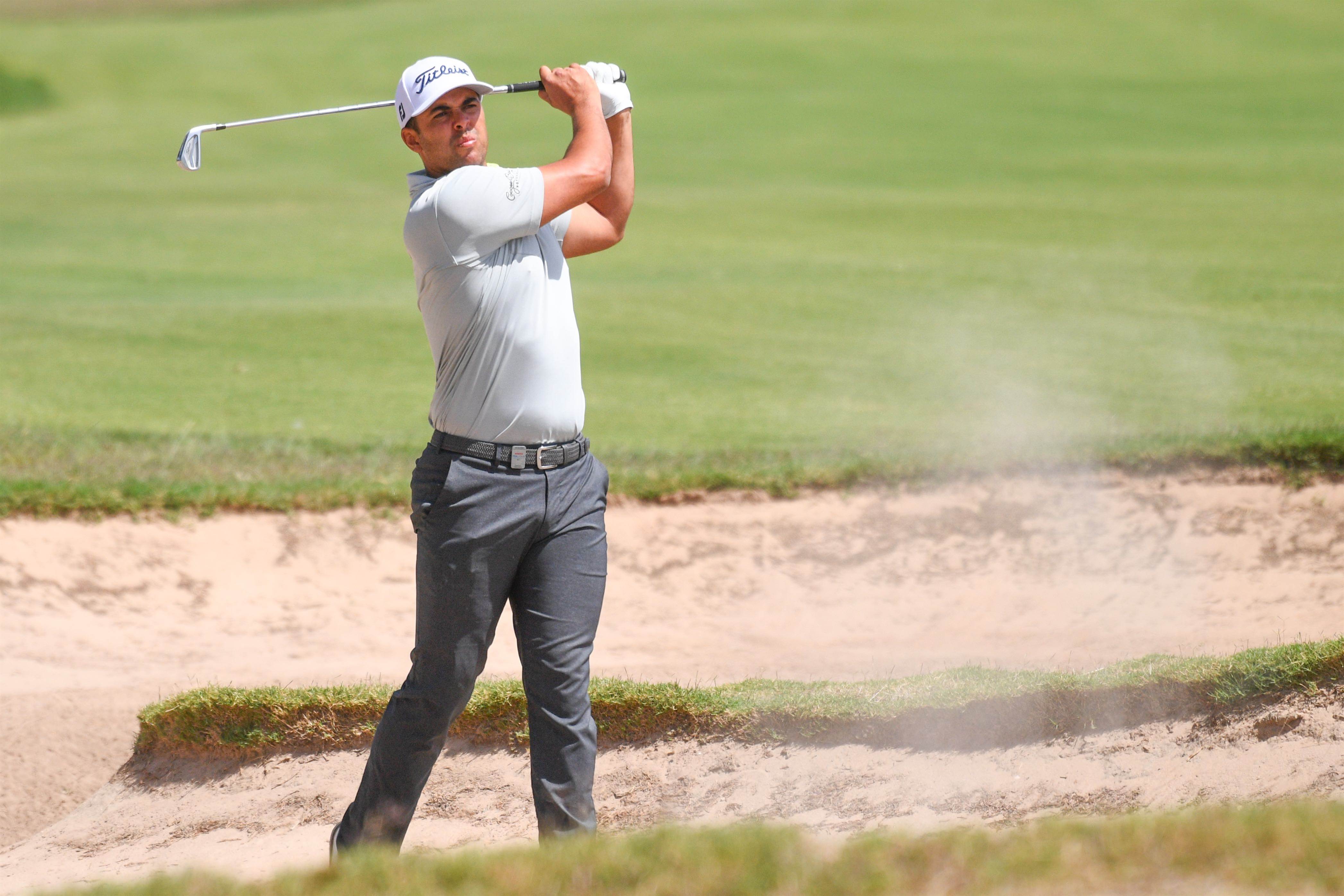 Dimi Papadatos sits in second, three shots back of John Lyras. PHOTO: Golf Australia.
"Beach Course is arguably a little harder in the wind, a little soft bogey on eight but nice to follow up with a little bomb on the last. Just off the green, it was a good roll, had a good line on it and it was nice to be able to raise the putter in front of the crowd."
The ability to acknowledge a crowd is something Lyras has largely gone without in his young career, so too the attention of the media, in part thanks to Covid restrictions as well as the lack of bigger events for him to play.
Despite the unfamiliarity, the St. Michael's Golf Club member is relishing all that comes with leading on the PGA Tour of Australasia.
"This feels very different. People everywhere out following you everywhere, not COVID affected per se," he said. "This is why you play golf, this is where we want to be, press conferences after rounds of golf are always good things. You can't get tired of it if you love the game this much,"
Love of the game is something many would imagine never wanes, but in the dog-eat-dog world of professional golf it can happen. Lyras also learning to love other parts of his world that he believes has assisted in his improved play that has him in front with the 36-holes to play.
"In the past getting in your own head hasn't worked. I feel like my game is at a level where I can be myself, and proud of who I am and how I look to other people. And that is probably the biggest thing is being comfortable in your own skin. And not really caring what people think and appreciating who I am, and loving yourself basically. Try and do it in the most humble way possible."
Despite a bogey at 17 and three putt at the last, Jake McLeod is right in contention. PHOTO: Golf Australia.
Lyras is making all the right noises after an extremely impressive display over the first two days on the Bellarine Peninsula, but he knows full well there is plenty of golf left. So too, his primary chaser with more experience and this trophy already in his position.
"I think for us tomorrow is just another day and trying to get into a good position heading into Sunday. I don't think any of that comes into account until the back nine on Sunday," Papadatos told Golf Australia Magazine of his winning experience and perhaps some gamesmanship after his 68 on the Creek Course that included an eagle at the par-4 first, his 10th hole of the day.
"I feel like my game is at a level where I can be myself, and proud of who I am and how I look to other people. And that is probably the biggest thing is being comfortable in your own skin." - John Lyras.
"Got a little bit of momentum going and I love being back in Australia. Always seem to play a little bit better than I do overseas. Nice to get a bit of a run of events, it's been a while since I have been up there. See if I have still got it," he joked.
Partly inspired by his former mentor Andre Stolz adding more wins of late to the victory number the former PGA Tour winner reminds him he is chasing regularly and benefitting from some recent work with Grant Field on his game, Papadatos, the 2017 winner poses a dangerous threat to Lyras.
So too do the players sitting just behind the two Australians with proud Greek heritage. Cameron John, who has already experienced the ups and downs of pro golf in his short career, and Jake McLeod lying one back of Papadatos at 10-under.
"I played really good again, the finish wasn't what I was hoping for. I just hit the one bad shot on 17 and it was dead, but got lucky then it was very disappointed to three putt the last after that tee shot and second shot, but that's golf," McLeod told this publication.
Aaron Pike, Matt Griffin, Zach Murray and Josh Younger, all PGA Tour of Australasia winners another shot in arrears on nine-under-par.
Knowing the quality of player giving chase, Lyras will be hoping for another good night's sleep tonight and will rely on his AirPods and mindfulness practices to find his own space amongst the congratulations and excitement of those around him. Congratulations that are well deserved and welcomed after playing some of the best golf of his life on a very big stage.
"In terms of pure golf, this is probably the best golf I've ever played," Lyras said.
© Golf Australia. All rights reserved.