There was a bit of everything on the women's side of the Vic Open on Thursday, with Hannah Green and Karis Davidson sharing the lead with unknown Korean Gyu Rin Kim after 18 holes.
Expecting rust on her game after 12 weeks away from tournament play, Green was out early on the Creek Course alongside her good friend Su Oh and amateur Kelsey Bennett and despite some mis-hits and strategy changes made her way around comfortably in six-under 67.
"I thought I was going to be. I did miss hit a couple of shots out there, but I guess from memory I kind of knew where to miss it and where not to hit it," Green said of her expected rust failing to truly materialise during the first round. "Even a couple of putts I didn't get it to the hole, but definitely not complaining about today's round."
Even when Green did miss a shot, like her wedge approach to the short par-4 third hole, she was rewarded with birdie chances, the length she added to her game in 2021 once again proving its worth around 13th Beach in the fairly benign morning conditions.
"Definitely had to think about it a bit more," she said of her lines off the tee compared with previous years. "And especially we have had a couple of tees bump up a little bit more, and a couple come back, so different clubs and lines I am taking no matter the length that I have added. Still have to think about it, it is not just driver everywhere like it has been in the past."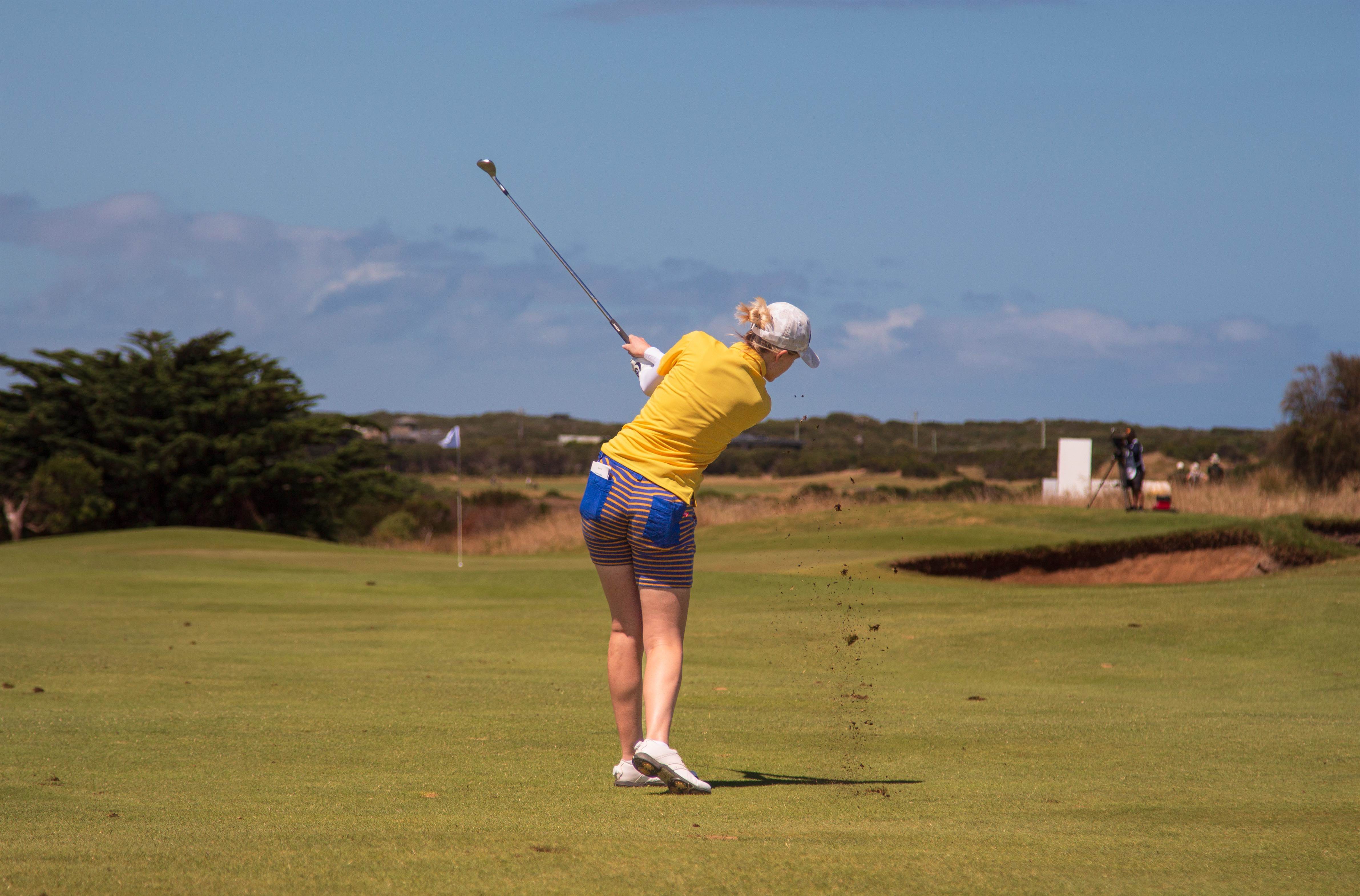 Karis Davidson shares the lead at six-under following the first round. PHOTO: Adrian Logue.
The 2019 KPMG Women's PGA champion didn't have the lead on her own for long, with Kim, a 25-year-old who plies her trade on the secondary Tour to the KLPGA at home, signing for a matching six-under 66 on the Beach Course after receiving an invitation to play the event from the WPGA Tour of Australasia.
Kim offset two bogeys with eight birdies during her round, and sent those on the ground scrambling to learn more about the player whose caddie Sarah is the sister of Hannah Park, who sits four back off the lead alongside Oh, Cassie Porter and Momoka Kobori.
"Very excited having this stage and opportunity to play here," Kim said through her caddie turned interpreter after the round.
With the wind intensifying and gusting at times in the afternoon, the lead of Green and Kim looked safe, before Davidson added three birdies on the back nine of the Beach Course to make it a three-way tie.
The Queenslander and new LPGA Tour member keeping her head down in the marquee group of Thursday afternoon, where Steph Kyriacou struggled to get going and finished with 73 and rising star Grace Kim signed for an incorrect score at the final hole to be disqualified from the tournament.
"I didn't really notice what was going on around me," Davidson said after the round. "Today was just really consistent. It was just all round a really good day. I've changed something really small in my routine and think that has helped me speed up a little, and I think that might be why I holed a few putts today. I love playing around here, I think most of players do. It really helps."
"I did miss hit a couple of shots out there, but I guess from memory I kind of knew where to miss it and where not to hit it." - Hannah Green.
Sitting behind the trio at the top is Ladies European Tour regular Whitney Hillier, who also made her score in the tougher conditions of the afternoon on the Beach Course, the West Australian signing for a five-under round.
The top end of the leaderboard setting up an exciting couple of days on the Bellarine Peninsula despite the unfortunate loss of Grace Kim. And Green can even help her caddie earn some familial bragging rights.
"It was really fun having Mon on the bag here today, she was a little nervous, but she did really well," she said of her looper Monica Marchesani whose brother James shot six-under on the men's side. "She wanted to carry the bag, but I said 'No, let's just push it'."
© Golf Australia. All rights reserved.