Having played to the 18th green 14 times during the week, Kiradech Aphibarnrat finally avoided the hole by defeating James Nitties at the 5th hole of the final of the World Super 6 Perth.
Despite being one of the bigger names in the field and highest ranked players the Thai superstar was something of a surprise winner, given he only arrived in Perth on Wednesday afternoon after making a late decision to play the event on Monday. Missing the chance to acclimatise to the conditions and learn the course in a practice round, which showed at times during the early rounds in his course management and green reading.
"The course I get to know more and more every time I go out and play where I can't miss it, where I can miss, which is the best position to miss," Aphibarnrat said of gaining more course knowledge as the week went on. "This course is really about a spot; if you put it in the right spot, you can just keep yourself out of trouble."
It was Aphibarnrat's putter that proved the difference on Sunday in Perth. PHOTO: Getty Images/Will Russell
As well as being the last to arrive Aphibarnrat was the last man into the final 24 that made up the match play portion of the event, requiring extra holes with Australia's Anthony Quayle in Saturday to secure his place.
"I feel really happy, really proud of myself to play," he said. "Everyone saying I've been the last guy arrive this week, last guy to get into the top 24 and last guy to stand out here. It's such a nice week and I've been so proud with the way I perform."
Once the World No.53 did qualify for the six hole matches, he immeditately became one of the favourites to take out the event. With the only other past European Tour winners left in the field Marcus Fraser, Thorbjorn Olesen and Stephen Leaney as well as Aphibarnrat's past victory in the Paul Lawrie Match Play clearly displaying his credentials in the format.
The 28-year-old was never down in his opening match on Sunday, accounting for Ben Eccles with a one up victory at the last hole. Next, he ran into Japan's Yusaku Miyazato, who pushed the man known as 'The Barnrat' more than any other player on the final day. With the second-round match requiring five trips to the 90-metre shootout hole to find a winner. With Aphibarnrat finally making a birdie two to defeat Miyazato.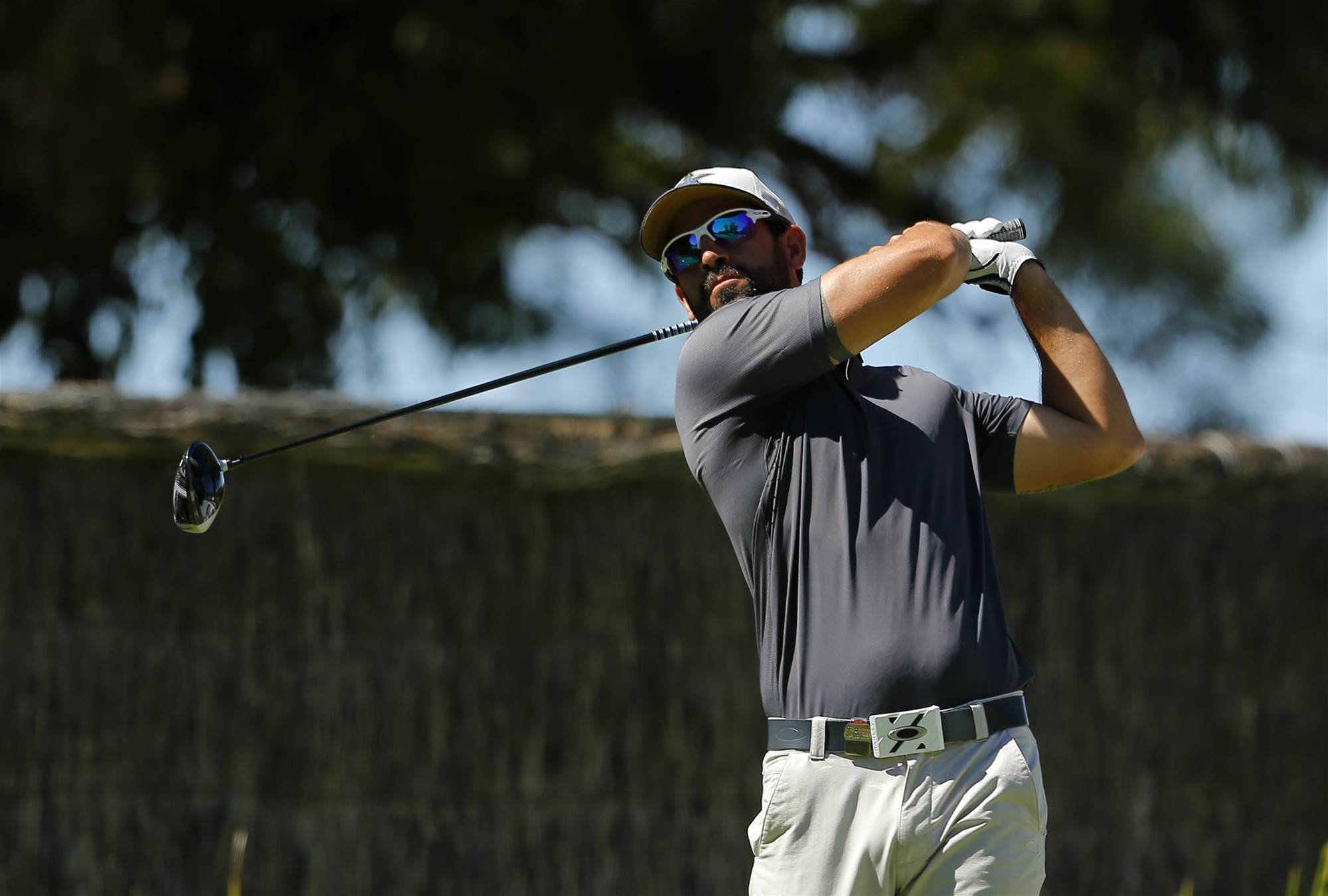 Despite very little form of late James Nitties managed to progress to the final at the World Super 6 Perth. PHOTO: PGA of Australia
He then took on young American Sean Crocker, who again pushed him to the 6th hole where par was good enough to claim another one up win and a place in the semi-finals against young Victorian Lucas Herbert.
Herbert appeared the main home hope throughout most of Sunday's play, particularly once amateur Min Woo Lee's incredible run ended in the quarter finals having knocked out the highest ranked player in the field Satoshi Kodaira and stroke play winner Prom Meesawat.
Herbert defeated veteran Fraser in the second round and was fresh, having rested in the morning courtesy of the bye he earned with his top eight stroke play finish, and appeared full of confidence once the tournament switched to match play despite not having his best all week. With Herbert, who played the opening two rounds with Aphibarnrat, managing to push the eventual winner to a shootout hole decider in their semi-final.
Again, Aphibarnrat saved his best till last in the match though, nearly holing his tee shot while Herbert missed the green left from the short tee and was only saved from the deep bunker by a sprinkler head.
Lucas Herbert impressed the eventual champion with his game all week in Perth, falling one match short. PHOTO: PGA of Australia
He couldn't take advantage of the break though and made par to Aphibarnrat's birdie to bow out of another big Australian event, where he gained even more attention for his outstanding and powerful play. With Aphibarnrat one of the latest and biggest fans of Herbert.
"You know, I didn't look over James I have to say I don't look over James at all, but when Lucas on the Shootout, I think one of us win the trophy because he one of the stronger players in the field this week that I play against with. The way he hit balls, the way the confidence that he showing up, he's such a great player," Aphibarnrat said of Herbert.
Herbert didn't walk away from Lake Karrinyup empty handed though. Taking out third place after defeating Englishman Sam Horsfield in the 3rd/ 4th playoff, which was good enough to earn him a place in next week's European Tour event in Oman.
"I spoke to the coaches last week and I said, look, I want to go through European Tour, I think," Herbert said after defeating Horsfield. "I had four starts already sort of off my own bat. I felt if I could get some sponsor invites and play my way in, you know, with top 5 at an event, I think I could maybe get my world ranking up high enough, or yeah, keep my card that way.
Min Woo Lee excited the home fans early on Sunday. PHOTO: PGA of Australia
"So yeah, this is a very pleasing result doing that considering I've had my affiliate membership earlier in the week. So it's off to a good start, and then yeah, I'll hopefully back it up next week."
Aphibarnrat's last opponent, Nitties, entered the final as a true underdog, with the New South Welshman still without status on a major Tour and a rare sight on leaderboards of late.
"it's a sad way to go down considering another win might have got me some playing rights somewhere in the world because I currently have no status, but it was a great week," Nitties said.
Nitties defeated Nick Cullen in the first round of play on Sunday, before accounting for both Dimitrios Papadatos and Callan O'Reilly one up, earning him a place in the semi-finals against Horsfield.
Nitties won his first two holes against Horsfield, and the margin remained the same for the rest of the match.
"Considering I was a four-footer away from losing the first match, it was pretty positive stuff getting to the finals," he said after losing the final.
Once into the final Nitties managed to take out the first hole before his driver deserted him, with his tee shots at the 2nd, 3rd and 4th holes all going left and requiring recovery shots that gifted Aphibarnrat two holes, with the Thai's eagle two at the 4th hole after driving the green giving him one up lead.
"Tricky lies is a good way of saying I was hitting it crap," Nitties said when asked off his recovery skills. "I wasn't hitting my driver well off the tee. Managed to Houdini my way out of a couple of lies and get a couple of birdies, but he was too good, he was eagle and birdie down the stretch, so pretty much got it done for him."
Nitties impressed with his recovery skills but fell just short of a career changing win. PHOTO: Getty Images/Will Russell
The Thai drove the final nail in at the 5th hole, normally the 12th, hitting his tee shot close at the par-3. Nitties managed to find the green as well, but couldn't convert, meaning once Aphibarnrat's putt found the bottom of the hole, he had closed out the match two and one and earnt a ceremonial drive up the 18th in front of the waiting fans as the new champion.
"It means a lot. When you focus on something, you try hard, this hard, then I was finish second, second keep finish, and then I'm not giving up," Aphibarnrat said of winning again.
Aphibarnrat acknowledged his putting as the biggest difference in his play on the final day that delivered his fourth European Tour and first in Australia, where he is sure to return.
"I just feel more comfortable to the greens, the green speed and many great putts today," he said. "Everyone is so nice, especially the people around the spectators, they are so nice. You know, the golf course is really hilly when you keep walking up and down, so tired, but everyone still with us."
Aphibarnrat's late decision to cancel a holiday with his wife and head to Perth now seems like the right call as he heads for short break with the trophy in his luggage before heading to America to take on the world's best.
"I was in Malaysia last week and I call my wife too saying maybe I have to work next week, and she said, just give me one good reason why you not rest," Aphibarnrat said of his decision to head to Perth. "Well, I got a lot of golf fans so I just can't let them down."
Aphibarnrat certainly didn't let the fans down and earnt himself a new following in Australia with his victory, which once again proved the benefits of the exciting and different format of the World Super 6 Perth. With Aphibarnrat throwing his weight behind the format and talking about the event in a way that could easily have been a description of his own play and experiences this week in Perth.
"It just make golf not boring. It just make it more exciting and interesting. I think the kids might love it. I'm sure you're going to get more fans around the world this week."
© Golf Australia. All rights reserved.