It's no surprise that Mizuno, a company renowned for the feel of its forged irons, has delivered a golf ball that stands out in this area.
COST: $79 (per dozen).
TESTED BY: Jimmy Emanuel, Golf Australia writer (GA Handicap 9.4).
FIRST IMPRESSIONS: Feel! It's no surprise that Mizuno, a company renowned for the feel of its forged irons, has delivered a golf ball that stands out in this area. The two models offer slightly different feel and sound at impact, but both are outstanding when struck in the middle of the face of an iron.
The other noticeable difference in the RB Tour golf balls compared to the previous MP range is the dimple design, which is a different shape and is visually deeper. This new 'C-Dimple' also delivers a lower ball flight in both models, which is fantastic in windy conditions.
HOW IT PERFORMED: As Mizuno's first golf ball introduced globally, the RB Tour was always going to be more than just a token offering for diehard fans of the Japanese company. But having tested and enjoyed the previous MP-S and MP-X models, the new golf balls are a serious improvement and very much worthy of a spot in the premium ball category in my opinion.
Like most other golf ball models at the top end, the RB Tour X signifies a firmer feel and higher compression, while the RB Tour is softer and delivers lower spin with driver. Although there were slight differences in other areas of performance for me – the longest drives coming with the X – the main difference for me was feel, with my preference for slightly firmer models having me lean towards the X.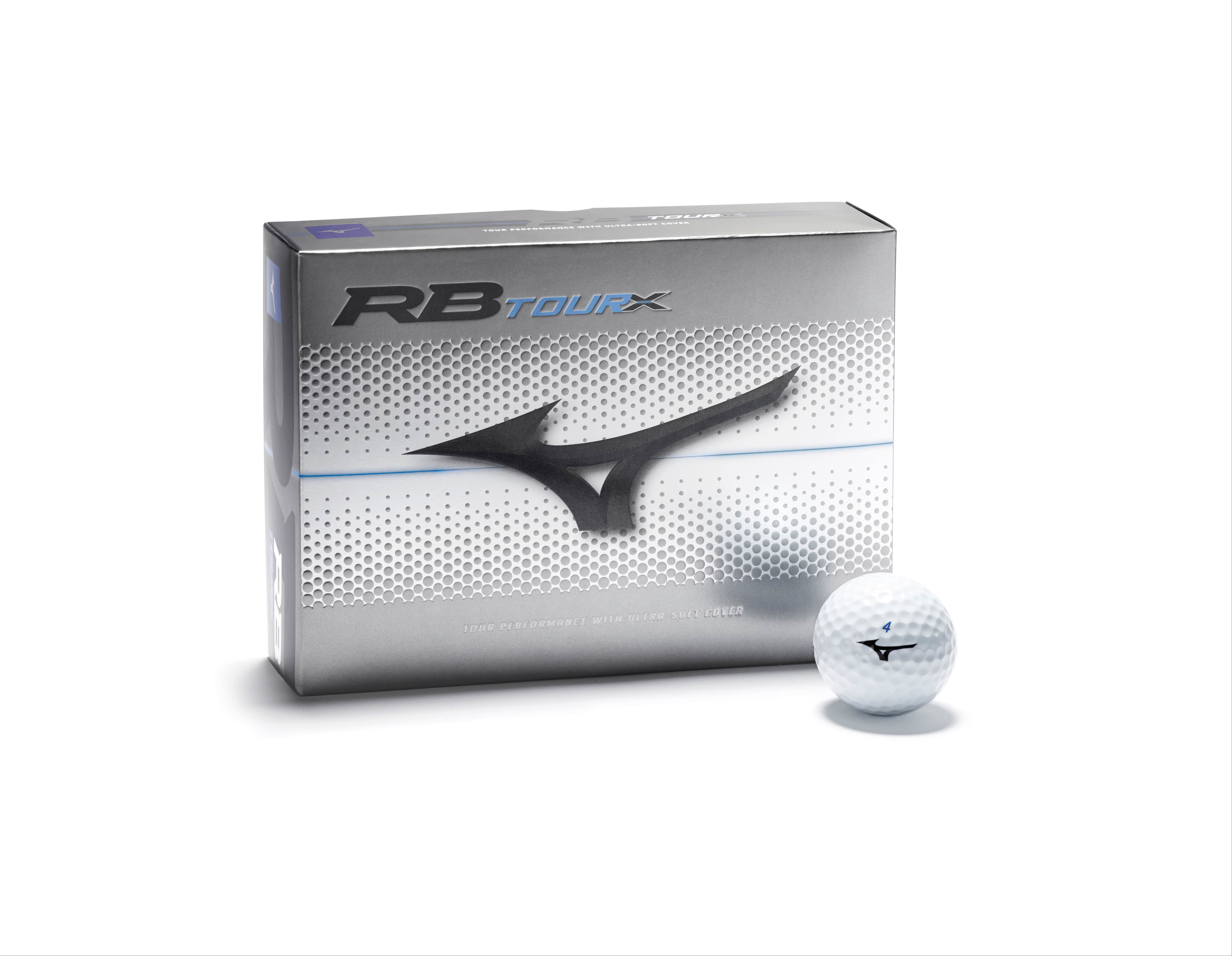 The feel and flight of both models were the standout features during my testing, with well-struck iron shots producing a pure feel and the lower ball flight achieved by Mizuno's new dimple design perfectly delivering what I like to see when approaching greens and taking an iron off a tee.
Spin was another area where both models impressed. Iron shots into some admittedly soft greens pulled up almost instantly, while both models were extremely consistent performers around the greens.
Whereas some of Mizuno's previous golf balls perhaps struggled to keep up in regards to distance for mine, the RB Tour and RB Tour X have no issues in this area. Every club in my bag produced my standard yardages, with the consistency between shots with the same club also a very strong attribute of the new models.
In terms of differences in distance between the two models, I noticed very little variation on a consistent basis, likely because I fall right in between the two models in terms of my requirements for driver spin. The slightly higher spin rate of the X did up my carry distance a little on occasions and produce my longest drives.
From tee to green, the RB Tour and RB Tour X are without doubt the best Mizuno golf balls I have tested. The feel and consistency continued to impress throughout my testing, while the durability was another noticeable improvement on the previous models.
The firmer RB Tour X was my slight favourite of the two models, but I would have no issues using either ball regularly. And, like always, testing the two balls side by side is the best way to pick the right one for each player.
FACTS AND FIGURES
SUITABILITY: The softer feeling RB Tour offers lower driver spin to suit more downward angles of attack, while the firmer RB Tour X delivers mid driver spin for flat to upward attack angles.
MIZUNO SAYS: The RB Tour and RB Tour X are Mizuno's first balls to be introduced globally – with Japan, Europe, Australia and now the USA adopting an identical ball for both Tour and retail. In combining the company's trademark feel and feedback with the wind-beating performance of its new C-Dimple, the RB Tour will make a mark on better players around the world.
Mizuno's new Cone (C) Dimple is the result of 12 years wind tunnel testing at Mizuno's MT (Mizuno Technics) test facility. The C-Dimple creates more trigger points to keep fast flowing air close to the ball's surface for longer – simultaneously reducing drag, and strengthening trajectory.
The RB Tour and RB Tour X's high-energy, four-piece construction blends 360 drag-reducing C-Dimples with: a high-traction Urethane cover for ultra-soft, responsive greenside performance, a high-energy Ionomer mantle layer and a graduated hardness Butadiene Dual Core.
For more information, visit www.mizuno.com.au
© Golf Australia. All rights reserved.