Can three amateurs of varying abilities match their ability with modern equipment by using clubs from yesteryear? It was a question we bounced around the office and here was what we discovered.
Are modern golf clubs that much easier to hit than the equipment of eras gone by? There is no doubt the highly advanced drivers and irons on the market today are designed to offer maximum forgiveness on off-centre strikes and, with precise weighting, are far easier to square up at impact.
These two technological advances alone allow players to swing much harder at the ball knowing that, even if their swing is a little off, they will hit a good shot.
So what happens when a driver clubhead is half the size? What happens when the sweetspot on an iron is the size of a five cent piece and there is no perimeter weighting to help you square the clubface at impact?
To answer these questions, we decided to test some old gear to see how it compares with the modern stuff. We raided our own collections of old clubs (and balls) from the past 30 years, while Australian Golf Historical Society Life Member and clubmaker, Tommy Moore, kindly lent us a set of hickory-shafted clubs to use.
With four bags of clubs from three different eras at our disposal, we ventured out for 18 holes to see how they performed.
Pre-1930 – HICKORY SHAFTED CLUBS
Playing golf with hickory-shafted clubs is an opportunity to step back in time to the age of Harry Vardon and Bobby Jones, and Old Tom Morris and Allan Robertson before them.
The clubs of the era are a long, long way from the technological trimmings of today's composite shafts, massive titanium driver heads, adjustable lofts and milled grooves.
Gone are the stratospheric ball flights of a modern club, which is designed to minimise left and right curves.
With a hickory in hand you have to expect the ball to fade, draw, hook and slice … sometimes dramatically. The mis-hits might even shudder up into your hands. You wait for the good shot, and when it comes, with its low piercing trajectory, it is joyous. The feel is soft and with so little spin on the ball it hits the ground and trundles on.
(In the absence of any balls from the era, I used a mix of soft 1990s Balatas as well as the Callaway Supersoft ball, which was recommended as a suitable ball to use with hickories.)
Before the 14-club rule went into effect in 1939, players could carry as many clubs as they wanted. Tommy Moore's collection of eight clubs included a Brassie (2-wood), Spoon (3-wood), Cleek (1-iron), Mid-iron (2-iron), Mashie (5-iron), Deep-faced Mashie (6-iron), Mashie Niblick (7-iron) and a Niblick (9-iron). It is important to note here that the lofts of these vintage clubs are much higher than their modern equivalents.
I embraced the entire hickory experience. Instead of using a wooden tee, a clump of sand was used to tee the ball. The best of my drives finished about 210 metres from the tee, and on an adjoining fairway. It was a loss of about 25-30 metres in distance and was roughly 30 metres right of where I would hope to normally find my ball.
That said, once I got used to the heavier feel of the leather-gripped, shorter-shafted hickory driver I was more accurate but lost a few more metres as I slowed the swing down to ensure the sweetspot was found.
There were two clubs in the collection that I fell in love with and would seriously consider using in any round of golf in the future. The Cleek, or 1-iron, was brilliant. Couldn't miss a shot with the "Auchtie", which was made by D & W Auchterlonie in St Andrews, Scotland. The clubhead was as wide, from heel to toe, as a modern long iron but with a thinner topline. Using my best Old Tom Morris ten-finger grip, the Cleek flew straight and long enough to make it a better option from the tee than the Brassie or Spoon. And the feeling at impact was brilliant, so much so I'll be making Tommy Moore an offer for the club.
The most enjoyable club in the collection was the Niblick, with its shiny forged clubhead, no bounce and no grooves. Yes, that's right no grooves, just a smooth shiny clubface. Boasting the loft of a modern 9-iron, I thought I would struggle to get any chips close without grooves but was amazed at how easy it was to chip well with this club. When you don't have the ability to hit a pitch or chip with spin, you allow for the run out after the first bounce and you will never be surprised by a shot that bites instead of rolling. Knowing you have this club to scramble with, you also tend to think a little more about your green approach strategy. Leaving yourself short-sided presents a few problems.
If you have never had a swing with a hickory-shafted club, I suggest you try it. It's completely different to the modern game, but so much fun.
-Brendan James
1980'S – PERSIMMON AND BLADES
Being just old enough to have begun my golfing exploits in the final days of wooden woods I appreciate just how far club technology in the longest part of the bag has come.
But with 400cc plus drivers the norm for over 10 years it is easy to forget just how small and heavy persimmon woods are and the poor results they produce when mis-hit. Something I was quickly reminded of when hitting what could only be described as 'low fizzer' with my first attempt with the 'Oil Hardened' MacGregor Tourney Super Eye-O-Matic driver in our 1980's set. My driving did improve as I learnt not to wail away as I tend to do with my current driver and shorten my backswing and focus on tempo.
The rest of the set comprised of a steel shafted Honma 3-wood, Hogan Apex Grind blade irons (1-SW) that looked more suited to buttering toast than hitting golf balls and an Acushnet Bullseye putter similar to those favoured by the likes of Corey Pavin and Johnny Miller.
The look of every club at address was enough to make me shake a little in my spikes from fear of jarring mis-hits with significantly smaller iron heads with less offset than even my modern blades, and a driver without much loft that was barely bigger than the ball. The wedge still looked effective albeit smaller and without the benefits of new aggressive grooves, and the putter while classic in shape was without anywhere near the forgiveness of new MOI (moment of inertia) enhanced versions.
Once I recovered from the shock of the opening tee shot, and perhaps because they allowed me to channel the games of some of my favourite players in their prime like Greg Norman and Seve Ballesteros, I surprisingly found some of my best golf of the day with the '80s models.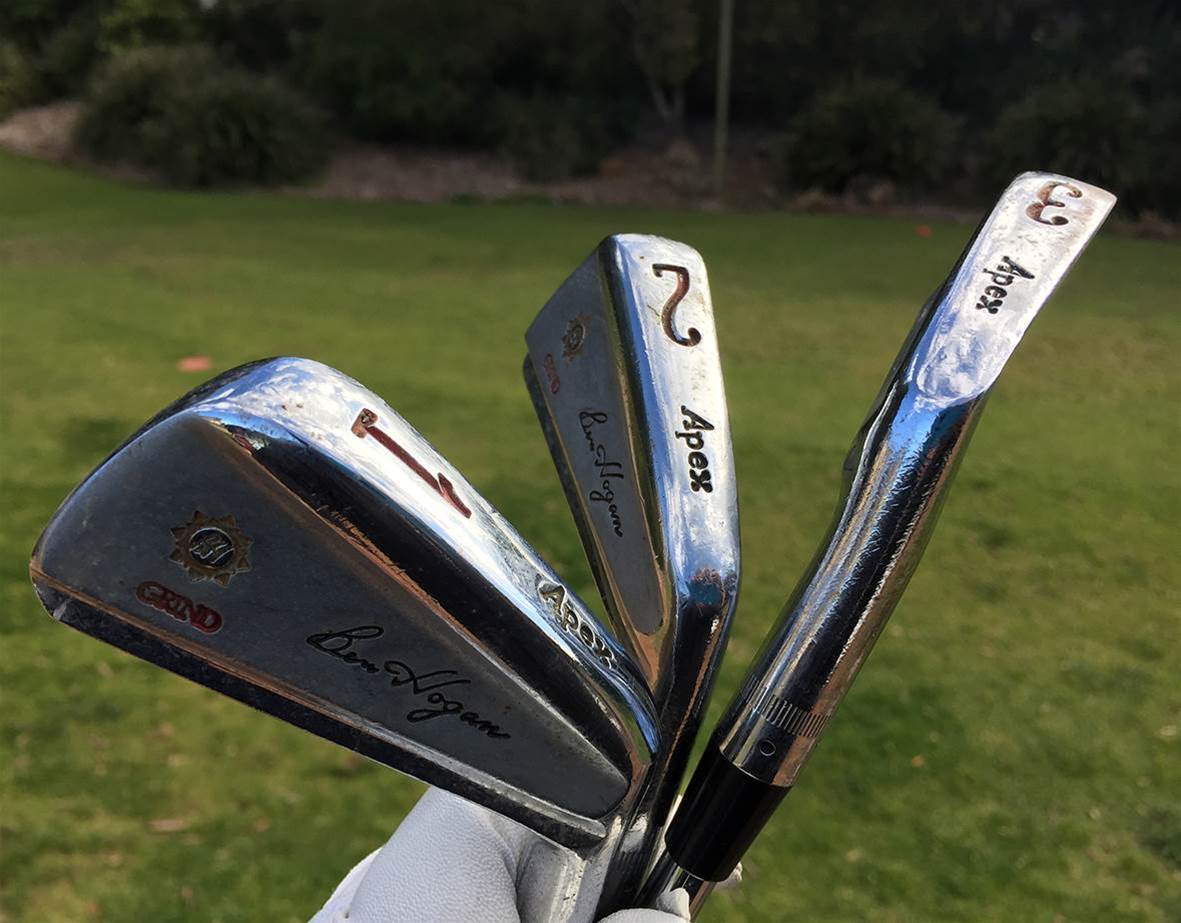 The 1-iron was my club of choice from many of the tees with Warringah Golf Club's par-4s and par-5s requiring placement rather than power. And while obviously not the easiest club to strike cleanly, just ask Lee Trevino, I found myself in better places than I sometimes do with my 460cc multi-material 2017 driver. Thanks in part to the extra focus required to make clean contact.
In comparison to the modern equivalent of a low lofted hybrid or hollow-body driving iron, however, the 1- and 2-iron sit alongside the driver as the area in the bag that has benefited most in terms of improved playability and consistency. With the versatility and forgiveness offered by the modern utilities, particularly from less than ideal lies, unrivalled.
Ball flight control was easier to achieve and more consistent with the older long clubs than with their modern namesakes, particularly in concert with the wound golf ball I happened to have new in the box for just this occasion. But the wooden woods and blade long irons lacked the power and ease of updated versions, most noticeably on poor strikes. Where a poorly struck modern 3-wood might still carry a green-guarding hazard the older version fell well short.
The irons and wedges again required more control, swing variations and creativity with only two wedges in the bag compared to my usual four. Best illustrated by hitting E-wedge (pitching equivalent) on three separate occasions where I might normally take a different club each time. The results were close to on par albeit with less spin and a less straightforward approach the most notable differences.
Iron play while enjoyable was far more difficult than with my current set with a shot type rhyming with bank even occurring and the need for a precise strike to avoid drastic distance and accuracy loss. The Hogans were as much as a club and half short of my modern set and another club again at least behind larger game improvement cavity models.
As expected the putter required the least adjustment. The Bullseye did carry a substantial amount of loft which required a more significant forward press and a 'handsy' stroke that proved successful. And I have employed a similar stroke since with my regular flatstick with drastically improved results, proving that old isn't necessarily outdated.
The 80s gear fell slightly short of the Hickories for me in terms of pure enjoyment but I was much improved with the clubs from the era of Tom Watson and Seve, even managing an unlikely eagle and overall good scoring that emphasised the value of control and tempo when swinging the club that is often forgotten when wielding an almost unmissable new-model driver.
When comparing the set overall to modern equipment it is unquestionably easier with what is on offer today and a longer and tougher golf course would have enhanced that feeling even more. To a certain extent iron play and the short game remain largely unchanged apart from distance, but revisiting the days of persimmon woods and attempting to get them airborne and flying straight gave me greater appreciation for just how good the great drivers of that era like Norman were and how good technology
has become.
And while today's equipment makes the game easier the joy a well struck 1-iron is right up there for me in regards to feel. As is the unmatched feeling off persimmon meeting balata and the resulting sight of a hard cutting or drawing shot fighting the wind and working its way around a dogleg.
-Jimmy Emanuel
1990s – METALS & CAVITIES
Growing up in the '90s, I was too young to witness the effect Greg Norman was having on golf in Australia. The ripple effect, however, has led to a garage flooded full of golf equipment from that era – something I'm sure many families can relate to.
My father grew up playing golf, but he seemed to really fall in love with the game during that time (perhaps it was an escape from screaming children). His set of irons – reminiscent of those used by Norman – were my introduction to the game, and they're still laying around somewhere amongst the clutter in his garage.
When I arrived at Warringah Golf Club to meet my fellow writers, my attention was instantly drawn to the set of hickory sticks and gear from the '80s. I'd hardly hit persimmon woods or blades before – and I'd never even held hickories. The '90s gear, for me, was somewhat of an afterthought  because I'd been around it all my life but I was keen to see how it compared with my current clubs.
In the bag was an original Callaway Great Big Bertha titanium driver and a Big Bertha Warbird fairway wood – both launched in 1995. Below those were some Big Bertha irons from 1994 that featured a thick topline, generous offset and a deep cavity. While a Ping Anser completed the set.
The reason the clubs caught my attention was because I currently game Big Bertha woods from 2014 and Callaway Apex irons. This was certainly going to show me just how far, or how little, golf equipment has come in the last 20 years.
The original Great Big Bertha had a head volume of 253cc – today's drivers are, for the most part, 460cc – so it certainly looked smaller at address. But after playing 12 holes with hickories and '80s gear, it felt extremely friendly and I was excited to see how it performed.
I typically move the ball from right to left – a little too much of late – so I was pleasantly surprised to see my first shot fly in the opposite direction. With just over 150 metres into the green remaining, I pulled the 7-iron from the set of Big Berthas and placed it behind my ball. This thing looked powerful. I don't like thick toplines or too much offset, especially with my tendency to hook the ball, but to my surprise it produced a penetrating ball flight that matched the better shots I see with my current irons.
After escaping the greenside bunker, I was eager to see how the Ping Anser performed. I'd grown up listening to my father bang on about how good the Anser was. "There has never been – and never will be – a better putter than this," he'd say, gesturing to his prized possession. I know that's not a rare declaration. But I was never allowed near the damn thing, so I've never known if it was just another crazy theory of his. Dad, of course, was right. I'll be scouring eBay to find my own.
The biggest difference I found between the '90s gear and my own was the level of forgiveness on offer. Like a lot of mid-high handicappers I know, I don't have an issue with length. My weaknesses come from accuracy. So while my good shots matched those I generally see from my current clubs, my off-centre hits suffered dramatically. My consistency also suffered. Rather than only missing left, I also started leaking shots to the right.
The larger profile of today's drivers certainly helps with forgiveness off the tee, and the deeper face seen on modern fairway woods does likewise off the turf. The Big Bertha irons were actually stronger in length than my current gamers, but I really struggled with the thick toplines and larger heads. That was just a personal issue I had though, so I can genuinely see why some people still love and use these irons.
It was a great blast from the past to play with equipment from my youth. And it's certainly worth testing this out for yourself if you have some old gear laying around. Modern equipment has come a long way in 20 years in regards to forgiveness. But I like the idea of stripping that back and using older gear to learn about your natural game … at least for a round or two.
-Michael Jones
ADD A HICKORY TO YOUR BAG
Despite having long since disappeared from pro shop shelves and the majority of golf bags, old equipment remains much sought after by collectors and casual golfers who enjoy the occasional 'retro' round.
The Australian Golf Heritage Society is made up of golfers who love the game and regularly stage competitions with hickory shafted clubs manufactured before 1940. Society member and PGA of Australia Life Member Tom Moore offers original hickory-shafted clubs for sale to collectors and avid players for a reasonable price. Tom has a wide range of clubs many of which he has repaired himself and knows inside out and can be reached on (02) 9871 2798 or at tom.moore1@hotmail.com
Although not quite the 'real deal', American company Louisville Golf offer duplicates of famous hickory models as well as classic persimmons woods and blade irons which are made to order. Visit, www.louisvillegolf.com
* Thanks to Sydney's Warringah GC and Rob Richards for hosting Golf Australia for this article.
© Golf Australia. All rights reserved.