New Zealand's North Island is one of the most scenic destinations on the planet. And its rolling hills and clifftops have become home to some world-class golf courses.
The night is only a pup, and the twinkling lights dance and frame the harbour as a crisp sea breeze fills my lungs with salty air. I am sitting outside a lively bar in Auckland – and I can't wipe the smile off my face.
Perhaps it's because the beer has started to work its magic, or because of the waitress who just poured me another … But I get the feeling it has something to do with the quality of golf that's on offer in this glorious part of the world. We are blessed with some truly great golf courses in Australia – but our neighbours across the Tasman have plenty to brag about, too.
Despite its proximity to home, as well as its prominence on my 'to-do' list, I had never before paid a visit to New Zealand. Happily, however, any of the preconceived notions I once held about the beauty and mystique of the North Island had either been realised or enhanced throughout my journey. The vast, unspoiled landscapes beggar belief. And the charismatic cities and towns are oozing with culture, diversity, and all sorts of entertainment.
As for the golf, well, Kiwis are certainly spoiled for choice. In fact, outside of Scotland, New Zealand boasts more golf courses per capita than any other country in the world. The North Island itself lays claim to three of the world's top-100 courses, including Cape Kidnappers and the uber-exclusive Tara Iti – both designed by renowned architect Tom Doak, who has something of an affinity for the island nation.
"No country has seen its golf courses improve more over the past 20 years than New Zealand," he stated.
Cape Kidnappers is one of Doak's most splendiferous creations and lies atop the jagged clifftops in Te Awanga at Hawke's Bay. Owned by American hedge fund manager, philanthropist and billionaire, Julian Robertson, the property is truly remarkable, both geographically and architecturally.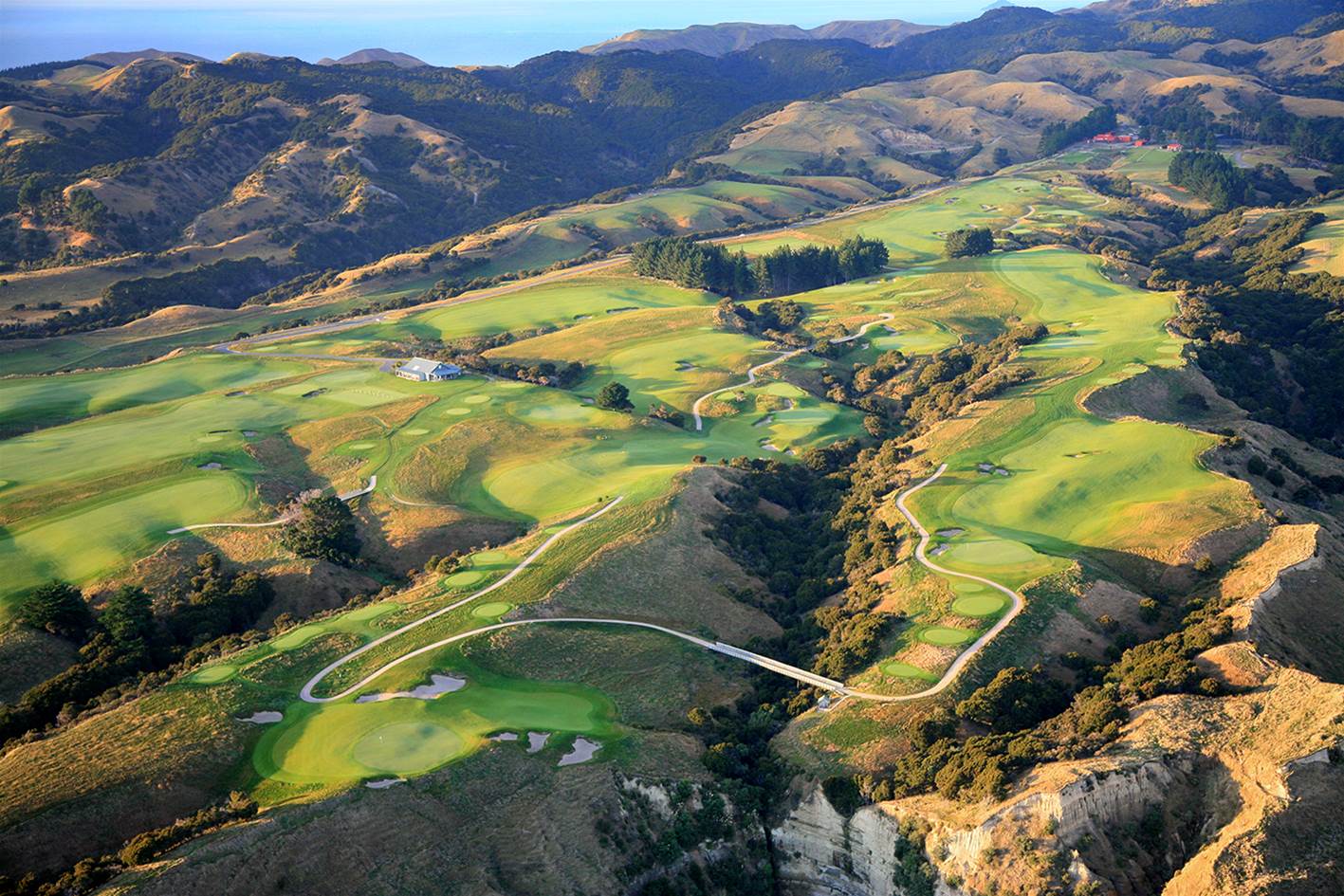 An aerial of the Cape Kidnappers course. PHOTO: Gary Lisbon
There is no question that Doak was handed one of the best canvases a designer could possibly hope for – and it is easy to suggest that anyone could have created a great track from the land available. But his routing and minimalist approach has produced a layout that blends seamlessly with the natural environment and provides the golfer with a scenic and immersive test.
The playing surfaces are immaculately maintained – and there is a pleasing lack of differentiation between the fescue fairways and greens, which upholds the spirit of links golf and allows for playability. The bunkering is well-thought-out but it is not overdone, while the green complexes are exciting, diverse and challenging.
It is a fair course that embraces the elements, places a premium on positioning, rewards good play and punishes bad shots. Its magic, like a lot of great places, is that it appears difficult, but it very rarely beats you up.
Dissecting and selecting a signature stretch of holes is not an easy task – purely because of the memorable nature of each and every hole – but, like a lot of people before me, I found myself smitten between 12 and 16.
The 12th is a lengthy par-4 and is aptly-named 'Infinity' because the sky so often blends with the ocean, which can make the horizon rather difficult to spot. This visual illusion usually means first-time visitors (myself included) will become tentative and leave their approach shots short, because it appears as though anything too long will fall off the face of the earth.
The stunning par-3 13th speaks for itself, playing along the edge of the headland, but the following two-shotter really captured my attention. Short par-4s are supposed to produce a range of different scores. They should entice players off the tee; provide both safe and dangerous playing lines; and encourage and allow for various clubs to be selected. Each of those principles has been incorporated within 'Pimple', which draws its name from the prominent bump located on the left portion of the drivable green.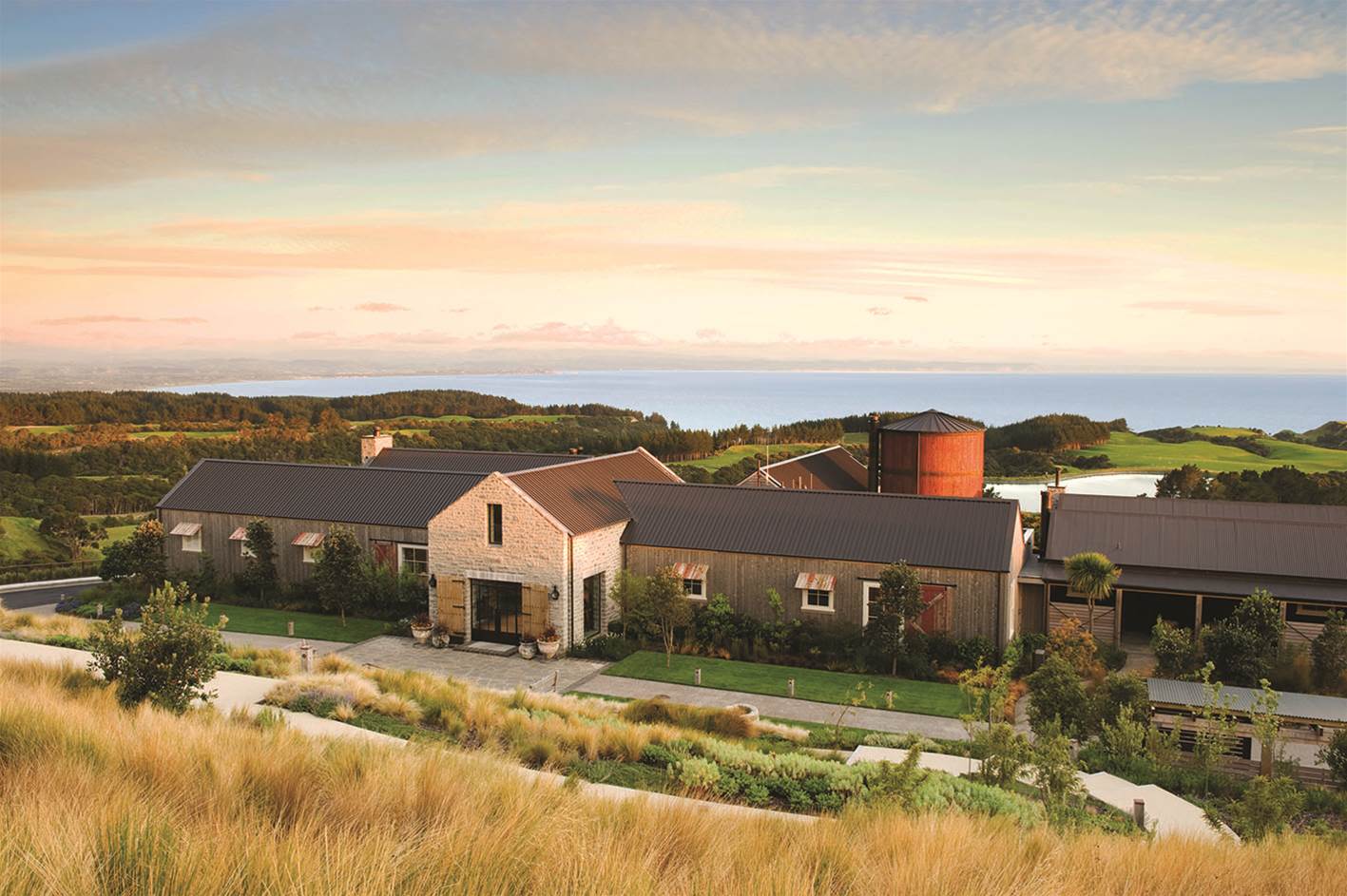 The Farm at Cape Kidnappers. PHOTO: Supplied.
The course is complimented by an understated yet charming clubhouse – where no detail has been ignored, and every guest is made to feel welcome by the attentive and friendly staff. While The Farm at Cape Kidnappers sits on pasture land and offers luxury lodges that are truly spectacular. Yes, they come with quite the price tag, but it is something you are likely to treasure for the rest of your life.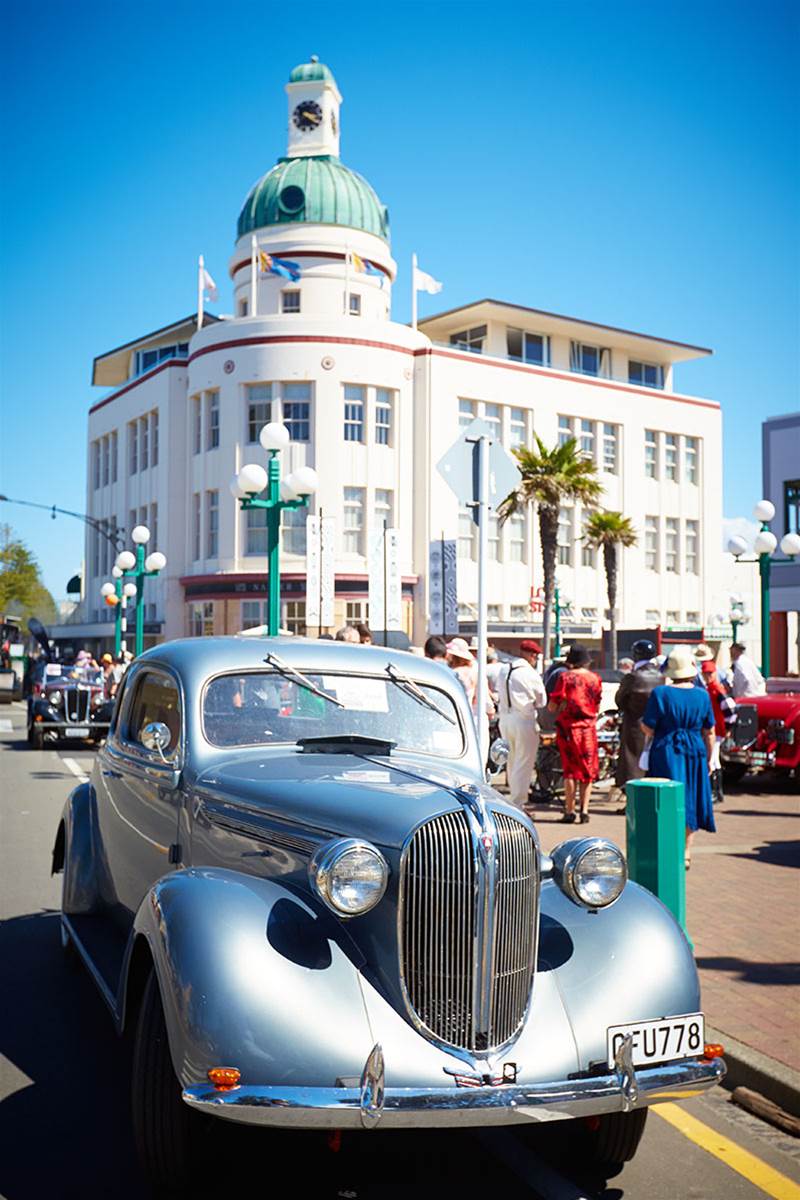 Speaking of memorable experiences … Taking a tour through Napier in a vintage Packard is a fantastic way to see some of the town's world-class Art Deco architecture. These buildings were constructed in response to the 1931 Hawke's Bay earthquake – the nation's deadliest natural disaster. The Art Deco Trust delivers informative and enjoyable classic car tours, and can pick you up from any of the region's award-winning vineyards (Craggy Range is exceptional).
New Zealand is, of course, one of the world's leading wine producers. So, if you like your crushed grapes as much as I do, paying a visit to Waiheke Island will be right up your alley. The island, which is home to over 30 vineyards and wineries, can be reached in under 45 minutes on board one of Auckland's ferries and makes for a terrific day trip.
The country's largest city is also home to the newly-opened Windross Farm, which hosted the 2017 New Zealand Women's Open. Designed by Brett Thomson and New Zealand touring pro, Phil Tataurangi, the former potato, corn and dairy farm was unveiled to the public in September, 2016.
Its history as farmland – and as a flat landscape – meant more than 350,000 cubic metres of soil was needed to be brought in to create the layout. Meanwhile, more than $1.3 million was spent on drainage to ensure the course remained playable year-round. It worked. Despite receiving hundreds of millimetres of rain last year, the inland, links-style course stayed open; its wide fescue fairways and colonial bentgrass greens kept perfectly healthy.
The 3rd hole at Windross Farm. PHOTO: Gary Lisbon.
The pick of the holes, for mine, comes during the captivating closing quartet – where, at the 17th tee, the adjacent strawberry farm tempts players to jump the fence for some freshly-made ice-cream. Tackling this tricky tee-shot, which demands a precise approach to a semi-island green, is therefore (usually) made much more enjoyable.
To have successfully welcomed the LPGA Tour in just its first year of existence says as much about Windross Farm as anything else ever could. And although the tournament faced problematic weather conditions – which put event organisers under pressure and caused controversy – the venue held its own to eventually produce what was an exciting result.
The sunsets across Windross Farm. PHOTO: Gary Lisbon.
So, too, did Royal Wellington Golf Club when it threw open its gates to welcome the 2017 Asia-Pacific Amateur Championship. The Heretaunga course was extensively redesigned by Greg Turner and Scott MacPherson in 2013, and lies adjacent to the Hutt River at the base of the mountains in Upper Hutt.
It is one of those places that just feels special. Its presentation is flawless – and the flowing streams, birdlife, gardens and physical location each combine to create the sensation you've stepped into a national park. The undulated fairways are well-maintained, lush and tree lined. While the large, sloped greens are guarded by elegant bunker schemes to allow for multiple pin positions.
To be afforded the opportunity to watch the region's best amateurs plot their way around the parkland layout was an insightful process. But it didn't help as much as I might have hoped when I attempted to emulate their great play.
The beautiful 4th hole at Royal Wellington. PHOTO: Gary Lisbon.
Accuracy is paramount here. Players who have a deep understanding of their game and can control their ball flight will generally find success. It is a tactical challenge that cannot be overcome by raw power alone – which is why it has become such an appropriate venue for tournament golf.
For most, holes 3, 4 and 5 will be identified and highlighted as the standout sequence on offer. And I can certainly understand why. The par-5 4th, in particular, is one of Royal Wellington's most scenic and exciting holes to play or observe. But I concluded that a short par-4 on the back nine was the pick of the bunch.
The 14th hole may not sound drivable at 300 metres, but taking a direct route to the green will shorten it considerably. However, that attacking option is fraught with danger and will bring dense grass and water into play.
The hole shapes from left to right, and the green is protected from bombs off the tee by cavernous bunkers. But what makes it such a good hole, to me at least, is that none of my playing partners recorded the same number of strokes as one another.
© Golf Australia. All rights reserved.