If you are living in a part of Australia that is drought-affected or under water restrictions, chances are you could be playing on firm, fast-running brown fairways this summer.
Everyone knows it rains a lot in Britain. If you listened to those who moan incessantly about the British weather you might even think it rained all the time.
Mind you, no one complained more about the British weather than the Australian golf pros playing there in the 1980s when every summer seemed to be awful and some years the only time anyone saw blue sky was when the plane flew above the clouds.
There were, of course, days when it was safe to leave the umbrella in the locker, and when a nice run of summer weather settled in it tended to hang around for a while. Then there were the summers we remember by a hot Ashes series, burned off, fast courts at Wimbledon and bone-hard, bouncy Open Championships.
The Open at Birkdale in 1976 was so hot Birkdale's distinctive willow-scrub caught fire and American pros discovered the joys of Southport's hotels sans air conditioning. Britain in 1976 wasn't built for hot weather.
Bellerive was pumped with water leading into the PGA to keep the playing surfaces alive and lush in the middle of summer. PHOTO: Getty Images.
More recently, 2006 was a hot summer; one remembered for Tiger Woods' masterful performance at Hoylake where he won The Open hitting irons off every tee excepting one snap-hooked driver off the 16th on the opening day.
Aside from Woods' irons, the abiding memory of the week was how burned off the golf course was from weeks without rain.
None of the locals cared – the course was universally praised by players who found perfect turf to play from, and a course where what the ball did after it hit the ground was as important as what it was doing in the air.
What was amazing, and entirely predictable, was the reaction in Australia and likely America too.
"The course looks terrible" seemed to be the common reaction from those who think green is the game's only legitimate colour and Augusta National is what a perfectly prepared championship golf course should look like.
Course designers like Tom Doak would like to see less irrigation of courses in search of greener pastures. PHOTO: Getty Images.
Golf at the top end in the United States is run with budgets way in excess of what we or the British are accustomed to and if you're paying up to a million dollars in joining fees* you're unlikely to be satisfied with anything less than your idea of perfection – Augusta-type perfection with no bad lies, perfect white sand in the bunkers and verdant green grass. "Golf courses," said Tom Doak, "have to become much better stewards of water if the sport is going to thrive, but costly irrigation systems are not the answer. When a membership spends $3 million on an irrigation system, good luck telling them not to turn it on."
This year's Open at Carnoustie was another burned-off, crispy brown championship and one where the most difficult course in Britain garnered universal praise from both players and observers.
We are only left to wonder what the American President thought (assuming he watched) but his Twitter reaction to a dry and 'scruffy' Pinehurst No.2 during the 2015 US Open is probably instructive.
RIGHT: Carnoustie may have looked terrible to some but it played fast and firm on good surfaces. PHOTO: Getty Images.
"I'd bet the horrible look of Pinehurst translates into poor television ratings. This is not what golf is about!"
Fortunately a few pros including Luke Donald, Ian Poulter, Christina Kim, Richard Zokol as well as fellow-columnist John Huggan chimed-in, arguing the idiocy of Trump's comment. But his view is one shared by many and no matter how much purists bleat about 'brown is good' the other camp isn't changing its collective mind.
Australian's suburban golf courses, especially the more highly rated ones, tend not to burn off as they do in Britain. We use more water. Fescue, the grass of choice on the British links is a cool climate grass (which is why it's used at Barnbougle and Cape Wickham) and is much different from Australian couch or kikuyu.
Also, Australians tend to have more of 'green is good' mentality than the British.
In Australia we tend to see golf as a "fair" and predictable game but it was never that way in the beginning.
"… Carnoustie was another burned-off, crispy brown championship and one where the most difficult course in Britain garnered universal praise from both players and observers." – Mike Clayton
It'd be hard to find three more "unfair" and unpredictable courses than St Andrews, Prestwick or North Berwick, and for anyone considering a golf trip to Scotland these are the three courses to see before all others because they will change the way you think about the game … or confirm how you see it. Either way, you can learn all you need to know about golf design by playing in Scotland.
Recently I was discussing the virtues of the three links with a widely travelled member of a Melbourne Sandbelt club and in the very same sentence he professed to being a traditionalist but argued all three offer up an almost absurd version of the game.
Each to his own, but it's hard to come to grips with the incongruity of the argument.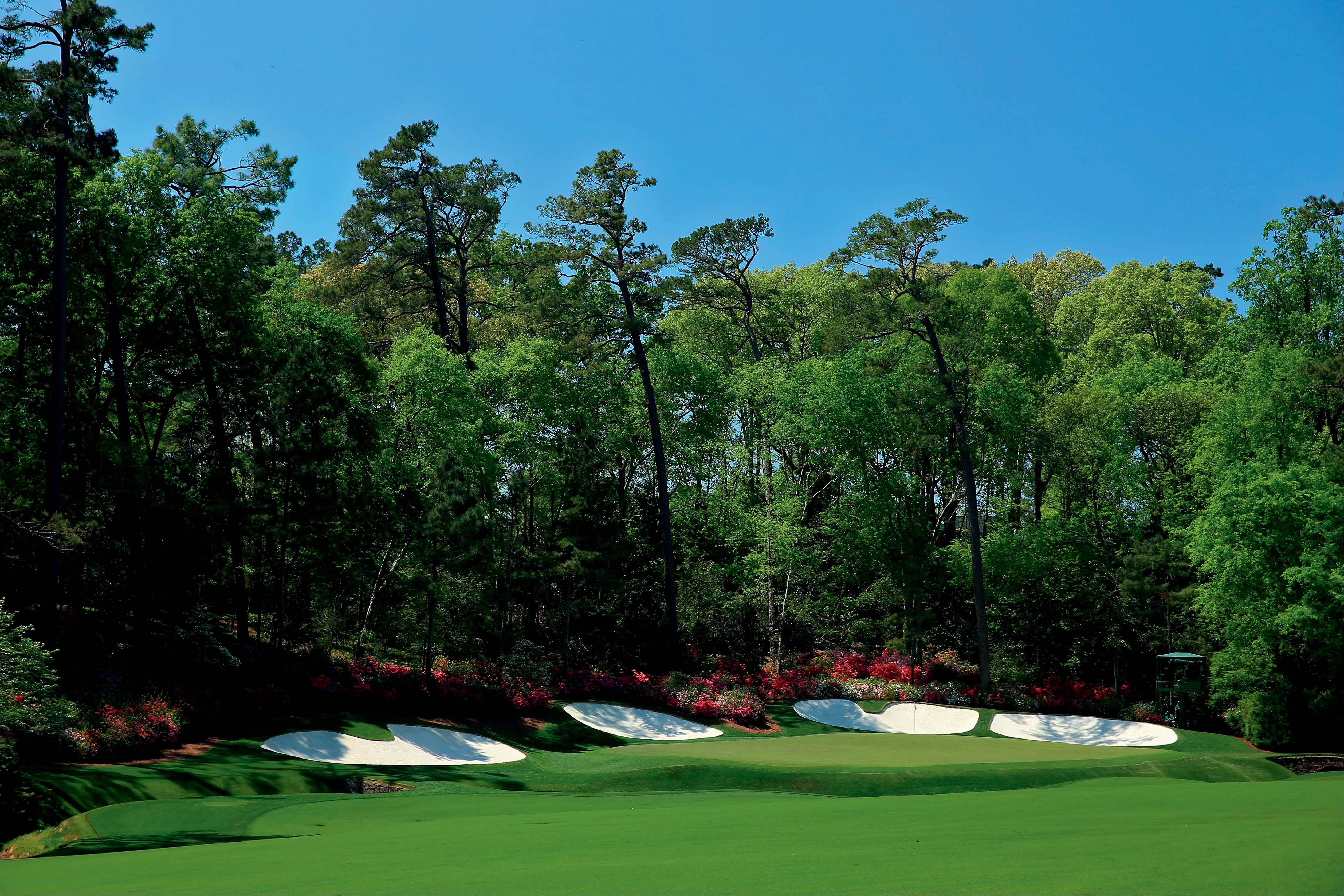 Augusta National can afford to be perfectly prepared to be shown off to the world for a week every year. PHOTO: Getty Images.
If you're a traditionalist you are embracing the look of Carnoustie, the concept of bunkers in the direct line to the hole (as opposed to being down the sides of the fairways) and the odd blind shot.
Of course it's a much different game over there. We don't have anything like North Berwick or Prestwick, not because we don't have the land but if an architect built that much quirk into a modern course it would unquestionably be damned by many as 'silly'.
These amazing courses are not one-dimensional. There are multiple ways of playing them and answering their enduring questions and their purpose is to confuse the golfing 'engineers' who like it best when it's predictable and think there is a formulaic way to play golf. The job of the architect is to ask simple questions but ones with nuanced and complicated answers.
"In Australia we tend to see golf as a "fair" and predictable game but it was never that way in the beginning." – Mike Clayton
From Carnoustie, the Tour went back to the United States and the US PGA Championship  at Bellerive. It was exciting, made by the play of Tiger Woods, who always adds intrigue and interest, and Brooks Koepka who added the PGA to the US Open he won at Shinnecock Hills.
Shinnecock reverted to farce on Saturday, as the greens (too fast and pin positions too contrived for the weather) made golf not quirky or interesting, but just silly.
Bellerive went the other way. It's an out-of-architectural-fashion course made by Robert Trent-Jones in the early 1960s and revised by his son, Rees, a decade ago.
A beautiful mix of browns and greens can be found on the Old Course at St Andrews. PHOTO: Getty Images.
It is green, long, and the golf is eminently fair and predictable and it made for a brilliant tournament if exciting finishers are the measure.
On the other hand, we saw balls splattering into soft greens – greens made soft by the water necessary to keep them alive in a hot American summer. The bunkers were "perfect", with no bad lies – a superintendent's nightmare, as television commentators sung their praises and burdening course staff the world over with a group of members who think they are entitled to a perfect lie every time they hit it into a hazard.
You can learn all you need to know about course design playing the likes of North Berwick. PHOTO: Getty Images.
Either way, the contrast between Carnoustie and Bellerive couldn't have been starker. Arguably it's even good for the game that we can see such variety only weeks apart.
What is more interesting isn't open to debate – not for me, anyway.
Just because the PGA had a great finish, it doesn't necessarily equate to the course being a great one. Heck – they have had many great finishes at Crans Sur Sierre.**
* Sebonack.
** Site of the European Masters but a better winter ski field than it is a summer golf course.
© Golf Australia. All rights reserved.