Having slept on the lead at eight-under after round one, Brett Rumford will do the same on Friday night. His even par second round good enough for a share of the lead with Lee Westwood.
Playing alongside one another in the afternoon, the two veterans were greeted by strong gusting winds as they began their second round of the World Super 6 Perth. With Rumford admitting after his round that Lake Karrinyup beared little resemblance to the course the players faced in Thursday's opening round.
"As tricky as the golf course gets, no doubt," Rumford said. "It was just rough from word go. Just a completely different aesthetic. Every single hole looked different to yesterday, the way it played, your landing areas, everything. So it was a day just purely for concentration and just knocking them down."
Rumford reached 10-under at one stage on Friday before dropping back to even par for the round and tied for the lead. PHOTO: PGA of Australia.
Despite the difficult winds, Rumford managed to extend his lead to two shots through 12 holes, with two birdies and 10 pars getting the defending champion to 10-under. Before two bogeys undid his hard work. With the majority of the West Australian's errors surprisingly coming from his normally exemplary short game.
"I've just been trying to score as best I could. I was pushing for 1, I got it 2 under, and then I just left a couple of opportunities out there, left a lot of putts short today, which could have been a little bit better on the front nine. So pars is a good score, and parring the first nine, it's what I did. Yeah, it was just a tough day, so just no real expectations of scores, it was just knuckle down and do the best you can."
While Rumford was knuckling down Westwood was pressing, making four birdies in the first 11 holes, only to throw in three bogeys, the third at the difficult 13th, to largely undo his hard work that earnt him a tie for the lead before hitting his perfect drive at the par-4.
"It was that kind of day out there. You're going to make some mistakes when it's as windy as this and you just try and limit those and pick up shots whenever you can," Westwood said. "13 is a tough hole, and like I said, the putts are bobbling a little bit, especially in the afternoon, and that one did there."
Westwood was as consistent as ever from the tee and fairway during the second round in Perth. PHOTO: PGA of Australia.
The 44-year-old then made par at the short 14th hole, matching Rumford's score, before hitting another perfect drive down the par-5 15th hole. With Rumford in trouble after finding the fairway bunker, Westwood hit a perfect 3-iron in close to set up an eagle chance, which he easily converted. Rumford meanwhile parred the hole, meaning two of the tournament's main drawcards were again tied at the top on nine-under.
A bogey from Rumford at the par-3 17th then gave Westwood the lead on his own as he made the short walk to 18th tee.
Slightly long with his approach at the last the Englishman still looked certain to enter Saturday's third round with the lead on his own with Rumford missing the green right.
The 40-year-old Aussie again displayed his renowned skills around the green however, to get up-and-down and secure a par four. Westwood couldn't do the same, dropping a shot and signing for a two-under 70.
Victorian Lucas Herbert sits just one back as he continues his outstanding recent form. PHOTO: PGA of Australia.
"I hit a perfect drive and it rolled into the left rough, and then got a little bit of a flyer off a perfect second shot and it carried seven or eight yards further than we were trying to, but it can happen in playing off a downslope and going straight into the wind," Westwood said. "And then I played a good chip, and the greens aren't perfect but not like they normally are at Lake Karrinyup, and just hit a bit of a bobble and went left."
Despite the continuous back and forth between the two playing partners, both hosed down suggestions that the round felt as if Sunday's match play had come early and admitted that their only goal through the stroke play was to qualify for Sunday. With Rumford aiming to continue his good play and earn a bye in the first round on Sunday.
"I think it's just, yeah, putting your feet up. It's a long day, my experience from last year," Rumford said of making the top-8. "Obviously last six holes, it could be anywhere from 45 minutes to an hour and a half's play of concentration. So come Sunday afternoon when you just might need that, it's a big advantage."
Westwood expressed a different opinion on where he was hoping to finish after Saturday's third round and second cut. Simply trying to make the match play, where anything can happen, perhaps showing his inexperience in the event.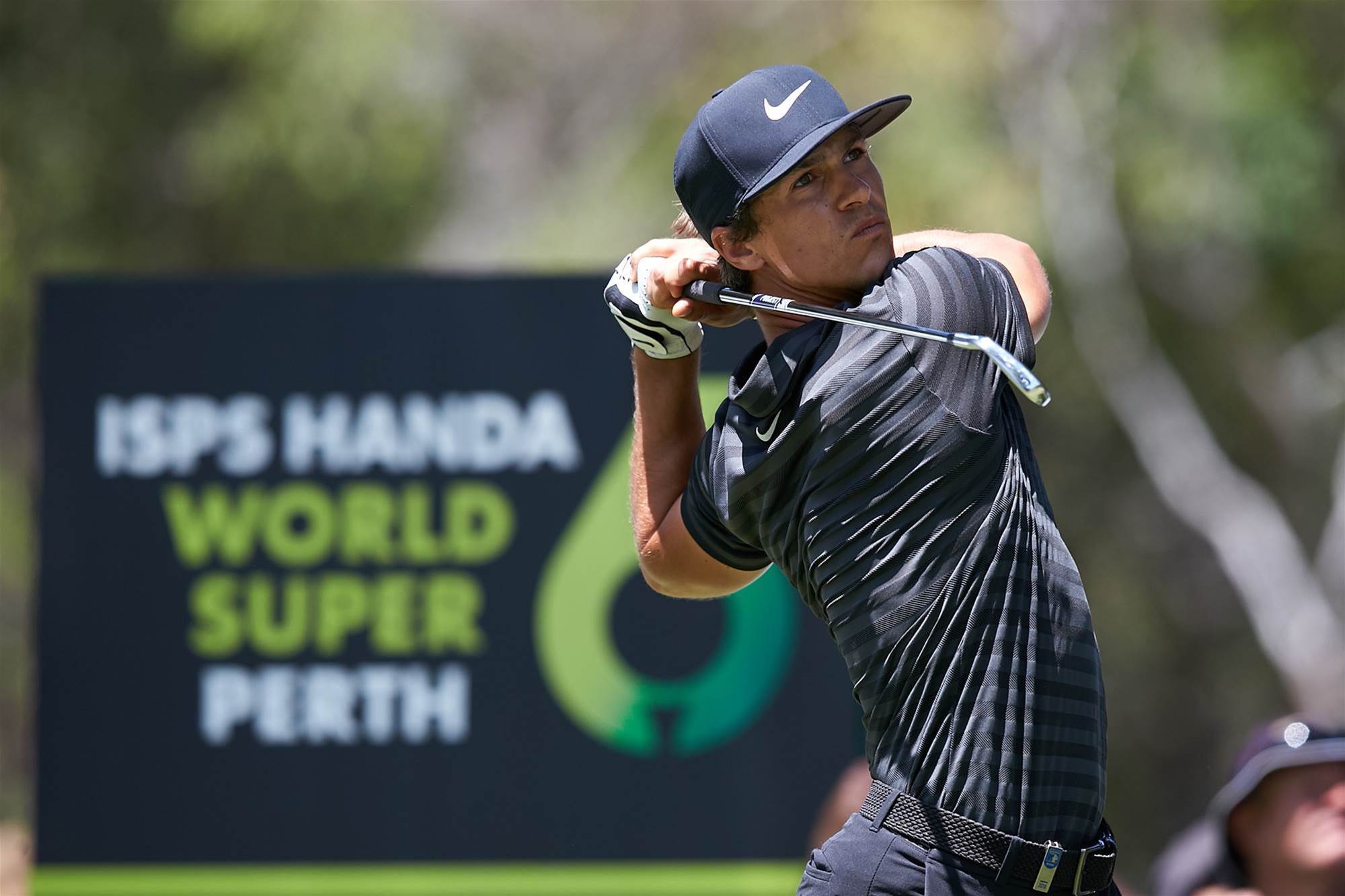 Former Perth International winner Thorbjorn Olesen is also just one behind the lead in a four way tie for third. PHOTO: PGA of Australia.
"I don't look at it, no," he said of where he hopes to finish in the top-25. "Just trying to shoot as low as possible. I know if I carry on playing like I'm playing and a few putts start to go in, because I didn't really hole any putts today, you know, I'll be thereabouts on the leaderboard. To be perfectly honest, match play is anybody's. You're going to need a lot of luck to win it."
Sitting one off the lead are Thorbjorn Olesen, Lucas Herbert, Prom Meesawat and Grant Forrest, all of whom had their chances to join Westwood and Rumford at eight-under late in their rounds, with Meesawat perhaps the most unlucky after a plugged bunker lie at 18 resulted in a bogey that dropped him from the lead.
Herbert and Olesen, recorded their 69 and 67 respectively in the easier, albeit still tricky and blustery morning. With Herbert displaying his much improved game that has been on almost constant display during the Australian summer of golf while playing with Kiradech Aphibarnrat, who raced to nine-under in the morning to lead before finishing at five-under.
Rumford has his eyes on finishing in the top-8 on Saturday. PHOTO: Getty Images/Paul Kane.
"I think playing with Jason Day last year at the Aussie Open those last two rounds, that did so much for me personally just feeling like I really belonged obviously," Herbert said of his constant presence on leaderboards of late. "And yeah, I guess I'm now expecting to play well in these big events. There's not a lot of nerves going on inside me when I'm out there playing. Yeah, it's good to get another couple good rounds in at a big Aussie event.
"There's so many positives that I'm taking out of the last 6, 12 months and so much development that's coming through that you can't really sit there and dwell on the loss too much, whether it's running second or whether it's that poor performance on the back nine at the Aussie Open.  It was just so much more to take out of that than to get caught up in."
Olesen is a past winner in Perth and clearly enjoys the Lake Karrinyup layout. Making six birdies on Friday after starting his day with a bogey five at the par-4 10th.
"I really, really like this golf course, I think it's really good, and last year I just had a bad Saturday and I'll try to do that different tomorrow," Olesen said after his round. "I'm going to play a little bit different if I make it to Sunday, that's for sure. Tomorrow is going to be the same as these last two days, the same game plan as I've had the few years I've been here, so nothing's going to change tomorrow."
The Dane's played the opening two rounds alongside one of the event's biggest names, Danny Willett, who would have hoped his partners good play might have been contagious. However, the Masters champion failed to fire as he continues his comeback from injury and golf swing rebuild, missing the tournament's first cut, which fell at one-over-par.
Also missing the cut was Willett's compatriot Andrew Johnston, who smiled his way through his second round alongside the two leaders despite clearly struggling with his game, eventually finishing at five-over-par for the tournament.
Westwood and Rumford will play together again on Saturday and while both have said on numerous occasions their only focus is on qualifying for Sunday, the pairing will certainly have a feel of a one-on-one match if the birdies start flowing. With a big crowd sure to follow the hometown hero and former World No.1 with the hope of witnessing an entrée version of the anticipated Sunday showdown taking place on moving day.
"I think you know fairly well what you're going to get with Lee if you come up against him in the match play, so you get very straight drives, accurate iron shots and good putting," Rumford said of a potential showdown on Sunday.
While Rumford's words ring true regarding Westwood's consistency and expected good play, the format of the Super 6s provides the exact opposite, as Rumford knows better than anyone. And with the first two days resulting in two of the pre-tournament favourites holding the lead perhaps it will be the third round which delivers the first big surprise of the week.
© Golf Australia. All rights reserved.