It was quite a day at Royal Portrush in the opening round of the 148th Open Championship. Much that hardly ever happens actually did. And much that was expected to occur eventually didn't.
Consider the following: A former winner, David Duval, shot 91. Another, Rory McIlroy, started with a quadruple-bogey, finished with a triple and accumulated 79 blows. One guy, Ryan Fox, shot 68 with halves of 39 and 29. Tiger Woods made one birdie and shot 78; Phil Mickelson put two red figures on the board and tip-toed past his old rival by two.
Believe it or not, amidst all of the above, Brooks Koepka is not leading, albeit the man who has gone second-first-second in this year's three previous majors is only two shots – along with 13 others – off the lead held by his compatriot, JB Holmes. The slow-moving American shot a five-under-par 66, good enough to see him one stroke clear of Shane Lowry.
Sadly, it wasn't a great day overall for the six-strong Australian contingent. The 70s shot by Jason Day and Cam Smith were the best of the bunch. For the rest, however, making the cut appears all that is left to hope for. Dimitrios Papadatos appears doomed to depart after a bogey-street 83. Jake McLeod got round in 76. And most disappointingly, both Adam Scott and Marc Leishman shot 78.
Still, things can always be worse – and that was how they got for Duval. After thinking he had shot 90 – bad enough – the 1991 "Champion Golfer of the Year" for 2001 was docked a further shot after it was determined his 13 at the par-5 7th was actually a 14. Which deserves some explanation. Here is the official statement (read closely):
"The adjustment was made following an error in reviewing David's score on the 7th hole. David lost his first two balls from the tee and then played a wrong ball for the third ball from the tee. On discovering the mistake at the green he had to return to where the wrong ball was played, but the correct ball could not be found.
RIGHT: Duval shot 14 on the 7th hole. PHOTO: Mike Ehrmann/Getty Images.
"Therefore he had to play again from the tee for a fourth time under penalty of stroke and distance. He played six shots in completing the hole with the fourth ball from the tee. He incurred a two-shot penalty for playing the wrong ball but the strokes played with the wrong ball do not count in his score (Rule 6.3c). No further penalty was applied for the score adjustment."
Got that? Didn't think so. But let's take the word of the officials and move quietly on.
Anyway, things didn't go that much better for McIlroy, who once shot 61 at Portrush in the North of Ireland Championship. On this day, he was exactly one shot per hole worse.
"The shot I'm disappointed about most is the little short putt on 16," he said in reference to the tap-in he carelessly pushed wide of the cup on the par-3 named 'Calamity.' "That was inexcusable. Tee shots like the first happen, you can get one riding on the wind a little too much, that's fine. But lapses of concentration like that … I feel like I've done a really good job over the last few years of being more with it and realising, okay, just keep a cool head. But there I didn't. I sort of hit it on the run and missed it."
Hey, we've all been there.
"So my putt for par there was a six-footer," he continued. "And in normal conditions with not a lot of wind the break was probably like a ball on the left. But the wind was hard off the right. I'm thinking, 'is the wind going to affect this or not?' I still played it a ball on the left and I missed it left. So as I'm walking up to hit the next one, I'm thinking, 'I should have trusted the wind.' I'm sort of talking to myself about the last putt. It's not like my head is going to Kelly's (a local bar) tonight or something. But I'm berating myself about the putt I just hit and went to tap-in and didn't."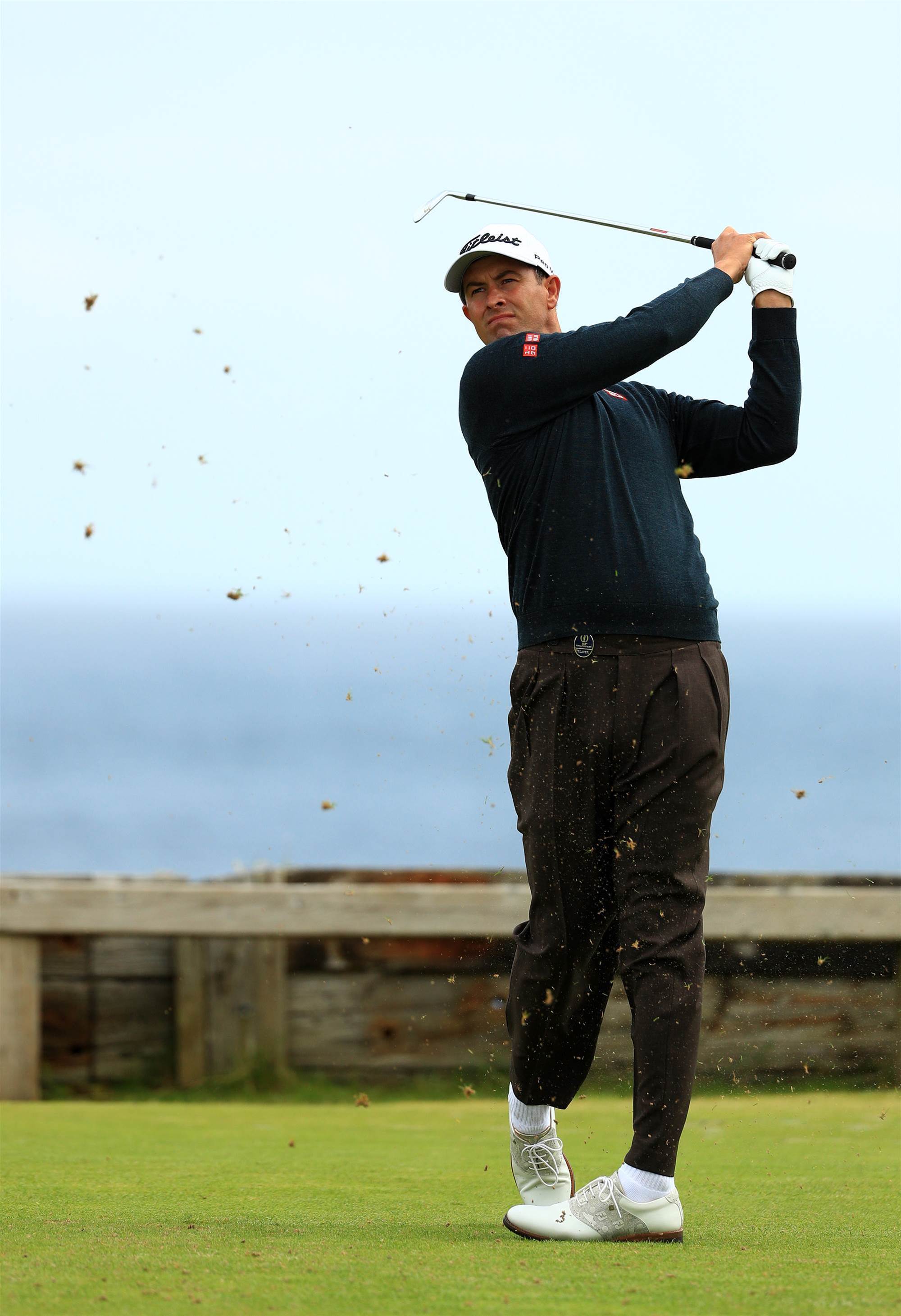 Needless to say, McIlroy has abandoned all thoughts of adding a second Open title to his haul of four major championship victories. But he hasn't given up all hope of making the cut.
RIGHT: Scott opened with 78 at Royal Portrush. PHOTO: Mike Ehrmann/Getty Images.
"I definitely think if I can put the ball in the fairway tomorrow I can shoot a good enough score to be around for the weekend," he said. "Obviously, I'm pretty sure anyone starting with a 79 doesn't think about winning at this point. But although I didn't get a very good account of myself out there, I can definitely play better. It's simple stuff – getting the ball in the fairway, missing it in the right spots if you do miss it. But I didn't do that. And I didn't take advantage of the par-5s. I only birdied one of those today. The things I usually do pretty well I didn't do today."
The same can be said for Scott, who cut a dejected figure at the end of an incredibly disappointing day on a course seemingly made for his ball-striking skills. But too many visits to bunkers – he twice needed two shots to escape their clutches – were the root cause of his problems.
"I've just got to go and shoot a low one tomorrow," he shrugged. "I feel like I'm playing well enough. Just a few things today that cost me at least five shots. I don't think there's much in it. They're the errors you can't make. You've got to stay out of the bunkers here and when you're in them you have to get out."
As for Day, his one-under par effort was marred by a bogey on the final hole that meant he simply had to repair to the practice ground without even the briefest chat with the waiting media. So let's use a Scott quote to finish this report:
"I've just got to go and shoot a low one tomorrow. I feel like I'm playing well enough."
Thanks Adam.
© Golf Australia. All rights reserved.