How well did Brooks Koepka play over the front nine of his third round in the 100th USPGA Championship at Bellerive?
Consider this: When the two-time US Open champion holed out for birdie on the 9th green he had played his previous 18-holes in 61 shots, was 13-under par for the tournament and owned a four-shot lead over the field. 
Unfortunately for the 28-year old Floridian, by the time he holed out again on the 18th green to complete a round of 66, much had changed. For one thing, Koepka had regressed to 12-under par. And for another, his lead was down to two shots, his nearest challenger, Adam Scott. 
But the final day will be far from a head-to-head duel. Many others remain in with a chance. Gary Woodland, Jon Rahm and Rickie Fowler are all nine-under par, one shot ahead of Tiger Woods, Stewart Cink, Justin Thomas, Jason Day, Shane Lowry and Charl Schwartzel.
Still, this was, by any measure, an impressive performance from Koepka, even if the soft course conditions lent themselves perfectly to his power game. With only the flight of the ball to consider – bounce and roll being noticeably absent – he was able to blast away with near impunity as he closes in on what would be his third major championship victory in 14 months. 
Commendable though that sort of dominance may be, it is far from unique. Phil Mickelson won three of six majors starting with the 2004 Masters. And Woods famously won four-in-a-row during 2000-2001 as part of a seven out of 11 run. Late in his glorious career, he went on another six of 14 spree.
Brooks Koepka takes an unplayable lie drop on the par-4 15th hole. PHOTO: Getty Images.
Still, Koepka was rightly chuffed with his performance. Only occasionally did he veer from the straight and narrow. His approach to the 11th green flew too far. He bunkered his second to the 14th en route to his only bogey. And he drove into an unplayable lie on the par-4 15th. Not once though, did he appear even remotely flustered. Koepka has an enviably unflappable temperament, even under the severest pressure. 
"I felt like I putted really well," was his initial assessment. "I made a few key putts to keep the round going. The par putt on 11 was especially big in that respect. I just didn't get it in the fairway enough on the back-nine. You can't do that and score out here. The lies in the rough are not exactly easy. But I'm okay, I just made a couple of errant swings.
"Tonight I will do a bit of stretching, and try to stick to my normal routine. I like to do that. I'm very disciplined off the course. I feel very comfortable and I'm excited for tomorrow."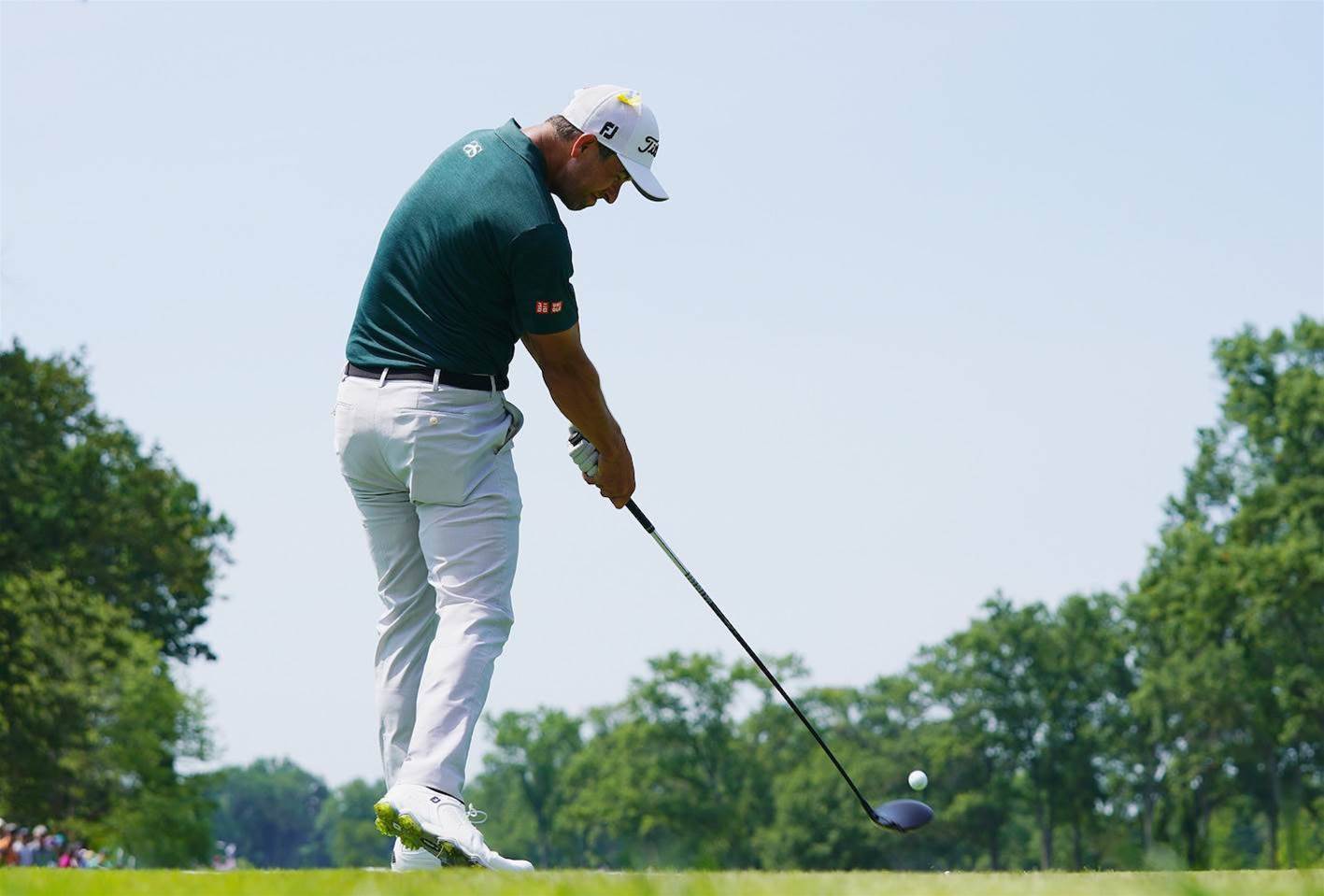 Adam Scott's impressive display with the driver has filtered through the rest of his game. PHOTO: Getty Images.
More openly pleased with his day's work was Scott, who shot 65, the low round of the day. Pleased but not surprised. The 38-year-old Queenslander has been quietly talking himself up all week – or as much as such a modest soul could ever do. And no wonder. Four birdies dotted the Scott card during an outward half of 31; but only two followed on the way home, the first the result of an exquisite tee-shot to two-feet at the 232-yard 16th. All but gone were the struggles of the last 18 months – his only lapse a three-putt bogey on the par-4 15th – replaced by the Scott of old.
"I've driven it really well, which is the strength of my game," said the 2013 Masters champion, who has only one top-10 finish to his name so far this year. "That has trickled down into my iron play. And I have putted well too. But I still need a really great day tomorrow. It's a really packed leaderboard.
"But I think no matter who wins tomorrow I think if that person has met Jarrod Lyle, then they will feel something with him passing this week. It's been such a difficult thing for us to get our heads around because we have been removed from Jarrod and his family back in Australia." – Adam Scott.
"This is the first time in a while I've really been in contention. I didn't realise until 17 that Brooks had dropped a couple shots. So I was a little hot at myself for making a bogey from nowhere on 15. I missed a short putt. But to come back birdie, birdie and even have a look on the last for another was really good. Playing 17 the juices were flowing a little bit. I was feeling like I'm in the tournament, so it was nice to make a couple birdies while the adrenaline was up."
There were words too, for the late Jarrod Lyle.
"To win this week would be more than twice the thrill for me," says Scott. "But I think no matter who wins tomorrow I think if that person has met Jarrod Lyle, then they will feel something with him passing this week. It's been such a difficult thing for us to get our heads around because we have been removed from Jarrod and his family back in Australia. Everything happening so suddenly last week and then this week. I don't know if we have all had time to reflect on it and let it sink in. But I think that everyone is playing for Jarrod out here this week."
Tiger Woods is in the mix at a major for the second time in a month. PHOTO: Getty Images.
Still, at least for the huge crowds assembled on the premises, it was Woods who created the most noise. And, like Koepka's, his score was built around fluctuating fortunes. Going out, the 14-time major champion made five birdies; coming home he could manage no better than nine pars. 
All in all, it was a day of coulda, woulda, shoulda, especially on the par-5 17th where Woods' three-putted for par from no more than six yards. Despite his prodigious progress up the world ranking over the last few months, doubts remain over the 42-year old's ability to win again at the very highest level and against the very best players. Then there is that other nagging little fact: Woods has never – not once – come from behind to win a major championship.
"I feel like I played well today," he said, with some justification. "I played 29 holes and dropped only three shots – and two of those were three-putts. I had really clean cards, really clean rounds. I just wish I could have got myself a couple more shots closer to the lead. I've got to shoot a low round tomorrow and hopefully it will be enough.
"The galleries have been unbelievable. So supportive and positive. It's been a pleasure to play in front of them, it really has."
Like Woods, Jason Day has five shots to make up on Koepka if he is to pick up the giant Wanamaker Trophy for a second time. While that may be hard to imagine given how well the leader has so far played, Day is well capable of shooting the very low score required. But to do so, he will have to make more putts than he did on day three. And more than four birdies, which is maybe half of what he will need in the final round.
Jason Day will need to make a few more putts in the final round if he is to make up the five shots he's spotting Koepka. PHOTO: Getty Images.
"I'm playing some good golf right now," he claimed. "My short game has been really good, as has my putting. My driving and iron play are coming together. Put all of that together and the course is gettable. But you have to hit the fairways. If you don't get it on the fairway, it's just ridiculously hard to get it close to the pin. With how soft the greens are, there could be someone that could just absolutely get out of the gates and run away with it."
The other Aussies did not fare so well. Marc Leishman's third round did contain five birdies but a plethora of errors meant he signed for a disappointing 72. The Victorian is one-over par for the week. And Cameron Smith, after making three birdies in the last five holes of his second round 66 to make the cut on the mark, could do no better than 73. He stands three-over for the 54 holes played.
© Golf Australia. All rights reserved.