This is starting to get a little monotonous. And impressive. Not for the first time in the last couple of years, the story of the opening day at one of golf's four major championships is Brooks Koepka.
With an opening round of 63, seven-under par, the defending champion – and winner of the two most recent U.S Opens – leads the 101st US PGA Championship at Bethpage Black.
Some context. Koepka is the first player to shoot 63 in any of the four majors in consecutive years and only the third, after Greg Norman and Vijay Singh, to hit that number twice in a Grand Slam round.
A little less remarkably, Koepka is the ninth player to shoot 63 in the first round of a major. But only two of the previous eight – Jack Nicklaus in the 1980 U.S Open and Ray Floyd in the USPGA two years later – went on to win.
So this thing is far from over, especially as the leader is only one-shot clear of New Zealander Danny "my game was good today" Lee, with Englishman Tommy Fleetwood alone in third place on three-under par.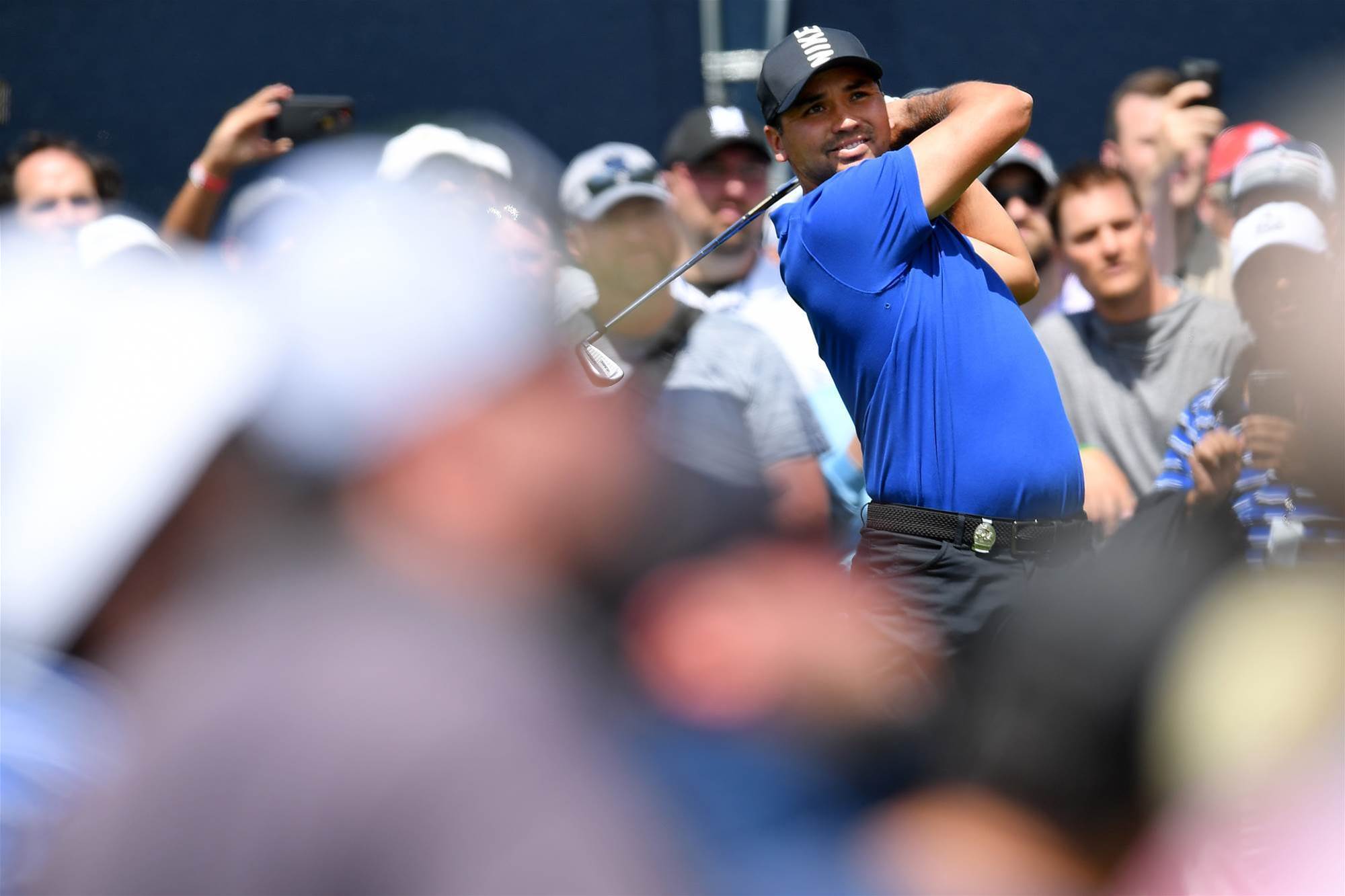 Jason Day was the best of the Aussies, recording a one-under 69 on Thursday at Bethpage Black. PHOTO: Stuart Franklin/Getty Images.
For the record, Lee made eight birdies despite finding only ten greens in the proper number of shots. But he did hit six approach shots inside 10 feet and use his putter only 21 times. That sort of thing always makes up for a lot of mistakes.
And some other numbers. Bogey-free over the supposedly fearsome, 7,406-yard Long Island layout, Koepka made seven birdies in the company of Tiger Woods and Francesco Molinari, both of whom shot 72. Which just about eliminates any hope of victory for the Masters and Open champions. Only once in the last 100 years has a player come from nine-shots back after one round to win a major championship – Jack Fleck in the 1955 U.S Open at Olympic Club in San Francisco. Perhaps the only consolation for Woods – whose card was scarred by three dropped shots and two double-bogeys, one of those on his opening hole – is that the eagle three he made at the 516-yard 4th was his first in a US PGA since 2001.
Not surprisingly, the ever-nonchalant Koepka was relatively downbeat in the immediate aftermath of what was a remarkable round. The man is clearly never satisfied.
"The only thing you have to do is hit fairways," said the 29-year old Floridian. "If you're going to hit fairways, you're going to be able to hit the greens and get the ball close to the hole. My length is obviously an advantage here. But the one thing I didn't do is take care of the par-5s. I didn't birdie any of the par-5s."
As for Woods, the 15-time major champion – who admitted his absence from the course on the final day of practice was down to "not feeling that good" – was less than chuffed by his performance at the end of 18-holes. He made three bogeys and two double-bogeys, the first of which came on his opening hole, the 489-yard par-4 10th.
RIGHT: Playing alongside the first round leader Koepka, Tiger Woods struggled to a two-over 72 that included two double bogies. PHOTO: Warren Little/Getty Images.
"It wasn't as clean as I'd like to have it for sure," he said. "Didn't get off to a very good start, a good drive that ended up in a bad spot. But I compounded the problem by trying to use the backboard behind the hole and missing a putt I should have made. I then fought my way back around, got it back under par for the day. But I let a couple slip away with a couple of bad putts and a couple of mistakes at the end."
Which was a common theme, one repeated by more than one member of the eight-strong Australian contingent, only one of whom managed to break par. By way of example, Adam Scott was one-under par with two holes to play only to make a double-bogey six on the par-4 8th. Lucas Herbert was even more profligate. Even par with five holes left, the 24-year old Victorian limped home in 74, courtesy of four dropped shots.
"A 71 isn't a bad score, but it doesn't feel good after the way I finished," said a clearly disappointed Scott. "I played pretty nicely today. But I'm feeling a little dirty at myself right now. I'll need an hour or so to get over that. Then I'll move on for tomorrow.
"On eight I made a bad swing. But something went wrong in my head, so it wasn't just physical. I tried for a little too much on my second shot and pulled it. When the ball plugged in the bunker I was really on the back foot. Still, there was lots of good stuff. I'd much prefer to dwell on that but I'm pretty mad right now."
Herbert was even more downcast after his 74 – four better than Brendan Jones – on what he called "one of the toughest courses I've ever played."
"I hit a couple of loose shots coming home," he admitted. "But that happens. On this course when you find the rough, 80 percent of the time you are laying-up. The greens feel like they are running at maybe 13 on the Stimpmeter. And I hit 4-iron or more into five par-4s. It's playable but so hard. In my experience, only Shinnecock Hills at last year's U.S Open has been harder and that was more down to the weather than the course. Without weather, this course is as hard as any you will play in the world."
As a group, things didn't go much better for the four Aussies to play in the afternoon wave. Best of the bunch was Jason Day. Playing alongside Phil Mickelson (69) and Rory McIlroy (73), the 2015 USPGA champion shot 69, his four birdies outnumbering three dropped shots.
"I'm very pleased with that," he said, after feeling a twinge in his notoriously fragile back late in his round. "It was a difficult day. This is a long golf course, and the wind was tricky. It was forecasted to blow west-northwest and switch around to south-westerly, but it did none of that. It was fluctuating all over. It was nice to get a couple of crucial up-and-downs, especially on 15. That was huge."
Elsewhere, Cam Smith and Marc Leishman struggled en route to scores of 73 and 74. And neither of the two U.S-based club pros could either break 80 or make even a single birdie. In the end, Stuart Deane and Craig Hocknull both got round in 82.
One last thing. Just to put the two best rounds of the day into perspective, the average score for the 156-man field was more than 73. Only 16 players shot under par, a group that includes notable names like Rickie Fowler, Dustin Johnson, Jordan Spieth and Phil Mickelson. All are on 69.
© Golf Australia. All rights reserved.