Jon Rahm has fired a seven under 65 to win the Irish Open by six shots despite being queried mid-round about a possible rules infraction.
The Spaniard started the final round at Portstewart in a share of the lead with American Daniel Im at 17 under. But Rahm soon pulled away from the field when he eagled the par-4 4th hole when he holed his approach from 150 yards. Four consecutive birdies then followed from the 7th hole.
The 22-year-old was four strokes ahead of the field on the 13th hole when a rules official queried him over his ball marking on the 6th green. Rahm had marked his ball to the side before marking it a second time a putter-head length away to get his marker away from Im's putting line. However, when he replaced his ball it appeared to be in front of the marker instead of the side.
After the brief discussion with the rules official, no penalty was imposed and Rahm continued his demolition of the field. Despite two bogies in the last three holes, Rahm's 65 saw him finish at 24 under, six strokes clear of Scotland's Richie Ramsay and Englishman Matthew Southgate.
Rahm celebrates rolling in a 40-foot putt for eagle on the 14th hole. PHOTO: Warren Little/Getty Images
Rahm's winning total lowered the Irish Open tournament record score, set by Bernhard Langer at Royal Dublin in 1984, by three strokes.
With his closing round of 64, Ramsay grabbed one of the three spots available for the Open Championship, as did his countryman David Drysdale, who closed his round of 63 with seven straight birdies. Kiwi Ryan Fox (68) and Im (72) also shared fourth place with Justin Rose and are now bound for Royal Birkdale next week.
For Rahm, one of the most satisfying aspects of his victory was joining his three Spanish golfing heroes in getting his name on the Irish Open trophy.
Sergio Garcia's first European Tour victory was in the 1999 Irish Open, while Jose Maria Olazabal claimed the title in 1990 and Seve Ballesteros was a three-time champion.
"It feels slightly surreal right now to join my three heroes on this trophy but also such an honour," Rahm said.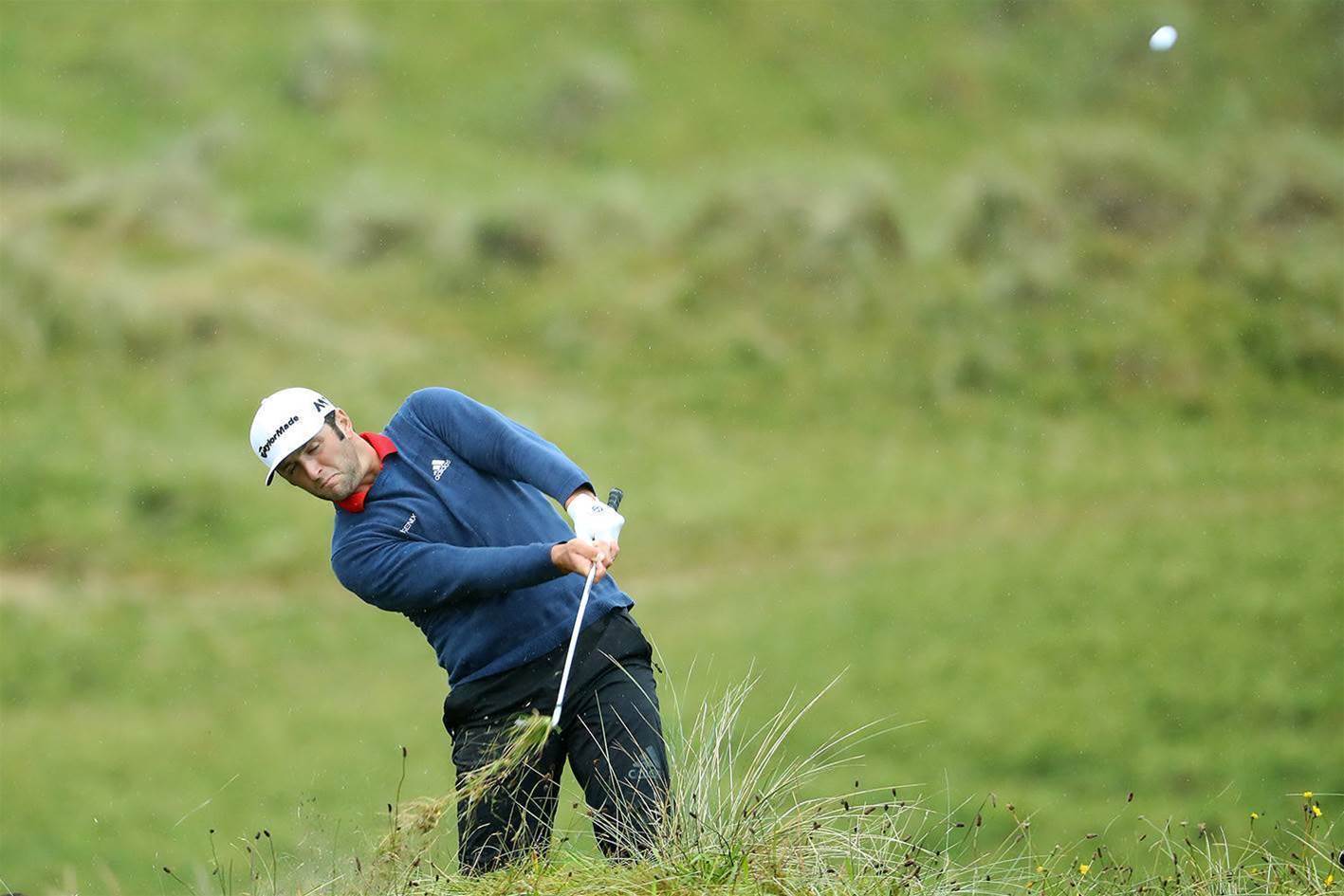 The Spaniard hits his approach into 17 to set up his fifth birdie of the day. PHOTO: Warren Little/Getty Images.
"I know the trophy is right next to me and my name is going to be there for ever now, but it seems hard to believe that it's happened. It's kind of somewhat surreal. It's hard to explain. I just look at it and I see Nick Faldo, I see Jose Maria Olazabal, I see Nick Faldo again, I see Colin Montgomerie, Ian Woosnam, Seve. That's a great list of great – and greatest European Tour players ever, and to have my name next to it, and the last one, Rory McIlroy, it's so special.
"Not just to win this event but to win it at the place I just won it, Portstewart, great golf course, with the fans supporting me better than I've ever seen anybody support me. It's been unbelievable.
"I've never played my best golf. To actually play my best golf that I can remember till this day and shoot 24-under on this golf course and win it by six, man, that is not something I would have believed I was capable of. I learned a lot about myself and what I'm capable of, and it's a really, really special day."
And as for the rules controversy, Rahm said he told the rules official his version and if he was to be penalised to do it then and there.
"I just told him my version. I told him I did it on purpose. I put it (the marker) on the side to not bother Daniel and to be able to put my mark as far away from his as possible, put it back and to my eyes, I put it exactly to the same spot it was. To my eyes, it was there, and that was it," Rahm said.
"I told him, listen, if it's a penalty stroke, let me know now, I'll accept it.
"This is what I did. I did it. If it's not on the right spot, if it's a penalty stroke, let me know. He told me there's been a change in the rules. There's some room for … there's some margins left on the rule now and it was left to interpretation. And that was the decision."
Wade Ormsby was the best of the Australians at Portstewart. PHOTO: Christopher Lee/Getty Images.
South Australian Wade Ormsby was the best of the Aussies, carding a final round 68 to finish at 13 under and share 14th place. Queensland pair Andrew Dodt and Scott Hend were a further stroke back at 12 under and T20.
For Hend, who closed with a one over 73, it was disappointing end to a good week as he was just four shots from the lead heading into the final round. But a double bogey at the par-3 3rd hole had him back-pedalling early in the round.
© Golf Australia. All rights reserved.