Queenslander Elvis Smylie was one of the breakout stars of the truncated Australian summer of golf in 2020/21. A slightly disappointing but important trip to Europe and back injury later, he is ready to mount a challenge for the Australian PGA Championship.
Smylie is still three months short of turning 20, but with limited overseas stars in the field outside of Min Woo Lee and infrequent competitor Geoff Ogilvy at Royal Queensland, the left hander will like his chances. Particularly when factoring in the course knowledge of his caddie.
On the bag once again for Smylie, as he was for much of last year, is Golf Australia magazine Architecture Editor, former Tour player and most importantly designer of the new Royal Queensland, Mike Clayton.
Clayton, having recently hosted the Sandbelt Invitational with Ogilvy, where Smylie teed it up, owns an immense knowledge of tournament golf and of course the layout at Eagle Farm. Smylie's best results of his burgeoning career mostly coming with the former European Tour player on the bag.
Just hours after writing a beautiful tribute to his late friend Bob Shearer, Clayton was striding the fairways in his trademark caddie attire of pants and adidas Stan Smith trainers at Royal Queensland alongside Smylie. The youngster knowing full well the value of his looper.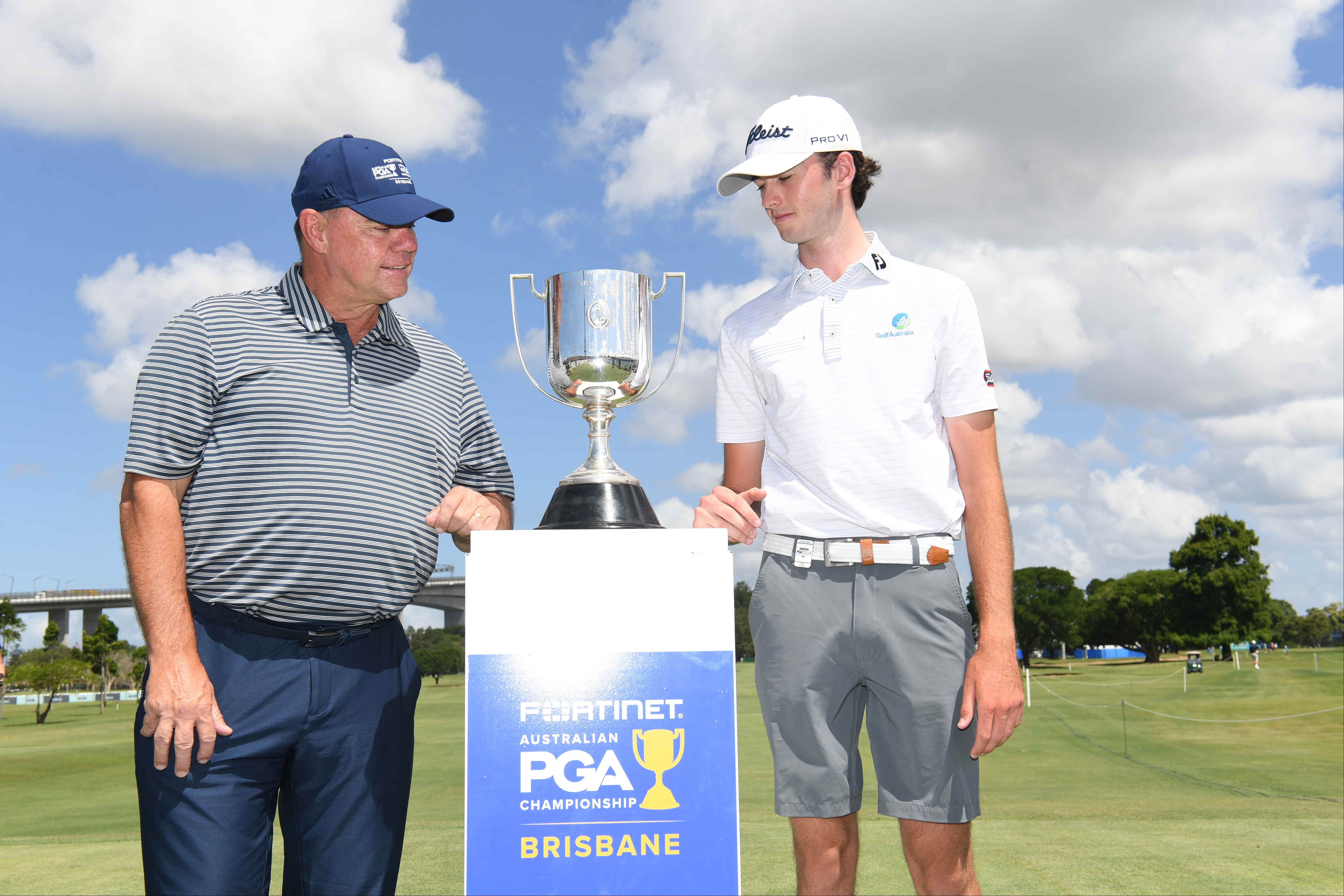 Smylie takes a look, without touching, at the Joe Kirkwood Cup with PGA of Australia CEO Gavin Kirkman. PHOTO: PGA Tour of Australasia.
"I've played Royal Queensland quite a lot, so I'm quite familiar with the place and looking forward to getting the week underway with 'Clayts' on the bag," Smylie told the assembled media on Monday afternoon. "It means everything to be able to have a little bit of an inside scoop with the course's own designer to be on your bag. This place is what you see is what you get.
"It's very clear right in front of you, but around the greens it can get pretty tricky with all the undulation and slope, so being on the right side of the hole is quite important around here. But yeah, Clayts and I will have that down pat, so we'll be fine."
The casual confidence of Smylie, the son of Aussie tennis legend Liz Smylie, is unsurprising to anyone who has spent any time in his presence, and it is certainly not false bravado after his strong amateur career and possessing a game that has many excited.
His time in Europe, where he missed three cuts from three starts on the main Tour, seemingly not affecting a positive outlook despite learning about the harsh realities of the play for pay world of professional golf.
"I played the NSW Open in late March and then I had about a month off and then I headed over in about June to Munich and played off a couple of sponsor exemptions on the European Tour and learnt a lot about my game there," Smylie said. "Obviously, it was very unfortunate with what happened with my back.
"I had a minor disc issue in my lower right back, which was to be honest, it was probably just a bit of overuse. It's very hard going from Australia to Europe where your routines aren't the same. I think that's the number one thing I learnt, was you have to adapt and adjust as well as you can.
"Going back over there in May after I play all these Australian events, I'll have a very good understanding of what I need to do better and I'll just know how to handle my business a little bit better. So, I'm grateful to have that experience."
Smylie will face tough competition this week from the likes of two-time DP World Tour winner Min Woo Lee. PHOTO: PGA Tour of Australasia.
Experience is something Smylie is collecting at a fast rate, including from his time staying with today's PGA Tour winner Cam Smith in 2019. The friendship of his fellow Queenslander who is now a top-10 player in the world, like his relationship with Clayton, not lost on Smylie.
"It's very inspirational," he said of Smith's win in Hawaii. "I remember going back to when I spent a week with Cam over in Jacksonville. That was great to be able to get an insight of what life's like on the PGA Tour and most importantly what I need to do in order for me to get to that level. That was a really good learning curve for me."
His willingness to learn is one of the reasons, beyond his exceptional talent for the game, that so many have big wraps on the young man who looks not too dissimilar to a 1-iron with ears. And Smylie's learning process has encouraged him to take a tried and true approach.
"It's just keeping it simple, just staying out of my own way," Smylie said of rediscovering the form of last summer. "I know what works well for me, I know what doesn't. Obviously, I'm focusing more on what does work well for me, but when things don't go well, I learn from them pretty quickly and I know how to make that not happen again."
With Clayton, a man who has an ability to make the most detailed golf issue seem beyond simplistic, by his side this week the concept shouldn't be too far a stretch, and there will be plenty more learning opportunities as well.
And although another trip to Europe beckons, Smylie is laser focused on what is hand at home first. A very promising sign ahead of this week.
"My main focus here is playing as well as I can here in Australia. The Australasian Tour I think has about 11 events in this four/five month period, so I'm looking forward to playing all those and doing as well as I can. There's a lot of opportunities up for grabs and I'm excited for that."
© Golf Australia. All rights reserved.