Australia's PGA Tour stars say they are open to participating in a domestic high-stakes exhibition match similar to the Las Vegas showdown between Tiger Woods and Phil Mickelson.
On Wednesday, Woods and Mickelson confirmed their rumoured, winner-takes-all $US9 million ($A12 million) match is set for Friday, November 23 at Shadow Creek golf course in Vegas.
Woods' made-for-television spectacle has revived interest in the lost tradition of exhibition golf and 2013 Masters winner Adam Scott has no doubt something similar could work in Australia, on a smaller scale.
"I think anyone would enjoy seeing a head-to-head match back home," Scott told AAP at the PGA Tour's Northern Trust in New Jersey.
Undoubtedly, fans would want to see Scott and fellow former World No.1 Jason Day face off and Scott welcomed an 18-hole match between the pair.
"Yeah, I think it'd all be in good fun," Scott said.
"It does a lot of good for the game, even if it's just for a very small audience.
"I'd like to think there is room for exhibition golf; it's something the Tour down there should maybe look at trying to do."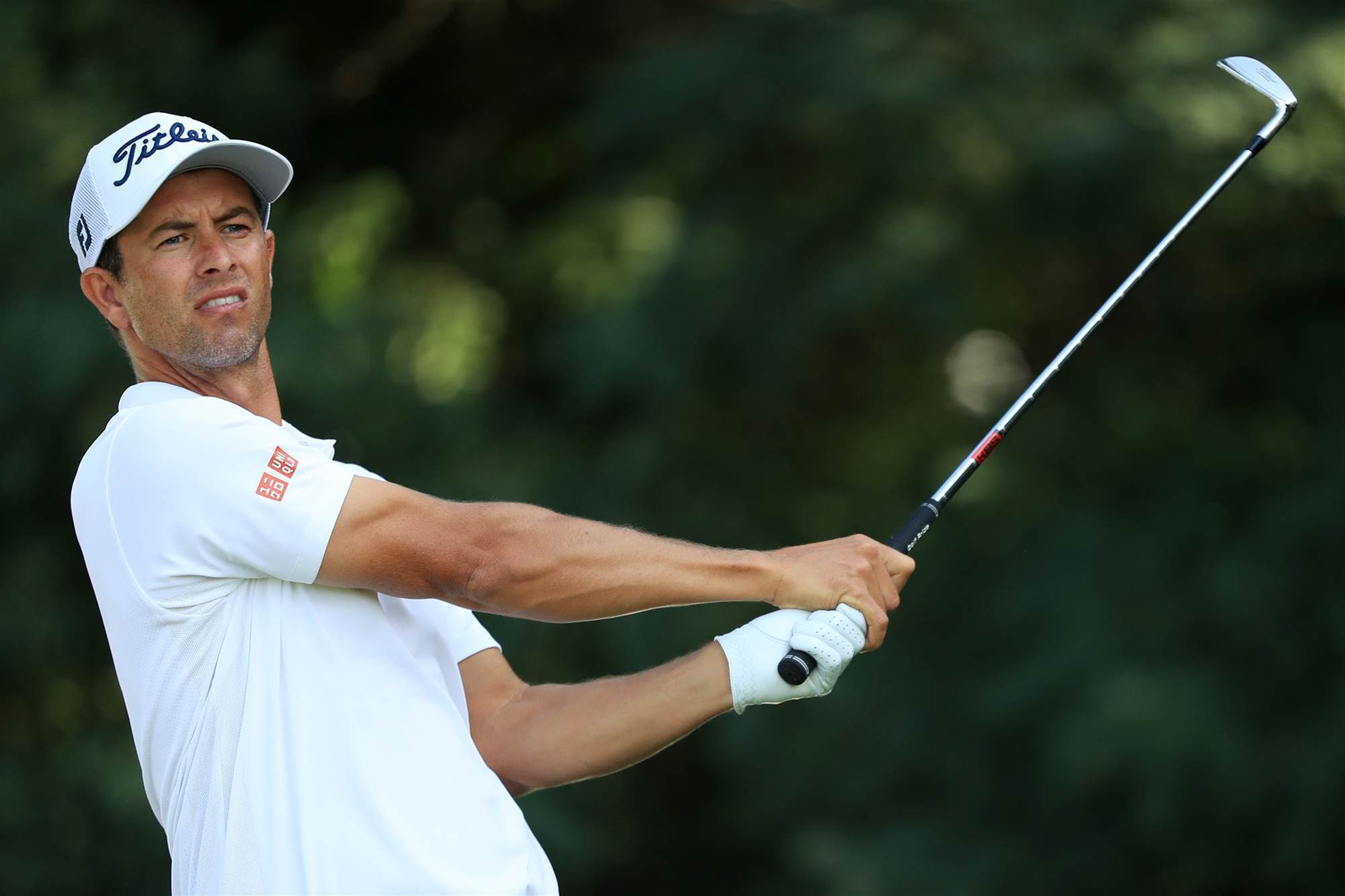 Scott says he would be keen to create an Australian version of "The Match" between Tiger Woods and Phil Mickelson. PHOTO: Andrew Redington/Getty Images.
US Tour winner Cameron Smith was also fond of the idea, particularly if the top four Australians on the world rankings – currently Day, Marc Leishman, Scott and himself – competed in a two-round elimination match on an iconic Australian course.
"I think it's a great idea; absolutely," Smith said.
"Any exposure for golf in Australia at the moment is good.
"If there were three or four of us that were going to do it, I think it'd be awesome and you could do it all in one day."
***
SCOTT & SMITH IN THE MIX AT PLAYOFFS OPENER
Adam Scott was so charged after his vintage performance at the US PGA Championship he nearly entered a tournament before this week's FedEx Cup playoffs opener.
Scott avoided temptation, but picked up exactly where he left off with a solid opening round at the Northern Trust in New Jersey – the first tournament of the $US67 million finals series.
Scott and fellow Queenslander Cameron Smith posted a two-under-par 69 at Ridgewood Country Club to sit three shots adrift of first-round leaders Kevin Tway, Jamie Lovemark, Vaughn Taylor and Sean O'Hair (66).
One shot back in a share of fifth at four under is a logjam of players including World No.1 Dustin Johnson, US Open champion Brooks Koepka and Japanese star Hideki Matsuyama (all 67).
Scott played in the final group at the PGA Championship two weeks ago with eventual winner Brooks Koepka and shared the lead with him late on the back nine on Sunday.
"It was great to play good on that Sunday, but to also feel comfortable with the pressure of having a chance to win a major," Scott said.
"Teeing off today I felt probably the most confident I have all year." – Adam Scott
Although he settled for third at the PGA, Scott says it worked wonders on his confidence in time for the four-tournament post-season.
He almost entered last week's regular season-ending Wyndham Championship in a bid to end his two-and-a-half year winless drought, but decided to rest.
"Getting a taste of it made me a bit hungrier," Scott said.
"I had to weigh up whether to play Wyndham and force it a little; try take advantage of it but I had to look at the bigger picture with the FedEx Cup and a lot of golf coming up.
"I'm hoping to take it into this week and so far it looks like I have; teeing off today I felt probably the most confident I have all year."
Although Smith laid the sod over an easy chip shot at the par-5 17th and made bogey, the world No.49 bounced back with an early birdie on the back side.
"I drove it really good and actually felt I played really well, except for that chip I duffed on 17," Smith said.
Jason Day, the 2015 winner of this event, inexplicably missed a one-metre birdie putt on the par-5 17th and then bogeyed the last – signing for a 71 to sit even with the card.
Marc Leishman rounds out the Australian contingent but struggled while grouped with 14-time major winner Tiger Woods.
Leishman carded a two-over 73, while Woods scrapped around the narrow fairways and thick rough at Ridgewood during a 71.
Evin Priest, Australian Associated Press
© Golf Australia. All rights reserved.