West Australian Min Woo Lee and Queensland's Shae Wools-Cobb are within striking distance of the lead heading into the final round of the Asia-Pacific Amateur Championship in New Zealand.
Lee, who will play in the final group, began an eventful moving day with a one-stroke lead over both countryman Wools-Cobb and China's Yuxin Lin – who has since replaced Lee at the top of the leaderboard by that same margin.
Lee struggled off the tee on day three and felt he was missing too many shots left. But the 19-year-old is as professional as an amateur can be – and after signing his card he headed straight to the driving range with his coach, Ritchie Smith.
"I didn't hit many fairways today at all," Lee said. "Tomorrow's strategy is to hit every fairway and every green … I'm just going to stay patient but also be aggressive at the same time. Hopefully those two blend in together."
Min Woo Lee will be hoping to hit more fairways on Sunday. PHOTO: David Paul Morris/AAC.
The trio of Lee, Lin and Wools-Cobb combined to produce five hours of entertaining golf. And the hoards of people following the group – including members of Augusta National – were left dazzled when Lee eagled the par-5 4th to regain a share of the lead.
From thereon in, the 19-year-old was involved in a terrific dual against the left-handed Lin. Both players exchanged significant blows as they continued to fight for the overall lead. But a terrific back nine saw Lin come out on top and sign for a well-deserved two-under 69.
"I'm pretty satisfied with that score," Lin said. "I wasn't actually that nervous today because I've played in lots of big events over the last couple of years … I'm just kind of used to playing with the crowds."
Yuxin Lin shot a two-under, 69, despite a triple bogey. PHOTO: David Paul Morris/AAC.
Meanwhile, having begun the championship with that brilliant eight-under 63, Shae Wools-Cobb will now enter tomorrow's final round three shots back. The Queenslander has kept a cool head throughout, though, and today produced a fantastic closing stretch of holes.
Wools-Cobb recovered well from a greenside bunker for par at the par-3 16th before finding the green with a 3-wood at the par-5 closing hole. Nobody in the field has played the 18th better than the 21-year-old this week. He has now gone eagle-birdie-eagle – and will fancy his chances there tomorrow if the championship is still on the line.
Elsewhere, New Zealand duo Nick Voke and Kerry Mountcastle were making charges in the groups ahead. Voke had bolted out of the gates and turned in 33 to move well into contention, but a disappointing 40 coming in now sees him seven shots back.
It was a happier afternoon for Mountcastle, though. The 22-year-old played another solid round today – which featured an eagle on the par-4 14th – to sit just four shots off the lead.
Kerry Mountcastle is the best-placed Kiwi heading into the final round. PHOTO: Graham Uden/AAC.
But it was Chinese players who ultimately dominated the third round. Yechun 'Carl' Yuan has recovered from an opening 74 to sit four shots off the lead. While Andy Zhang shot one of the rounds of the day – a four-under 67 – to join Yuxin Lin and Min Woo Lee in tomorrow's final group.
"I got off to a slow start today but I just tried to stay patient and stay disciplined out there, and it turned out better than I expected," Zhang said. "Golf is a very individual sport, we all come here to represent China, and the best way to do that is to win yourself."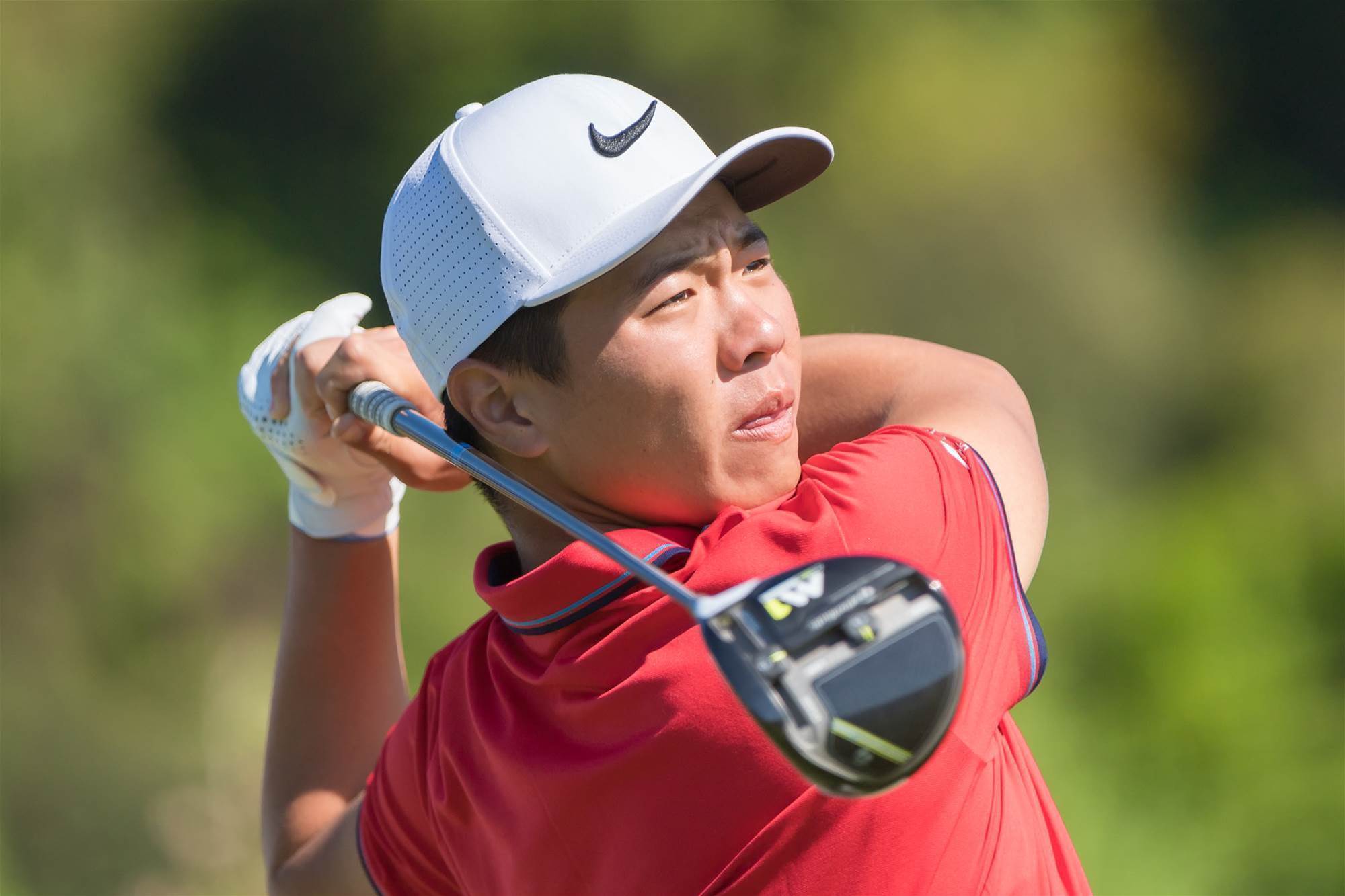 Andy Zhang shot the equal-best round of the day. PHOTO: David Paul Morris/AAC.
Dylan Perry completed a hat-trick of Australians to shoot an even-par 71 and will start the final round in a tie for ninth; six shots back. While Harrison Endycott (T19), Travis Smyth (T28) and Charlie Dann (T46) round out the Aussie efforts.
© Golf Australia. All rights reserved.