Golf, despite its lack of physical contact, still manages to inflict its fair share of pain. So here, in no particular order, are 13 of the strangest and most painful injuries suffered by some seriously unlucky players.
JAMIE DONALDSON
Two years after Greg Norman's chainsaw accident, Welshman Jamie Donaldson came dangerously close to slicing off the little finger on his left hand with the same piece of gardening equipment.
The three-time European Tour winner captured an image of the nasty-looking injury and posted it on Twitter, saying: "So folks in my time off decided to have a fight with a chainsaw and lost! Oops!! C u in Dubai."
Donaldson, 44, hasn't tasted victory since suffering the injury in 2016.
RICHARD BOXALL
The Englishman was just two strokes off the lead at the Open Championship in 1991 when he broke his left leg playing his tee shot on the 9th hole at Royal Birkdale.
Boxall, who now works on Sky Sports commentating the European Tour, suffered the horrific injury during the third round of play after complaining of "twinges" during the practice rounds.
"What a noise it made," recalled Boxall.
"The first crack was the ball and the second crack was my leg – and I remember that gave way and my 1-iron went down the tee and I hit the deck like a sack of spuds."
DUSTIN JOHNSON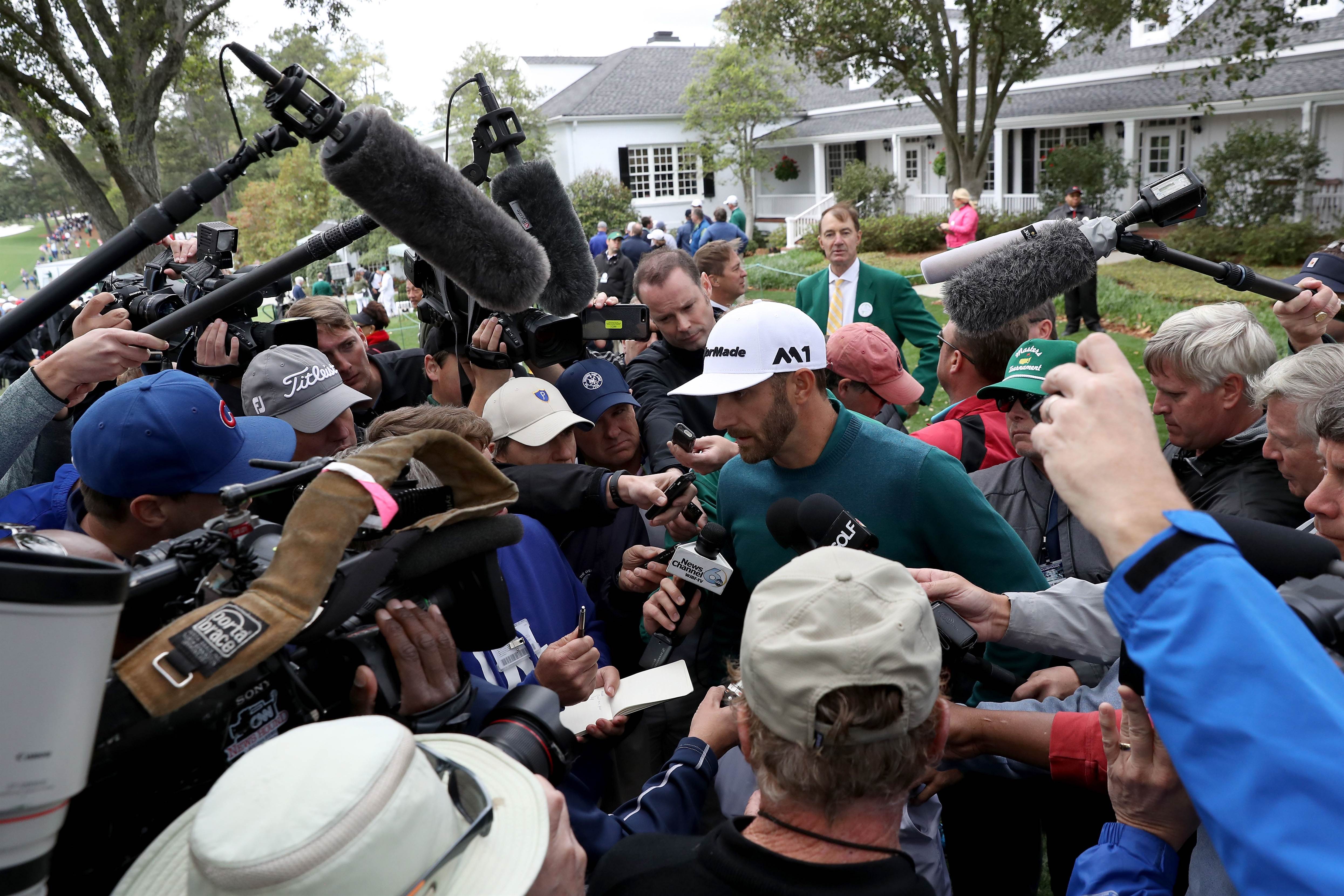 Entering the 2017 Masters with three consecutive victories under his belt, former World No.1 Dustin Johnson slipped down some stairs at his Augusta rental home and was forced to withdraw from the championship with an injured back.
"It sucks. I want to play. I'm playing the best golf of my life and to have a freak accident happen yesterday afternoon, it sucks really bad," Johnson said.
The American suffered damage to his lower back and didn't play competitively again for a month.
Despite the injury and his time on the sidelines, Johnson was able to return to action with an impressive runner-up finish at the Wells Fargo Championship.
BRETT OGLE
The New South Welshman was in contention at the Australian Open in 1990 before his ball ricocheted off a tree at the 71st hole and crashed into his left knee.
Ogle, shocked and in severe pain, pulled himself together, carded an eventful nine and somehow managed to complete his round at the Australian Golf Club – but his kneecap was shattered and he was forced out of the game for six months.
RORY MCILROY
World No.1 Rory McIlroy suffered a major ankle injury whilst playing soccer with friends in 2015, forcing him to miss his chance to defend the Claret Jug at St Andrews.
The Northern Irishman ruptured ligaments in his left ankle nine days before the opening round of the Open Championship, eventually taking to Instagram to announce his withdrawal …
"After much consideration I have decided not to play in the Open Championship at St Andrews," McIlroy wrote.
"I'm taking a long-term view of this injury and, although rehab is progressing well, I want to come back to tournament play when I feel 100 percent healthy and 100 percent competitive."
MIGUEL ANGEL JIMENEZ
'The Most Interesting Man in Golf' broke his right shinbone in a skiing accident in Andalucia at the end of 2012, forcing him out of the game for nearly four months.
The Spaniard, who won 21 times on the European Tour, told the Tour's website: "I was going down a hill and lost control briefly. When I fell it was very sore. I knew immediately I had broken something.
"When I took up skiing I knew the risks that I was taking but I love it so much I could not stop."
© Golf Australia. All rights reserved.