Golf, despite its lack of physical contact, still manages to inflict its fair share of pain. So here, in no particular order, are 13 of the strangest and most painful injuries suffered by some seriously unlucky players.
DANIELA HOLMQVIST
The 32-year-old Swede was bitten by a redback spider (Australia's black widow) in February 2013 while taking part in the pre-qualifier for the Women's Australian Open at the Royal Canberra Golf Club.
Holmqvist, who earned membership on the LPGA Tour in 2014, lanced the bite with one of her tees to drain the poison and proceeded to finish her round … Tough as nails!
"Got bit by a black widow today on course, a caddie said that people die from it and I should seek medical attn…I shot a 74," she later wrote on Twitter.
SAM TORRANCE
The Scotsman missed his singles match during the Ryder Cup in 1993 after breaking his toe during an altercation with a Yucca plant.
Torrance – who recorded 21 victories on the European Tour (T10th all time) – tackled the plant in the middle of the night, having mistaken it for an intruder.
"For months afterwards I was unmercifully ribbed by my colleagues," Torrance said.
"Every time I hit into the trees, someone would say, 'Careful Sammy, it's a jungle out there!'"
LEE TREVINO
The six-time major winner suffered significant spinal injuries after being struck by lightning during the Western Open in 1975.
Trevino, who was inducted to The World Golf Hall of Fame in 1981, was waiting out an intense storm under a tree next to the 13th green.
Suddenly, lighting hit a nearby lake and the current spread to where Trevino and American Jerry Hear were sitting.
'The Merry Mex' won just nine of his 29 title on the PGA Tour after the accident …
"That changed everything. I don't know how good I would have been if that hadn't happened. I never was the same. It led to an operation on my back in 1976, and once they cut on you, you're never the same. You can't swing hard at it, can't dig it out of the rough; uphill and side-hill lies, you have to be careful. And you lose speed. In a way, you lose everything," he said.
RETIEF GOOSEN
The South African was 15 years old when he was struck by lightning while playing with his friend – Henri Potgieter – at Pietersburg Golf Club in 1975.
While Potgieter was knocked off his feet by the current, Goosen was completely flattened and his clothes had been burned from his body.
"I saw him lying on his back. His tongue was down his throat and his eyes were backward, and he was breathing weird," Potgieter told Golf World years later.
Fortunately, Goosen survived the incident and went on to claim 37 professional victories, including two US Open titles, and was last year inducted to the World Golf Hall of Fame.
THOMAS LEVET
The 51-year-old Frenchman suffered a broken shin after leaping into the greenside lake at Le Golf National after winning his national Open in 2011.
Levet landed on some rocks and was forced to withdraw from the Open Championship, which he had only qualified for by virtue of his French Open success.
"I am extremely disappointed to miss out on the Open," he said. "I will have screws and a plate inserted which will ensure that my shin recovers completely."
Levet, who collected six career titles on the European Tour, also injured himself at the start of 2012 when he cracked some of his ribs as a result of tripping down the stairs on the way to a tee at the Volvo Champions event.
MEL REID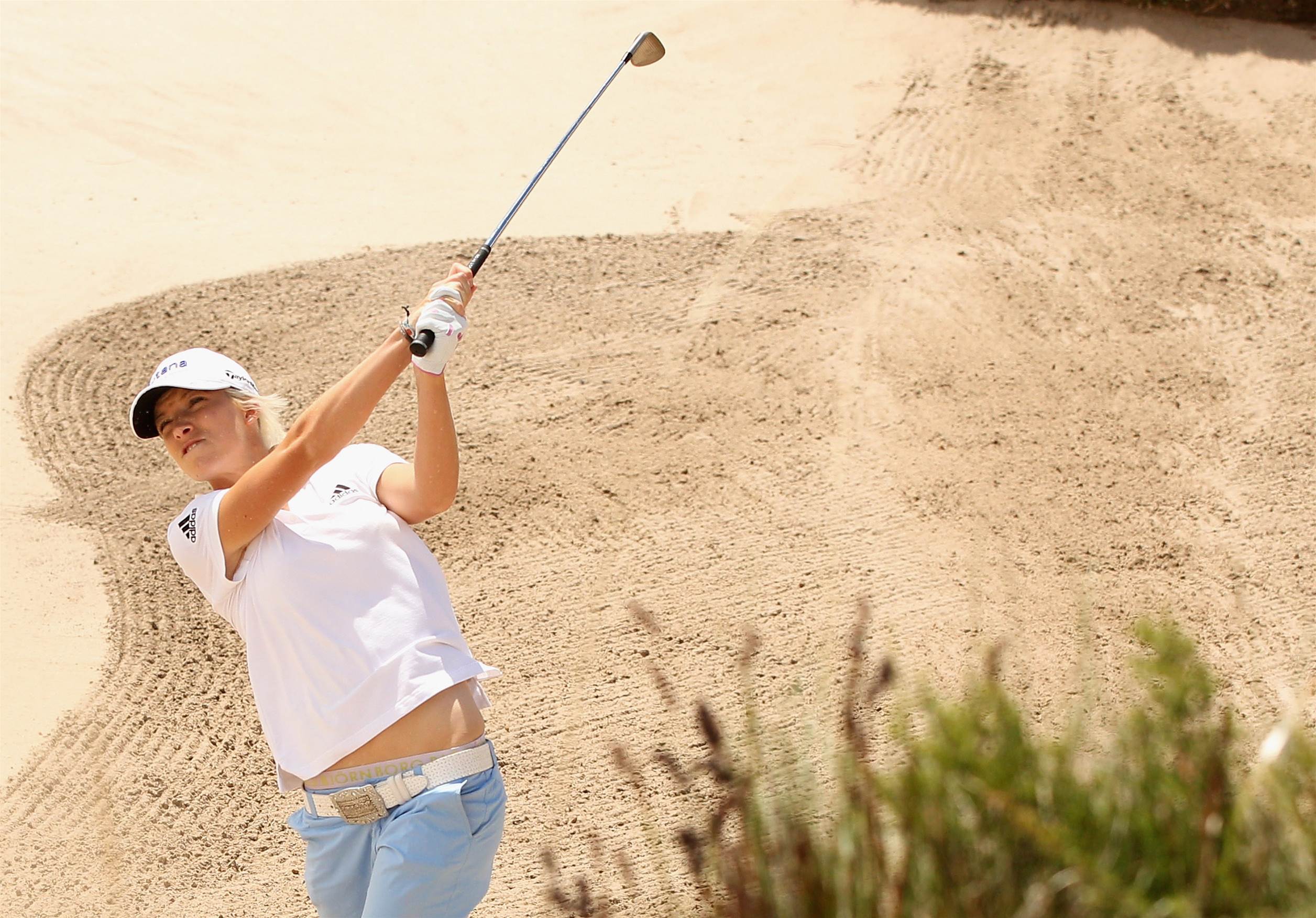 The Englishwoman was bitten by a venomous snake in 2012 whilst playing the Sanya Ladies Open in Hainan, China.
Reid, six times a winner on the Ladies European Tour, continued to play after being treated on course and miraculously birdied the very hole on which she was bitten.
"Everyone is making a massive deal out of it, but it was only a bit scary because of the amount of venomous snakes out there, she told The Sun.
"I was going through a boggy patch of ground, and I felt something sharp on my leg, like a scratch.
"I was like, 'what was that?' and I started running. My caddie, Lee, was like, 'Reidy: run faster, it's after you again!'"
GREG NORMAN
The former World No.1 nearly lost his left hand in 2014 after an alarming encounter with a chainsaw at his property in Jupiter Island, Florida.
"I had a premonition, to tell you the truth, as I was getting my chainsaw ready that something bad was going to happen," Norman told the BBC.
"I was about four branches from being done, and there was one branch about chest high and I cut through and took my finger off the trigger. The branch was just about ready, was falling straight down, and I went to grab it with my left hand, but it was a little heavier than I anticipated."
"The weight took my arm, right above where you wear your watch on your left wrist, and took it right into the chains as it was spooling down.
"I was very lucky in a lot of ways. If the chainsaw was going at full speed my hand would have been cut off and it missed my ulna nerve and muscles, so I was extremely, extremely lucky in that regard, by fractions of millimetres."
Incredibly, Norman only required an hour's surgery to repair some minor nerve damage and was back playing golf within weeks.
JAMIE DONALDSON
Two years after Greg Norman's chainsaw accident, Welshman Jamie Donaldson came dangerously close to slicing off the little finger on his left hand with the same piece of gardening equipment.
The three-time European Tour winner captured an image of the nasty-looking injury and posted it on Twitter, saying: "So folks in my time off decided to have a fight with a chainsaw and lost! Oops!! C u in Dubai."
Donaldson, 44, hasn't tasted victory since suffering the injury in 2016.
RICHARD BOXALL
The Englishman was just two strokes off the lead at the Open Championship in 1991 when he broke his left leg playing his tee shot on the 9th hole at Royal Birkdale.
Boxall, who now works on Sky Sports commentating the European Tour, suffered the horrific injury during the third round of play after complaining of "twinges" during the practice rounds.
"What a noise it made," recalled Boxall.
"The first crack was the ball and the second crack was my leg – and I remember that gave way and my 1-iron went down the tee and I hit the deck like a sack of spuds."
DUSTIN JOHNSON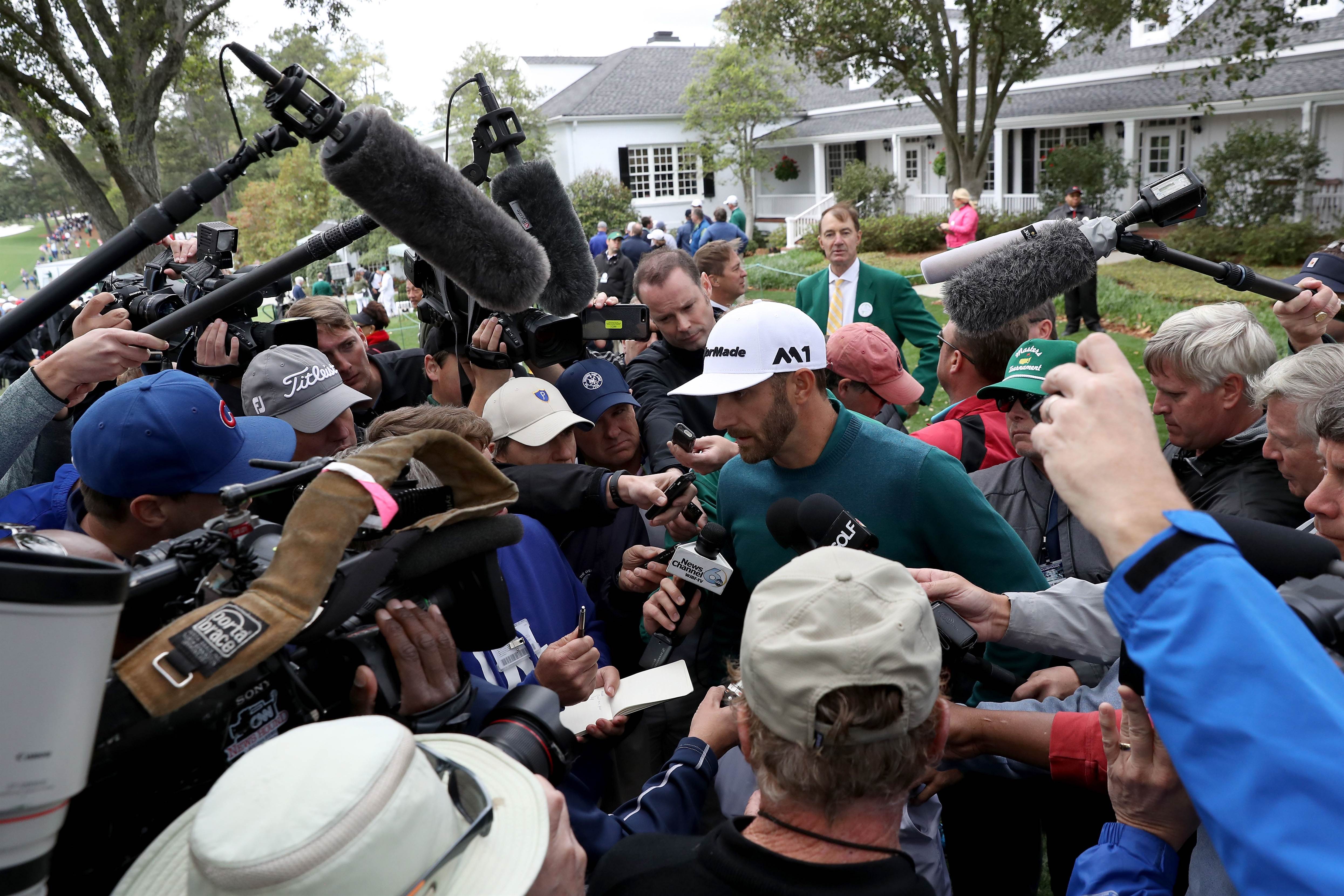 Entering the 2017 Masters with three consecutive victories under his belt, former World No.1 Dustin Johnson slipped down some stairs at his Augusta rental home and was forced to withdraw from the championship with an injured back.
"It sucks. I want to play. I'm playing the best golf of my life and to have a freak accident happen yesterday afternoon, it sucks really bad," Johnson said.
The American suffered damage to his lower back and didn't play competitively again for a month.
Despite the injury and his time on the sidelines, Johnson was able to return to action with an impressive runner-up finish at the Wells Fargo Championship.
BRETT OGLE
The New South Welshman was in contention at the Australian Open in 1990 before his ball ricocheted off a tree at the 71st hole and crashed into his left knee.
Ogle, shocked and in severe pain, pulled himself together, carded an eventful nine and somehow managed to complete his round at the Australian Golf Club – but his kneecap was shattered and he was forced out of the game for six months.
RORY MCILROY
World No.1 Rory McIlroy suffered a major ankle injury whilst playing soccer with friends in 2015, forcing him to miss his chance to defend the Claret Jug at St Andrews.
The Northern Irishman ruptured ligaments in his left ankle nine days before the opening round of the Open Championship, eventually taking to Instagram to announce his withdrawal …
"After much consideration I have decided not to play in the Open Championship at St Andrews," McIlroy wrote.
"I'm taking a long-term view of this injury and, although rehab is progressing well, I want to come back to tournament play when I feel 100 percent healthy and 100 percent competitive."
MIGUEL ANGEL JIMENEZ
'The Most Interesting Man in Golf' broke his right shinbone in a skiing accident in Andalucia at the end of 2012, forcing him out of the game for nearly four months.
The Spaniard, who won 21 times on the European Tour, told the Tour's website: "I was going down a hill and lost control briefly. When I fell it was very sore. I knew immediately I had broken something.
"When I took up skiing I knew the risks that I was taking but I love it so much I could not stop."
© Golf Australia. All rights reserved.