It has been 25 years since Greg Norman won The Open at Royal St George's. There have been close calls since but the claret jug continues to dodge Australian hands. Will one of the seven Aussies heading to Carnoustie end the drought?
Twenty-five years have passed since Shane Warne delivered the ball of the century to Mike Gatting and Paul Keating won the 'unwinnable election'. Australia's population was still under 18 million and Allan Border was set to become the greatest run scorer in the history of Test cricket. It has also been 25 years since an Australian was triumphant at golf's oldest and most celebrated tournament; The Open Championship, which was won in record fashion by Greg Norman in 1993 at Royal St George's.
Australians have found more success at the Open than any other major championship – but the coveted Claret Jug has now eluded the kiss of an Australian for longer than any of the game's four most prestigious trophies.
Jason Day hoisted the Wanamaker Trophy at Whistling Straits in 2015; Adam Scott famously donned the Green Jacket in 2013; and Geoff Ogilvy won the US Open at Winged Foot in 2006.
The last time Australia experienced such an extensive drought at the Open came between Peter Thomson's fifth victory in 1965 and Greg Norman's maiden major title at Turnberry in 1986.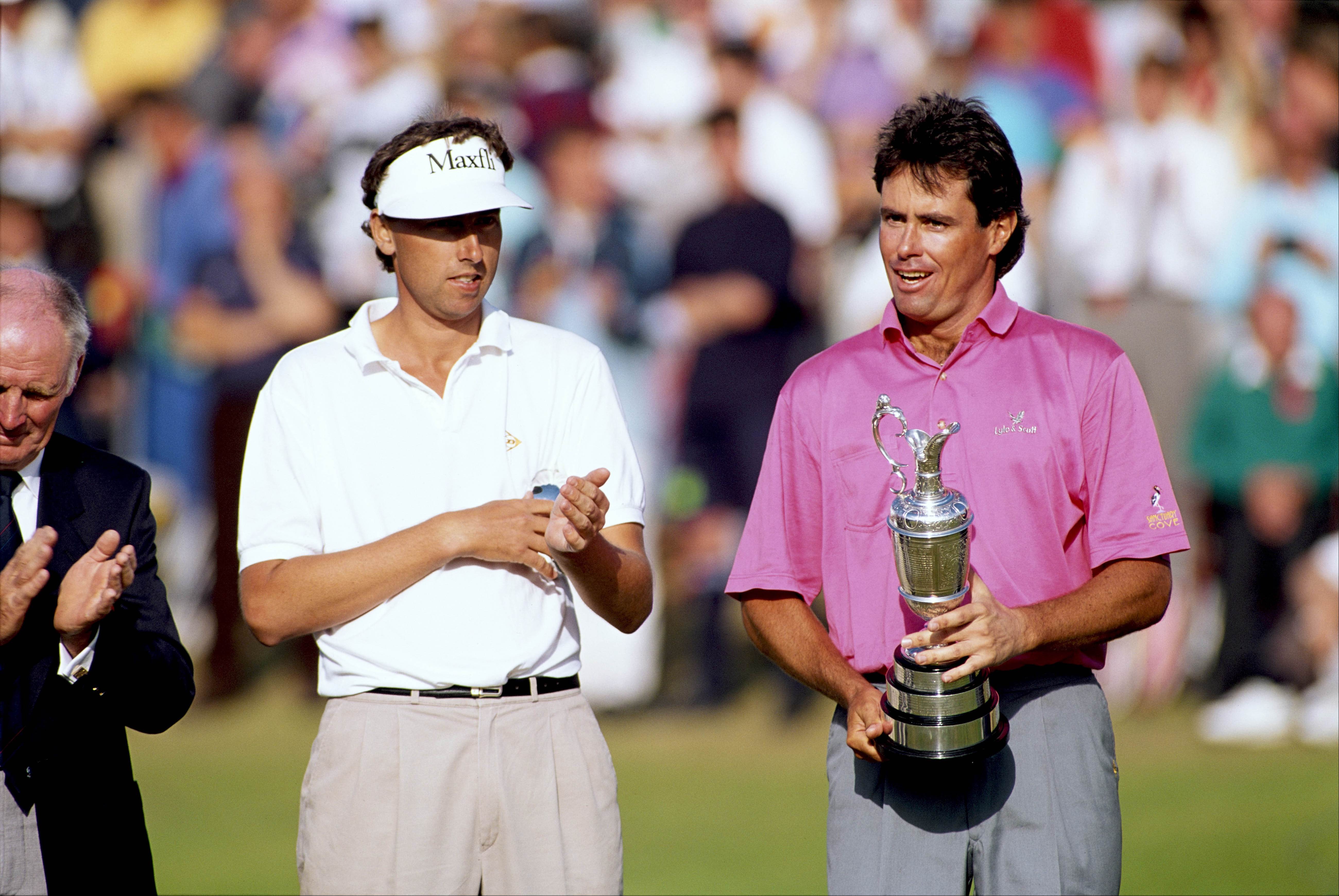 Ian Baker-Finch claimed the Claret Jug ahead of fellow Aussie Mike Harwood. PHOTO: Getty Images.
That's not to say there haven't been cases of near misses for men from Down Under; on the contrary, there have been plenty of 'what ifs' and if onlys' since The Shark broke – what was, at the time – the aggregate scoring record.
Those close calls began with Steve Elkington at the Old Course in 1995. The New South Welshman, who now resides in Texas, was three shots off the lead heading into the final round but shot two-over 74 to finish two shots out of the playoff. Brett Ogle, Greg Norman and Robert Allenby also finished with
in a handful of shots of making
the play-off.
Craig Parry then came painfully close to having his name engraved on the Jug in 1999 at Carnoustie – rocketing to the lead with seven holes to play. But the popular 'Paz' immediately made triple-bogey and finished tied-fourth.
RIGHT: Craig Parry made a run at the title in 1999. PHOTO: Getty Images.
"The golf course was eventually going to get everyone, and it got me on the back nine … I felt like I threw it away," Parry said.
Then, in 2002, Australia had two chances of seizing back the trophy when both Elkington and Stuart Appleby joined Thomas Levet and eventual champion Ernie Els in the epic four-way, four-hole play-off at Muirfield. But it wasn't to be, as both of our players failed to fire.
"As an Australian, we have certainly had an affiliation with this tournament for many years," Appleby said. "We probably have a stronger hold outside of the Europeans with the British Open as anybody."
Steve Elkington and Stuart Appleby made it to the play-off at Muirfield in 2002. PHOTO: Getty Images.
Ten years ago, Greg Norman became the oldest player in championship history to hold the lead heading into the final round. The then 53-year-old was two strokes clear at Royal Birkdale – but he shot seven-over 77 to eventually share third place.
"Obviously I'm disappointed," Norman said. "That would be an understatement if I didn't say I was disappointed. But it was a tough day today. I think at the end of the day, a lot of people should take stock that no matter how old you are, if you really want to chase something and chase a dream, you can go do it.
"Even though there's failure at the end of it for me, I still put myself in position to really show a lot of other people that you can go do something if you really want it."
The following year, in 2009, Matthew Goggin was one shot off the lead on Sunday morning at Turnberry. But the Tasmanian carded three-over 73 to finish two shots out of a play-off.
"I mean, it's the best I've played in a major," Goggin said. "It was a great day and a very disappointing day."
Adam Scott then famously collapsed at the 2012 championship at Royal Lytham & St Annes, surrendering his four-shot buffer and losing by one stroke to Ernie Els after bogeying each of his final four holes.
RIGHT: A dejected Adam Scott after four bogies in the final four holes cost him The Open in 2012. PHOTO: Getty Images.
"I can't justify anything that I've done out there," Scott said. "I didn't finish the tournament well today. But next time – and I'm sure there will be a next time – hopefully I can do a better job of it. I don't think I've ever played this well in a major championship, so that's a good thing for me moving forward."
Scott finished four shots off the lead the following year at Muirfield and tied for third place, before sharing fifth with Marc Leishman at Royal Liverpool in 2014.
Scott went close again in 2013 when Phil Mickelson surged to the title at Muirfield. PHOTO: Getty Images.
Leishman continued that good form the following year at the Old Course at St Andrews. In fact, with the final pairings within view of the Auld Grey Toon Leishman, Scott and Jason Day occupied three of the top four spots on the leaderboard. Surely the drought would be broken. But it wasn't to be.
Vital missed putts from Scott and Day late in the round sealed their fate. Leishman also had his chances to win the Championship outright but ended up in a three-way play-off against Louis Oosthuizen and eventual champion Zach Johnson. When the big Victorian's tee shot on the first extra hole rolled into a divot, his run at the Claret Jug was all but over.
"I'm obviously pretty disappointed at the minute, having a chance to win it and not being able to take it, but that's golf, unfortunately," Leishman said. "I'm happy. Don't worry about that. I've just finished second in the Open. Yeah, I could have won it, but look, my perspective is quite good at the moment.
"We probably have a stronger hold outside of the Europeans with the British Open as anybody." – Stuart Appleby
 "I can go home tomorrow and hug Audrey and the boys and celebrate a little bit, I guess. It would have been nice to have a Claret Jug to drink out of to celebrate, but I'll find something else."
Last year, at Royal Birkdale, Leishman was the highest-finishing Australian and tied for sixth place, having signed for the best score of the weekend (nine-under 131).
"Considering I made the cut on the number, it turned into a good week," Leishman said. "Take that 76 out Friday and it could be a different story."
Marc Leishman's bid at St Andrews in 2015 was thwarted by a drive finishing in a divot. PHOTO: Getty Images.
It has certainly become a frustrating case of near misses for Australians since Greg Norman found success at Royal St George's.
But, thankfully, the Aussie contingent heading to Carnoustie this month is one of the strongest we have assembled in quite some time – and it presents a very realistic chance of ending the barren years before they extend beyond the quarter-century mark.
Day and Leishman are both firing on all cylinders; Scott always seems to find his best in time for the championship; Cameron Smith is already one of the finest young talents in the world; Brett Rumford and Matt Jones are now both experienced Open campaigners; and Cameron Davis and Lucas Herbert have both shown a liking for links-style golf.
There is nothing to suggest that any one of those players won't join Peter Thomson (5), Greg Norman (2), Kel Nagle (1) and Ian Baker-Finch (1) in becoming an Australian Champion Golfer of the Year.
Australian golf fans have waited patiently for the past 25 years. Here's hoping one of our boys will repay the favour and reignite our love affair with an event Norman once described as: "The Open Championship of the world."
© Golf Australia. All rights reserved.