Professional athletes being adept at other sports is nothing new and the world's best golfers are no exception.
Whether it's Dustin Johnson on the basketball court or Aaron Baddeley on the MCG, here are the sports that some notable names might try their hand at if they didn't play golf.
PHIL MICKELSON
The five-time major champion is mad about baseball – and in 2003 he actually tried out to be a pitcher for the Detroit Tigers in the minor leagues.
"If I can get my velocity up, we may revisit this," Mickelson said. "Golf is my number one priority and always will be. But throwing a baseball is an important part of my workout program, so if I can get my speed to 85mph or above consistently, I wouldn't rule out trying this again."
Baddeley remains passionate about cricket and is good friends with Ricky Ponting. PHOTO: Getty Images.
AARON BADDELEY
The two-time Australian Open champion grew up with a father who worked for motorsport legend Mario Andretti. But Baddeley's true passion was cricket.
The Victorian eventually – at the age of 13 – put his cricket bat aside and started learning the game of golf, which included practising out of a home-made bunker in his backyard. But he is still a cricket enthusiast and remains friends with Ricky Ponting.
"He [Ricky] loves his golf," Baddeley said. "Obviously I love cricket and I'm always asking cricket questions of him, finding out new things that they're doing and what not."
DAME LAURA DAVIES
We get the feeling the World Golf Hall of Famer would be more than capable at any given sport – and she played soccer until she was 50 years old. But Britain's most successful female golfer remains rather passionate about, of all things, darts.
RIGHT: Davies enjoyed playing soccer until she was 50 years old. PHOTO: Getty Images.
"I've just always played it and I've always had a dart board in the house," said Davies, who has hit 180 twice and calls herself Laura 'The Lazy' Davies whenever she plays.
DUSTIN JOHNSON
Dustin Johnson is 193cms and 90 kilograms of pure athleticism, who has more than proven his worth on the basketball court.
RIGHT: Johnson met former NBA star Yao Ming. PHOTO: Getty Images.
The 19-time winner on the PGA Tour is the grandson of Art Whisnant – who played centre for South Carolina – and the former World No.1 defeated former NBA star Shane Battier in a three-point shootout in 2015. He can also dunk barefoot. Enough said.
JACK NICKLAUS
We, the golfing world, could've been robbed of one of the all-time greats if Jack Nicklaus had bigger hands. That's right, the 18-time major champion was crazy about American football, taking after his father Charlie, who played for Ohio State.
RIGHT: Nicklaus once had aspirations of becoming a football player. PHOTO: Getty Images.
"I wasn't big enough," Nicklaus said of his football career. "I played quarterback but my hands weren't big enough."
The Golden Bear is also the proud grandfather of Nick O'Leary, who plays tight end for the Miami Dolphins.
ADAM SCOTT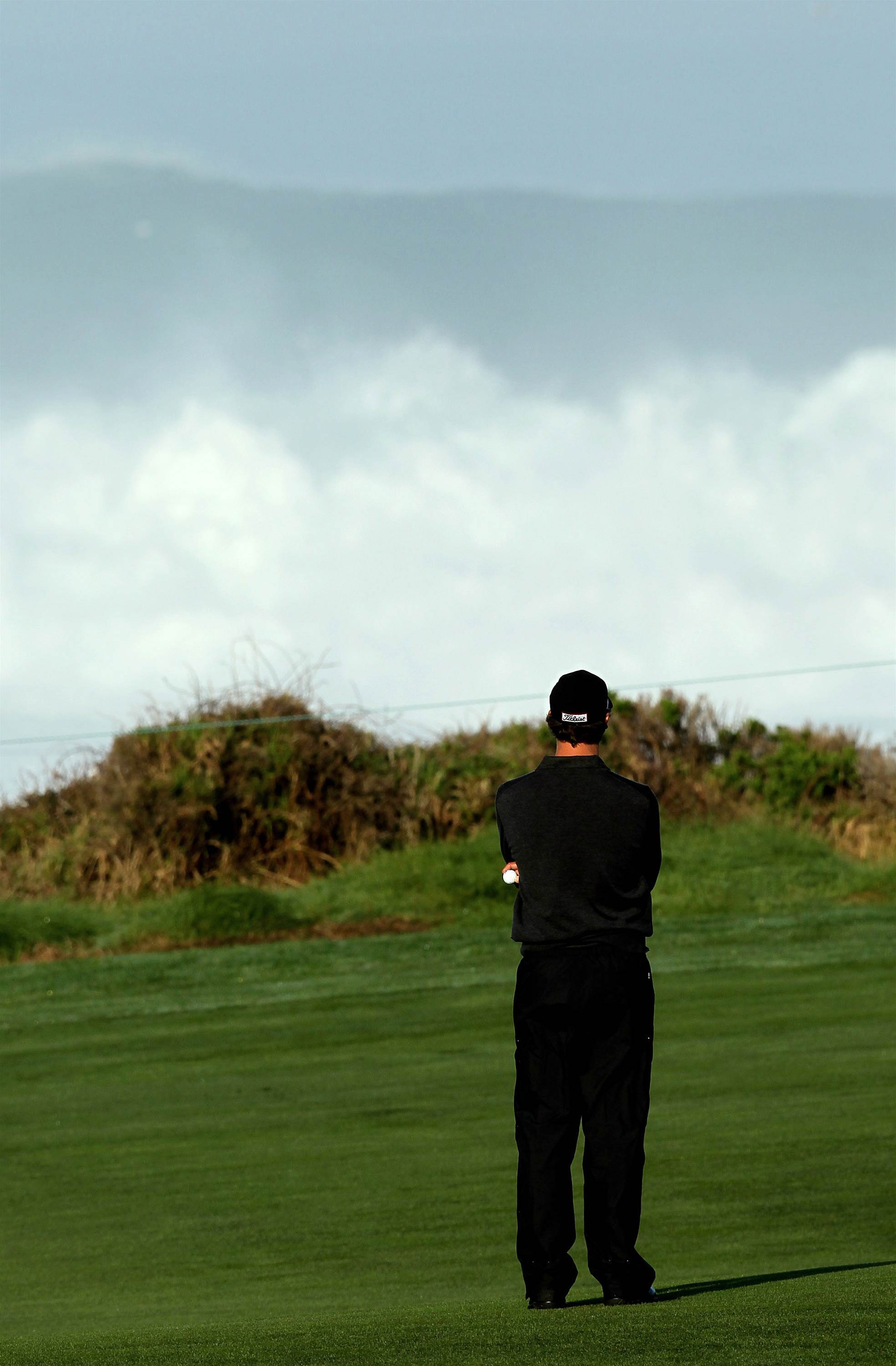 The 2013 Masters champion loves to hit the water whenever he's away from the golf course and recently surfed at Kelly Slater's Surf Ranch in California.
RIGHT: Scott surfs regularly when he isn't playing golf. PHOTO: Getty Images.
"Surfing is a way for me to switch off and get away from the whole world, really," Scott said. "Golf's a lot like surfing … There's a peace being out there on your own, competing against yourself and the elements."
© Golf Australia. All rights reserved.