That's all it takes to make a hole-in-one and join an exclusive club that dates back to 1869 and the legendary Young Tom Morris.
Imagine the surprise. Playing the first round of the 1869 Open Championship at Prestwick in Scotland, Young Tom Morris arrived at the 8th hole with his title defence off to a good start. It only got better.
The par-3 'Station Hole' of the original 12-hole layout measured 166 yards and was over the 'Alps' hill to a blind green protected by the huge 'Sahara' bunker. Morris liked the shot off the club but had to rely on the noise from the gallery to let him know the result.
According to witnesses, the ball pitched on the front of the green, bounced forward and began rolling. Its line was just to the side of the hole but as it lost pace, it began breaking more until it found the hole. There was a stunned silence before a huge roar rang out across the course and Morris received applause for his walk all the way to the green.
Golf's first-ever recorded hole-in-one helped the then 18-year-old return an opening round 50. Two days later he claimed the title by 11 shots and his second of four consecutive Open Championship belts.
It seems fitting that the best golfer of his time would be the first to achieve what most of us these days strive for our entire golfing lives.
It is a feat that can equally be realised by a professional or rank amateur, despite the overwhelming odds suggesting otherwise.
RIGHT: Young Tom Morris made the first recorded hole-in-one way back in 1869. PHOTO: Getty Images.
Making a hole-in-one requires plenty of skill and a whole lot more luck, which some golfers fail to combine for their entire playing life. So, it shouldn't come as any surprise that the odds are stacked against you of ever holing out for a one. The chance of an average golfer making an ace is 12,000 to 1, and if you rise through the ranks to become a Tour pro your odds shorten markedly to 3,000 to 1.
Making a hole-in-one is tough, but some are luckier than others.
Take, for example, the pair at Victoria's Thirteenth Beach Golf Links who, in July, defied odds of 156 million to one when they made consecutive holes-in-one on the par-3 12th hole of the Beach Course.
"The pin was 143 metres away in a bowl, which is located back centre of the green. I hit 7-iron and it landed on line with the right edge of the bowl, ran up to the back and then rolled back down in to the hole," five-marker Gary Anderson said of his maiden hole-in-one.
"After some knuckles and excitement, Peter got up and hit a ripper … We could see a bit of white, so we weren't sure if it was in or not as well."
Added the left-handed, six marker Matulich: "After celebrating Gary's shot, I stepped up, said 'hard act to follow' and hit a draw with my 7-iron. It pitched, went over a slight rise and released to the hole gently. It was unbelievable to share such a great and rare occurrence with Gary."
RIGHT: Gary Anderson (L) and Peter Matulich (R) made consecutive aces. PHOTO: Supplied.
It wasn't the last hole-in-one for the day on the 12th. Eight-marker Travis Mott also made an ace and described the moment "like getting your hands on the Holy Grail."
"I lost my voice in the celebration and was asked by everyone I passed on the course who made the hole-in-one because apparently the roar was so loud," he said.
"I hit a pure iron shot that pitched, bounced twice and rolled in like a putt."
The golfing Gods were surely smiling on the Bellarine course that day.
As wonderful as these feats were, they won't make the record books – which are full of weird and wonderful hole-in-one scenarios.
The youngest person to hole out was three-year-old Jack Paine, who aced a 66-yard hole on the Lake Forest Golf and Practice Course in California. Tiger Woods was six when he had his first hole-in-one and has had 18 aces during his professional career, across practice, exhibition and tournament rounds.
The oldest golfer, man or woman, known to have made a hole-in-one was 102-year-old Elsie McLean. On April 5, 2007, she used a driver to ace the 100-yard 4th hole at Bidwell Park GC in California. It was her first ace in 80 years of playing the game.
Robert Allenby shares the record for the most aces on the PGA Tour. PHOTO: Getty Images.
Fellow Californian Norman Manley didn't have to wait so long. In September 1963, after 15 years of playing near scratch golf, the then 40-year-old holed a 7-iron on the 168-yard 16th at Willowick GC in Santa Ana. He celebrated by shouting beers for everyone in the clubhouse bar – a tradition that would cost him handsomely over the years as he notched up 59 holes-in-one, which remains a world record.
But even sharp-shooting Manley couldn't match the one-day achievement of Englishwoman Ali Gibb.  The 51-year-old six-marker was defending her 36-hole club championship title at Surrey's Croham Hurst GC when she holed out from the tee three times in 25 holes.
She had had three holes-in-one in 42 years, then another three in less than five hours. Two of her aces came on the same hole, the 5th, with the final coming on her second visit to the 160-yard 11th. She not only played her way into the record books but she also defended her club title.
As you can see, making a hole-in-one, while difficult, is certainly not impossible. With skill and luck you can make one … it takes just one swing. If only it was that easy.
HOW DO THE GREAT PLAYERS FARE?
Some of the greatest players of all time have, perhaps, not had the luck of others throughout their professional careers.
Jack Nicklaus made three holes-in-one in competition during his lengthy career but has 20 to his name from practice and social rounds. Arnold Palmer is credited with 19 aces, right alongside Gary Player and one ahead of Tiger Woods.
The honour of being the PGA Tour's most prolific hole-in-one exponent belongs to our own Robert Allenby with 10, a mark he shares with American Hal Sutton.
On the LPGA Tour, Kathy Whitworth made 11 aces in competition throughout her career, three ahead of the likes of Mickey Wright, Jan Stephenson and Meg Mallon. Across the pond on the European Tour, Spain's Miguel Angel Jimenez is the king of aces with 10, one more than Colin Montgomerie.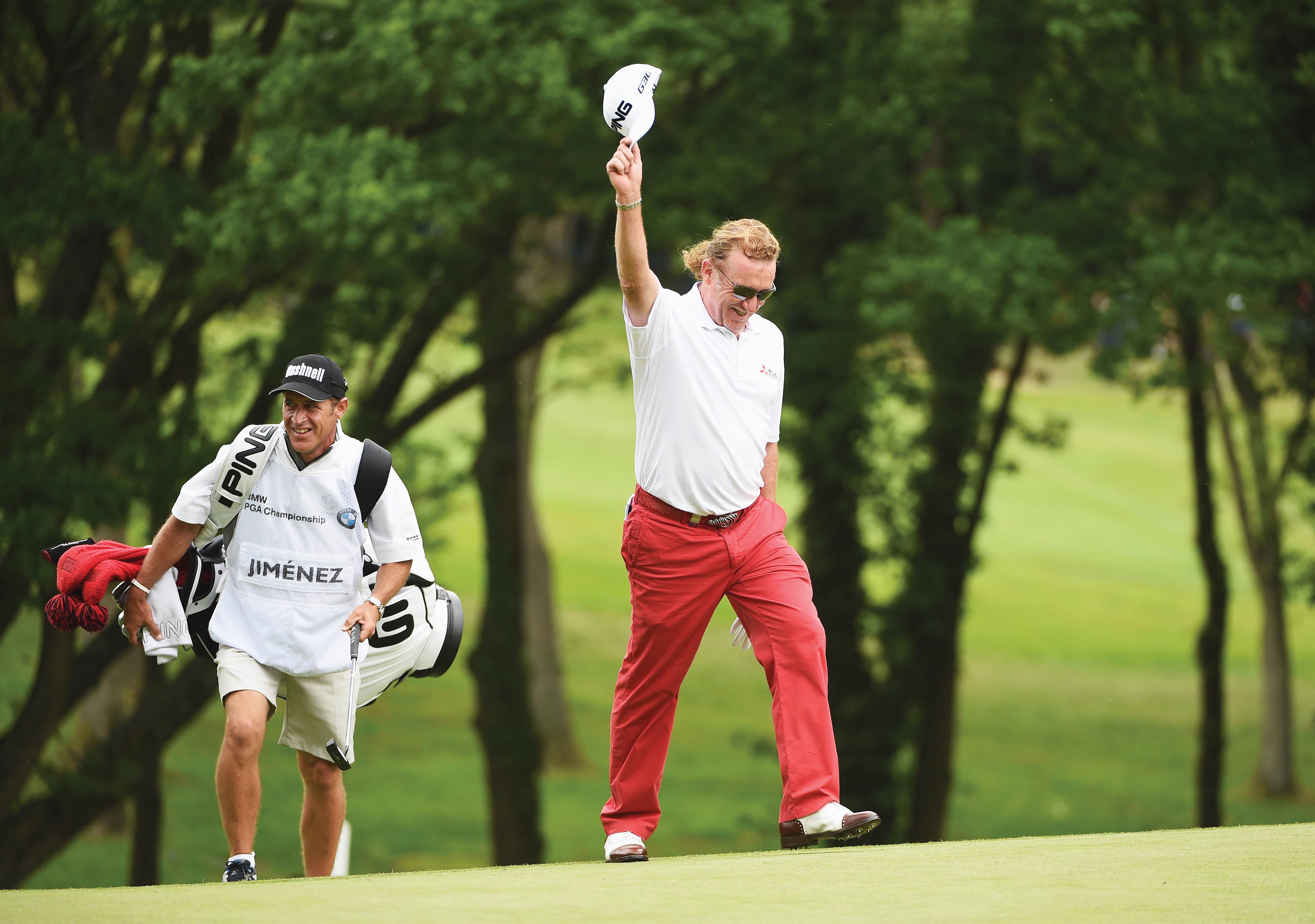 Miguel Angel Jimenez has made 10 aces on the European Tour. PHOTO: Getty Images.
ACE INSURANCE
As you have read, holes-in-one are hard to achieve but you can almost guarantee if you put a big prize up for grabs someone will hole out.
That's exactly what happened at the 2001 Australian Masters at Huntingdale when Nathan Green holed out on the par-3 12th hole and collected a cool $500,000, which he used to bankroll a tilt at the US PGA Tour.
So, if you are involved in organising a charity golf day or even a pro-am at your local club, offering a big hole-in-one prize will attract plenty of attention for the event. But first you will need hole-in-one insurance.
OzPrize Hole-In-One insurance makes it possible for organisations to hold promotional events without having to take any financial risks. Essentially, if somebody wins an expensive award, such as a holiday, car or significant cash payout, you won't be liable to cover the cost of the prize if you have the right indemnity insurance.
Underwritten by Lloyd's of London, OzPrize Hole in One Insurance can be arranged for prize values from as low as $5,000 right up to $5,000,000 for a major event.
For more details visit www.ozprize.com.au
© Golf Australia. All rights reserved.