Loxton Golf Club is a superb South Australian Riverland golf course, located eight kilometres from the town, where there is a relaxed, social atmosphere that is perfect for enthusiastic golfers.
The 18-hole layout has been ranked among the Top-10 courses in South Australia, Australia's Top-100 country courses and the Top-40 Australian public access courses, playable for $40 green fees or less.
Established in 1951 at the Loxton North location, the course has been progressively developed by club members from their own financial resources over the years.
The course was initially laid out by members and then changed in 1963 after Vern Morcom, the then curator at Kingston Heath, was consulted for his design skills. In 1976, Adelaide-based designer Brian Crafter created 18 grass greens and most of those original greens still exist today. They are regarded by many top golfers as the best greens outside Adelaide for their consistent borrow and quality surfaces.
Lush irrigated fairways provide a high standard playing surface all year, although, the course usually reaches its peak during the winter season. There are bunkers on 10 holes and a varied range of grassy mounds on the surrounds of most holes. The course also has an abundance of mature Aleppo Pine, various gums and other shade trees lining fairways and surrounds of most holes.
There are established practicing facilities situated near the clubhouse.
This is a club that relies strongly on volunteers and without those valued people they could not maintain their course to such a high standard, which it has become renowned for.
Loxton has a range of membership options including Full, Restricted, Country and, recently introduced Sports Membership.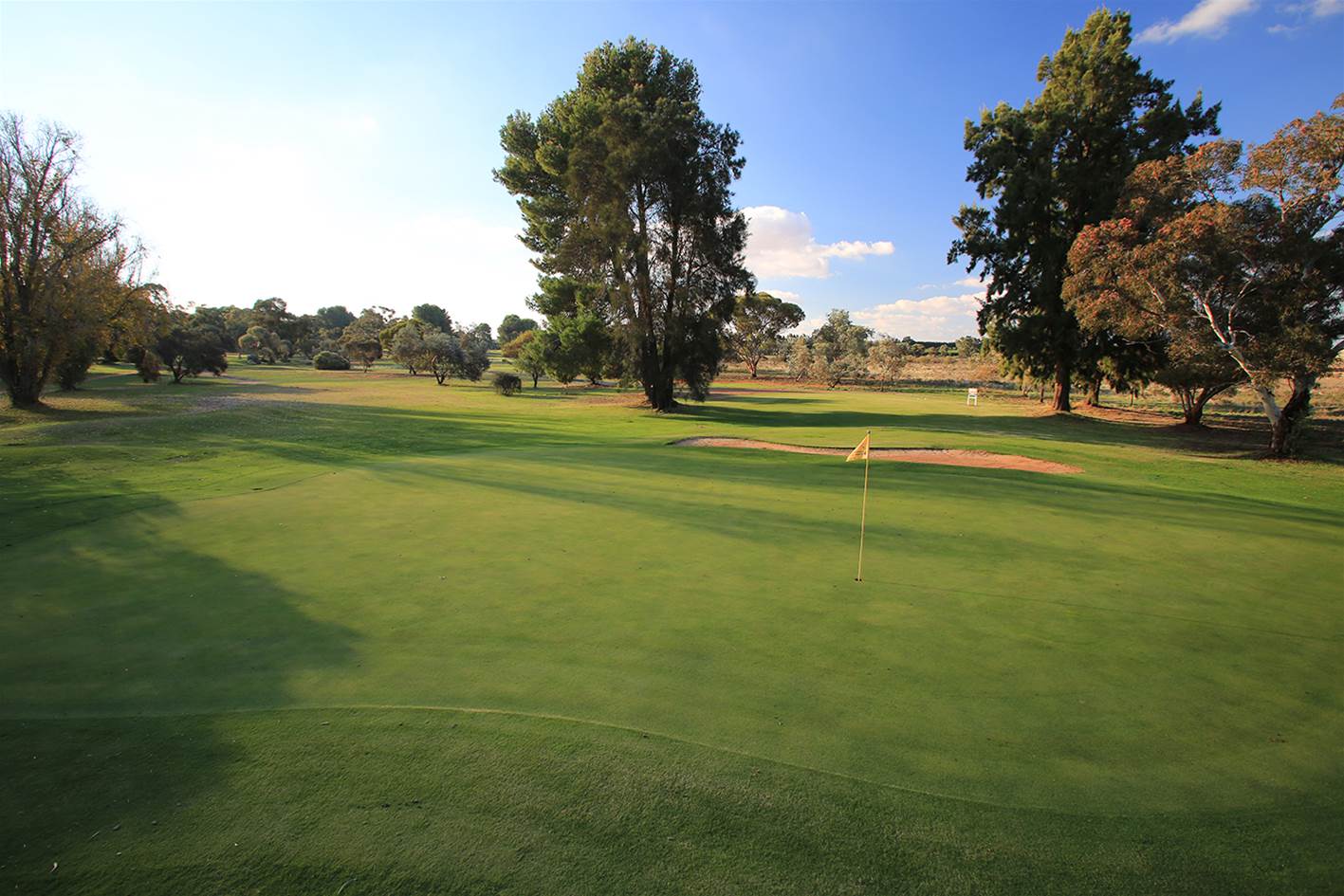 Loxton's greens are widely regarded as some of the best in regional South Australia. PHOTO: Brendan James.
Full Membership, which entitles a Member to play seven days per week and can play in all competitions and major events, costs $730*.
Restricted Members also have full playing rights seven days a week except that restricted playing time shall apply when a competition for Club members is conducted. Restricted Members are also not eligible to play in club competitions except those minor events as determined by the committee and do not have reciprocal rights with other clubs. This membership costs $545, while Country membership – for those living further than 80kms from the club – costs $370.
The new Sports Membership is perfect for beginners or serious golfers, who want to enjoy the benefit of playing on a quality course during the best months of the year – from October to March 1 – and costs just $220 for adults, $50 for children.
*All quoted fees are for 2020. For more details, visit the club's website www.loxtongolf.com.au
© Golf Australia. All rights reserved.