Master craftsman Bob Vokey has earned a stellar reputation producing wedges for the world's greatest players. Here, Vokey and protégé Aaron Dill, discuss one of the most winning products in golf and how to select the right wedges for your game.
There is something awe-inspiring about a 300-metre drive.
A purely struck iron rightfully is the lure of the game for many beginners.
However, these skills don't speak to the artistry of the game that a player like Seve Ballesteros exemplified.
The Spaniard is remembered for his short game and mastery with wedge in hand. And while his skills were once in a lifetime, the fact that any golfer, if possessing the right tools, can achieve quality short game shots regardless of talent or physical prowess makes it one of the game's most enjoyable aspects.
But how does one find the right wedges from the many loft, bounce and sole grind options to allow for their short game to shine and embrace their inner golfing artist?
"We can get a golfer who gets intimidated by all the different grinds, but I say if you have the time the most important thing is go get fit," Bob Vokey told Golf Australia magazine on his 81st birthday in July.
"I did a survey a couple of years ago about how many people had been fit for wedges. It is about 50 or 60 percent for drivers and for wedges, 17 percent. And to me 60 percent of your shots or more are hit inside 100 yards. I never could figure it out.
"They just have to be fit for the right sole for their particular technique, course they play, greens they play, bunkers they play from, what are their strength and weaknesses, we can fit the player. I hate to see a player run into the pro shop and buy a club just because it looks good.
"If you can't do it, get on the website (www.vokey.com)."
At 81, Bob Vokey still gets behind a grinding wheel to refine Titleist wedges. PHOTOS: Supplied by Acushnet.
Unsurprisingly as Vokey's heir apparent shaping the wedges used by the best players in the world, Dill is in complete agreement when discussing the fitting process.
"If you don't have the ability to work with a great fitter in your area, find a place outdoors on grass, where you can hit and try different things," Dill said.
"I think one of the coolest things about wedge fitting is the experimentation part of seeing what's available. And I think for most people they don't really understand because they have never done it, they just get 52°, 56°, 60° in the middle of the road bounce and go out and play golf.
"But for somebody who is going to make an investment I think it is always really important to go out and test them and try and learn from them. Look at ball flight, ask yourself a series of questions. Do my wedges currently go as far as I want them to go? Do they go too far? Do they go left or right? Are my divots big or small? What kind of errors do I make? That's a huge question that everybody needs to ask themselves. And find wedges that fit those things."
The encouragement of being fit for their products is unsurprising, given the long held maxim that club fitting assists players to improve their game.
However, while many golfers will approach such an exercise with little to no knowledge of their equipment, including some of the world's best according to Dill, an understanding of key words like bounce and sole grinds are advantageous to most, and certainly an interesting subset in golf technology.
And Vokey, despite his long career making wedges – he became Titleist's chief wedge designer in 1997 – certainly remains interested, made clear by his excitement picking up a wedge in his home office during a video call to help offer up his best answer to the question of bounce for an uneducated player.
"It is the angle between the leading edge and the trailing edge of the sole and that angle is measured," he said. "And what happens as soon as you put a grind on it, all of a sudden you are taking that bounce angle and you are reducing the effective bounce of it because you are reducing the volume.
"But don't feel bad, I can tell you that even some of the Tour players that are out there, I bet they don't really understand it. And I love to explain it."
Added Dill: "Bob has told me and so many others over the years, bounce is your friend. But to refine that statement, finding the right bounce is your friend.
"I think that all comes with hitting the different grinds and bounces and truly understanding based on that experience and working with someone who knows what they are doing.
"For our Tour guys, you ask them what they have in the bag, I would be surprised if half those guys can clearly tell you their loft and bounce numbers."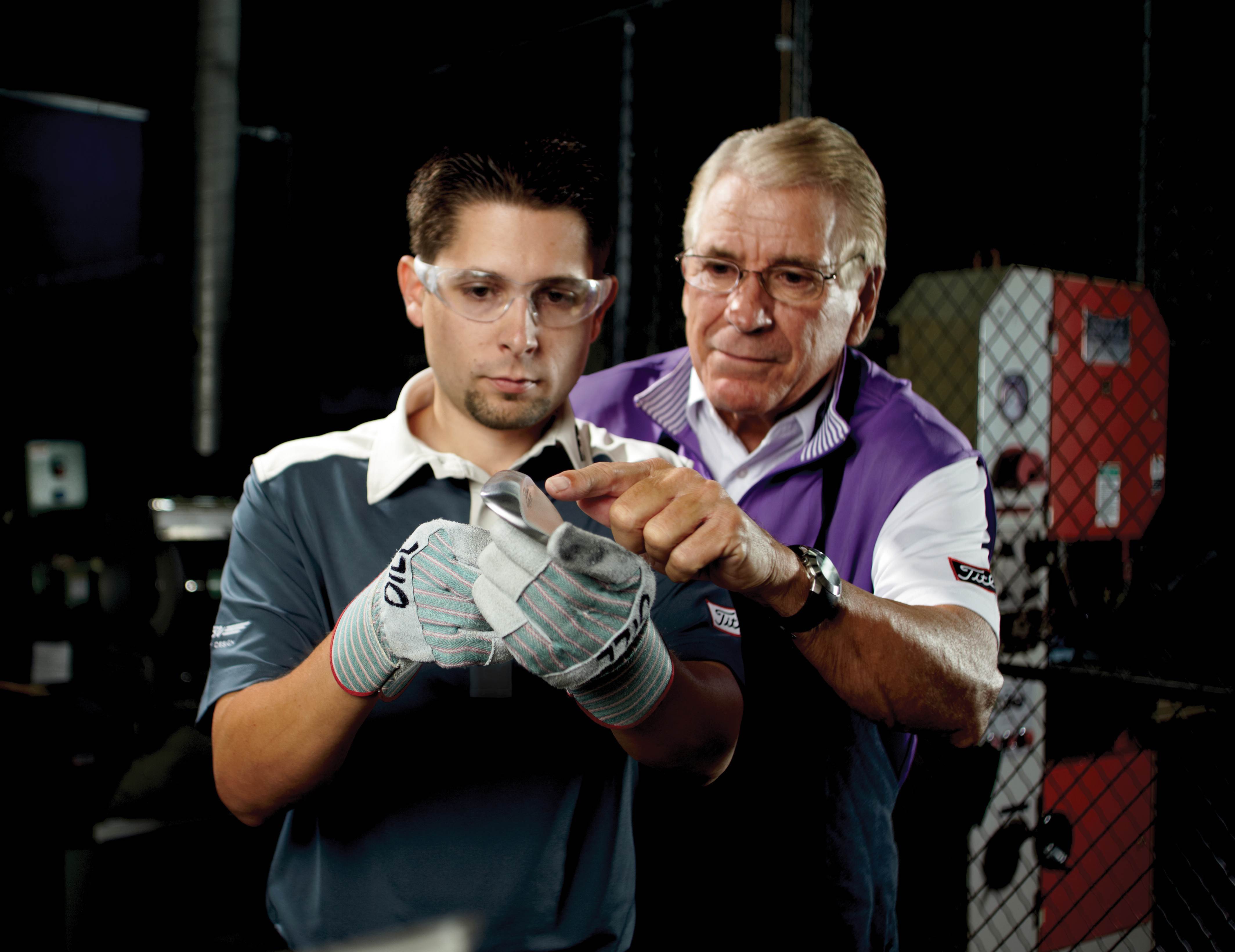 Dill and Vokey are highly respected for their attention to detail. PHOTOS: Supplied by Acushnet.
Similarly to bounce – which Vokey calls "the heart and soul of a wedge" – the grinding of wedge soles for a specific purpose or player has been around for a long time.
Vokey is able to entertain any golf diehard with stories of grinding soles through the years for Ballesteros, Lee Trevino, Tiger Woods, Phil Mickelson and, perhaps his favourite, Aussie Brett Rumford. (Rumford is the only player to feature with Vokey in a photo in the Canadian's office).
Yet, the availability of grind options on offer to the average golfer has exploded in recent years, with Titleist and its Vokey Design range of Spin Milled wedges offering an expansive range of options designated by letters – some of which represent the names of the Tour players who inspired them – allowing for more creativity and consistency, and giving players of any level the ability to create multiple shots around the green.
And although each letter grind is consistent in its characteristics regardless of loft, Vokey and Dill both stress that golfers shouldn't identify as a one sole player. Versatility throughout a set of wedges is a key component for golfers, be they World No.1 Justin Thomas or a 15 handicapper.
"Don't turn around and think I have to have two M Grinds, that is why it is so important to fit at each particular shot," Vokey said. "I hammer all the time, versatility. The rule of thumb is one wedge high bounce and one low is the way to go."
And for Dill, the same is mostly true with PGA Tour players.
"I would say every discussion I have and every Tour player I work with, we always have a game plan and it is never give me M Grind in every single loft. Ian Poulter, J.T. Poston, Max Homa, Justin Thomas, are all great examples of guys who have high bounce clubs in one loft and low bounce in another."
"Wedge play, it is an art … If you want to be an artist, go get fit." – Bob Vokey
The mention of Tour players and their relation to an average golfer's game might seem a stretch for some who realise that both their skills and practise regime bares little to no resemblance to the best players in the world.
And although that might be true, Vokey and Dill's experiences with both variety of players suggests there is more commonality than many realise. This fact part of the reason the Tour influence the design of wedge and grind options that eventually make it to retail.
"I think for us the goal is to always to listen to what our consumers and Tour players are saying," Dill said. "The pyramid of influence inspires me and Bob and the team to design the future going forward.
"A lot of times I question our direction and if we are paying attention to what our customers want as well. We know our Tour players are really good and in some cases we let them make the final say because we know their feedback is very important and sometimes I question if we are doing the right thing.
"I have had countless conversations with consumers and every one of them in a funny way has an impression of what they want a golf club to look like and it is very similar to what our Tour players want.
"It kind of in a sense lets my mind relax that the information we are gathering from our Tour players it really is very valuable for us in our how we design."
Further inspiration for the rest of us from the Tour is the variety of wedge options in play among the world's best players.
Dill's stories of the difference between the wedge setups of two of this country's best players are further proof that the extensive suite of offerings in the Vokey SM8 line up are advantageous for all golfers. Made even greater through the company's WedgeWorks custom program that even offers custom stamping like the work done by Dill on Tour.
"You have got one that is a little older and a little more seasoned and one that is new and fresh, but two very different ways to think about the game of golf," Dill said of Adam Scott and Cameron Smith. "You talk to Adam about how he selects his wedges, he looks at it in a very old school perspective, he likes offset, he likes round, he hardly ever changes specs. And then you move into a guy like Cam Smith who is so funny, because he just says 'Make me whatever you think I will like and make them black'."
With such a high level of trust from top players it is easy to understand why Vokey thinks so highly of Dill as the front man for the wedges bearing his name on Tour. A concept Dill, and indeed the entire Titleist wedge team, take very seriously knowing they are representing Bob Vokey and his products. And certainly reason enough for those playing the game for pleasure rather than business to listen to both.
"Feel, it is so very important," Vokey said. "The closer you get to the green versatility happens and it is all different shots and you know what that big part is? It is feel. How does it feel to you? The feel of confidence, the feel that you can perform every little shot.
"Wedge play, it is an art. And you watch the best players greenside and they can be artistic. And if you want to be an artist, go get fit, practise and use a Titleist (Vokey) wedge (laughs). Does that sound like an ad?"
To learn out more about Bob Vokey and Aaron Dill and for more information about Vokey SM8 wedges and the WedgeWorks customisation program available in Australia and New Zealand, visit www.titleist.com.au
© Golf Australia. All rights reserved.