It is a debate that flares every now and then ... should a player be able to get relief from a divot? Here are two sides of the debate for you to consider.
YES
Joe Thomas
Top-100 Courses ranking judge
Picture the scene … it should be easy because I'm sure you have all experienced it.
You stripe your drive down the middle of the fairway and you're feeling damn good about yourself. As you wander off the tee, your chest is puffed out … you're walking pretty tall but as you edge closer to your ball there's the realisation all is not well.
Your ball is half underground in someone's unfilled divot.
It's not a bacon rasher divot that all the swing gurus talk about, it's a gouged-out trench halfway to middle earth.
This is extremely frustrating on two levels.
How hard is it to fill your divot with some sand people? Not HARD AT ALL (but that's a rant for another day). At least if the divot was filled with sand, you would have some chance of hitting a decent shot.
But no, you're faced with trying to extract your ball from something akin to a shallow grave. What hope do you have?
Walking off the tee you're thinking birdie from the middle of the fairway, now you're hoping to avoid bogey.
Golf is not a fair game. Never has been. It's also a hard game, which shouldn't be made harder by the negligence of another player.
If your ball finds an unfilled divot you should be allowed to have a drop. If it is a sand-filled divot, play on nothing more to see here. It is as simple as that.
Lastly, if we can repair someone else's pitch marks (and now we can tap down blemishes caused by soft spikes), how is this any different to getting a free drop from an unfilled divot, repairing it with some sand and moving on?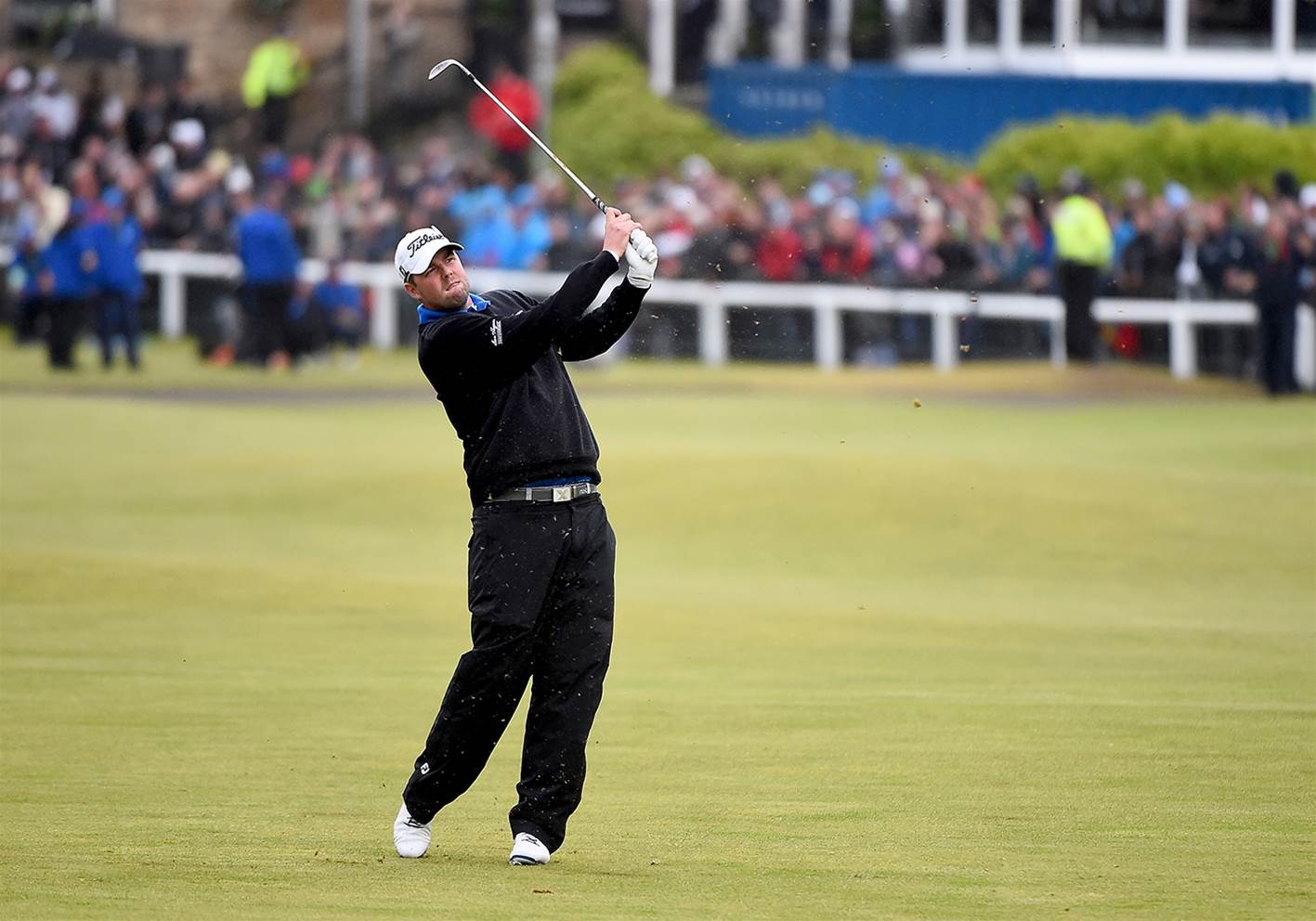 Marc Leishman tries to do the impossible and hit from a divot during the play-off at the 2015 Open Championship. PHOTO: Getty Images.
NO
Brendan James
Golf Australia Editor
Joe quite rightly points out a key foundation of my argument – golf is not a fair game.
When Old Tom Morris – the grandfather of greenkeeping – was winning Open Championships back in the 1860s there was no bemoaning a ball coming to rest in a divot or similar. You hit the ball, trekked off after it and hit it again, and again until it was in the hole. Welcome to the world of play as it lies.
It's not fair, but that's golf.
Golf was played for hundreds of years before the advent of the sand bucket, or similar, to fill divots. In fact, it wouldn't surprise to learn that divots started being filled with sand around the same time as courses started being irrigated beyond the reliance of Mother Nature. It kind of makes sense … the softer the turf, the deeper the divots, the more frustrating it gets to have your ball finish in said divot.
Just like firm greens have fewer pitch marks, firm fairways yield fewer deep, unfilled divots. You would think.
I've been on the receiving end of a cruel end to a good drive. In fact, one particular divot proved very costly … to me and Marc Leishman.
On the eve of the final round of the Open Championship at St Andrews in 2015, I ventured into the betting shop near the course and plonked some hard-earned coin on Leishman to win the Open at odds of 50 to 1. In case you have forgotten, Leishman made the play-off with eventual winner Zach Johnson and Louis Oosthuizen. But his championship was done when his opening tee shot of the play-off rolled into a divot and he was unable to put any spin on his approach into the firm 1st green. There goes that theory about firm fairways.
Golf really isn't fair and never has been.
That said, I've got no problem taking a free drop from a divot if you're having a social hit but there is no need to change the rules for competitions. Find a divot, take your medicine and play on. Leishman did.
"Yeah, drove it straight into a divot, which was pretty disappointing," he said after The Open play-off. "I was on the back foot as soon as I hit it in that divot and made the 5 on the first.
"I'm happy. Don't worry about that. I've just finished second in The Open. I'm not going to look back and be sour about anything."
There's a lesson in that for all of us.
© Golf Australia. All rights reserved.