From the golf courses played on the game's biggest pro Tours to interesting short courses and the public layouts in our biggest urban centres, the architectural quality of those layouts in a post-COVID golfing world will be important for the game and the environment.
We've all heard the predictions of how the world might look as it creeps back toward some form of revised normality.
"Good riddance to 2020" will, suffice to say, be one sentiment but there will be unintended consequences, some of them perhaps worthwhile.
Golf will, as will every enterprise, be forced to question its direction and its future.
Professionally, the PGA Tour is going to be just fine. They have the prizemoney, the post-career pension scheme (appearance money by another name, paid after 55) and easy travel to attract the best players. The home players can compete without ever owning a passport.
The European Tour, essentially a world tour without the prescience quite yet to change its name, faces a more precarious future.
Its stars including Rory McIlroy, Henrik Stenson, Paul Casey, Tommy Fleetwood, Francesco Molinari and Justin Rose primarily play in the United States. It's still a wonderful Tour with the advantage of a more diverse option of courses, cities, countries and players.
It'll never compete with the PGA Tour if money is the standard but with the will it could become the professional beacon of first-class golf course architecture.
Rory McIlroy says he'd like to play the Australian Open at Kingston Heath. PHOTO: Gary Lisbon.
All professional golf is dependent on commerce and, despite the platitudes, the architectural quality of the courses is seen as being of little real importance.
There is a reason, one not hard to imagine, The Open Championship is always played on the very best British seaside courses and the Ryder Cup goes to The Belfry, Celtic Manor, The K Club and the third best course at Gleneagles.
So long as the courses are in good shape the majority are happy and a good venue for sponsors, television and spectators trumps a good course.
Most players couldn't care less if they played the French Open at Le Golf National (The Ryder Cup course about as French as Vegemite) or Chantilly, Tom Simpson's 1920s Paris classic.
Having played French Opens at both, there isn't any choice if you appreciate great architecture.
McIlroy on a brilliant McKellar podcast (May 15) mentioned he'd properly watched the Presidents Cup for the first time because he wanted to see Royal Melbourne. Then, in almost the next sentence he casually dropped he'd like to play the Australian Open simply because the next one will be at Kingston Heath.
It may be commercial reality but one has to wonder if putting an emphasis on playing better golf courses might make professional golf more interesting.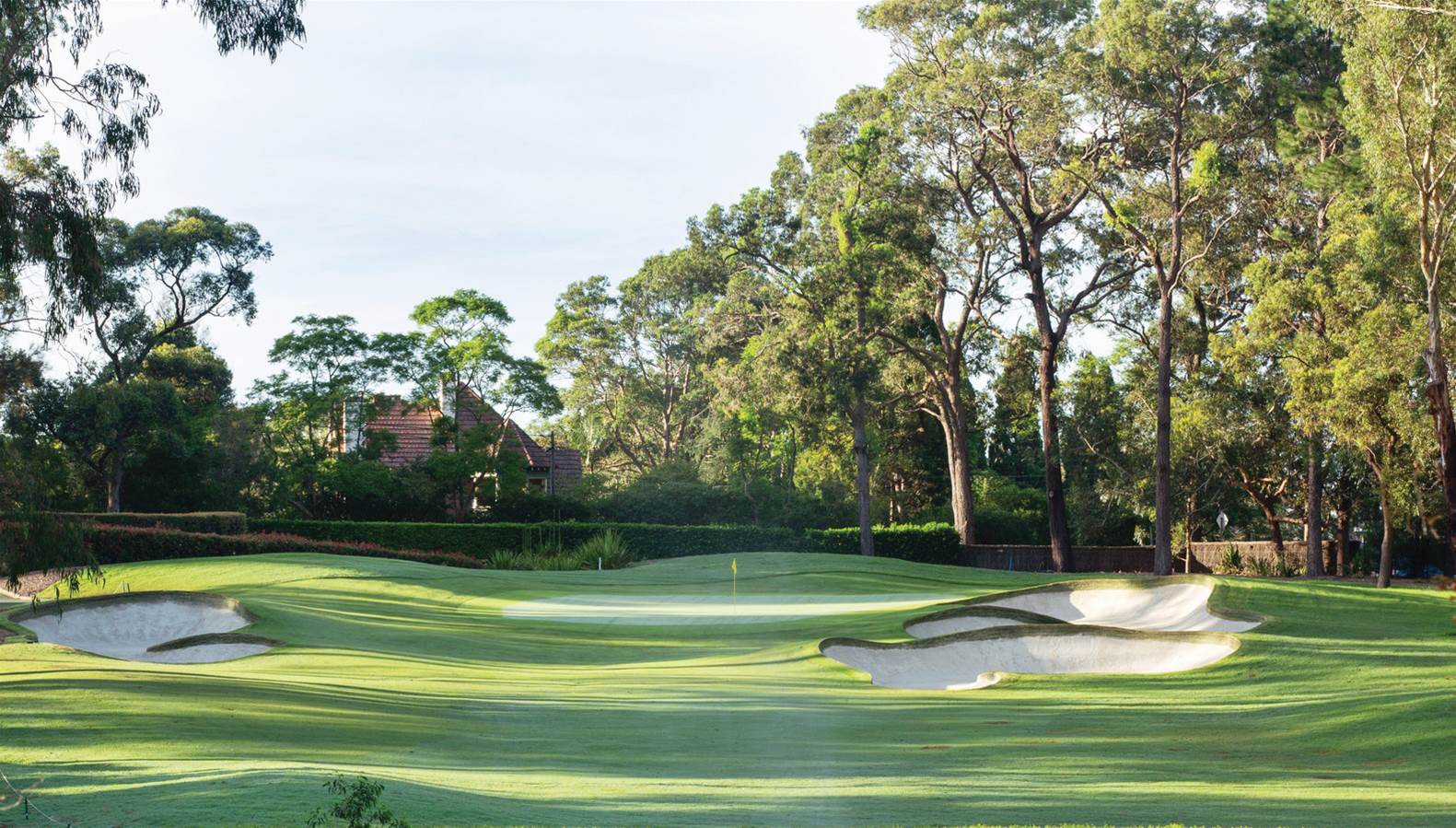 Sydney's Killara course has undergone major design changes recently. PHOTO: Harley Kruse.
Australian professional golf has always put more store in playing better courses. The leading clubs embrace tournament golf and it should be no surprise the finest days of the Australian PGA were on the Composite Course at Royal Melbourne from 1978 to 1982.
The men's Australian Open at Kingston Heath, the PGA on the new course at Royal Queensland, the Victorian Open at 13th Beach and the women's Australian Open at Kooyonga is a classy run of courses scheduled for this summer's main events
The essence of what constitutes good golf architecture isn't going to change. The Depression and the Second World War didn't do it, although it did head off in a different direction for half a century.
Dick Wilson and Robert Trent Jones, America's two most successful architects in the decades after World War II put more emphasis on length, the aerial game, holes using water as a penal hazard and bunkering courses for good players. They were followed by a period where the business was dominated by a cadre of famous Tour pros and not much changed.
That era too has passed with talented men including Bill Coore, (in partnership with Ben Crenshaw) Tom Doak and Gil Hanse changing the direction of golf course design. The same trend has happened in Australia and no longer does a big name automatically guarantee work.
The best architects of this time are passionate men who largely build their own work. They spend much more time on site and their courses remind us of Golden Age classics built from 1916 (National Golf Links of America) to Augusta National in 1933. Golf in Australia, over the same period, benefitted immensely from the trend toward strategic golf and construction of man-made features "indistinguishable from nature" as Alister MacKenzie famously said.
Concord carried out an extensive renovation overseen by Tom Doak. PHOTO: Brendan James.
Golf is always going to be better and more likely to attract players when its base is compelling design, ideally played in beautiful places.
Not every course has to be (or can be) Royal Melbourne but the game in Australia tolerates far too many basic architectural errors easily fixed with knowledgeable, courageous committees in charge of clubs.
The talented Sydney-based architect, Harley Kruse's recent work at Killara Golf Club shows off what is possible with the right people in charge.
Every year I'd play the Dave Mercer pro-am and every year be driven crazy (despite promises to myself I wouldn't be) by the preponderance of basic architectural mistakes easily fixed by anyone with knowledge, imagination, passion and given a free hand by a committee sold on a vision of better golf.
Killara, Concord and Bonnie Doon are all examples of much improved golf in our biggest city where there is a whole swathe of courses someway below their potential now.
Yarra Yarra has been another heartening story of architectural redemption.
I first saw the course at the 1969 Dunlop International when Bruce Devlin beat Lee Trevino in a playoff. It was a fabulous course, not long but with a great set of Alex Russell greens, timeless strategies and a beautiful ambience.
"Killara, Concord and Bonnie Doon are all examples of much improved golf in our biggest city where there is a whole swathe of courses someway below their potential now."
For almost 50 years I watched, dismayed, as committee after committee fumbled around making terrible decisions and ruining so much of what Russell had left them
A committeeman once asked me how best they could honour Russell's legacy.
(There are two ways to answer the question. "Do you want me to tell you what you want to hear or do you want me to tell you what I think?" I opted for the latter.)
"Well, if you would stop digging it up, it'd be a good start."
In two short years, Tom Doak and Brian Slawnik reversed half a century of poor choices and the course is now even better than its 1969 incarnation.
Perhaps not all agree, but if you can't find a dissenting five percent, you're not trying very hard.
The important step for the committee and the members was an understanding they had a problem in the first place and as much as people criticise magazine rankings, when a course as good as Yarra Yarra falls out of the Top 50 it makes it a lot easier to convince the members something drastic needs to be done.
Selling the big changes at Bonnie Doon was easy when a course on such a good piece of ground wasn't even in the Top-100 in 2010.
At Yarra Yarra, there were Russell greens to restore and bad work to fix but much of the improvement came from improving the mowing lines (the 2nd and 3rd holes now share fairways as do the 13th and 14th) removing cluttering trees and opening views across the course.
Victoria Golf Club has spent 25 years removing poor trees. PHOTO: Brendan James.
Bruce Hepner, a former Doak design associate, now works on his own at many not so well-known American clubs. He describes most as 'Doak 3s' (Doak has a 0-10 scale measuring the architectural quality of courses) with an aim to make them 4s or 5s.
"There isn't any way you can make a '3' into an '8'," says Hepner, "but you can make it a '5' and that makes for much better golf."
Hepner follows his '85 percent rule' and it's one every greens committee should understand.
85 percent of the improvement to most course comes with fixing problems caused by mowing lines (including expanding greens out to the original edges) and tree management.
Kingston Heath and Victoria have spent 38 and 25 years respectively removing poor trees and promoting indigenous vegetation, both big trees and tiny heathland plants.
Whilst not the main reason both courses are so highly regarded, it's an important part of it and a lesson for every club in the country.
In the past 20 years many of the best courses in Australian including Lake Karrinyup, Cottesloe, Grange East and West, Peninsula North and South, Yarra Yarra, National Gunnamatta, Victoria, The Lakes, Killara, Bonnie Doon, Concord, The Australian, Royal Canberra, Royal Queensland (with Royal Sydney to come) have undertaken significant redesign projects.
They are all Doak 5s and higher but there has to be a place in Australia for Hepner's vision of taking 3s and making them 5s. His Feed the Ball podcast (June 6) is well worth your time, especially if you're a member of a green committee.
I've been accused of taking out a lot of trees (an accusation I'm more than happy to bear) but hopefully Doak's work at Yarra Yarra, (where he took out more trees than I would have dared) will finally turn the tide in Australia.
The National's Gunnamatta Course is the latest major redesign. PHOTO: Gary Lisbon.
Another coming trend is the popularity of short courses and Himalayas putting greens. Bill Coore is building a 12-hole par-3 course (with one or two short par-4s) at Lost Farm and, hopefully, in time Mike DeVries and I will add a Himalayas Putting Course at Barnbougle.
Coore's 13-hole par-3 course at Bandon Dunes is brilliant fun but hardly a new concept.
In 1888 in North Berwick they made a 9-hole 'Children's Course' aimed at encouraging children to take up the game and learn to play before graduating to the 'big course'.
Adults can play the course but only when accompanied by a child.
© Golf Australia. All rights reserved.