Occupying a sloping headland on Sydney's Northern Beaches, Long Reef boasts more than just magnificent ocean views. The golf is good enough to have the course ranked in the Top-100 Public Access Courses in Australia.
The last thing you want when you have a tee time at one Sydney's best golf courses is for your car not to start. Well, lo and behold, the ever-reliable 20-year-old Subaru Impreza had chosen this day, of all days, to go into a deep slumber; unable to be woken.
I had been looking forward to my round at Long Reef for some time now after hearing all about its stunning panoramic ocean views. Not to mention its high-quality playing surfaces. There was no way I was missing this. My auto-mechanical skills are rudimentary at best, so thankfully I stumbled upon a far more competent and extremely kind man, who was only happy to help a fellow golfer. Finally, and fortunately, I was on my way to join my playing partners.
After leaving Sydney's CBD I had a pleasant 30-minute drive to reflect upon what I already knew about Long Reef. It initially opened as a 9-hole course in 1921 before the links-style 18-hole course, designed by Dan Soutar, opened in 1931. Its lush kikuyu fairways and flawless poa annua greens are well-maintained by Peter Donkers and his team, and its position on the headland offers ocean views north and south.
The par-4 16th lets you go wild with driver but you have to be straight with your approach. PHOTO: Brendan James
With my hands at the wheel of a much livelier car, I made the turn onto Anzac Avenue and was immediately smitten by Long Reef's proximity to the water. It truly does occupy an incredible piece of land. And if my word isn't good enough, take five-time British Open champion Peter Thomson's, who redesigned several holes in the mid-'90s and says it covers "the best site of any golf course in Sydney."
Despite cold-topping my first tee shot in front of more people than I care to mention, I was underway and excited to experience a place I'd been hearing so much about. The first thing you'll notice, apart from its terrific conditioning, is how exposed the layout is to the wind. The more you can control your shots and keep them down, the better you'll perform during this enjoyable test.
The opening hole is a challenging uphill par-5 that doglegs right and features a stream cutting across the fairway about 200 metres, at its closest point, from the tee. Depending on the wind, which is a phrase you'll hear often during a round at Long Reef, you'll be hitting anything from driver to a long-iron to pull up left and short of the lateral hazard, before enjoying your first view of an elevated green.
Long Reef offers great views on every hole but this is arguably the best of all of them. PHOTO: Brendan James
Moving to the 2nd hole, a beautiful 122-metre par-3, you'll begin to appreciate the extensive ocean views and topography of the course. Again, the wind plays a major role in club selection and you could be using anything from a wedge to a mid-iron. You'll also notice, if you hadn't already, the intriguing look to the collars of the greens. The almost bluish tinge of Sea Isle paspalum grass has replaced rye grass in the past 10 years and adds durability to the greens' surrounds, which is vitally important as Long Reef hosts more than 60,000 rounds per year.
The par-4 3rd hole will confuse first timers, who will be baffled by an intimidating blind tee-shot. Thankfully, the carts here are fitted with GPS systems that tell you exactly where, and how far, you need to go. Not that it helped this writer, who found one of the course's immaculate, albeit sneaky fairway bunkers beyond the sharp dogleg left. It certainly has the potential to ruin a promising start.
Once you arrive back at the clubhouse, which sits across the road from the 9th tee, be sure to pop across and sample some of its wonderful food. And, if you're planning a wedding or event, you'll see just how terrific the private beachfront terrace would be for the big day.
Long Reef's 12th is one of the best short par-4s on the layout. PHOTO: Brendan James.
As you walk to the 10th tee, you may have to swallow your pride and pull out the big stick in order to reach the elevated green of a 200-plus metre par-3 (from the back tees). But once you do arrive on the short stuff, you can look back to be greeted by a marvellous ocean view all the way south to Manly.
Despite the enjoyment of the outward nine, it's the journey back in that makes this place so memorable. The stretch of holes from the 13th to the 17th is, for mine, the highlight of a round at Long Reef.
My first impression of the par-3 13th was its peacefulness – it feels somewhat secluded from its fellow holes and plays a constant soundtrack of crashing waves and chirping birds. At 138 metres from the tips, it seems fairly defenceless. But don't be fooled, it can bite hard. The tee box is protected from strong winds that often leave the green a long iron away, and writing a three on your card will have you feeling satisfied.
Leave plenty of space on your phone for photos from the tee at the par-4 14th. In front of you is a birds-eye shot of the entire layout and views over Dee Why and Manly, and behind you and to your right you'll be able to see all the way to Palm Beach on a clear day. While the 15th hole, a 462-metre par-5, takes you back up the hill and – wind allowing – is reachable in two for the longer hitters. Its sloping green is one of the most interesting at Long Reef with a steep false front that will spit any shots short of the flag back down the hill.
Cross bunkers about 60 metres short of the 14th green can wreak havoc on the unwary. PHOTO: Brendan James
Beauty awaits as you leave the point of the headland for the last time and move down the par-4 16th. A hooked tee shot here will end up on Long Reef Beach and a greenside swale will often catch errant approaches of that same nature. Anything less than par on this hole would be quite the accomplishment.
The 400–metre par-4 17th hole is the jewel in the crown of this terrific stretch of holes. Long Reef claims to be "Sydney's finest beachfront course" and it rests its case on the 17th tee. Take a moment to enjoy the beauty of this hole because you're in for your toughest test yet. With out-of-bounds looming left and the self-proclaimed "Mounds of Sin" to the right, you'll do well to escape here with par.
As I packed my clubs away and set off home, I offered a sincere thank you to the man who resuscitated my car and allowed me to experience the brilliance of Long Reef Golf Club.  
THE COURSE
LOCATION: Anzac Ave, Collaroy, New South Wales, 2097.
CONTACT: (02) 9971 8113.
WEBSITE: www.longreefgolfclub.com.au
DESIGNER: Dan Soutar (1927); Peter Thomson & Mike Wolveridge (mid-1990s).
COURSE SUPERINTENDENT: Peter Donkers.
PGA PROFESSIONAL: Danny Vera (Head Professional), Michael Infanti (Head Teaching Professional).
SLOPE RATINGS: 133 (Men's black tees), 130 (Men's blue tees), 129 (Men's white tees), 120 (Men's yellow tees), 134 (Women's red tees), 129 (Women's yellow tees).
PLAYING SURFACES: Kikuyu (fairways), Poa annua (greens).
GREEN FEES: Weekdays: $55 (18 holes), $32 (9 holes). Weekend: $65 (18 holes), $40 (9 holes). Pensioners and Students: $20 (18 holes on Weekdays).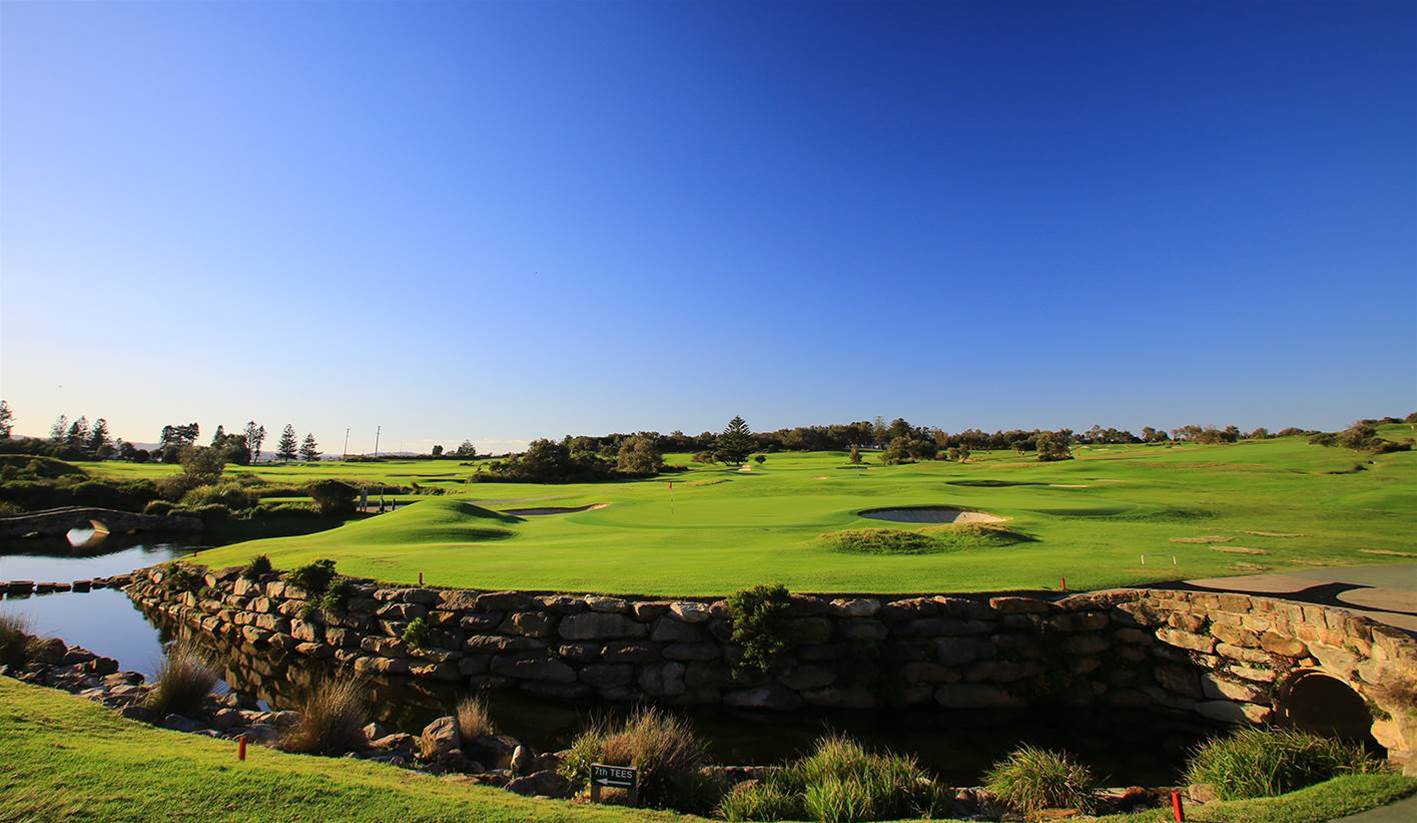 A short pitch over a 'burn' is required on the par-4 6th. PHOTO: Brendan James
THE CLUB
MEMBERSHIPS: Long Reef Golf Club offers a wide range of membership categories. A seven-day membership costs $2655 for men and women (plus joining fees) and includes full voting rights and eligibility for Club Championships. While five- and six-day memberships cost $1965 and $2315 respectively (plus joining fees).
Intermediate memberships start at $735 (no joining fees) for 18-21 year olds and provide the same privileges as full members. And Student memberships cost $1150 (no joining fees). Junior, Overseas and Family memberships are also available.
For the full range of membership categories and their fees, visit the club's website.
RECIPROCAL CLUBS: NSW (Forster Tuncurry GC, Goulburn GC, Horizons GC, Tocumwal GC); Queensland (Gailes GC, Mackay GC, Virginia GC); SA (Blackwood GC); Tasmania (Kingston Beach GC); Victoria (Portsea GC); WA (Hartfield CC).
WEDDINGS AND CORPORATE GOLF: Long Reef is well equipped to handle corporate and charity golf days and offers a wide range of flexible packages. Email the club's Corporate Golf Manager Ben Russell for more information: ben@longreefgolfclub.com.au. And for event and wedding information, contact the Weddings and Event Team: hello@longreefgolfclub.com.au
© Golf Australia. All rights reserved.