Yes folks, it has happened again. Adding another chapter to an already over-long book of farcical happenings at U.S Opens, day three of the 118th version was hijacked by a man who shot 81.
So the big story is not the fact that four men – Dustin Johnson, Daniel Berger, Tony Finau and defending champion Brooks Koepka – lead on three-over par with 18-holes to play. Oh no. That honour must go to Phil Mickelson – a present on his 48th birthday – and what the five-time major champion got up to on the 13th green at Shinnecock Hills.
Putting from 20-feet or so for a par-4, Mickelson watched in apparent horror as his ball rolled past the cup. So swiftly was it moving, the game's best-ever left-hander's next shot was likely to be played from 50-yards away at the bottom of the slope bordering the green (from where he had played earlier).
But it wasn't. Running across the putting surface, Mickelson got to his ball before it began its inevitable descent and knocked it back towards the cup. When it stopped maybe two-feet away, he bent down and marked as if nothing untoward had happened.
Hardly, of course. Mickelson's actions were a clear breach of Rule 14-5, which covers the hitting of a moving ball and carries a two-shot penalty. And, as it turned out, that was something of which the player was well aware. When he completed his 11-over par round, Mickelson spent a good 25-minutes in the scorer's building before emerging to explain himself.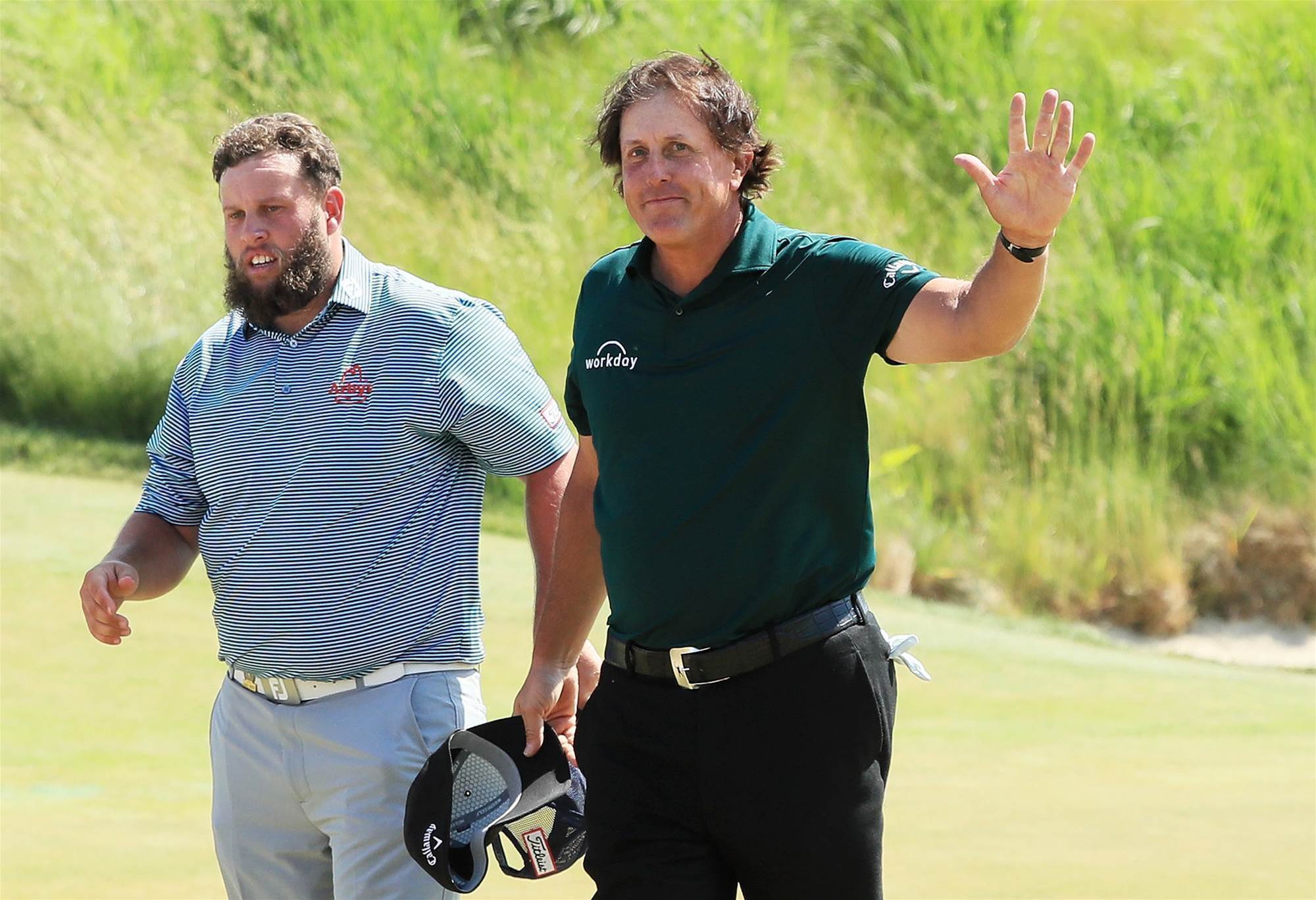 Andrew Johnston and Phil Mickelson acknowledge the crowd on the 18th green during the third round of the 2018 U.S. Open. PHOTO: Andrew Redington/Getty Images.
"I didn't mean to disrespect anybody," he claimed. "I know it's a two-shot penalty. I just didn't feel like going back and forth and hitting the same shot over. I took the penalty and moved on. It's my understanding of the rules. I've had multiple times where I've wanted to do that. I just finally did it."
All of which, understandably, came as a bit of a shock to Mickelson's playing partner, Andrew "Beef" Johnston, who, in contrast, didn't have a problem with the American's actions. 
"It was just one of those mad moments really," said the bearded Englishman. "I didn't think he hit that bad of a chip from behind the green in the first place. It is one of the strangest things I've ever seen and I just started laughing. I told Phil I was sorry, but I had to laugh.
"It was nothing disrespectful to me or the U.S. Open though. It's something you might see at your home course playing with your mates. I think it was just a moment of madness."
To be fair to Johnston, he was clearly not keen to get involved other than to reveal what he saw. But given what Mickelson would say a few minutes later, his assessment was clearly in error. Mickelson knew exactly what he doing; his actions calculated.
"I think knowing the rules is never a bad thing," he said. "You want to use them in your favour. It's a risk. I could have maybe hit another chip and hold the putt. So I don't know if I saved a shot or not. Either way, there's no disrespect meant. I was laughing I was having fun. And it was all within the rules."
Dustin Johnson still holds a share of the lead despite shooting seven-over par. PHOTO: Rob Carr/Getty Images.
Elsewhere, not many others were having much fun on a course drying-out rapidly under a hot sun and freshening breeze. The morning 66s shot by two of the four leaders, Daniel Berger and Tony Finau, were clearly out of the despairing reach of those playing in the afternoon. Former Open champion Zach Johnson – not a man known for excessive hyperbole – declared that the USGA had "lost the golf course." Which many suspected is a view shared by Mickelson. 
So it is that Johnson, who shot 77, somehow remains atop the leaderboard. But the edge enjoyed by him and his three co-leaders is a slender one. 2013 champion Justin Rose is one-shot back; former Open champion Henrik Stenson is two off the pace. Let's hope that the battle between them and other contenders is the dominant feature of the final round – not yet another course set-up controversy. The U.S Open and the wonderful Shinnecock Hills course deserve better than that.
To be fair, Mike Davis, the USGA's chief executive officer, did acknowledge that mistakes had been made.
"There were some aspects today where well-executed shots were not rewarded," he said. "We missed it with the wind. We don't want that. The firmness was okay but it was too much with the wind we had. It was probably too tough this afternoon. A tale of two courses."
Oh yes. One last thing. The two Australians good enough to make the halfway cut – Aaron Baddeley and Marc Leishman – shot 77 and 78 respectively. It remains unclear how much fun they each had out there. But it's a safe bet it wasn't much.
© Golf Australia. All rights reserved.