Japan has emerged as a hotspot for golf-trotting pin seekers looking for something special. As a regular visitor to the country that is planning to host the Olympics at some stage next year, our correspondent jumped at the opportunity to take this golfing assignment.
If you were planning a trip to the world's most iconic golfing playgrounds in the United States, Scotland or Ireland I'd suggest most of us could name at least a dozen courses we'd hanker to play.
But considering Japan has around 2,500 golf courses, the vast majority of which are privately owned, I knew there was a scale and complexity to accessing the right courses. Add the language barrier and I quickly realised putting a Japanese golf course tour together was going to be like nailing a 3-wood from the rough.
My early research led me to former Australian touring pro, Paul Sheehan, who was a three-time winner on the Japanese Tour, including the 2006 Japan Open. He spent 14 years commuting from his home in Melbourne to play in Japan.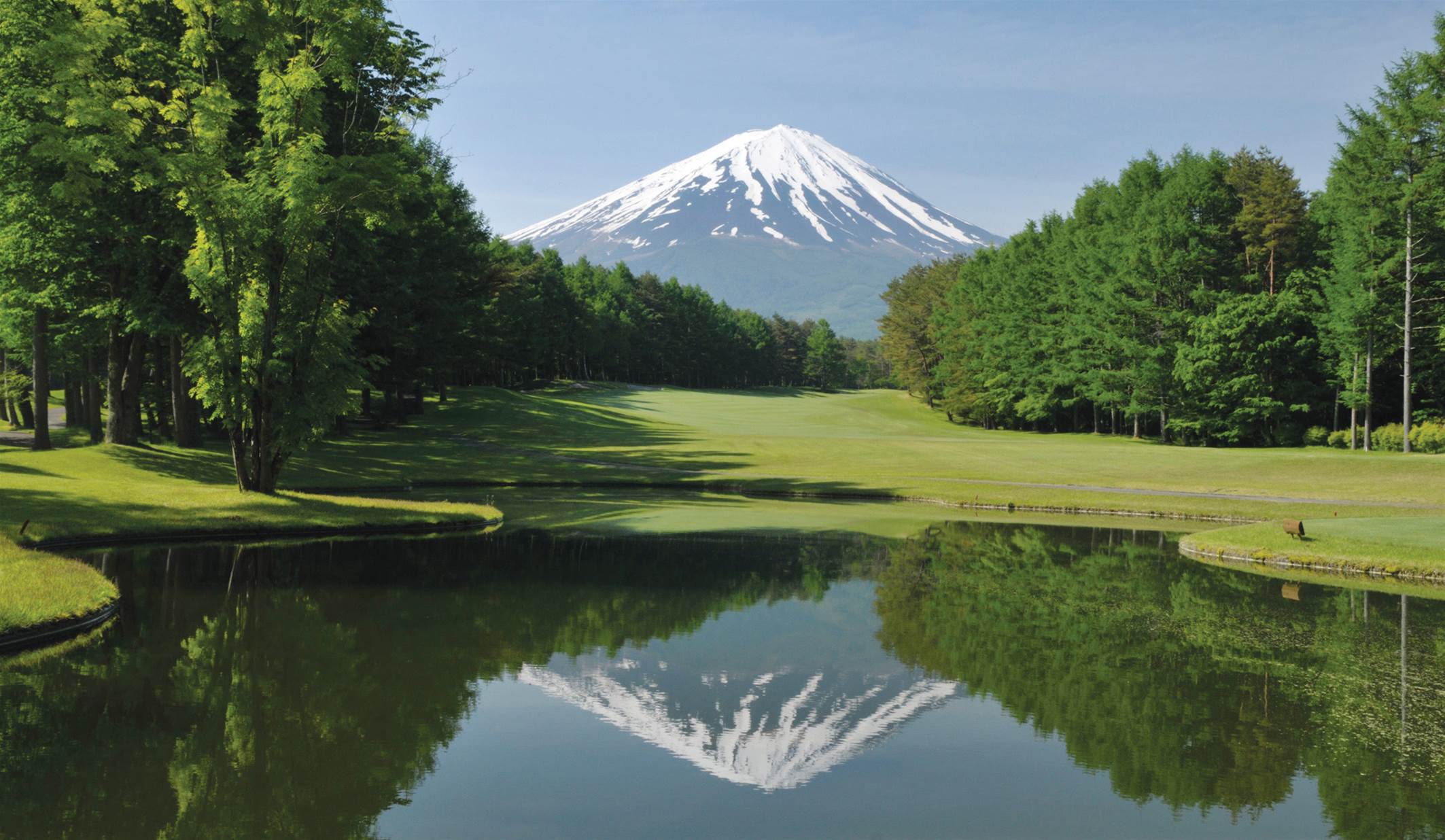 Fujizakara CC.
Today, this affable veteran touring pro, who seems to have more connections than Telstra, continues to stride the Japanese fairways albeit as he hosts golf groups from the world over. As Paul watched the sun rise on Japan as a golfing destination his vision was to provide international groups access to its most exclusive courses. So, in 2016, he partnered with the Elite Sporting Tours team and launched their Japan arm, ESTJ. Bingo! I knew I'd found my man.
Winning in Japan will be always be Paul's calling card; it opens doors that would typically be closed and has helped him build enduring relationships, which run as deep as his knowledge for this golf-obsessed nation. 'Sheo' as he's known to his mates loves Japan and gets around with ease breaking into the language as required. With English more a distant language than a second language, Paul happily doubles as a translator. However, it's evident the influx of tourists is encouraging the locals to brush up on the basics.
Japan is a dichotomy. Whilst it's a safe and relatively simple country to navigate, it's steeped in tradition and reverence. It has deep cultural influences and a hierarchical order of merit where a golf club membership or, in many cases, memberships is as much a measure of status as a job title or the badge on a car bonnet. And when you get your head around the numbers, it's no surprise.
Taihieyo Narita.
The joining fee for an exclusive club can cost around US$300,000. Then there's the annual subs which in most cases is 10 percent of the joining fee and just when you thought you were good to go there's also a green fee of around $100. Add a caddy, lunch and the odd wager and it becomes clear an elite golf club membership in Japan is essentially for the high rollers.
With an embarrassment of riches to choose from, we agonised over our selection of courses but locked in a great itinerary of nine courses in the Greater Tokyo area in 10 days.
When we landed at Tokyo's Narita International our anticipation was akin to an 18-year-old on their first date. The weather forecast was next to perfect and courses in Autumn, at their best.
Our first stop was Taihieyo Narita, some would say a little teaser, but I would say a little beauty. It's here that you begin to realise how serious the Japanese are about their golf courses. The attention to detail is on display from the minute you set foot on this Gary Player-designed gem. Taiheiyo Narita rewards the bold with narrow tree-lined shoots that open onto expansive carpet-like fairways. And, given its proximity to Tokyo's main international airport it's a must play either as an opener or swan song.
Gotemba clubhouse.
Purchased in 2014, Taihieyo Club own and operate 18 courses in Japan, three of which have accommodation with all the mod-cons associated with a world class hotel. Its new owner, Maruhan Corporation set about making golf in Japan more accessible to foreigners.
With the drive of Taiheiyo's dynamic duo, Jiro Nonaka Club Director of Golf and Joe Gaughwin an evangelistic Aussie expat, Taiheiyo has forged relationships with partner clubs the world over. In the process they have built a seriously reputable brand, setting a standard of golf and hospitality in Japan that's without peer. Such was their success in 2019, Taihieyo courses hosted seven Japanese Tour events. We were set to play three Taihieyo courses, including the jewel in their crown, the acclaimed Gotemba.
The first thing that strikes you when arriving at a Japanese golf club is check-in. Unlike most Western courses, you don't just waltz into a pro shop and announce yourself. In fact, most pro shops are essentially a sumo-sized gift shop. As you round the drive to the main entrance, you're greeted by bowing attendants ready to collect your clubs and, almost without a word spoken your clubs are whisked away by a human production line that ends on the caddie's buggy. Then, much like any hotel, you're welcomed by reception staff who hand you a scorecard holder with a number. Given these clubs are effectively cashless, this number doubles as your locker and account number.
Kawana Fuji.
If there was a course that I would liken to the might and stature of Royal Melbourne it was Yokohama West. Renovated by Bill Coore and Ben Crenshaw in 2015, Yokohama West is ranked No.3 in Japan and is so well-conditioned it will take your breath away. Like youthful skin, it was flawless; an oasis within a city. Yokohama West is bentgrass tee to green with contouring and bunkering that feels distinctly like an Alister MacKenzie great. It's a genuine masterpiece that exemplifies the golden age of architecture in the modern day. And like most courses that capture your heart it stays with you long after you've played it. As for cost, you may feel AU$400-plus out of pocket is a little heavy, but by international standards Yokohama is good value and well worth the price.
Golf in Japan is essentially a day out with a protocol that's as unique to the country as the samurai. To start, tee times are generously spaced between 8 and 11am with a compulsory hour for lunch after nine. For those who would rather keep their round going you'll come to realise that for the Japanese this not just a round of golf; it's all part of their golfing experience and is intrinsic to club culture. Even to the uninitiated it soon becomes evident there's method to this perceived madness.
"The first thing that strikes you when arriving at a Japanese golf club is check-in. Unlike most Western courses, you don't just waltz into a pro shop and announce yourself."
Not only does this keep their catering and house staff going but members seem to be more connected to the club. And, before you think about shooting through after the round there's the option of an Onsen (Japanese bath) and donning a jacket for post round drinks. If the world is time poor and, our game a resultant casualty, someone forgot to tell the Japanese. In the cut and thrust of the modern era, these golf clubs could be the last bastion of old-world rituals. And while, there's a push to relax the stance on the compulsory break and attire, not all clubs have got the memo so pack a jacket and be ready to go with the flow.
We arrived at Taiheiyo Gotemba to be met by a grand clubhouse and a sense of occasion that not even an impending typhoon could dampen. Gotemba is a good 90-minute drive from Tokyo but with a tee time at Taiheiyo's flagship course, the trip is a no-brainer. Taiheiyo Gotemba is a parkland prince that sits in the shadows of the majestic Mt Fuji. This course is so well maintained, you'll feel like you're walking through a secret Japanese garden.
Designed by Recce Jones Jnr, brother of Robert Trent Jones Jnr, Taiheiyo Gotemba is right out of the family playbook. It's as challenging as it is grand and features a quartet of the best par-3s and par-5s you're ever likely to play on one course. It's no surprise that it has hosted a vast array of professional tournaments including the World Golf Championship and the EMC World Cup, when Tiger Woods chipped-in for eagle on the 18th to put he, and partner, David Duval, into a play-off.
Gotemba GC.
As we made the turn, it was becoming more and more difficult to ignore the rain. The weather Gods were conspiring against us; of all things a super typhoon! Yet, despite my well-earned reputation as a fair-weather golfer, this was a time to stand up to Mother Nature. But if the typhoon wasn't enough, I had to contend with another force of nature; Taiheiyo's enigmatic Director of Golf. To Jiro, golf is not just his business it's his way of life and he was playing on regardless. We had a caddy, an umbrella and a match in progress. Clearly, taking a few bucks off this visiting Aussie was a matter of national pride and as important to Jiro as any world match play event. Never mind the torrent of water now flowing down the fairways and greens. For the record Jiro took the honours, this time, but he knows he's a marked man.
We checked into our accommodation at the salubrious Taiheiyo Villas. Here we essentially bunkered down for 30 hours while Super Typhoon Hagibis (No.19) unleashed its fury on greater Tokyo. After checking in it became apparent that everyone had checked out – I mean everyone. There were no guests, no room service, no kitchen or catering staff, just us and a little night watchman, who didn't speak a lick of English. While it was a little eerie, we were safe. For nourishment we had managed to pick up what was left at the local 7-11 and for hydration there were the mini bars. We knew that our night watchman had a master key and understood the universal language of shaking an empty beer can.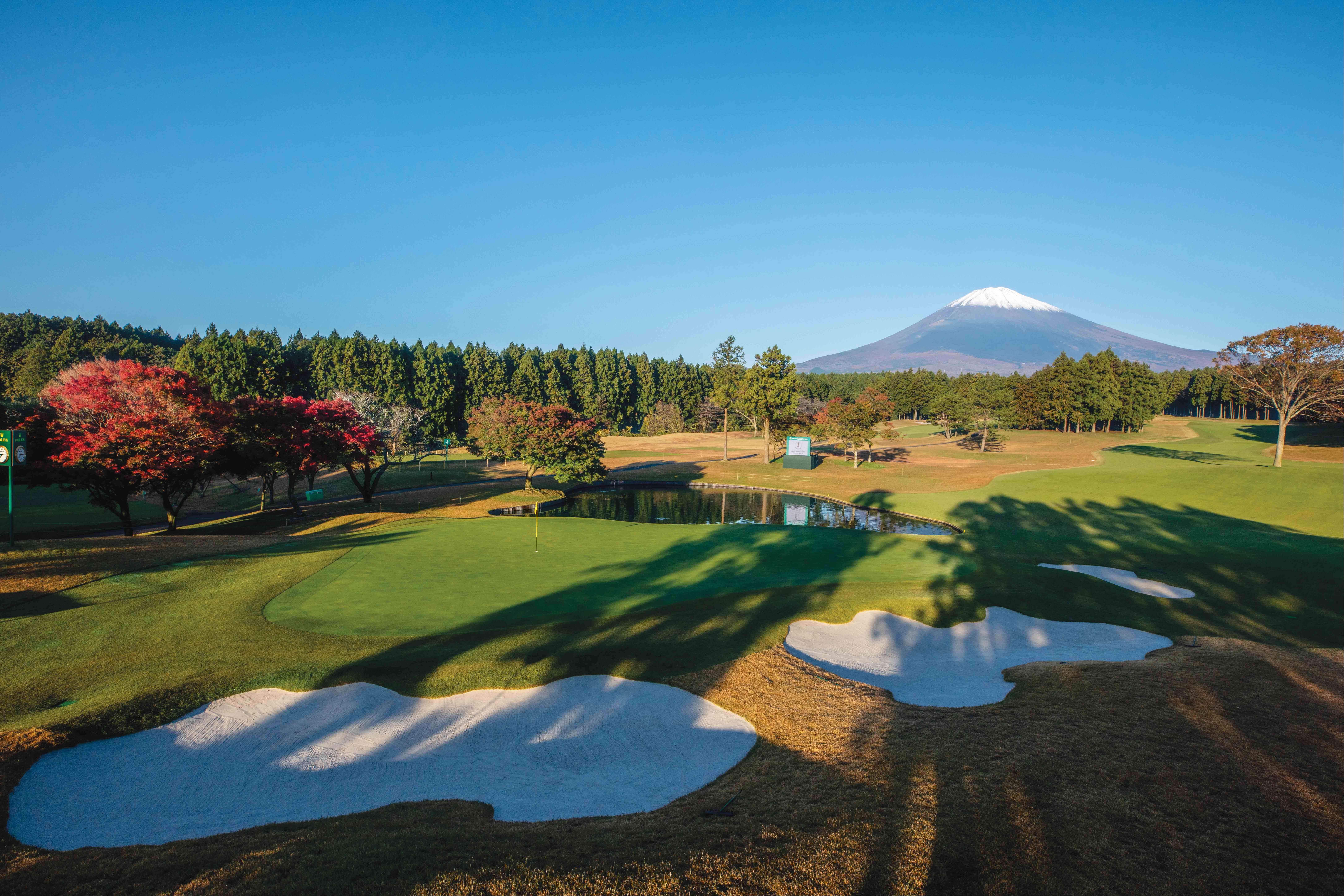 Gotemba GC.
We've all heard that old chestnut, it never rains but it pours. Well, after my encounter with No.19 my guess is the Japanese, who live through around 20 typhoons a year coined it. Hagibis dumped 900 millimetres of rain on Tokyo in 24 hours; that's about the amount of rainfall Melbourne gets in 18 months. It's fair to say we were a little despondent and somewhat incredulous when Sheo said we'd be right. Here I was Googling plans for the Ark all the while our host was up and about. Well if the events of the previous couple of days weren't extraordinary enough, the next day brought with it a blue sky and sunshine so bright it's hard to describe.
The morning after a super typhoon we were standing on the 1st tee at Fujizakura Country Club – a privately-owned golf club at the foot of Mt Fuji – in shorts. Carved through the mountain side, Fujizakura is a surprise and delight with fairways and surrounds so vividly green it rivals any on the Emerald Isle. Its towering pines provide an amphitheatre for a serenity that must be experienced to be believed. Fujizakura is one with nature, a work of art against a backdrop of rich mountain landscape. While the remanence of Typhoon Hagibis was evident, nothing could take away from the splendour of playing this hidden mountain gem.
Kawana Fuji.
Our tour was on the home stretch when we played Gotemba West, Taihieyo Gotemba's younger sibling. It was another treat and an experience embellished by the Japanese military training camp next door. While we mused at the sound of live munitions being fired into the mountainside and explosions so loud they echoed through the valley, we had to spare a thought for our caddy who, without words, made it known that the novelty had worn off on her long ago.
Finally, we drove south along the rocky coastline to one of Japan's oldest and grandest resorts to tackle our last two courses; Kawana Oshima and Kawana Fuji.
We felt remarkably fresh when checking into the 140-room resort hotel that was built in 1936. In her day, Kawana was a rare oasis of luxury that charmed Prime Ministers, Hollywood stars and championship golfers alike. Aside recent renovations to the suites and bathhouses, it feels like time has stood still with many rich and distinguishing features of the hotel remaining virtually untouched.
Regardless, visitors come from far and wide to play Fuji, a course with breathtaking views of the Pacific Ocean that's ranked No.2 in Japan and No.48 in the world. Designed by Charles Alison, a student of Alister MacKenzie, Fuji was built by hand. Yes, Alison effectively built the course using manual methods and without heavy machinery; on what would have been a stretch of the most inhospitable coastal land in southern Japan.
"Kawana Fuji is a public course on a grand scale. Standing on the 1st you'll feel like you're at heaven's door peering down on a fairway below."
Kawana Fuji is a public course on a grand scale. Standing on the 1st you'll feel like you're at heaven's door peering down on a fairway below. It's a precursor to a layout boasting every architectural trick in the book and highlighted by the 15th. This dramatic par-5 is Fuji's poster child, a hole that hugs the rugged coastline and is one of most photographed holes in the world.
As we made our way back to Tokyo, we reflected on what had been an eventful yet rewarding trip. We stayed, played and immersed ourselves in this great country, marvelling at the food, people and places. From shoebox-sized bars where you need to shuffle in sideways to ultra-exclusive dining experiences, Japan is the complete package and it's on our northern doorstep. And, with the golfing cat out of the bag it's my guess the sun won't set on Japan anytime soon.
© Golf Australia. All rights reserved.