With new owners, a new management team and a much-improved course, there is plenty to be excited about for the future of this iconic tropical North Queensland course.
The first time I played Paradise Palms was in 1996. Walking onto the 1st tee I can still recall being struck by the scenic beauty of the course and its surrounds.
The steep grade of the rainforest covered Great Dividing Range dominated the view and seemed to rise up to touch the sky from the edge of the course. Paradise Palms was then just six years old and had filled out beautifully with tropical vegetation alongside well-manicured rolling fairways, punctuated by man-made lakes, creative bunkering and several creeks weaving their way down from the escarpment. It was hard to believe this paradise, once acres of cane fields, was just 20 minutes' drive from the centre of Cairns.
The former design team of Graham Marsh and Ross Watson created this tropical gem when commissioned by Japanese owners, Daikyo, to create Australia's most difficult tournament venue. The duo successfully fulfilled the brief.
To celebrate the opening Daikyo hosted a $180,000 Skins Game, which pitted Japanese legend Isao Aoki against then World No.1 Greg Norman, Bernhard Langer and two-time US Open Champion Curtis Strange. Aoki and Strange grabbed most of the cash and Paradise Palms' reputation as a challenging test of golf was born.
What was the 9th hole for many years is now the ultimate hole set against a memorable backdrop. PHOTO: Brendan James
The '90s were kind to Paradise Palms in terms of its popularity. On the back of exposure hosting several professional events including the Skins Game and Ladies Masters, golfers from far and wide flocked to the North Queensland course where they were greeted by immaculately kept playing surfaces and the challenge of playing to their handicap, which was a rare feat.
By 2003, the quality of the experience was reflected in Paradise Palms' No.9 ranking in
this magazine's list of the nation's Best Public Access Courses.
But the high standards set during its first dozen years started to wane, which coincided with a change in management within the Daikyo organisation. A cut in funding to the course was soon reflected in its presentation and the layout went into a steady but certain decline.
The main presentation concern surrounded its greens. The original greens once covered 10,000 square metres of the golf course but years of couch grass encroachment dramatically reduced the size of the Bermuda putting surfaces, which nullified Marsh and Watson design strategies on and around each green.
The course was sold by Daikyo in February 2005 to a local resort development company and an immediate cash injection was made, and during the first 18 months there were genuine signs of improvement to the playing surfaces - especially the greens.
Water lines much of the right side of the long par-5 1st hole. PHOTO: Brendan James
Under the new owners, H&S Vision, it all seemed to be heading up for Paradise Palms with a family-friendly resort being constructed adjoining the clubhouse, which transformed
it into a destination rather than just a fine golf course.
By 2013, Paradise Palms was again in trouble and its future in doubt when administrators were called in.
After such a grand entry into Australian golf it was sad to see how far this once great course had slipped. When Golf Australia released its 2015 ranking of Australia's Top-100 Public Access Courses, Paradise Palms limped in at No.76 having dropped a massive 22 spots in the list. As far as the judges on the ranking panel were concerned, this once 'must play' layout was in free-fall.
Less than 10 months after the release of that ranking, Paradise Palms was sold again. Cairns businessman Darren Halpin and a group of investors bought the property – including the course, resort and areas of adjoining land for development – for a reported $20 million.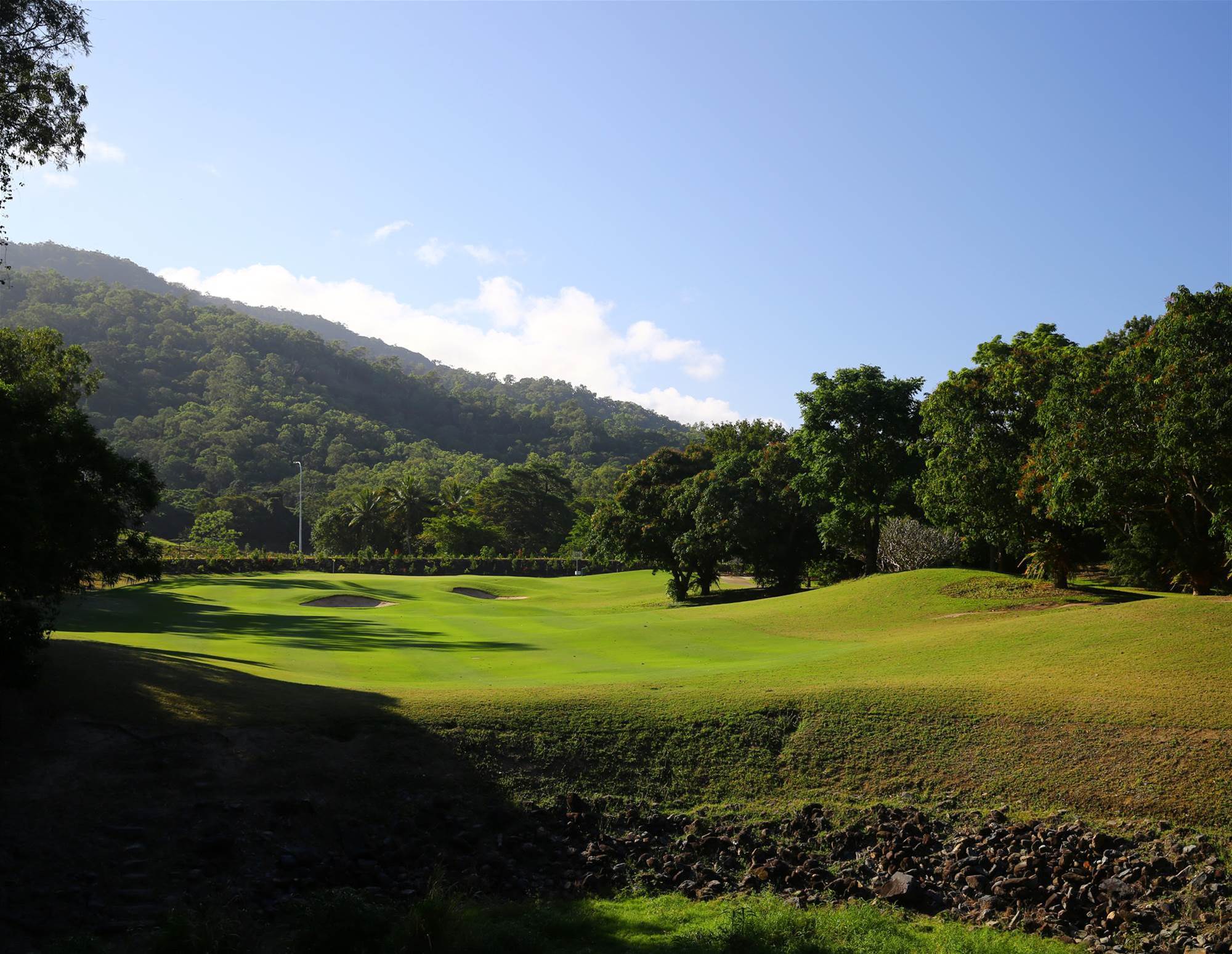 Paradise Palms' hardest hole is the long par-4 16th where trouble never seems far away. PHOTO: Brendan James
Within months of taking over, the owners began the first phase of returning Paradise Palms to its former glory as part of a $550 million redevelopment. Nearly $5 million was immediately allocated to upgrading the course, clubhouse and car parks. Within six months Halpin announced a partnership agreement with golf management company Troon Golf, which has a worldwide reputation for presenting its courses to a world-class standard.
"Paradise Palms is a terrific location with a great legacy. It has the blueprint to be one of the top resorts in the nation and we plan on taking considered steps to increase the quality and service standards," Halpin said. "Troon has the experience to collaborate with us on the investment program and lay out a clear pathway to creating a stand-out experience that will build our reputation."
The collaboration is already reaping benefits. Just a few months ago, with the release of Golf Australia's 2017 Top-100 Public Access Rankings, Paradise Palms had rebounded to No.63 with judges enthused by what they had seen, especially its presentation.
Having recently witnessed the improvements first hand, I can only see Paradise Palms continuing this upward trend in future lists.
There has been, however, one major sacrifice along the way. What was the course's signature hole, the picturesque downhill par-3 7th, was taken out of play early last year to make way for an access road into the first residential development area of 585 luxury units. Another, 267 units will be built on the land once occupied by the 7th hole.
The green of the par-5 9th hole is tucked beyond the lake but is a tempting target for big-hitters. PHOTO: Brendan James
A redesign to the course and reconfiguration of the routing to cover the loss of the 7th hole have worked well.
A round now starts from the original 10th tee – a long par-5 with water flanking the right edge of the fairway for the second half of the journey to the green. The old par-5 1st hole has been reduced to a par-4 and plays as the new 10th hole with a new green built just beyond a water hazard that cuts the fairway in two. The new 11th hole is a par-3 with a tee constructed behind the new 10th green and plays to the original 1st green.
Almost 250 metres has been added to the length of the course in the past 12 months with new tees being built on the 1st, 2nd, 3rd, 4th, 10th and 18th holes, bringing a number of hazards and bunkers back into play.
VIDEO: Paradise Palms' closing hole from the air
The round now concludes on the original 9th hole, which has always been a strong par-4 at 383 metres from the tips but its role as the closing hole gives it even more punch. Dense bush lines the left edge of the fairway and spells almost certain trouble if you hit your drive here. Two relatively small fairway bunkers lie just right of centre fairway and if you can skirt the edge or blast over the sand with your tee shot you are well placed for your approach to the long, but narrow, putting surface. I found that the iconic clubhouse forming the backdrop to this green added significantly to the memorable finish.
FACT FILE
THE COURSE
LOCATION: Paradise Palms Drive, Kewarra Beach, Queensland, 4879.
CONTACT: (07) 4059 9999.
WEBSITE: www.paradisepalms.com.au
DESIGNERS: Graham Marsh and Ross Watson (1990).
COURSE SUPERINTENDENT: Malcolm Ollard.
PGA PROFESSIONALS: Kai McKay and Daniel Gawley.
GREEN FEES: $120 (18 hole with cart); $99 (local golfers, with cart).
THE CLUB
MEMBERSHIPS: There is a wide range of golf and non-golf memberships available. A Platinum membership offers full playing privileges with a share cart and costs $3,200 annually, while a Gold membership costs $800 but requires heavily discounted green fees to be paid per round. Both of these membership options offer discount accommodation in the resort and discounts on food and beverage in the clubhouse. Lifetime memberships are also available. For the full range of membership categories, visit www.paradisepalms.com.au
STAY AND PLAY:
Paradise Palms invites you to experience life in Australia's tropics before and after your round by staying in its course side resort.
The resort features 96 rooms and apartments alongside the modern clubhouse with restaurant and bar as well as extensive conference and recreation facilities, which include an adventure playground for children and an 18-hole mini golf course.
You can stay and play at Paradise Palms for just $209* (two people), which includes an overnight stay in a Resort Room with breakfast for two and a round of golf for one guest, plus a cart.
For more details call (07) 4059 9935.
Offer is subject to availability and is valid until March 31, 2017.
© Golf Australia. All rights reserved.