Although the golf world has come along in leaps and bounds in its understanding that golf shoes are more than just a fashion accessory, there remains one key area causing players pain and discomfort as well as negatively harming performance.
FootJoy's research shows 70 percent of golfers, even Tour players, are in the wrong size shoe, and the company is determined to alleviate this problem to extend the life of its products and allow golfers the performance benefits of wearing the correct size.
Education is one aspect of FootJoy's approach to this issue, with fitting days and a more diverse style, size and width spectrum on offer in its range – FootJoy shoes are offered from size 4-17 and in multiple widths – taking care of any and every foot type.
Being aware of the facts heading into a shoe fitting is also important. For example, there is no industry standard for size and width, meaning your perfect size 10s you've had for the past couple of years in one brand doesn't mean your next pair will be the same size. And as a rule most golfers are in shoes that are too big for them.
To further understand the process of being fit for golf shoes and to see the benefits first hand, I recently underwent a shoe fitting at FootJoy's Head Office in Melbourne, hoping to uncover some of the up to 21 percent performance increase a proper shoe fit can achieve through improved ground reaction forces.
FootJoy Product Manager Chris Patterson uses the Brannock device to find size and width. PHOTO: Brendan James.
The process starts with a series of questions relating to handicap, regularity of play, walk versus ride preference and if you are a fair or all weather player. These insights help the shoe fitter develop a profile of the golfer, which can also help choose the style of FootJoy shoe that will suit each player.
Next, my foot was placed in the Brannock device you will recognise from getting a new pair of school shoes each year, to give a starting point for size and width. As is the case with most people, there was a half a size difference between my feet. FootJoy encourages that the bigger foot is the primary concern for accommodation of size.
RIGHT: The Brannock device finds appropriate sizes and widths. PHOTO: Brendan James.
Despite having worn sizes 10.5-11 in a wide width for the majority of my golfing life, the early part of my fitting determined a 9.5-10 in medium width was likely my size, with my preferences and requirements suggesting either the spikeless Pro/SL or spiked Tour-S would be the best options.
When trying on the shoes, there is a series of things to look for to suggest you are in the right size. Depending on the lace style, be it a U- or V-Throat or blucher, one of the keys is even spacing between the laces, while the leather bunching or the heels rubbing or moving is another dead giveaway.
"FootJoy's research shows 70 percent of golfers, even Tour players, are in the wrong size shoe, and the company is determined to alleviate this problem."
As I found out, one of the important things to incorporate in the process is to regularly make golf swings, with the performance equal in importance with comfort. And remember the fitter can't feel what you can, so the more feedback the better.
After trying multiple models in both spikeless and spiked that also covered a variety of the lasts FootJoy use, I ended up in a pair of Pro/SL spikeless shoes in a size 10 medium width. That the size of my previous shoes, which I took along for comparison and is something I recommend, was out by a full size didn't hugely surprise me but the combination of a thinner shoe as well did.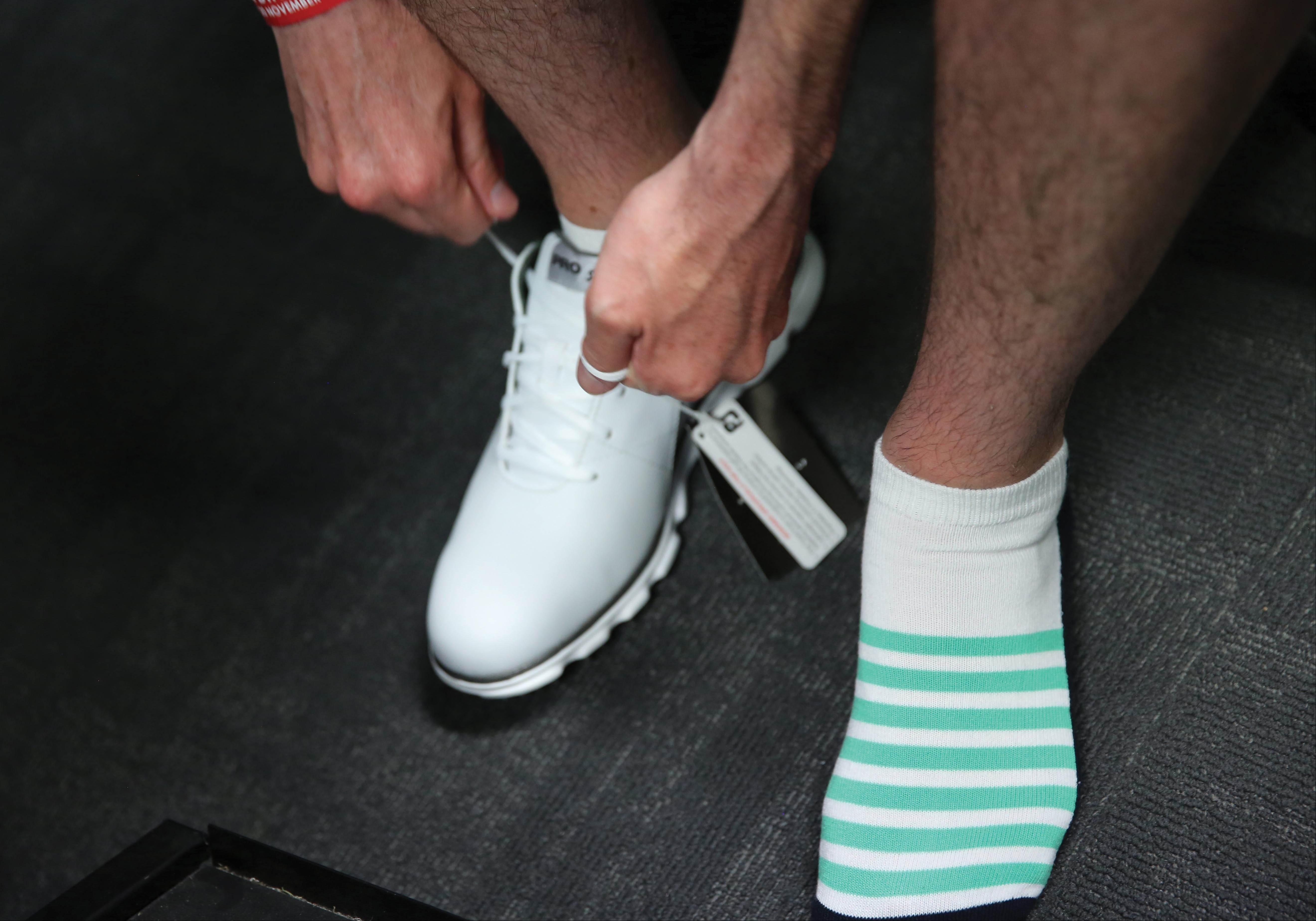 Trying on the spikeless Pro/SL at FootJoy's base in Melbourne. PHOTO: Brendan James.
For as long as I can remember, I was always told to wear new golf shoes around the house and to practice before attempting to walk the course to avoid blisters. But to test the value of the fitting process I took my new shoes straight to the golf course and walked onto the first tee. Albeit slightly fearful that the next week would be spent nursing blisters.
The smaller size of my new shoes and the narrower fit definitely felt snug to me, something FootJoy encourages, but it wasn't an overly tight feeling and after a couple of holes I knew I was definitely in the right size.
"As is the case for so many regular golfers, I had worn the wrong size for nearly my entire golfing life and had largely put the blame on a shoe model."
Never slipping in the heel, a regular problem for me, the correctly fitted Pro/SL felt more like the shoes I wear casually than a hard classic golf or dress shoe. Aware that the performance benefits I had been told of were achieved with a more precise fit, I began to notice my feet feeling more solid throughout the golf swing and never heard creases or groans from the leather as I moved about.
The shoe itself also performed extremely well, with a feeling of more ground contact as if I was barefoot very noticeable, and the spikeless design never caused me any instability.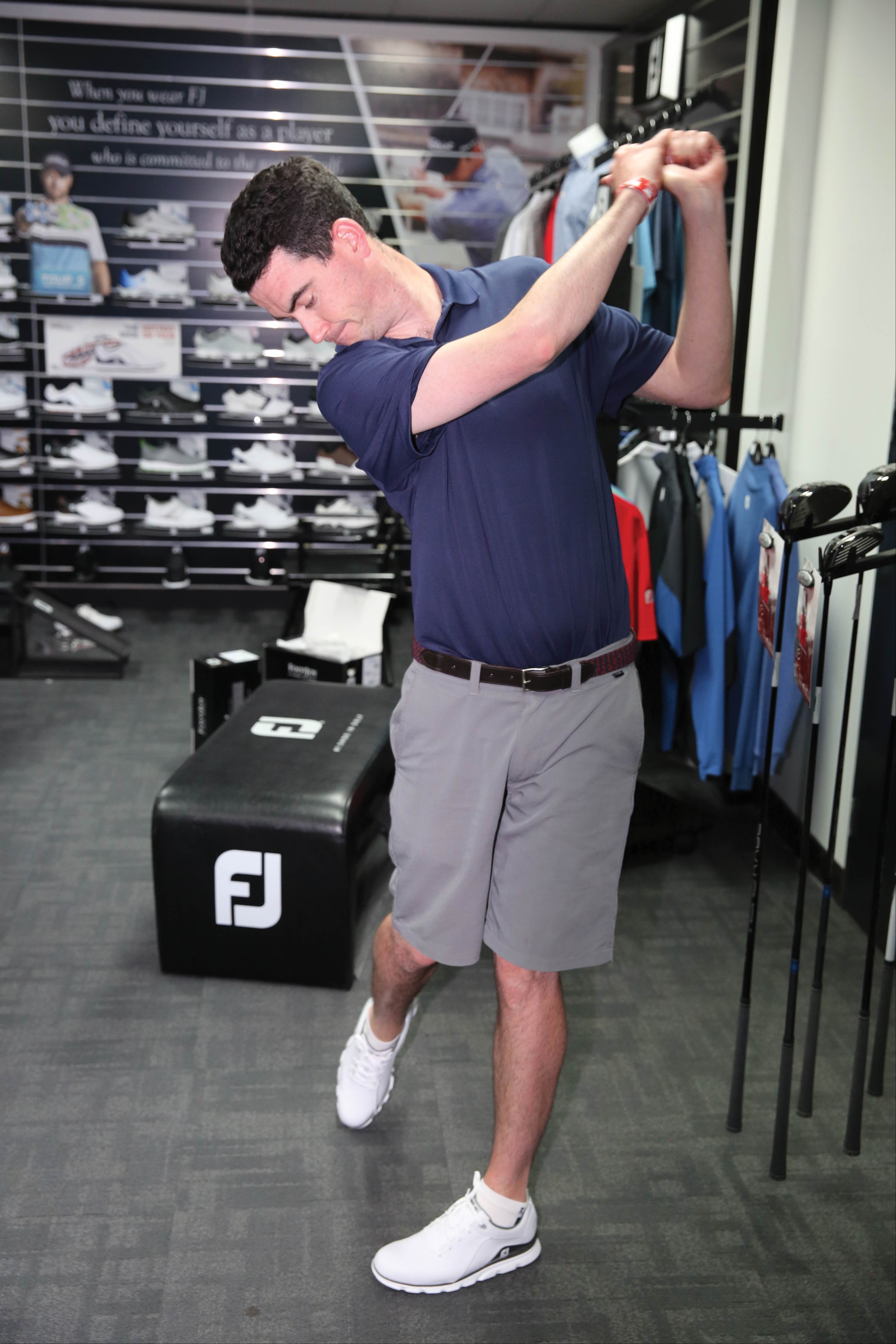 As my 'Out of the Box' round went on, the shoes became more and more comfortable and having walked off the course I closely inspected my feet for blisters or tell-tale red marks of uncomfortable shoes and was pleasantly surprised to find nothing at all.
RIGHT: Regularly taking golf swings is an important part of the shoe fitting process. PHOTO: Brendan James.
Further rounds in the shoes confirmed that FootJoy's fitting process had nailed my size perfectly. Unlike the other shoes now permanently residing in my car boot that were clearly the wrong size, my new pair is showing no signs of repeated leather pinching in the forefoot or heal wear or rubbing, despite a significant amount of use.
Having gone through the process – that although seems simple is very comprehensive – I can understand FootJoy's dedication to greater golfer education surrounding shoe fitting.
As is the case for so many regular golfers, I had worn the wrong size for nearly my entire golfing life and had largely put the blame on a shoe model not being right for me after experiencing blisters or discomfort. In regards to the performance aspect, I haven't broken any course records since finding my right size, but I certainly haven't had any slipping or feelings of my feet moving around inside the shoes, which certainly can't be a bad thing.
HANDS-ON FITTING
During the trip to FootJoy, I also underwent a glove fitting to better understand the process of picking the right size, which FootJoy again says the majority of players choose larger than necessary.
Having sold golf gloves previously, I was very aware of all the classic fitting-isms, including a snug fit like a second skin and avoid bunching in the palm. Despite knowing these facts I mostly go without a glove when playing, something FootJoy informed me only one percent of Tour professionals do.
The glove process is more trial and error than the science associated with footwear, but the key to avoid is material being able to been pinched on the palm when your hand is held flat. The other key indicator to correct size is the Velcro closure not overhanging but if anything leaving a little bit of the receiving Velcro on the back of the hand showing to allow for in round adjustments.
After going through the process, I was recommended a small StaSof leather glove, again slightly smaller than the medium I have chosen when wearing a glove on occasions in the past. The fit was exactly as the presentation on glove fitting I was shown suggested it should be and again I tested the product and fit straight from the package.
The smaller size did feel a little firm to begin with, but by the end of nine holes it was perfect. Switching between no glove and glove, the fitters from FootJoy informed me that testing suggests wearing a glove in addition to preventing calluses and feeling better actually outperforms a player's skin. The slightest perspiration can affect grip performance and once in the right size, I felt more comfortable wearing a glove than previously, a realisation that certainly came in handy during a summer golf trip with plenty of games in hot conditions not long after the fitting.
© Golf Australia. All rights reserved.