The stars of the next decade are fast approaching and soon they will be grabbing the headlines at major championship time ahead of today's household names. Who are they?
Generation Z are the children of the digital age, loosely defined as those kids born between 1997 and 2012.
The oldest members of this generation have grown up with a phone in their hand and social media at their fingertips. Their lives have been dominated to this point in time by big global matters from the war on terror, to climate change and, this year, a worldwide pandemic.
In the golf world, Generation Z-ers represent the next wave of professional golfers and the players destined to win most of the 40 majors to be played over the next decade.
By 2030, many of the players, men and women, we idolise today will be approaching, or will be well into, the twilight of their playing careers.
Of the current men's World Top-10, Dustin Johnson will be 46, Rory McIlroy, 41, Webb Simpson, 45, Brooks Koepka and Patrick Reed, 40, and Adam Scott will have reached 50. Then, of course, there is Tiger Woods, who will be 55 at the close of the decade and, perhaps, his playing days long behind him.
The average age of men's major champions in the modern era is 32, so the likes of current 20-somethings including Bryson DeChambeau, 26, Xander Schauffele, 26, Jon Rahm, 25, Patrick Cantlay, 28, and Hideki Matsuyama, 28, all have plenty of opportunities to join the major champion ranks. And, of course, there are the millennials like Justin Thomas and Jordan Spieth, both 27, who can add to their major trophy cabinet.
Sungjae Im is 22 and has already bagged four victories on the three different Tours. PHOTO: Getty Images.
In women's golf, the average age of its major champions has been consistently falling since the days when Karrie Webb and Annika Sorenstam dominated the game. This can be attributed to the amazing success in recent years of young Asian players, like South Korea's Jin Young Ko (25) and Ariya Jutanugarn (24), who are already dual major champions.
But there is a new wave of youngsters already coming. Here are the Generation Z-ers, who are destined to make their mark on golfing history in the 2020s by winning major titles.
***
In August this year, 23-year-old American Collin Morikawa became the first Gen Z male to claim a major championship.
After graduating college with a business administration degree in 2019, he turned pro and has already won three times on the PGA Tour, including the PGA Championship at TPC Harding Park.
But it was the way he closed out his PGA victory – in just his second major championship start – that has pundits pencilling him in for a swag of major wins in years to come. His final round 64, punctuated with an eagle two on the 70th hole of the championship, was without too much risk and with plenty of reward for brilliant ball-striking.
"I've got a very good taste of what this is like, what a major championship is like," Morikawa said after his win.
"The majors are going to be circled in, just like everyone else, but I've got to focus on every single week. I'm trying to win every single week. I'm not trying to come out and just win the majors. I'm 23. This is my first full year. This hasn't even been a full year with everything going on.
"I love golf. I love every part of it. I love being in this position and I love just being able to come out here and play with a bunch of guys that love the sport, too, and that's why I think I love being in this position."
Only Tiger and Jack Nicklaus were younger when they won the PGA.
"It's great company," Morikawa said. "You know, it's been crazy, because this entire start of my professional career, I see all the things comparing to Tiger but Tiger is on a completely different level. I think we all know that.
"But any time you're in the conversation of the greats, Jack, Rory, Tiger, no matter who it is, if you're in that conversation, you're doing something well."
Matthew Wolff may have an unorthodox swing but he's a fierce competitor. PHOTO: Getty Images.
One player we expect Morikawa will spend much of the next decade duelling with is 22-year-old South Korean Sungjae Im, who turned professional at the age of 17 and already has four victories on three Tours.
He graduated to the PGA Tour for the 2018-2019 season and was a lock for Rookie of the Year and ultimately he won selection in Ernie Els' International team at the Presidents Cup at Royal Melbourne last year. Against the star-studded Tiger Woods-led Americans, Im blossomed and those who didn't know him from a bar of soap at the start of the week were chanting his name by Sunday afternoon.
His success secrets really aren't a secret. He has an enormous amount of talent, is one of the last to leave the practice tee every day of tournament week and he obviously has an incredible love for the game.
It was his ball-striking talent and scoring power though that first caught Els' attention.
"I saw Sungjae play on the Korn Ferry Tour in 2018, and obviously he was the leading money winner, or leading in the first event or last event and that kind of got my attention a little bit, where did this kid from Korea come from?" Els recounted.
"I saw Sungjae play on the Korn Ferry Tour in 2018 … Got my attention a little bit, where did this kid from Korea come from?" – Ernie Els
"I wanted to play with Sungjae and I got the opportunity to play with him at the Pebble Beach Pro-Am at the beginning of our season in February (2019).
"I just loved the way he approached the game. You know, very cool, calm, collected. Conditions didn't suit him. It was very, very soft but he never complained, and he kept playing and kept learning, and I like that.
"Then I found his schedule, he played almost every week, and that's how much he loves the game, and that's another attribute for him. He's really finding the answers every week, and I've seen him come through. He's worked on his putting, and the putting's come through big time. A win is just a matter of time, and it will come."
And it did. In his seventh PGA Tour start after starring at Royal Melbourne, Im captured the tough Honda Classic with a Sunday 66 to charge onto the winner's dias.
Im's Presidents Cup team-mate, Chilean Joaquin Niemann, is a Gen Z-er with a similar career trajectory.
After a stellar amateur career, the now 21-year-old, from Santiago, turned pro in 2018 and made his debut PGA Tour start at the Valero Texas Open where he finished tied for 6th and was the first of a run of three top-ten results in five starts.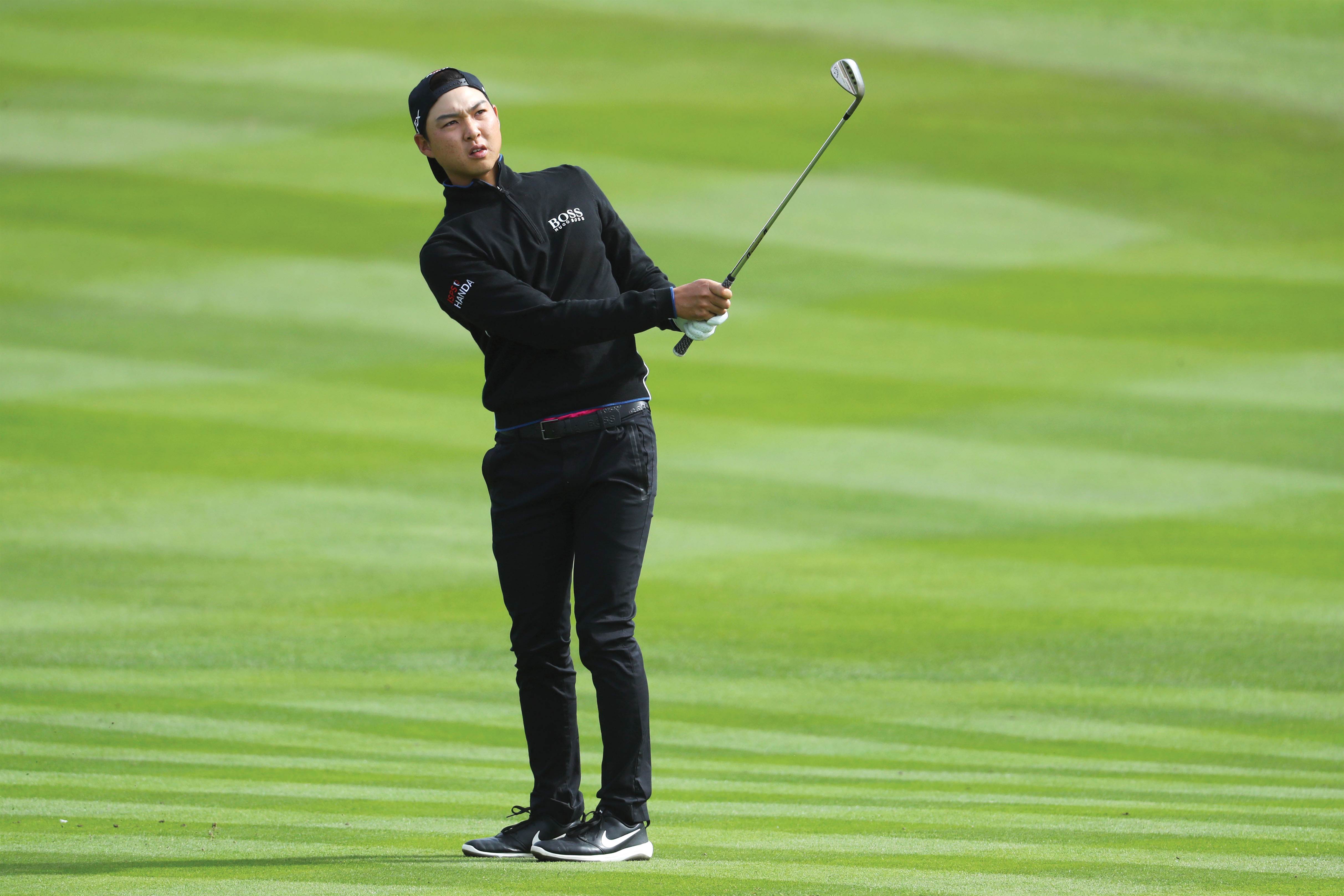 West Aussie Min Woo Lee has all the tools to be a force in the next decade. PHOTO: Getty Images.
After dominating tournaments in his homeland as a teenager, he graduated to the ranks of PGA Tour winner in September last year when he claimed The Greenbrier by six strokes. In a pro career that is yet to crack 40 starts, he already has career earnings of US$4.5 million and a swing that will bank millions more, as well as some big trophies before he's done.
Norway's Viktor Hovland has also seen his bank balance swell since joining the pay-for-play ranks in 2019 having won the US Amateur the year before.
He began full time on the PGA Tour at the start of the 2019-2020 season and made his presence felt straight away, breaking the record for most consecutive rounds in the 60s with 19. His play at the time didn't result in a win though … that came in March this year at the Puerto Rico Open.
If the 22-year-old does have a weakness it is his short game, which he admitted earlier this year when he said: "I just suck at chipping." His stats since returning from lockdown suggest he spent plenty of time grounding around a practice green somewhere when the Tour was in hiatus.
Nelly Korda knows how to win as we saw at the Aussie Open in 2019. PHOTO: Getty Images.
There must be something in the water at Oklahoma State University, where Hovland was a student until 2018. It is also the college home of Matthew Wolff – the unorthodox swinging 21-year-old, who joined the likes of Woods and Ben Crenshaw as the only players to win an NCAA college event and PGA Tour tournament in the same year.
His victory was extraordinary. He turned pro in June last year and in his fourth PGA Tour start, on a sponsor's exemption, he fired rounds of 62 and 65 on the weekend to win the 3M Open.
In his post-round press conference, Wolff gave a brief insight into what the win – and the trappings of a PGA Tour card, major championship exemptions and a big cheque – meant to him
"For the most part, it's just playing on the PGA Tour, that job security," said Wolff, which, the experts will have you believe, is a typical Gen Z response.
"I'm a 20-year-old and I'm saying 'job security,' but it's just, it really is. I knew as soon as I left college that I'm out here with the best players in the world and I have to prove myself, and I did that.
"Just feels nice to get that kind of, you know, six starts with trying to get my card off my shoulders. Now I'm just free to play my game."
Nasa Hataoka likes playing on the big stage and has a game well-suited to majors. PHOTO: Getty Images.
While much was made, and so it should, of Morikawa's victory at Harding Park, Wolff – in his major debut – was well in the mix for the title as well. He had four sub-70 rounds including a 65 on Sunday and, like Morikawa, relies on accuracy with his irons to post low numbers, which he does regularly. In the 38 rounds he played from the Tour's return to the Tour Championship, 22 were in the 60s.
Of particular interest here in Australia, will be the progress of Min Woo Lee, who captured his maiden professional win at the Vic Open earlier this year.
There is no questioning the young West Australian's talent. In this writer's opinion, he is the most mesmerising ball-striker I have seen since a young Brett Ogle came on the scene in the mid-80s. Lee is exciting to watch … you feel like if you look away, even for just a second, you're going to miss something. How that talent translates into major victories remains to be seen.
"I knew as soon as I left college that I'm out here with the best players in the world and I have to prove myself, and I did that." – Matthew Wolff
In women's golf, the Gen Z-ers have been winning majors for a few years already.
In winning the Women's British Open at Woburn last year, then 20-year-old Japanese player Hinako Shibuno became the third Gen Z female to win a major, joining Kiwi Lydia Ko, who was 18 when she claimed both her major wins in 2015-16, as was Canadian Brooke Henderson when she won the ANA Inspiration in 2016.
Ko and Henderson, after four major winless years, may start to look over their shoulder at the youngsters coming behind them … or in front of them, like Nelly Korda is in the world rankings.
Even though she is still just 22, she seems to have been in the forefront of major championship discussions for a while now without having any success, which is surprising. But it will come. She's got too much ability not to win one of the big five trophies available in the women's game.
If there is one area of her game that may hold her back it is her putting. While she hits lots of fairways and greens, that doesn't always convert into a lot of birdies and with a putting average of 30.04 putts per round, she will need to lower that stat to get some serious silverware.
RIGHT: Teen prodigy Atthaya Thitikul is a major champion in waiting. PHOTO: Getty Images.
Shibuno's compatriot, Nasa Hataoka, may stand just 5ft 2in tall (157cm) but that hasn't hampered her notching up eight professional wins … and she won't turn 22 until January. While she is yet to claim a major title, Hataoka has won an incredible three out of the past four Japan Women's Open Championships, an event considered to be 'the major' of the LPGA of Japan Tour.
Hataoka, Shibuno and Korda are seasoned veterans compared to Thai wonder teen, Atthaya Thitikul – a diminutive 17-year-old, who has already played in three major championships.
Thitikul has two pro victories as an amateur to her name, with the first gaining her worldwide headlines as she won the Ladies European Tour Thailand Championship aged 14 years and four months. She won the same event as a 16-year-old.
The prodigy turned professional in January this year and played several events in Australia, including the Women's NSW Open in which she finished fourth. She broke through for her first pro win on the Thai women's Tour recently and is expected to head to the United States to play in 2021.
Gabi Ruffels has proven she's a gritty competitor. PHOTO: Getty Images.
Golf Australia magazine colleague, Rod Morri, watched her play at Dubbo Golf Club and was impressed with the quality of her play saying: "she's the real deal … can play a wide range of shots at a high standard."
Of course, all Australian fans of women's golf will be wondering now; when will Gabi Ruffels turn pro and join the LPGA?
At 20, and after winning the 2019 US Women's Amateur and falling just short of defending her title, is there anything left to achieve in the amateur ranks?
Her record in the majors, thus far, is not so hot with two missed cuts in as many starts. But anyone who saw her grind her way through each round to the final of this year's US Amateur knows she's a gritty competitor with a high quality all-round game that will see her excel on Tour.
© Golf Australia. All rights reserved.