Despite being ravaged by floods numerous times throughout its 54-year history, Windsor Country Golf Club continues to rise from the depths and offers one of north-western Sydney's most enjoyable rounds.
The key factors that go towards making a golf course 'good' will vary from person to person, but one of the most common threads is likely to be its ability to immerse a player. Whether that's through its design, its presentation, its surroundings, or a combination of all three, a good golf course should always have the ability to capture your full attention.
I was eight and a half holes through my round at Windsor Country Golf Club before I lost focus of the task at hand. But that was in no way the fault of the course. A large military plane was flying low overhead on its way back to the RAAF base in Richmond, which caused a fat lizard to scamper over my foot as it ran to safety. Once the excitement – and dare I say it, fear – had subsided, I turned my attention back to what had so far been a very enjoyable golf course.
Situated an hours' drive northwest of Sydney's CBD, Windsor opened its gates in 1963 and sits on an old dairy farm, just 15 kilometres from the base of the Blue Mountains. And its story as a club is an intriguing one.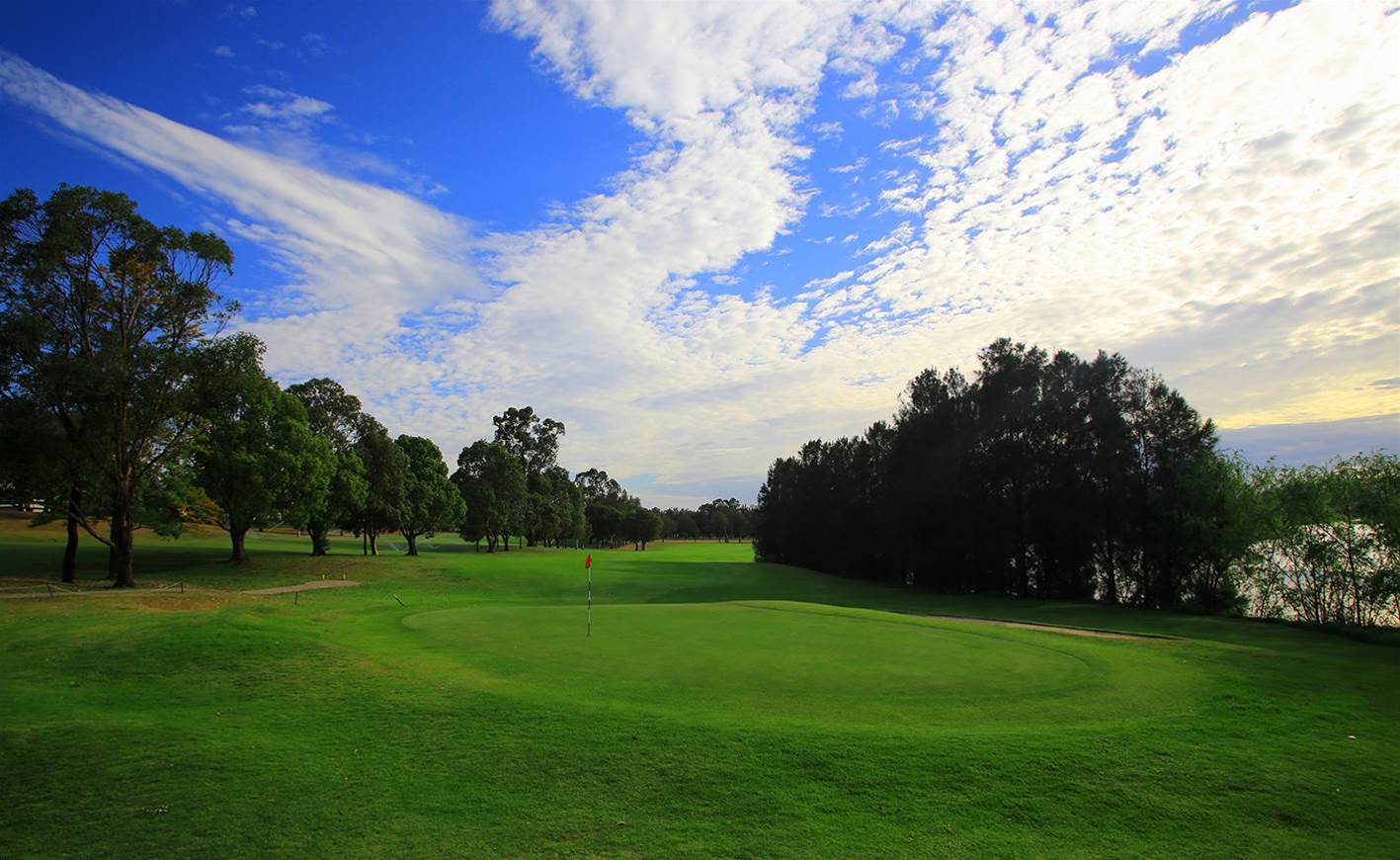 Windsor's signature hole – the par-5 8th hole – can make or break your round. PHOTO: Brendan James.
Designed by Sydney course architect, Prosper Ellis, the parkland course lies on plains adjacent to the Hawkesbury River – so it has always been prone to flooding. But over the past three years, there have been six major incidents where portions of the course were submerged by more than five metres of water. That, of course, has led to significant financial strains through damage repairs and the loss of green fee players.
But the club is a stubborn one. It has a strong membership that regularly produces full fields, and a development application for a three-stage renovation to its clubhouse has just been submitted.
The maintenance team, headed by course superintendent Jeff McManus, has also ensured the playing surfaces have been kept to a high standard. This means the kikuyu fairways are healthy and relatively lush, while most of the bentgrass greens have been raised to protect them from flooding and run at a friendly speed.
Like most of the par-3s at Windsor, the 2nd hole features water between tee and green. PHOTO: Brendan James
After speaking with a number of Windsor's members, it became abundantly clear that the club is extremely proud of its course. And so it should be. The layout has been battered and bruised by Mother Nature, but it continues to re-emerge from the depths to challenge and thrill its occupants. Two of its best holes come in succession, and begin an enjoyable closing stretch to the opening nine.
The par-3 7th measures 136 metres from the back tees and plays over a picturesque pond. It is one of the prettiest holes on the entire course. Rickabys Creek runs along the entire left flank, but will only catch the worst of hooks or pulls, while a thin green is guarded by a bunker that will leave a tricky scramble for par.
Although Windsor only stretches to 5,886 metres from the tips, its tree-lined fairways protect it – for the most part – from the bombers off the tee. The exception to that rule comes in the form of the par-5 8th hole. Now's the time to bring out the big stick and take on a lake that forces a 200-metre-plus carry. Anything pulled or hooked will need a bathing suit, while anything too far right will only lengthen the 444-metre-long hole.
Most members will tell you the 8th is the signature hole at Windsor. But they'll also be sure to mention the par-4 15th hole, which starts an enjoyable closing quartet of holes.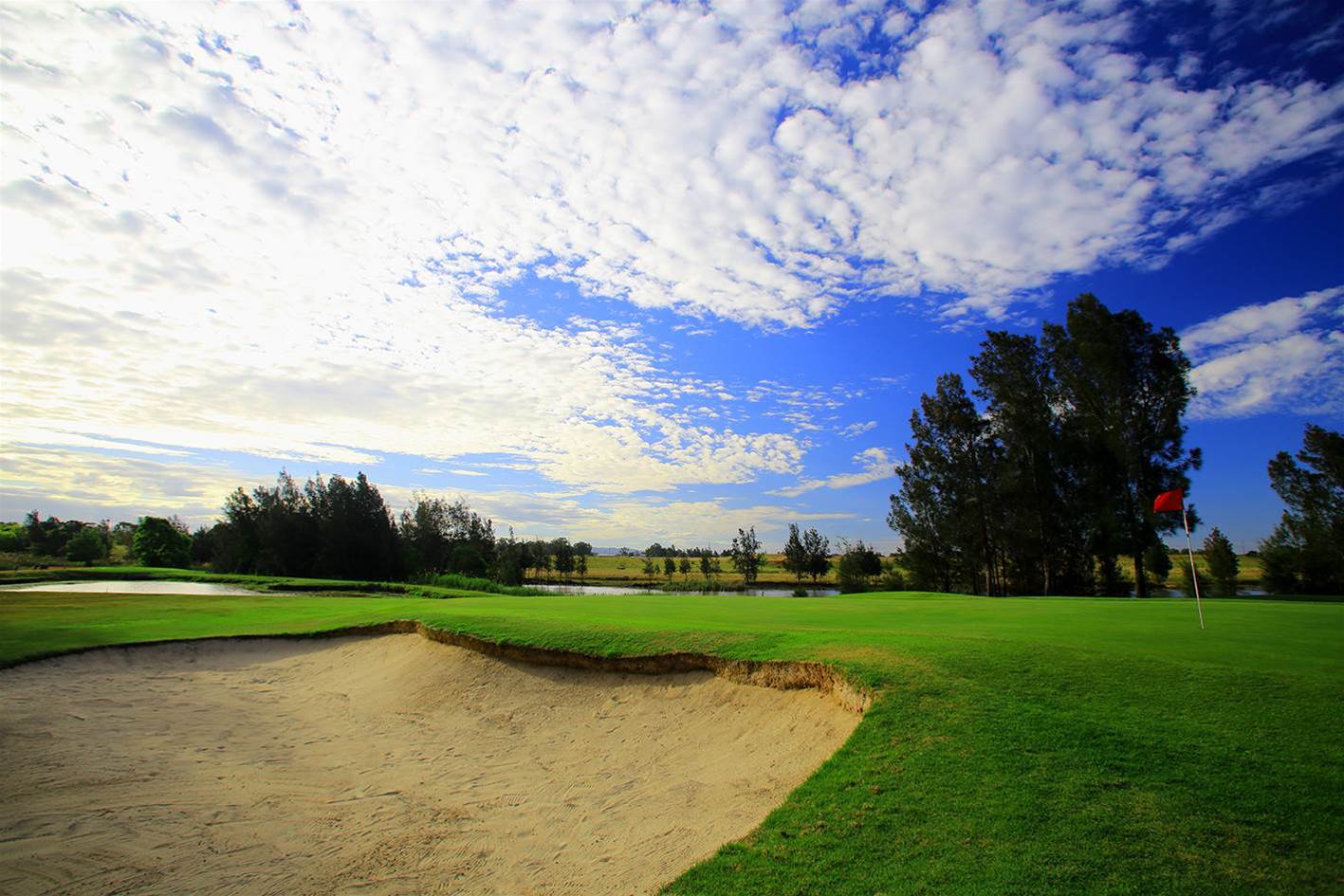 The diminutive par-3 7th hole is one of the prettiest holes on the course. PHOTO: Brendan James.
The 378-metre two-shotter is completely defenceless in the way of sand, and it offers a generous fairway off the tee. The challenge here comes during the approach into a multi-tiered green. Anything slightly short will roll back towards you, while anything on the wrong level will leave a difficult putt. Take your par and run.
Next comes the short par-4 16th, which should offer some respite if you've been carding some big numbers. The 294-metre hole is thought to be the easiest test on the course, and is reachable by the longest of hitters by cutting the corner. But the conservative – and perhaps smarter – play is to take your 180-metre club and play a shot down the middle of the fairway, leaving a short approach into a flat green that's protected by bunkers left and right.
The final par-3 is also the penultimate hole at Windsor. And while it is said to be an underrated challenge, a lot of visitors will think highly of it. An elevated railway line overlooks a shallow but wide green – which simply must be hit from 130 metres to avoid a difficult chip. But, if you do miss, make sure you come up short and left, away from the front bunker.
Don't get too cocky if you've put together a solid score as you walk to the 18th tee. The final hole is more than capable of ruining your scorecard. And although it doesn't stand out in terms of its distance (351 metres), it plays uphill towards the clubhouse and into the prevailing wind. This means your approach shot will often require more than a mid-iron into a green that slopes steeply from back to front.
The short downhill par-4 16th can be attacked from the tee but be wary of the sand. PHOTO: Brendan James.
Windsor certainly goes a long way in terms of its design, presentation and surroundings. But what helped keep this writer so immersed throughout the day was the club's continuous ability to bounce back from all the hardships it has gone through. And although it would be a fine course without its loyal members, it certainly wouldn't be quite as good.
FACT FILE
THE COURSE
LOCATION: McQuade Ave, South Windsor, New South Wales, 2756.
CONTACT: (02) 4577 4390.
WEBSITE: www.windsorgolfclub.com.au
DESIGNERS: Prosper Ellis (1963).
COURSE SUPERINTENDENT: Jeff McManus.
PGA PROFESSIONALS: Adam and Corrine Kelleher.
SLOPE RATINGS: 128 (Men's black tees), 127 (Men's blue tees), 124 (Men's white tees), 127 (Women's red tees), 124 (Women's yellow tees).
PLAYING SURFACES: Kikuyu (fairways), Bentgrass (greens).
GREEN FEES: Weekdays: $22 (18 holes), $15 (9 holes). Weekend: $38 (18 holes), $20 (9 holes).
THE CLUB
MEMBERSHIPS: Windsor offers a wide range of membership categories and joining fees are currently being waived (conditions apply).
Full Memberships cost $1,200 and include Golf NSW Affiliation, seven days of golf, voting rights, no social green fees, access to all competitions and a $170 bar account. Limited Memberships cost $700 and provide the same entitlements as Full Memberships but attract higher competition fees and don't allow access to championship events or voting rights.
Associate (Female) Memberships cost $818.20 and provide six-day access to the course – excluding Saturdays – and $80 bar credit. Post Junior (18 to 24-years-old) Memberships are $400 but don't include voting rights.
Lifestyle Memberships cost $99 per year and provide access to both open and closed weekend club events. Pensioner, Junior and Cadet Memberships are also available.
RECIPROCAL CLUBS: ACT (Gungahlin Lakes GC); NSW (Forster-Tuncurry GC, Gulgong GC, Maitland GC).
WEDDINGS & CORPORATE GOLF: Windsor Country Golf Club provides the perfect outdoor setting to celebrate your wedding day. The club's experienced staff prides itself on attention to detail and offers a variety of packages to cater to individual needs.
Windsor offers corporate golf days on Mondays, Thursdays and Fridays. The club will take care of everything from electric carts to food, banners and signage. Packages start at $50 per person and include 18 holes of golf, breakfast and a cooked lunch.
Email Adam from the Functions Team adam@windsorgolfclub.com.au to start organising your event.
© Golf Australia. All rights reserved.